5-Ingredient Honey-Sweetened Scotcharoos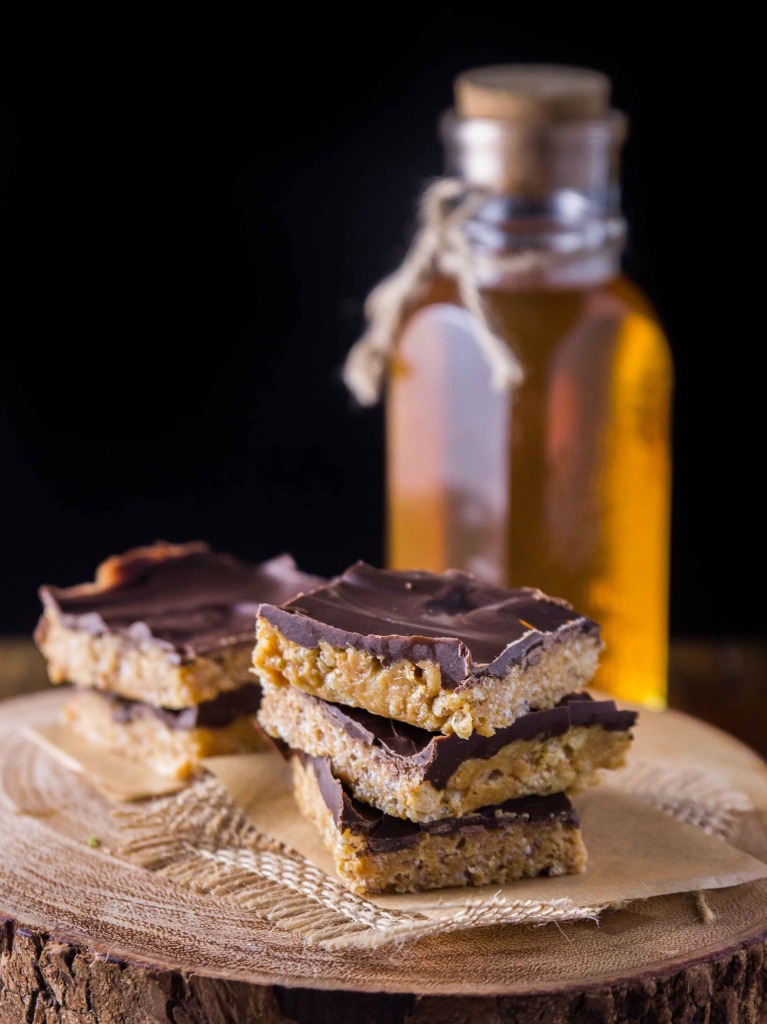 This weekend I'll be celebrating a blogiversary…a blogirthday, if you will. I sat down and decided to finally start a blog (after a couple years of consideration, because that's how I roll) 3 years ago on Saturday, which makes no sense because it feels like just last week I was sitting at my old white MacBook, wrapped in a blanket because my old apartment was FREEZING, and freaking out over what to write about in my first post. Oh time, where do you go?
To celebrate this toddler of a blog, I made an easy, rich, decadent, 5-ingredient dessert. Two of the ingredients are chocolate and peanut butter, because for me there's nothing more delicious in the world of sweets than those two flavors together.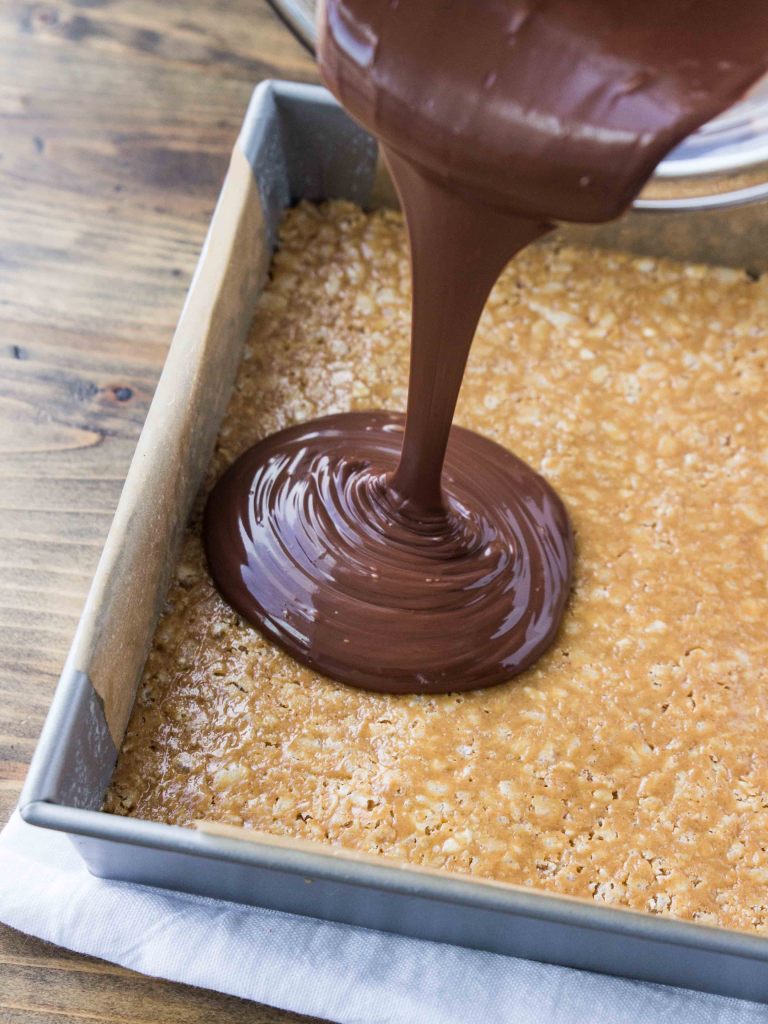 These simplified scotcharoos start by mixing together peanut butter and honey, and then folding in crisp rice cereal. Press that mixture firmly into a parchment-lined pan, and then pour some melted chocolate chips and coconut oil on top. Refrigerate for 30 minutes and you're ready for a hunka chocolate peanut butter love.
SERIOUSLY. THAT'S IT. So easy. And ZERO corn syrup.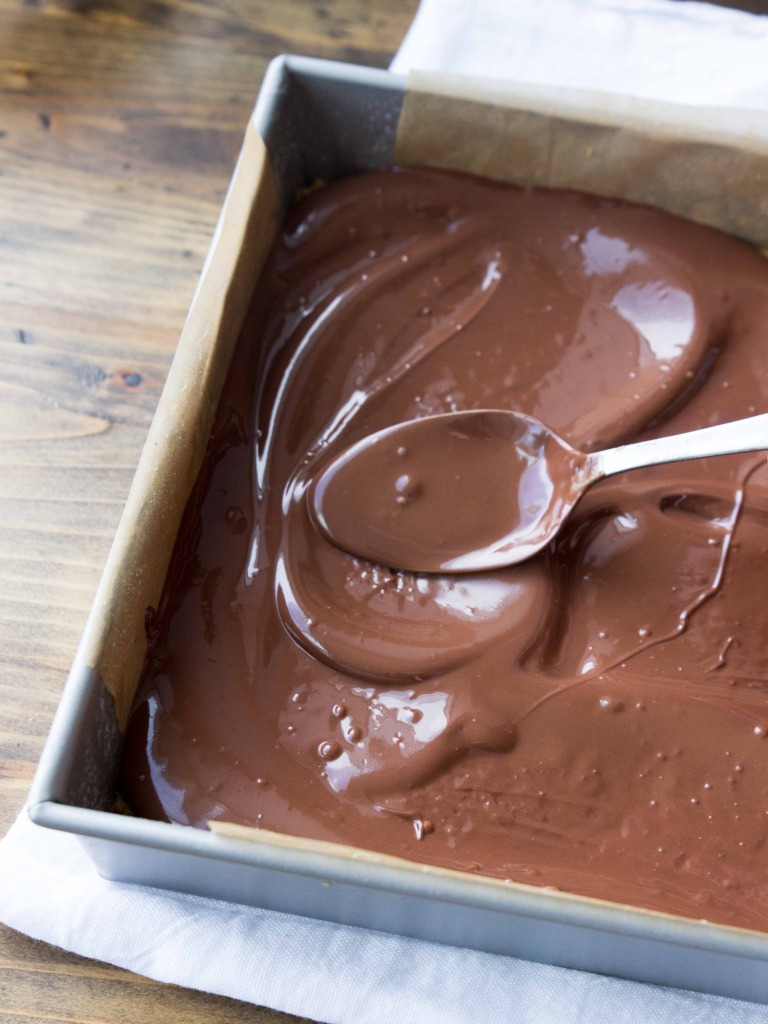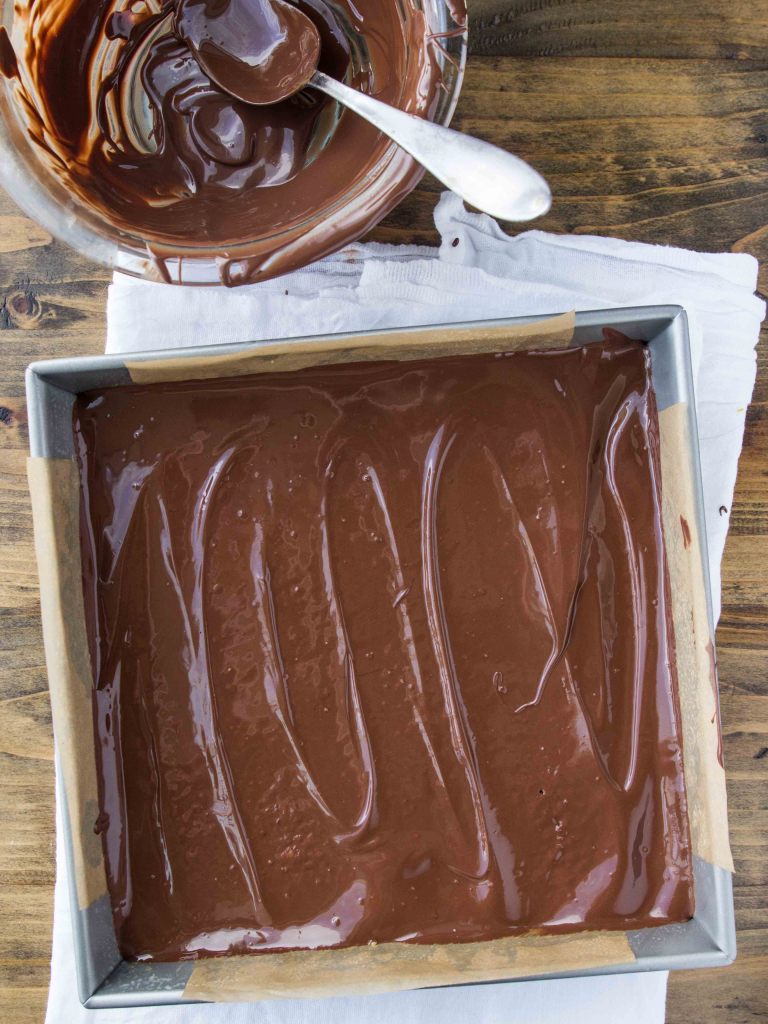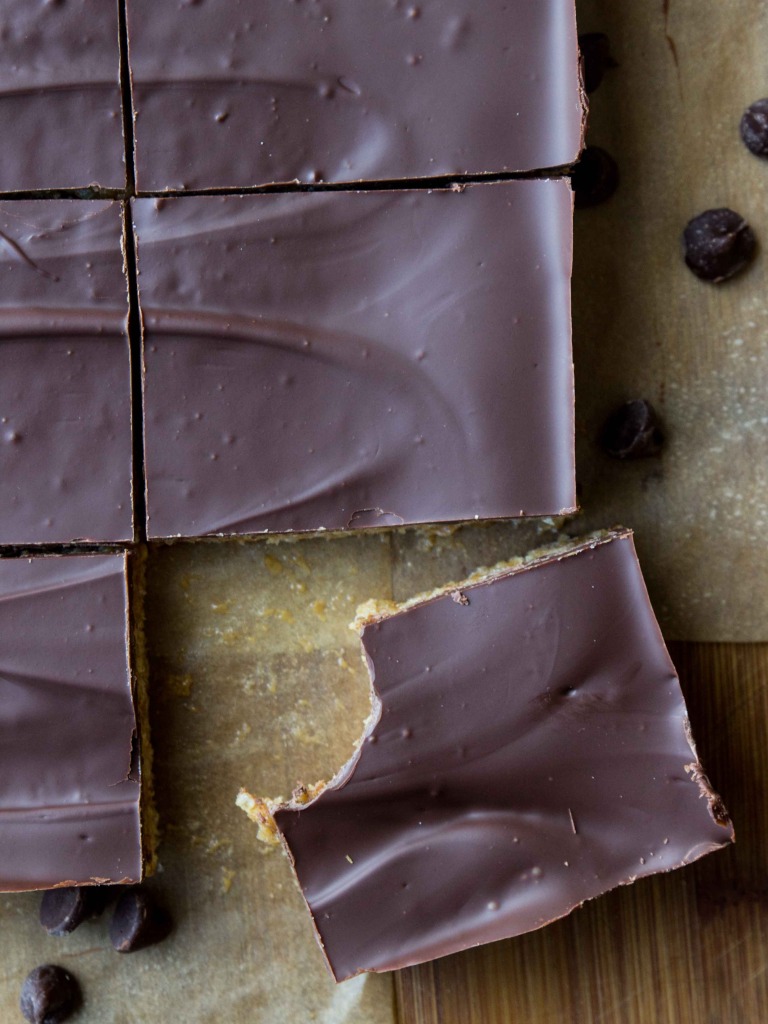 The key here is the honey. Oh my the honey. I tried making these bars twice with maple syrup, because I wanted to be considerate of my vegan friends, but maple syrup just does not result in the same chewy-yet-crisp texture. The bars dried out quickly, and the cereal lost some of its crunch. You could try agave or brown rice syrup, but I haven't done so yet.
With honey, however, you get a chewy bar with a rich peanut butter and honey flavor, but you still have the crispy crunch from the cereal. That, coupled with the bite of the hardened chocolate on top, makes for some serious texture magic.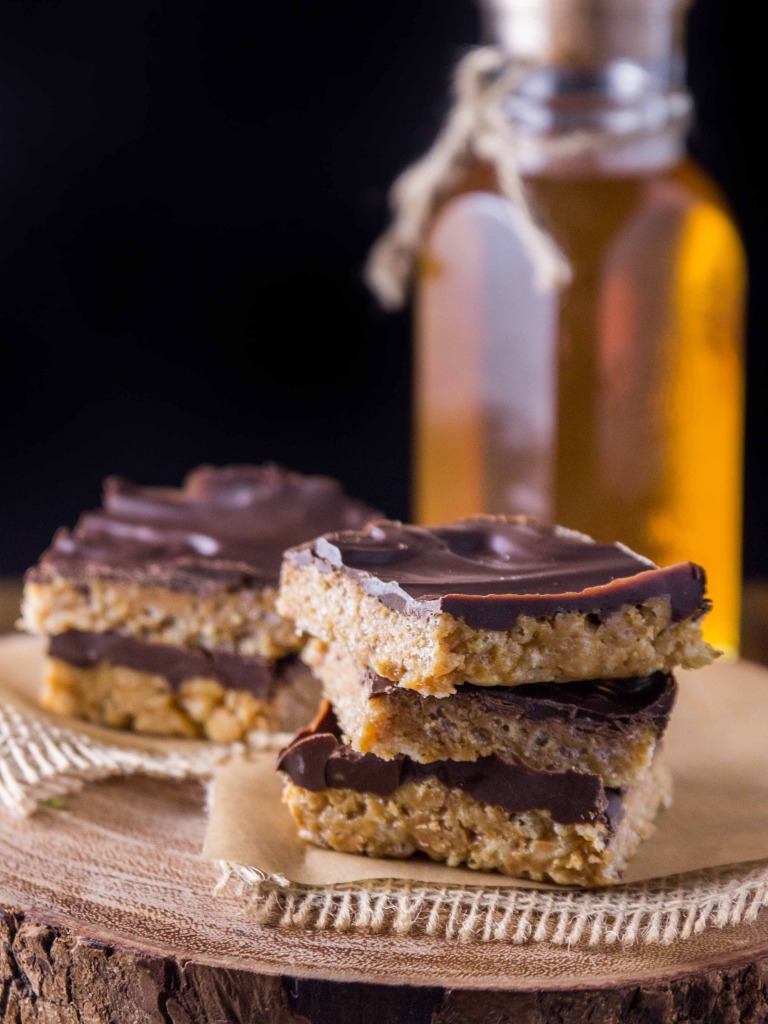 The texture is actually spot-on with the standard corn-syrup-filled scotcharoo, which makes me want to clap my hands and jump with joy (and, er, I may have when I made these with honey the first time). There's still plenty of sugar in these guys, but at least it's not uber-refined and unnatural sugar, you know? I know you know.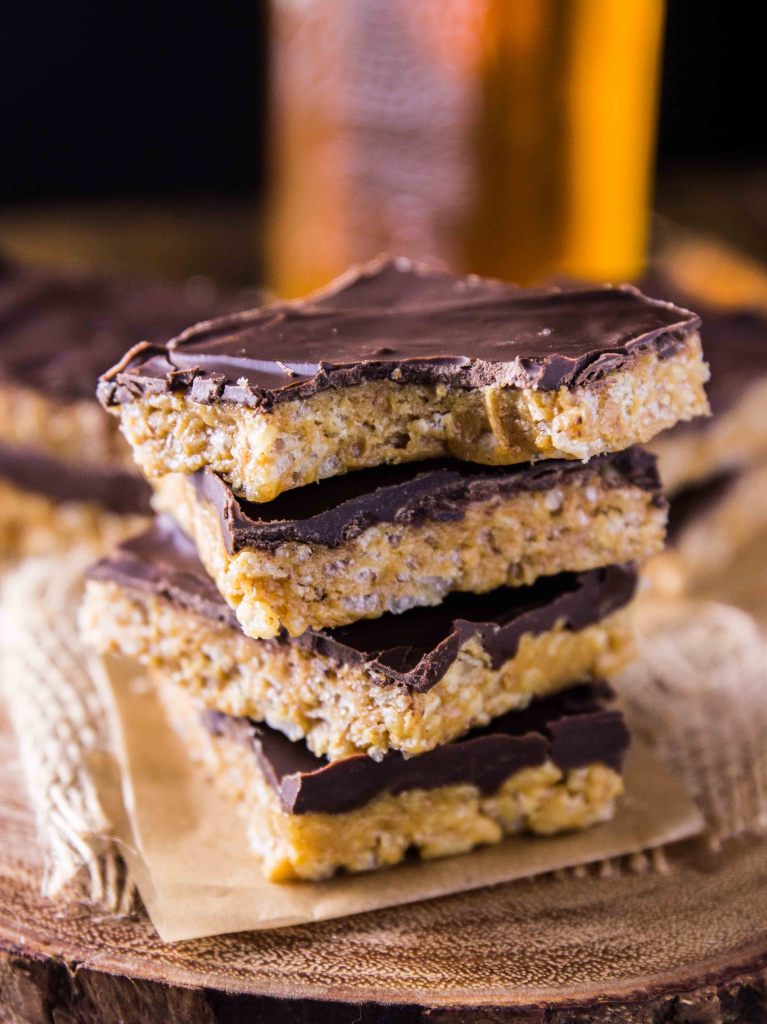 If you make these, I'd love it if you'd take a photo and tag me on Instagram (@veggiebeastblog), and let me know what you think. I've made them 4 times in the past week and a half, and not just because of recipe testing. Might need an inter-scotcharoo-vention over here.


5-Ingredient Honey Sweetened Scotcharoos
Crispy, chewy, peanut butter chocolate bars (Scotcharoos) made with only 5 ingredients!
Yield: 16 bars
Prep Time: 10 minutes
Total Time: 10 minutes
Ingredients:
3/4 cup natural creamy peanut butter with sea salt
3/4 cup honey
3 1/2 cups crisp rice cereal (gluten free, if needed)
1 cup semisweet chocolate chips (dairy free, if needed)
1/2 tablespoon coconut oil
Directions:
In a large bowl, use a spoon to stir together the peanut butter and honey. Fold in the cereal until fully incorporated.
Line an 8x8 or 9x9-inch square pan with parchment paper, and coat with non-stick spray. Transfer the peanut butter mixture to the pan, and pack down tightly and evenly using slightly damp hands. Just a little water on your hands will help keep them from getting super sticky. Set aside.
Bring a pot of water to a boil. Combine the chocolate chips and coconut oil in a glass bowl slightly larger than the pot with the water. Set the glass bowl over the hot water, and stir until melted.
Pour the melted chocolate over the peanut butter mixture. Use a spatula or the back of a spoon to smooth out evenly. Place in the fridge until set (30 minutes or so), then cut. Best served cold!
Crisp rice cereal varies in texture from brand-to-brand. Some are puffier, and others have the flatter look (a la Rice Krispies). I found that the flatter version worked better in this recipe.
Do not sub maple syrup for the honey, because you won't get the same chewy, crispy texture (I tried, I really did). Brown rice syrup or agave could be a good vegan option, but I have not tried either in this recipe.
Nutrition Information: Serving Size: 1 bar, Calories: 221, Sugar: 20.8g, Sodium: 18mg, Fat: 10.2g, Saturated Fat: 3.6g, Carbs: 30.2g, Fiber: 1.9g, Protein: 3.5g
12 Responses to "5-Ingredient Honey-Sweetened Scotcharoos"