Double Chocolate Black Bean Muffins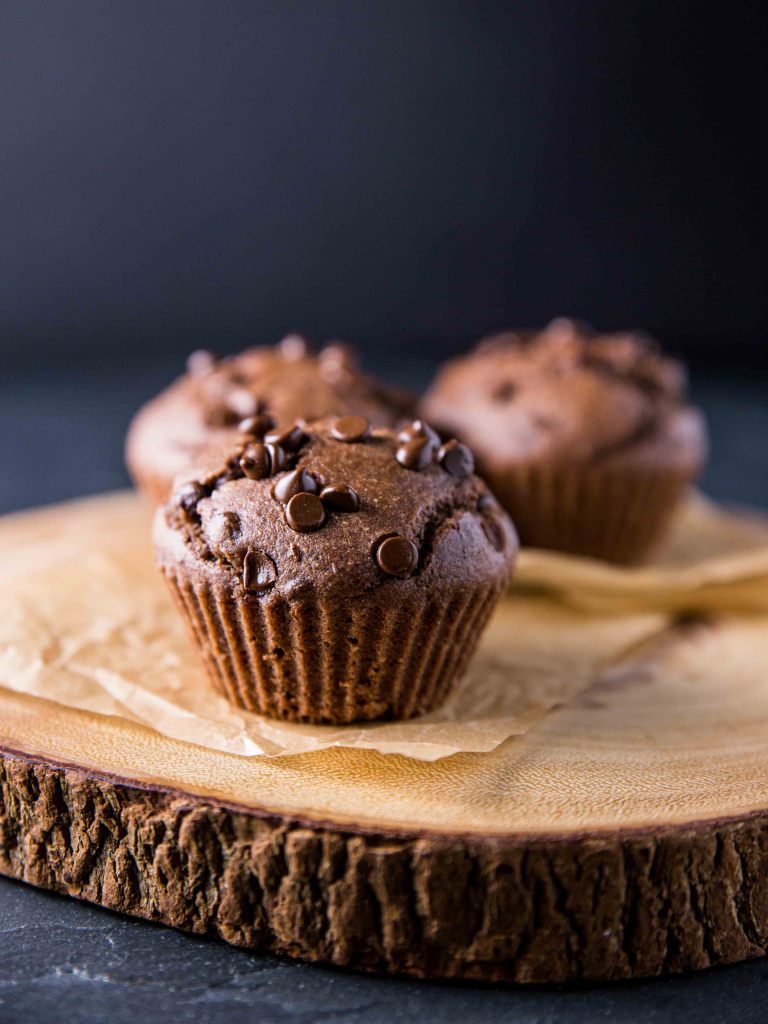 It's become a running joke when I bring desserts over to my parent's house:
"Katie, now there aren't any BEANS in these, are there?"
Usually the answer is "No!" laugh laugh "…of course not! Just regular cookies/brownies/cake," because ever since I brought those fateful red lentil peanut butter cups, which I've mentioned a lot lately because they were NOT GOOD, everyone seems to trust me a tad less over there. Because of that, I've taken care to not bring my bean-infused baked goods to that house, even if I'm abso-freaking-lutely certain they're worthy. More for me and less for the haters, you know?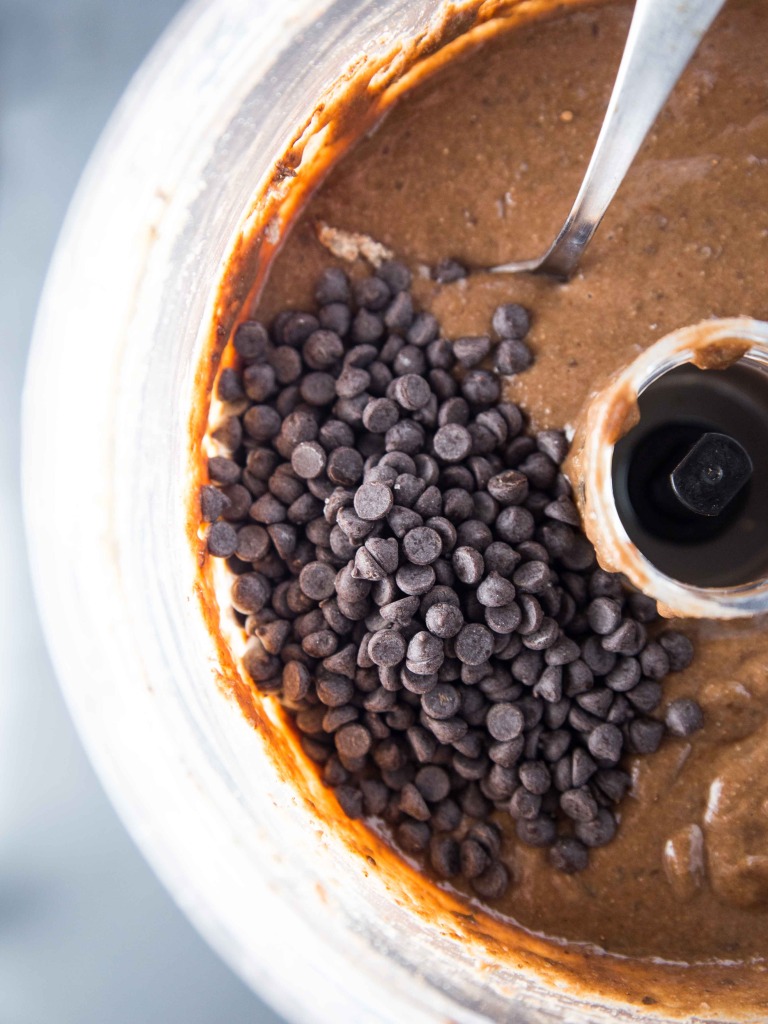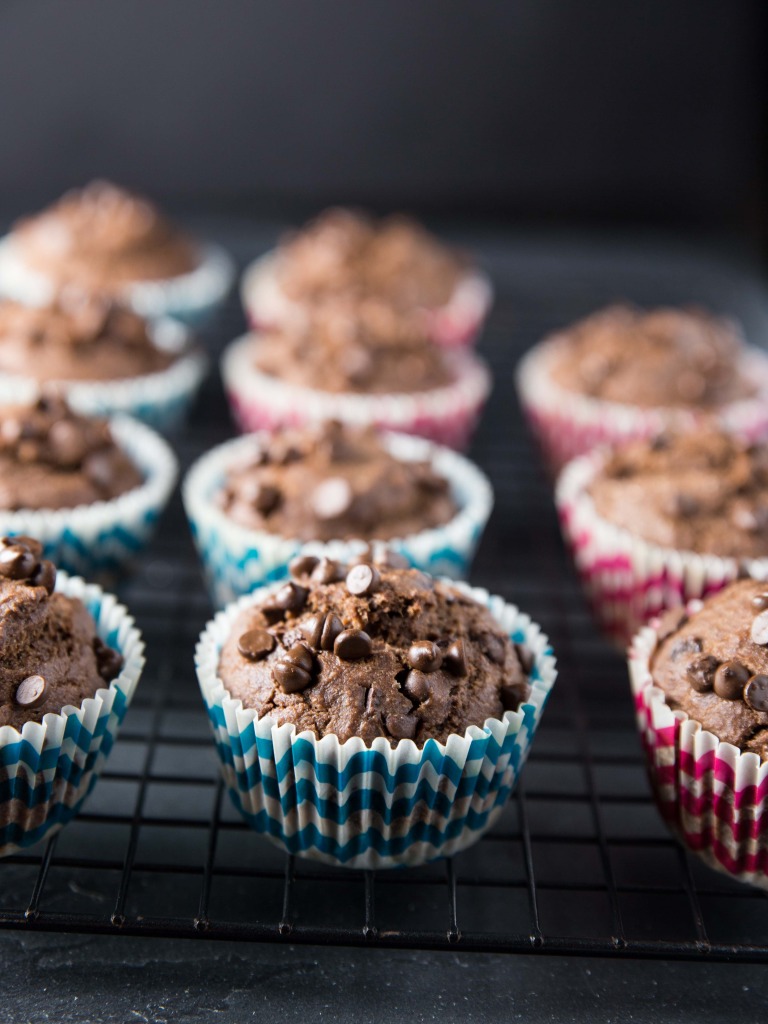 Before baking the recipe I'm sharing with you today, I hadn't thought up any new bean desserts in a while. There's a black bean brownie recipe in my cookbook which I ADORE and make on the regular, but I haven't felt super innovative with the bean sweets lately. I'd been in a bean sweet slump, if you will.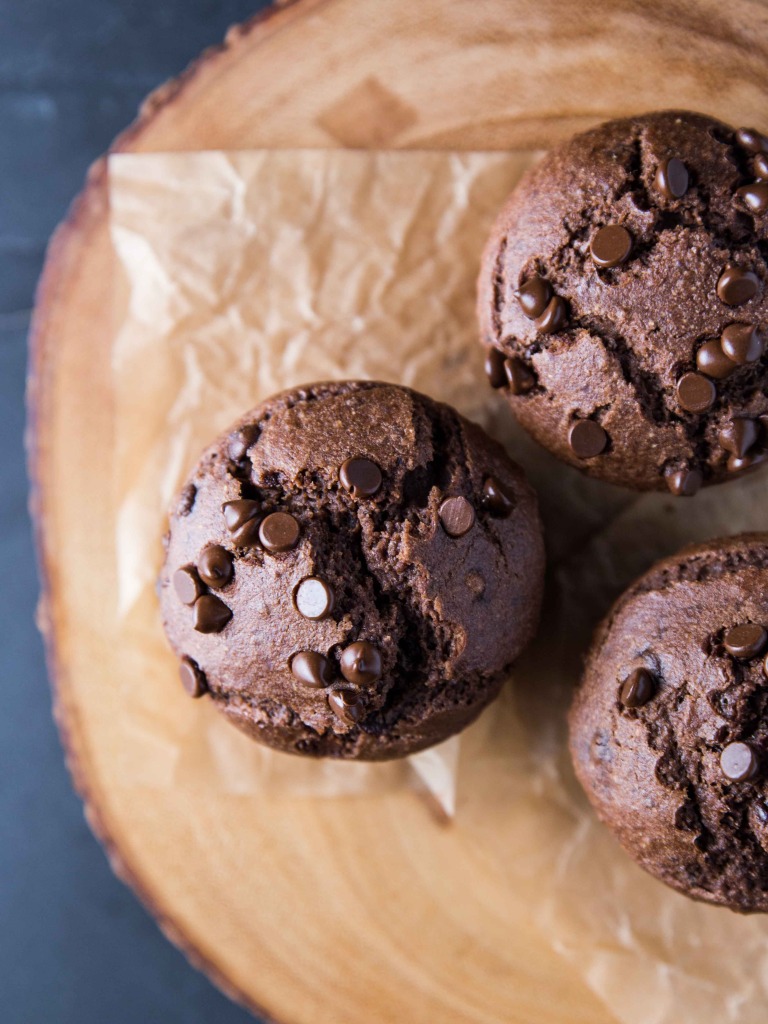 And then, earlier this week when I wanted to make some healthier muffins and realized I had no pumpkin or banana, I thought, I wonder if beans can add moisture to muffins like they do to brownies.
Hey guys. THEY CAN.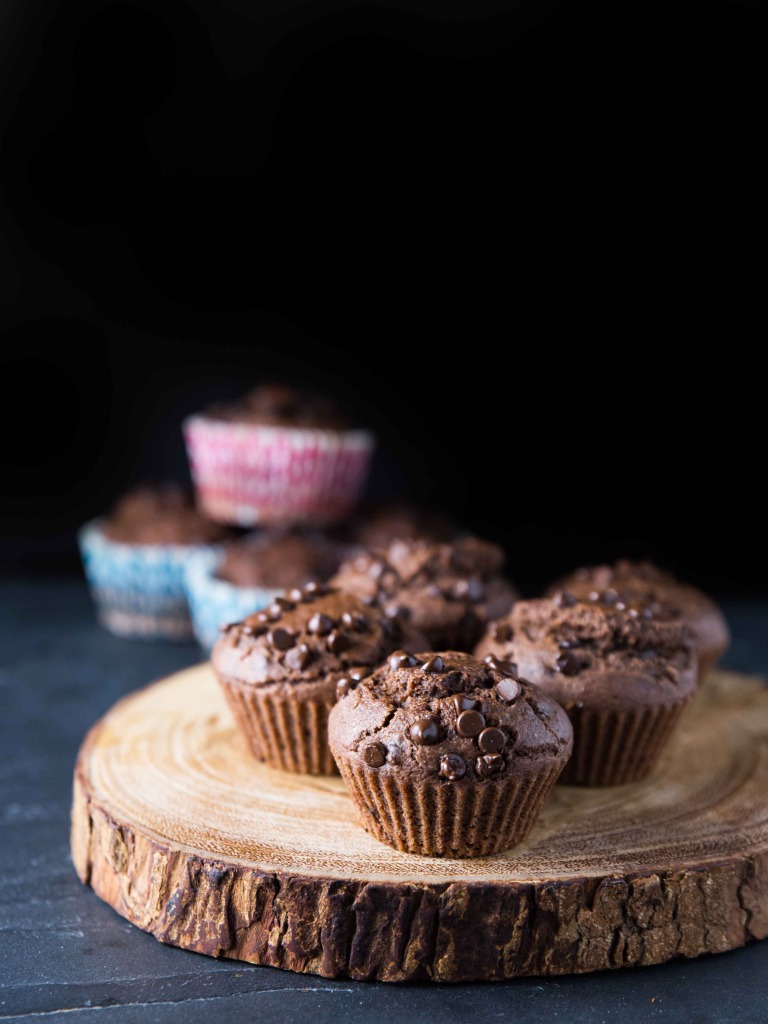 These muffins are double-the-chocolate-trouble with cocoa powder and mini chocolate chips. The soft texture comes from a little coconut oil, those secretive little beans, and almond milk. Since I wanted these to be healthier than most muffins, I used white whole wheat flour, which gives you 100% whole grain goodness, with less of the heavy texture and wheaty flavor.
In addition to being super chocolatey, moist, and relatively healthy, these muffins are also ridiculously easy: one bowl (well, one food processor), 30 minutes, hot outta the oven and into your mouth.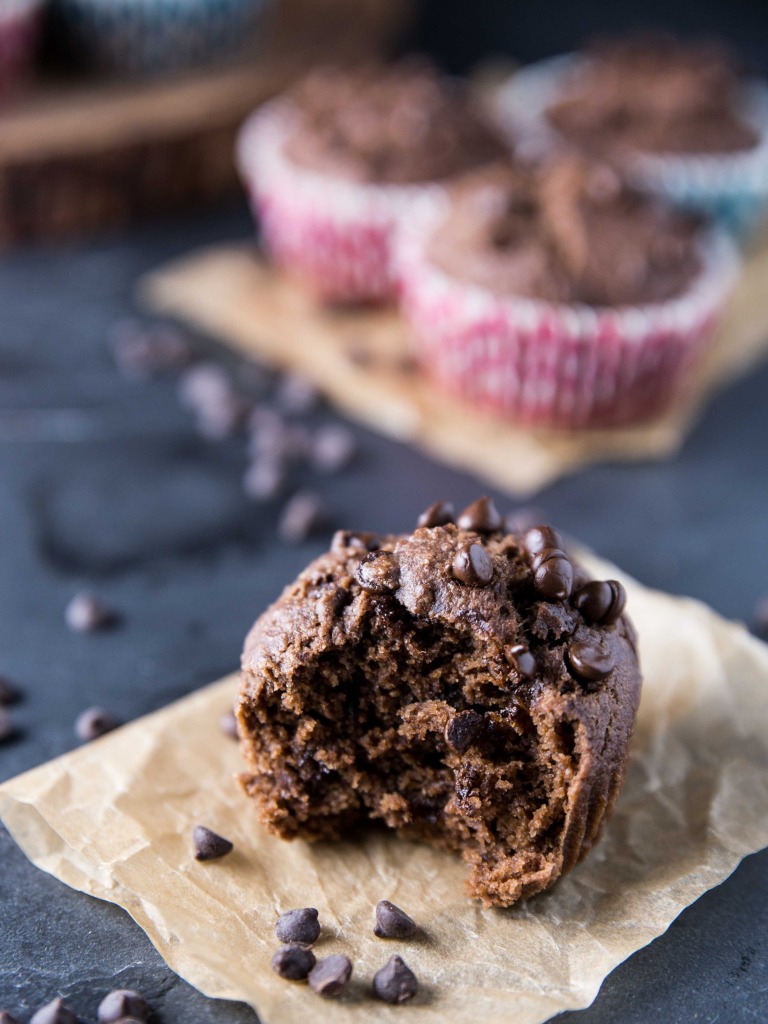 I've eaten these muffins as breakfast (slathered with peanut butter), dessert, and even for some necessary hormonal coping (you KNOW). Do yourself a solid and bake some bean muffins, and don't even worry about sharing them with your family.


Whole Wheat Double Chocolate Black Bean Muffins
Chocolate muffins made with 100% whole wheat flour, coconut oil, and black beans for some added moisture. Soft, fluffy, and studded with mini chocolate chips!
Yield: 12 muffins
Prep Time: 5 minutes
Cook Time: 20 minutes
Total Time: 25 minutes
Ingredients:
1 tablespoon chia seeds
3 tablespoons warm water
3/4 cup black beans (rinse and drain well, if from a can)
2 tablespoons coconut oil, melted
2 tablespoons maple syrup
½ cup cane sugar
1 cup almond milk, room temp
½ tablespoon vanilla extract
1 1/3 cup whole wheat pastry flour or white whole wheat flour
¼ cup high-quality cocoa
2 teaspoons baking powder
¼ teaspoon salt
½ cup mini semisweet chocolate chips (vegan friendly, if needed)
Directions:
Preheat oven to 400 degrees.
Combine the chia seeds, water, black beans, coconut oil, maple syrup, cane sugar, almond milk and vanilla in a blender or food processor, and process until mostly smooth.
Add the flour, cocoa, baking powder, and salt to the processor, and pulse until just incorporated. Set aside 2 tablespoons of the chocolate chips, and stir the remaining chips into the batter.
Divide batter among 12 well-greased muffin liners, and sprinkle with remaining chocolate chips. Bake for 17-20 minutes, until a knife inserted in the center comes out clean.
Eat as-is, or slather with peanut butter (my fave)!
Nutrition Information: Serving Size: 1 Muffin, Calories: 181, Sugar: 16.3g, Sodium: 67mg, Fat: 5.9g, Saturated Fat: 3.8g, Carbs: 31.9g, Fiber: 3.7g, Protein: 3.5g
35 Responses to "Double Chocolate Black Bean Muffins"
Pingback: Going Away Party | A Taste of Trace