Sweet and Smoky Baked Tofu Tacos with Coconut Citrus Slaw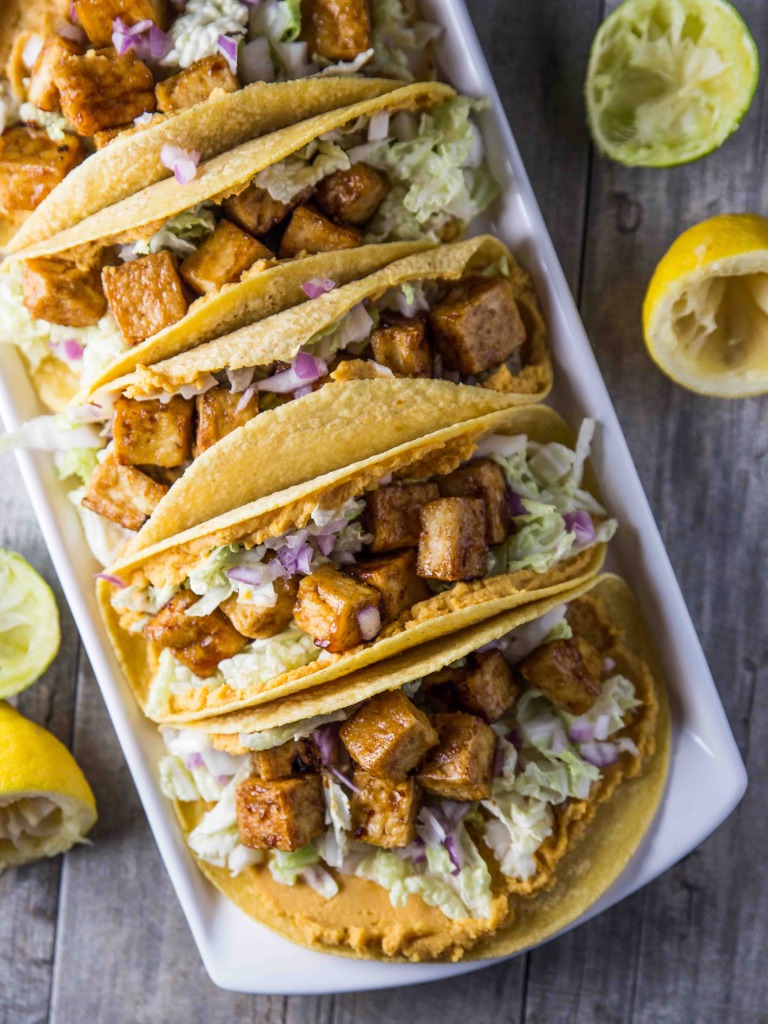 I'm in a definite tofu phase right now, which is funny because for a long time I wouldn't touch the stuff. At my college cafeteria, which was great in a lot of ways, there was a salad bar line where they had raw tofu cubes. I tried several times to like that tofu, but the spongey, soft texture and complete lack of any taste whatsoever just didn't do it for me.
Those experiences in that salad bar line make me totally get how people are put off by tofu. I completely agree that when it's not prepared right it's, well, super gross. Ryan makes a face every time I take a block out of the package. I can't blame him…it's just so wiggly and white.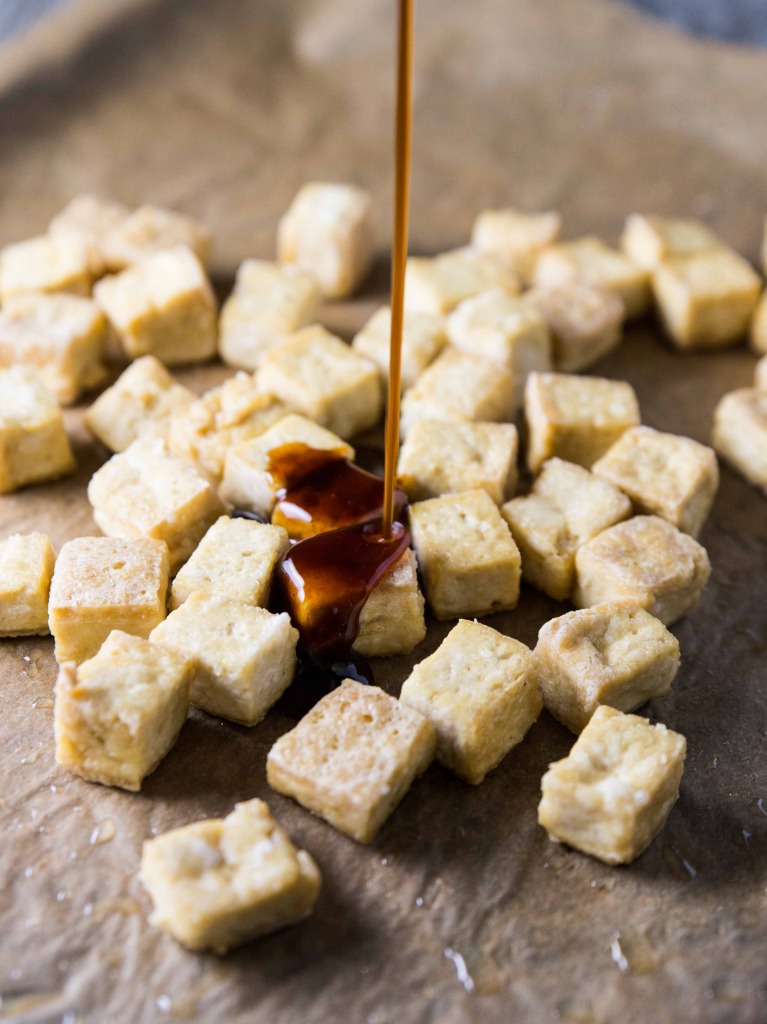 When I started to get tofu-curious a few years back, I would just brush thin tofu slices with olive oil and grill them in my panini press. I'd then cut them up and put them on top of salads, or throw them in sandwiches. It was easy and it worked for me.
Then I learned about crispy baked tofu from Cookie + Kate, and things changed around here. Just press, cube, toss with oil, soy sauce, and starch (corn or arrowroot), bake, and BAM. Crispy little cubes for all your tofu needs.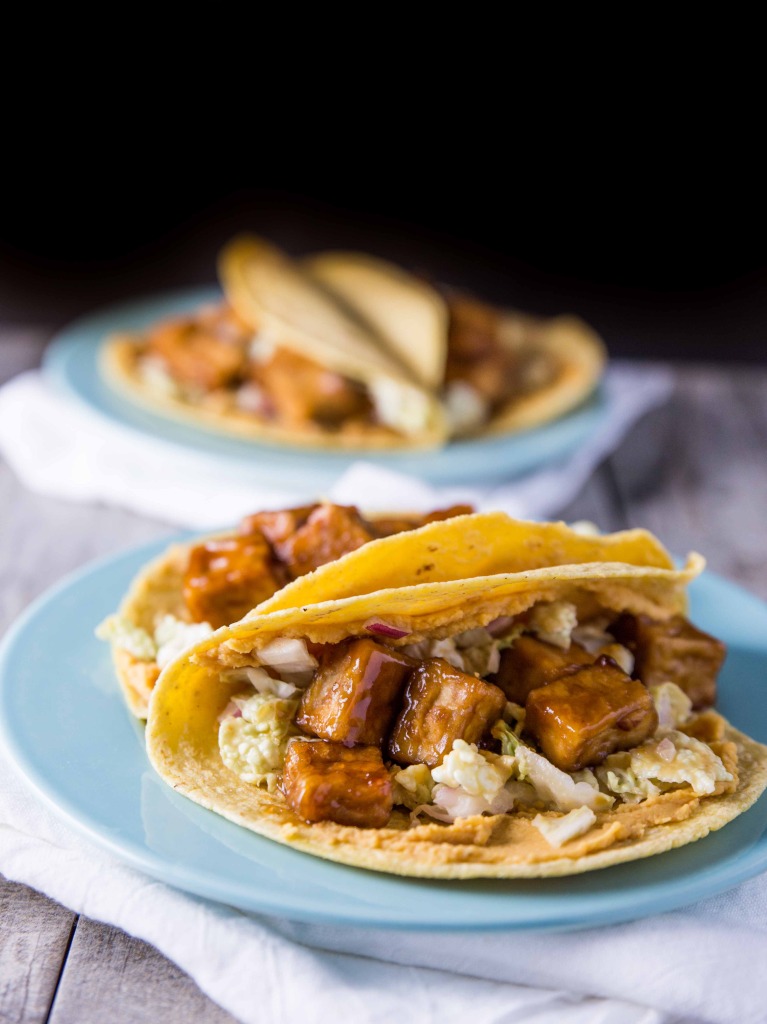 This recipe is based off of that method, but instead of baking it with the soy sauce, I just baked it with oil and a touch of salt. Then, once it was crispy, I coated it with a sweet, smoky and lightly spiced glaze, and put it back in the oven until that glaze caramelized a bit. The result is saucy, crispy, chewy perfection.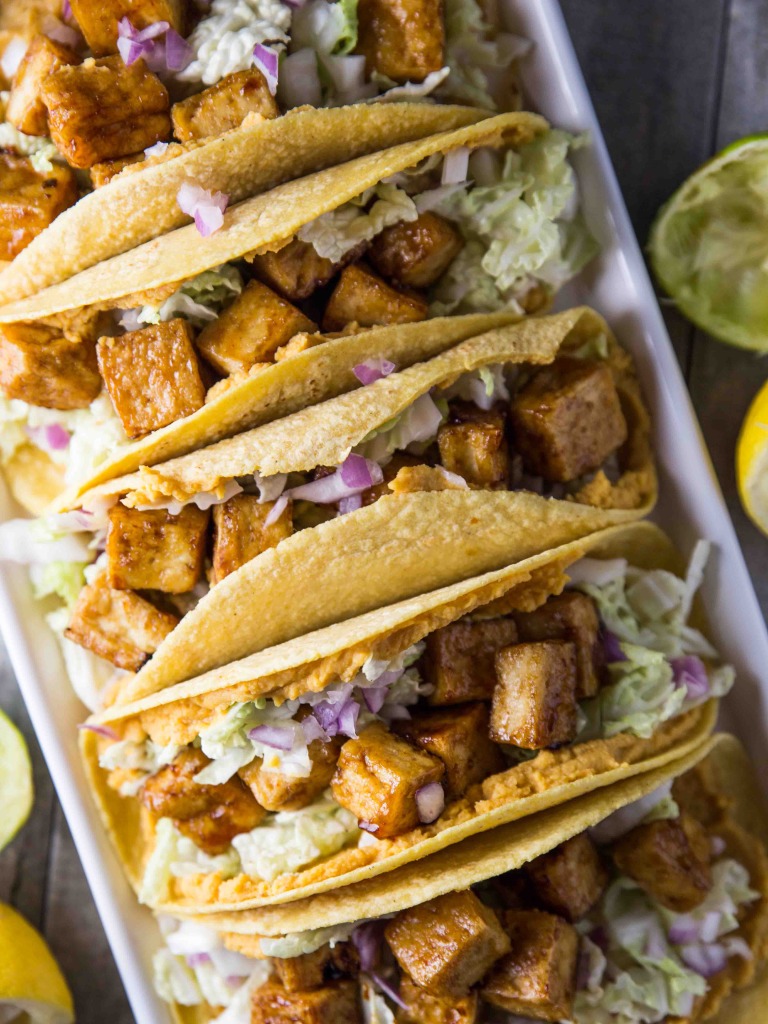 Since we can't eat straight tofu cubes (well I suppose we CAN and I DID, but I thought I'd give you a full recipe), I threw that tofu in warm corn tortillas slathered with my curried red lentil hummus, and then added a bright and fresh coconut citrus slaw for some extra crunch. Flavor on flavor on flavor.
How do you feel about tofu? Love it or hate it? If you're a tofu fan, you MUST try these tacos!

Sweet and Smoky Baked Tofu Tacos with Coconut Citrus Slaw
Sweet and smoky vegan tacos made with curried hummus, maple glazed baked tofu, and a zesty coconut lemon slaw.
Yield: 8 tacos
Prep Time: 20 minutes
Cook Time: 35 minutes
Total Time: 55 minutes
Ingredients:
Sweet and Smoky Glazed Tofu
16 ounces firm tofu
2 tablespoons peanut oil
⅛ teaspoon salt
1 tablespoon plus 1 teaspoon arrowroot starch or cornstarch, divided
2 tablespoons maple syrup
2 tablespoons reduced-sodium soy sauce or tamari
2 tablespoons rice vinegar
1 teaspoon liquid smoke
Coconut Lemon Slaw
1 lemon, juiced
3 tablespoons light coconut milk
½ teaspoon sea salt
½ tablespoon cane sugar
1 tablespoon grapeseed oil
4 cups chopped napa cabbage
1/2 cup diced red onion
Taco Assembly
1/2 cup Curried Red Lentil Hummus
8 small corn tortillas
Directions:
Preheat oven to 400.
Cut the tofu into 4 equal-sized pieces lengthwise. Wrap in towels, top with a cutting board, and put something heavy (cast-iron pot, for instance) on top. Let sit for 10 minutes.
Cut each piece of tofu into 12 equal-sized cubes. Transfer to a bowl, and toss with the peanut oil and salt, then sprinkle on 1 tablespoon of the starch (corn or arrowroot) and toss to coat. Place on a parchment-lined sheet, and bake for 25 minutes, removing from the oven to toss 3 times.
While the tofu bakes, combine the maple syrup, soy sauce, vinegar, liquid smoke, and cayenne in a small saucepan. Scoop out 1 tablespoon of the mixture to whisk with the arrowroot starch until smooth (to avoid clumps), then pour back into the pot. Bring to a boil, and boil for 2-3 minutes until thickened. Remove from heat.
After the tofu has baked for 25 minutes, remove from oven and drizzle on the maple glaze. Toss to coat, and place back in the oven for 5-7 minutes, flipping once, until to glaze soaks into the tofu slightly, and caramelizes on the corners.
For the slaw, combine the lemon, coconut milk, salt, sugar, and oil in a blender. Blend until smooth and emulsified. Toss with the cabbage and red onion.
Place 1 tablespoon of curried red lentil hummus on each tortilla. Top with a small handful of the slaw, and 6 pieces of the glazed tofu.
Nutrition Information: Serving Size: 2 tacos, Calories: 439, Sugar: 11.0g, Sodium: 833mg, Fat: 21.4g, Saturated Fat: 5.1g, Carbs: 50g, Fiber: 9.7g, Protein: 17.9g
12 Responses to "Sweet and Smoky Baked Tofu Tacos with Coconut Citrus Slaw"
Pingback: Roasted Butternut Squash & Turkey Tacos | The perfect recipe for those Thanksgiving leftovers! FamilyFreshCooking.com — Family Fresh Cooking