Thin and Crispy Salted Almond Butter Oat Cookies
I've always been a thick-cookie person. Make 'em fat and chewy and a little underbaked and we are rolling in the cookie happiness.
Then I discovered the joy that is thin and crispy cookies. Somehow my sister and I got on the subject this weekend, and she reminded me about these perfectly thin and crispy cookies from Trader Joe's. They're light, buttery, crispy, and just so darn pop-able. Should a cookie be pop-able? I think so.
To be clear, we're talking intentionally thin cookies. None of those flat and burnt cookies that were meant to be fat. Those have no place here.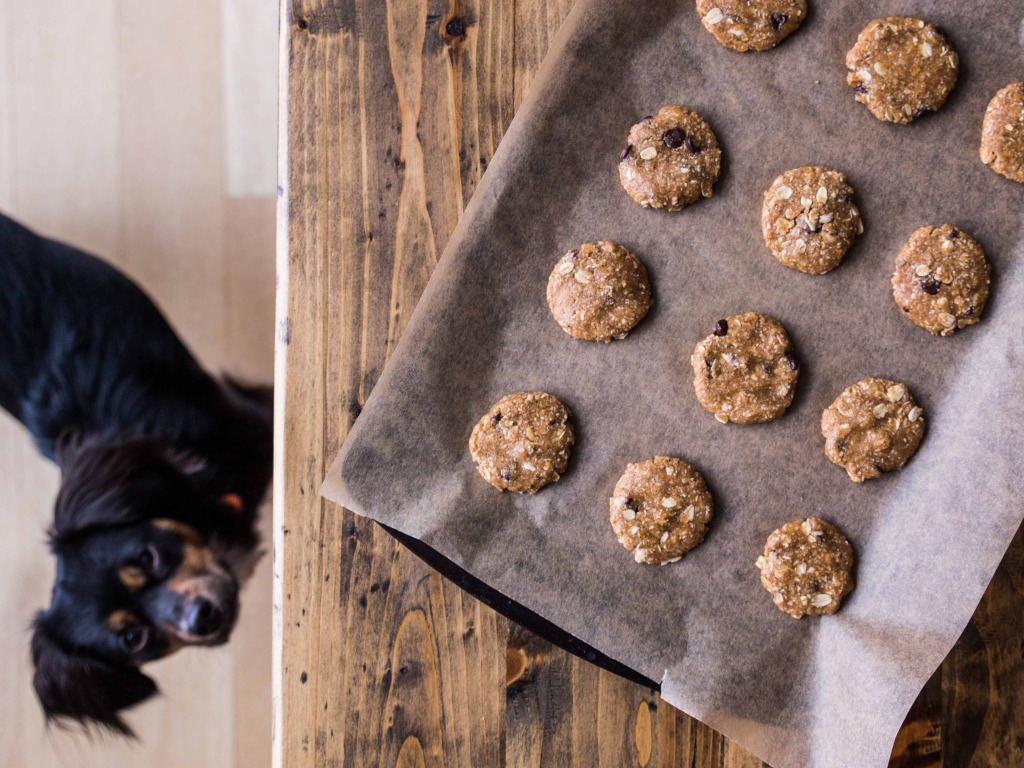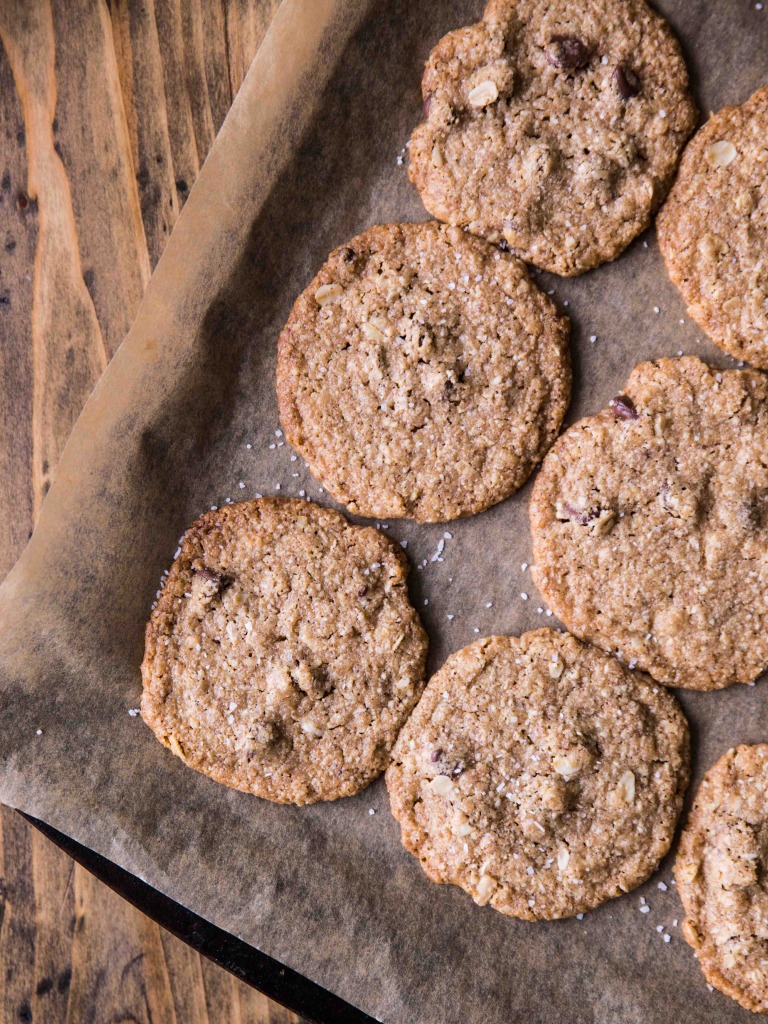 When I set out to create my own perfectly-crispy cookie, I decided to work with oats in place of flour, partially because oats are a wholesome and gluten free alternative, but mostly because the texture is just so crucial to deliciously thin cookies. The majority of the oats get processed into flour along with the other dry ingredients (cane sugar, salt, baking soda), while the rest are left whole for a little texture variety.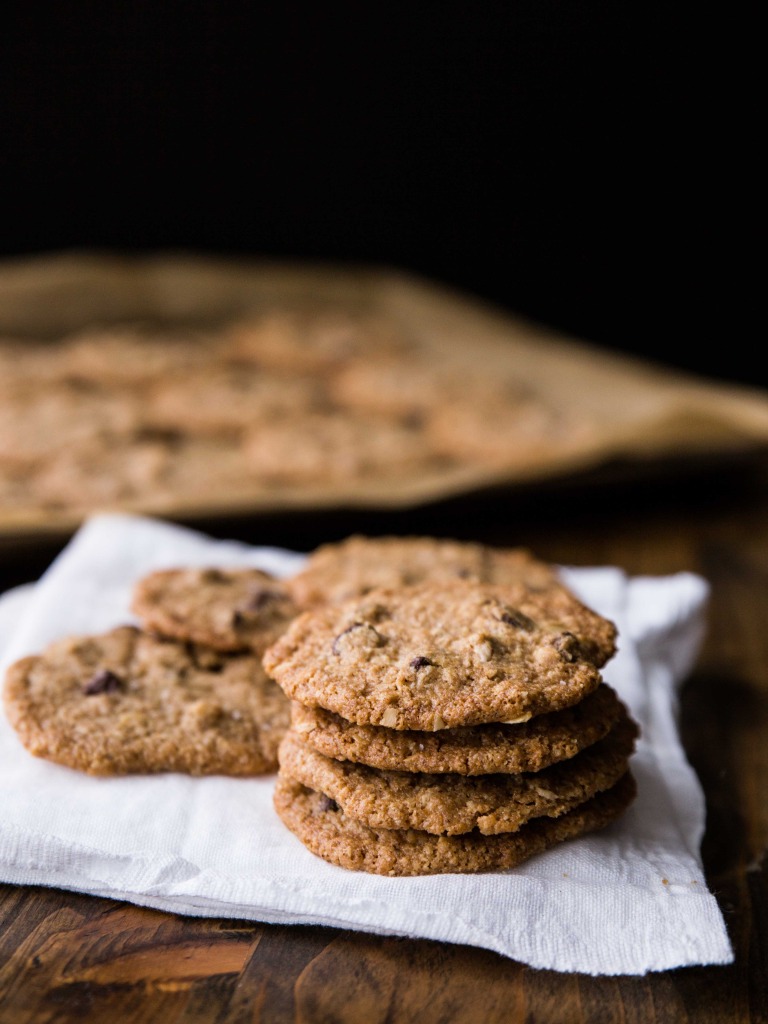 The wet ingredients are a simple mix of solid coconut oil that's creamed with salted almond butter, a flax egg, and vanilla and almond extracts. Combine dry with the wet, fold in the rest of the oats and some chocolate chips, and then let them bake into thin, lacy little cookies full of crispy flavor and chocolate.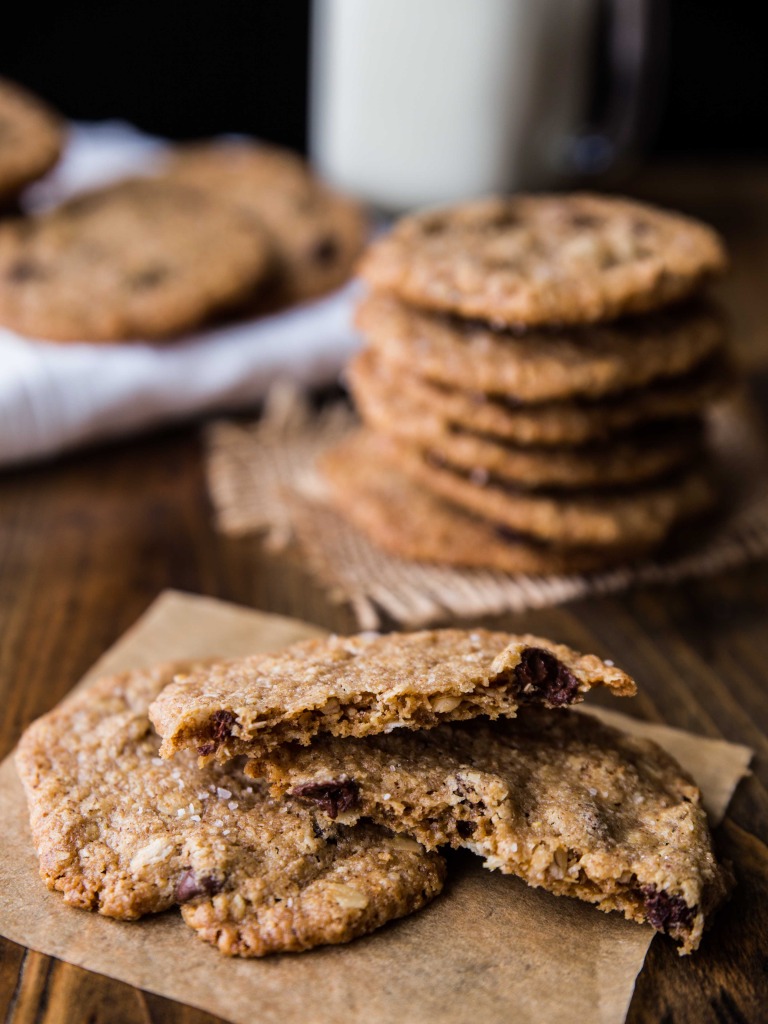 Once they get out of the oven, you should sprinkle on a bit more sea salt. It heightens all the other buttery, almond and vanilla flavors in those little cookies.
If you tasted these, you wouldn't believe that this recipe is completely free of butter or vegan butter, but it's the truth. Crazy baking science craftery is at work.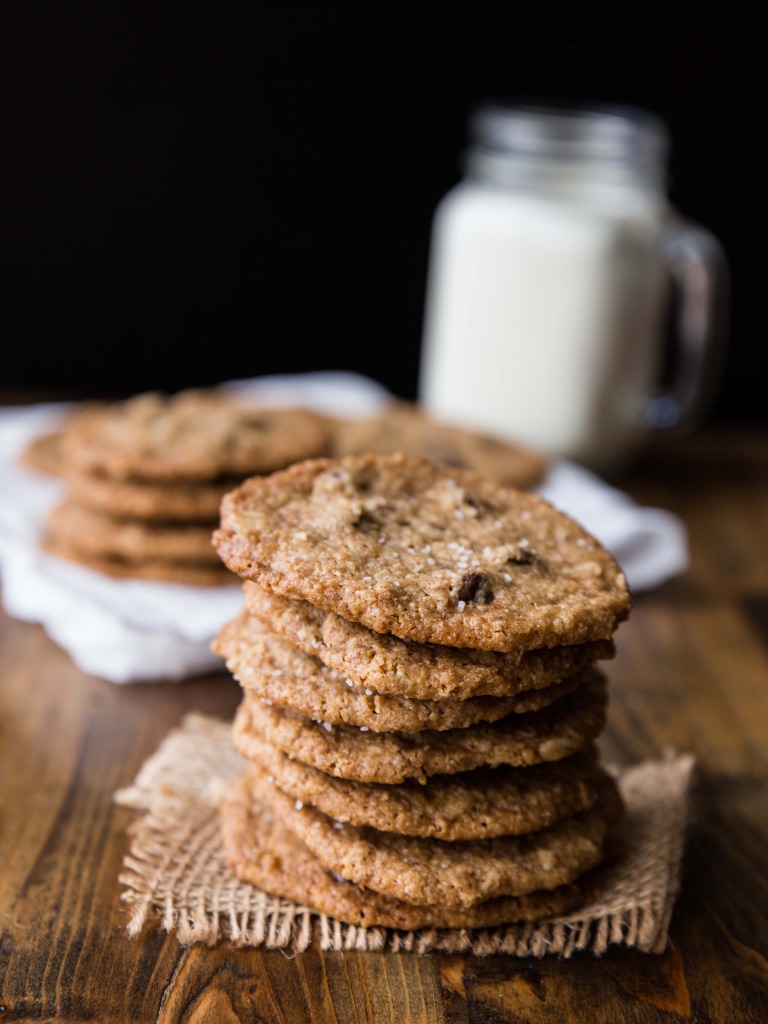 Ryan ate 5 (FIVE) of these in one hour on Saturday, which is huge, since he's not that big on sweets. There's something about these thin little cookies that just makes you need more. You've been warned.


Thin and Crispy Salted Almond Butter Oat Cookies
Thin, crispy and buttery (tasting) salted almond butter and oat cookies! Vegan and gluten free.
Yield: 28 cookies
Prep Time: 10 minutes
Cook Time: 10 minutes
Total Time: 20 minutes
Ingredients:
2 cups old-fashioned oats, divided (gluten free, if needed)
3/4 cup cane sugar
½ teaspoon baking powder
1/4 teaspoon salt
1/2 cup coconut oil, solid
1/2 cup creamy salted almond butter
1 flax egg (see note)
½ teaspoon vanilla extract
¼ teaspoon almond extract
½ cup semisweet chocolate chips (vegan, if needed)
Sea salt, for topping
Directions:
Preheat oven to 375.
Combine 1 1/2 cup oats, sugar, baking powder, and salt in a food processor, and process until a flour forms.
In another bowl, beat together the solid coconut oil and almond butter until creamy. Add the flax egg and extracts. Gradually add the dry ingredients, and then fold in the remaining oats and chocolate chips, if using.
Shape 1 tablespoon of dough into a ball, and then flatten with your hand. Place on a parchment-lined baking sheet. Repeat with remaining dough, leaving as much space between cookies as possible, and bake for 9-11 minutes.
Sprinkle with additional sea salt when you remove them from the oven. Let sit on the cookie sheet for 5 minutes, then transfer to a cooling rack. They will be fragile while they cool, so move them carefully.
1 Flax Egg: 1 tablespoon ground flax mixed with 3 tablespoons warm water, and let it sit for 5 minutes.
I tried this recipe with a chicken egg, and sadly it just wasn't as good. The egg makes the cookies a little thicker, so they don't have that light and crispy texture.
Nutrition Information: Serving Size: 1 cookie, Calories: 120, Sugar: 6.9g, Sodium: 56mg, Fat: 7.4g, Saturated Fat: 4.0g, Carbs: 12.8g, Fiber: 1.2g, Protein: 2.1g
26 Responses to "Thin and Crispy Salted Almond Butter Oat Cookies"