Chocolate Coconut Macaroon Donuts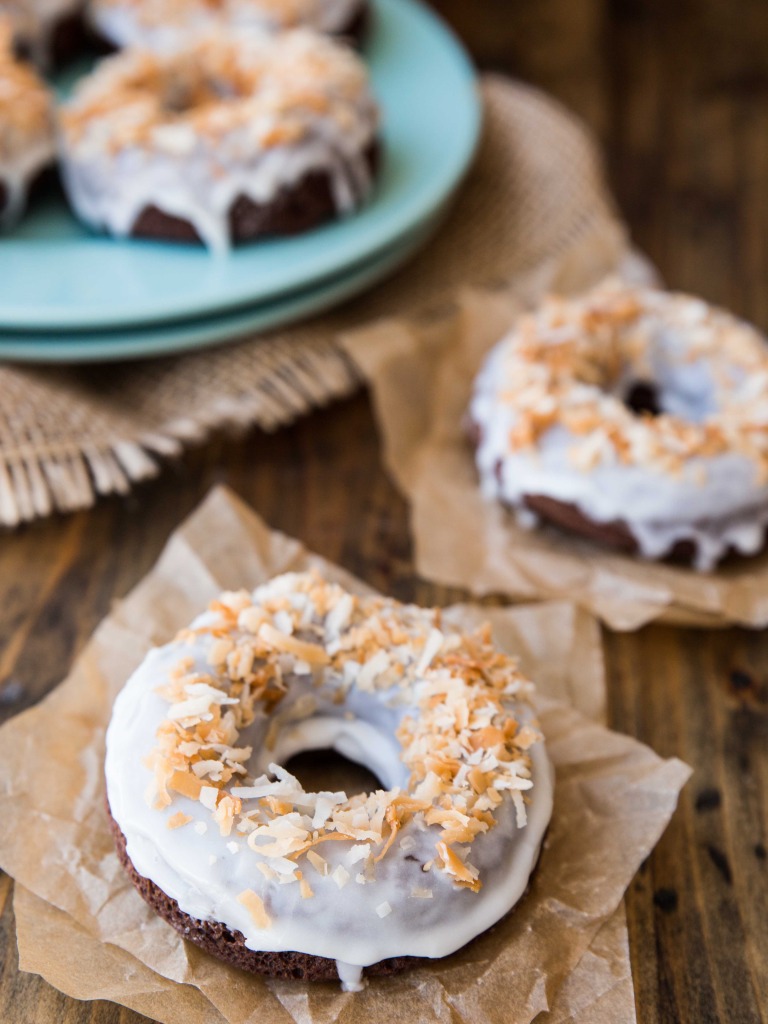 When I think of donuts I always end up thinking about my grandpa. The only time I really ever ate donuts growing up, or enjoyed them enough to remember them, was on our annual family beach vacations. My Grandpa, no matter how slow he moved at his older age, would get up early and walk to the nearest donut shop to provide a sugary breakfast for our family. I'd throw on a Mickey Mouse sweatshirt, curl up on a chair on the patio, and watch the waves crash in as I dug into a chocolate-frosted and liberally sprinkled cake donut.
Even now, decades later, my happy place would be on that patio, eating a donut with my grandpa and watching the waves come in. These days I'd also want a large cup of coffee on the side, but otherwise that situation would be perfect, Mickey Mouse sweatshirt and all.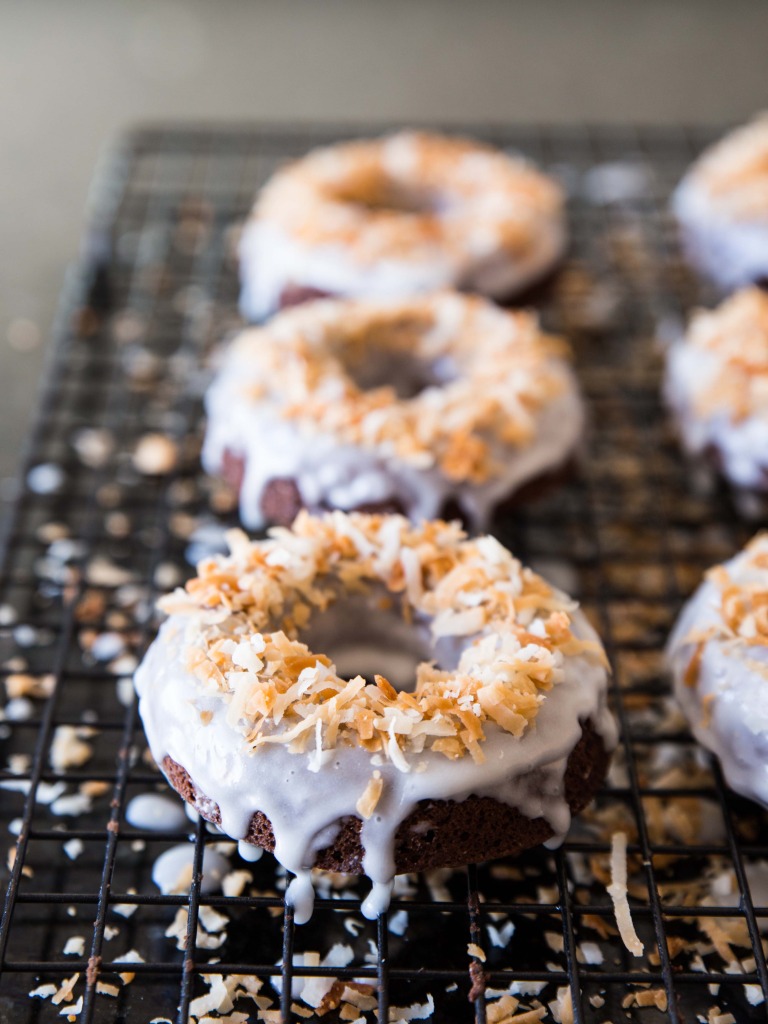 My grandpa would probably think home-baked donuts were laughable. Why bake donuts at home when there's a Dunkin' Donuts down the street?
Until recently I would have agreed with him. "If I'm eating a donut I'm gonna eat a DONUT," I'd say. So stubborn, always. Kind of like my grandpa.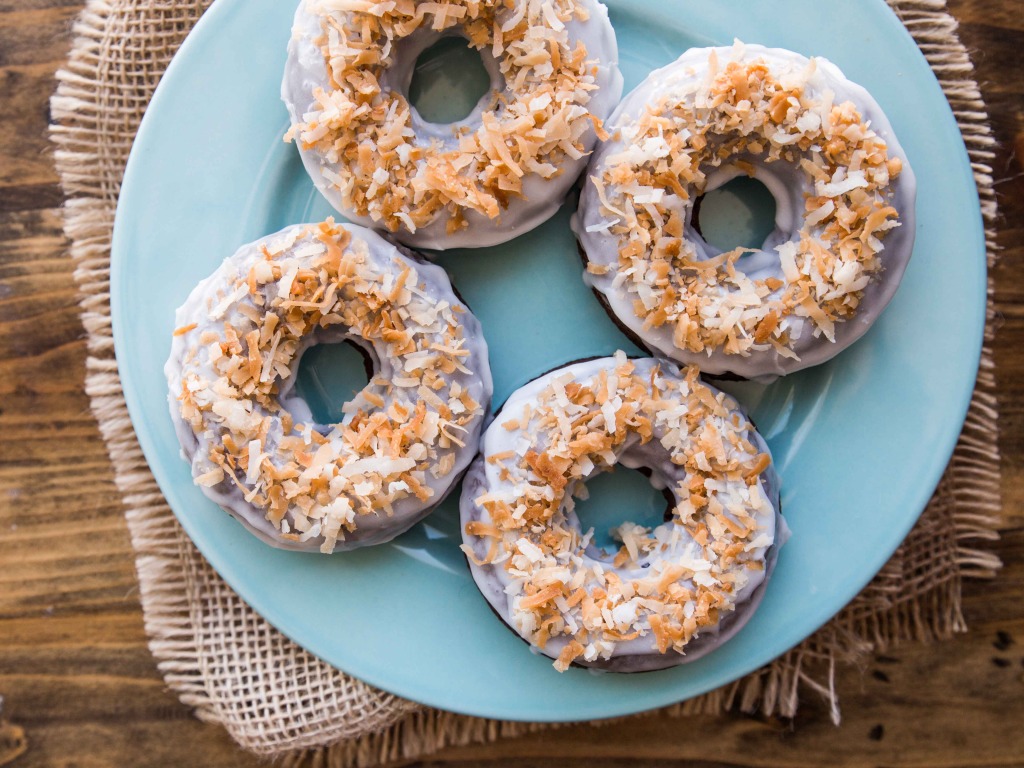 I've learned, however, that baked donuts are surprisingly easy, wonderfully customizable, and a good option when you don't want to be weighed down all day from a fried and heavily-sugared breakfast.
Not that these aren't heavily sugared, because they are, but they're not AS naughty as a bakery-bought donut. Plus, they're fun to make, and save you the trouble of venturing out in the winter cold for your donut fix. Since we're having January temperatures in MN right now, that's kind of a deal breaker.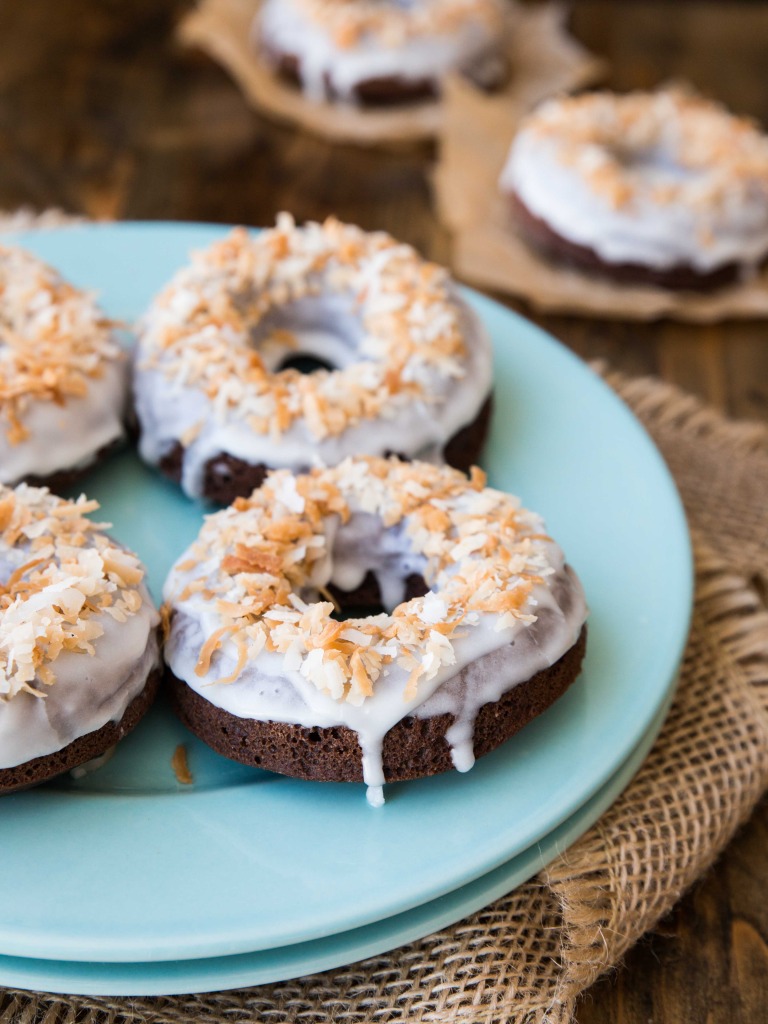 These specific donuts are like a chocolate-dipped-coconut macaroon – one of my very favorite desserts – turned inside out; The donut itself is fluffy and chocolatey, with a subtle hint of coconut throughout from coconut milk, oil, and extract. Then, we top the glazed donuts with crispy toasted coconut for just a touch of that beloved coconut texture.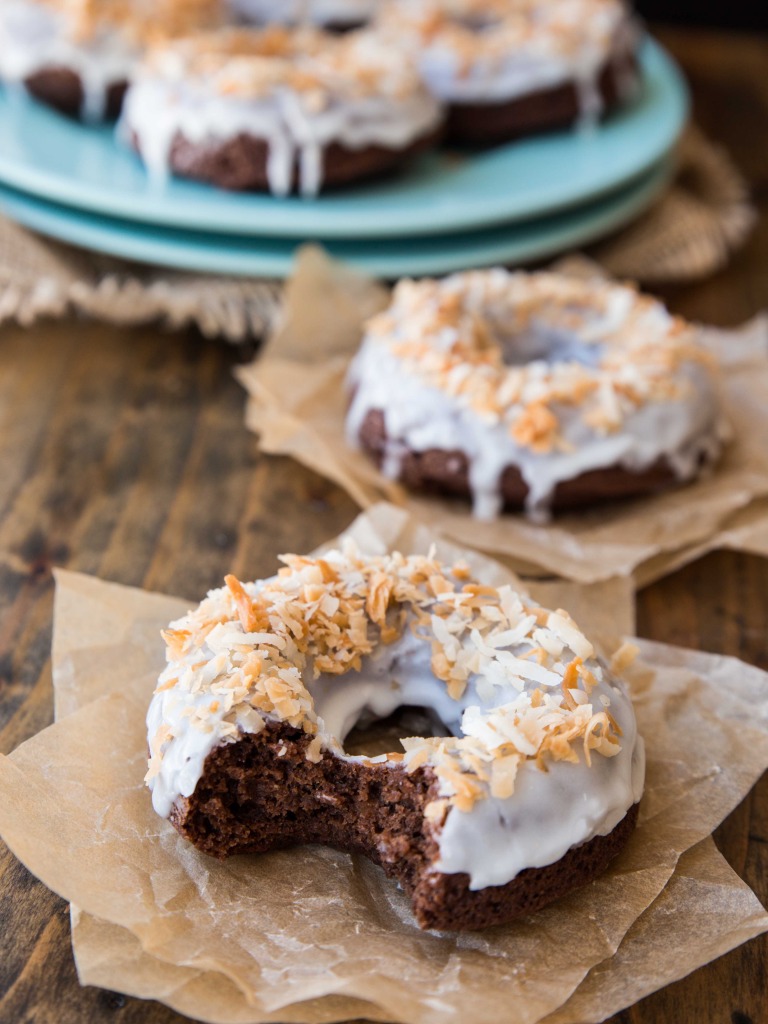 I brought these to family dinner on Sunday, and was shocked to find that my fried-donut-loving family members fell hard for these donuts. Two people who don't even like coconut liked these donuts. Maybe my bakery-loving grandpa would even approve?
Chocolate Coconut Macaroon Donuts
Fluffy baked chocolate donuts made with a hint of coconut, a simple glaze, and toasted coconut on top!
Yield: 6 donuts
Prep Time: 10 minutes
Cook Time: 10 minutes
Total Time: 20 minutes
Ingredients:
Chocolate Coconut Donuts
1/2 cup all-purpose flour
¼ cup white whole wheat flour
¼ cup cocoa powder
1 teaspoon baking powder
1/4 teaspoon salt
1 large egg (see notes)
1/3 cup cane sugar, processed until fine, or granulated sugar
1/2 cup light coconut milk
2 Tablespoons coconut oil, melted
1 teaspoon vanilla extract
½ teaspoon coconut extract
Glaze
1 cup powdered sugar
1 1/2 tablespoon milk or half and half (see notes)
Toasted coconut, for topping
Directions:
To toast the coconut, bake at 325 for 5-10 minutes, stirring twice to ensure even baking. Set aside.
Once you're done toasting the coconut, increase oven temp to 350.
Whisk together the flours, cocoa powder, baking powder, and salt. Set aside.
In another bowl, whisk together the egg, sugar, and coconut milk. Mix in the melted coconut oil and extracts.
Pour the wet ingredients into the dry, and whisk until just incorporated.
Grease a donut pan with non-stick spray, then use a spoon to transfer the batter to a large ziplock bag. Cut a small hole in the corner of the bag, and pipe into the donut pan.
Bake for 9-10 minutes. Let sit in the pan for at least 3 minutes, then transfer to a wire rack.
Whisk together the ingredients for the glaze in a shallow bowl. Dip all of the donuts in the glaze, then dip again a second time. Quickly sprinkle on toasted coconut before the glaze sets, and press down lightly so it sticks.
This recipe works as both a vegan or non-vegan recipe.
Vegan Option: Use a flax egg in the donut batter, and almond milk in the glaze. When I made these vegan the batter was slightly thicker, so depending on how you pipe the batter into the pan, you may end up with more than 6 donuts.
Nutritional information is for 1 of the 6 donuts, using the Non-Vegan ingredients. The Vegan Option results in very similar nutrition facts. The nutrition info does not include the toasted coconut, as the amount you use is up to you.
Nutrition Information: Serving Size: 1 donut with glaze, Calories: 288, Sugar: 31.8g, Sodium: 115mg, Fat: 11.2g, Saturated Fat: 9.0g, Carbs: 46.3g, Fiber: 2.3g, Protein: 4.0g
6 Responses to "Chocolate Coconut Macaroon Donuts"