Individual Pumpkin Butter-Swirled Vanilla Bean Ice Cream Cheesecakes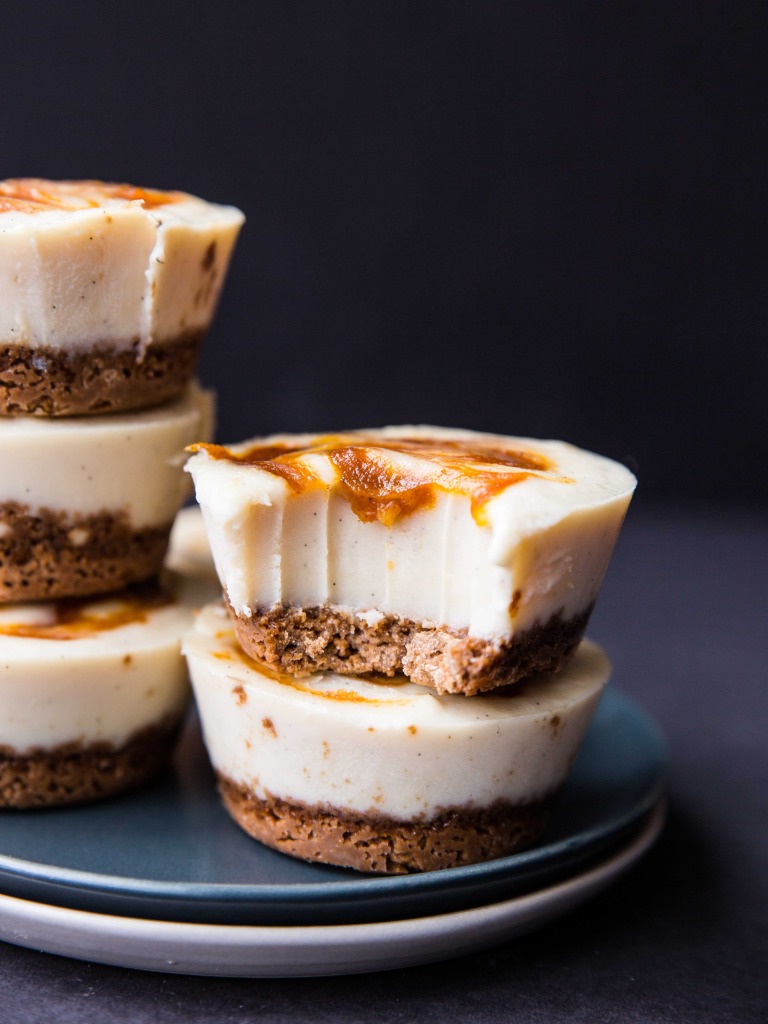 It's almost that time, you know. CHRISTMAS TIME. It officially starts on Friday, and I can't even stand the excitement.
Yes, I'm one of those Christmas people. Yikes.
BUT, at the same time, we need to mourn the loss of pumpkin season. It's a short-lived and heavily-loved time of year. Caribou stopped carrying my pumpkin latte on Halloween, so I've been acclimating to a pumpkin-free world for a while now. Yes, on Halloween, the DAY OF PUMPKINS, they stopped offering pumpkin lattes. Doesn't that seem wrong? Me thinks so.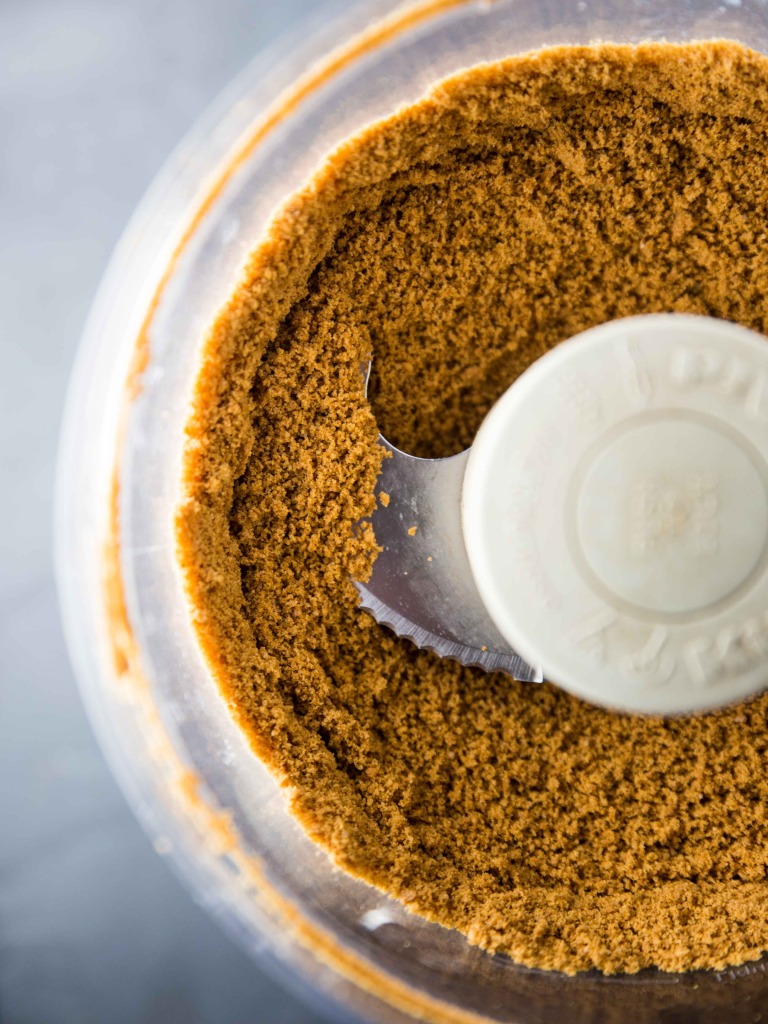 So, today, I'm cheersing pumpkin season with a little pumpkin butter love. I think of pumpkin butter as the holy grail condiment of fall, and it seems just SO RIGHT to highlight it for a Thanksgiving dessert.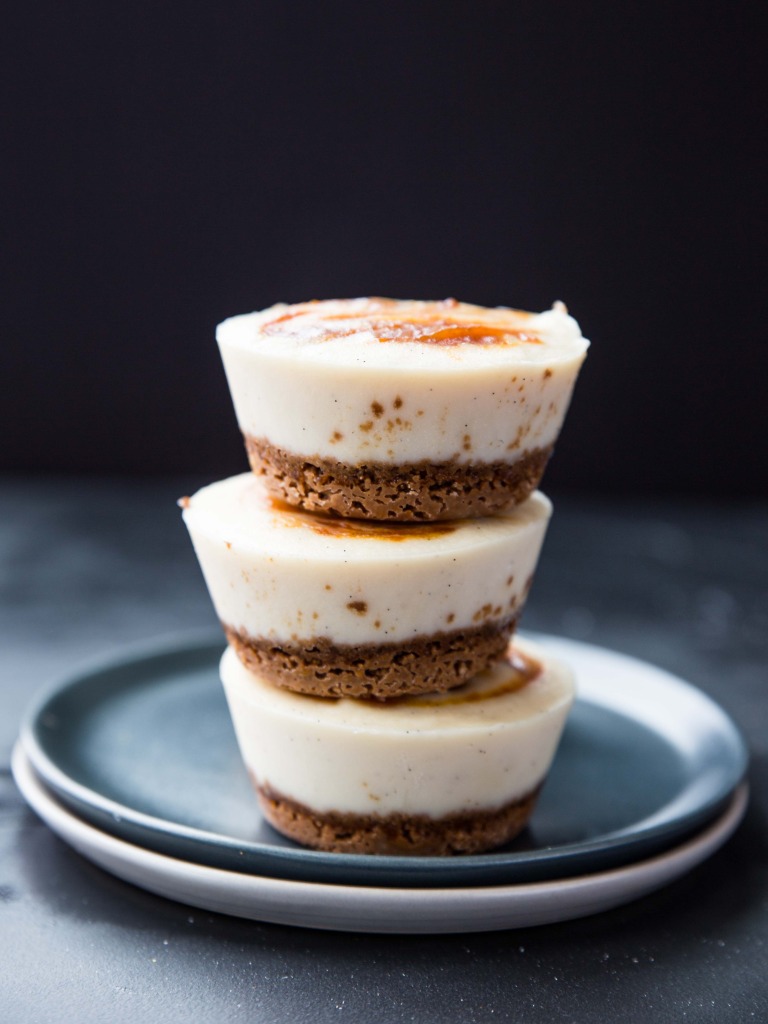 This recipe is kind of weird. I totally get it. It's tofu blended with coconut milk but it's frozen and ice cream-ish with pumpkin butter but it's cheesecake-ish too, and there's a graham cracker crust and you're probably like WHAT IS GOING ON, but I insist that it is totally delicious and worth your while.
The crust is a simple blend of cinnamon graham crackers and coconut oil, which is baked up until golden, and then covered with a super creamy, sweet mix of soft tofu, coconut milk, agave nectar, cane sugar, brandy, salt, and vanilla bean. The agave and brandy keep the mixture from freezing solid, which gives the dessert a smooth ice cream consistency. The crust is crunchy and cinnamon spiced, while the ice cream is smooth and rich, with a little pop of pumpkin butter on top. There's some fall vanilla bean harmony magic going on.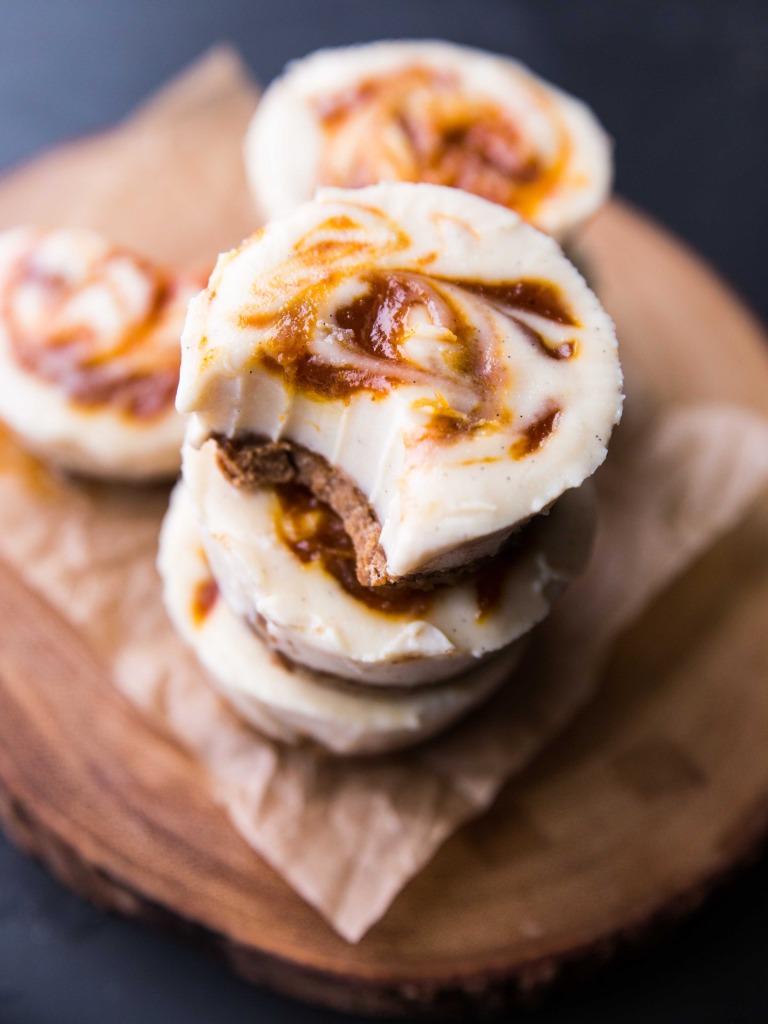 This recipe is vegan friendly, as long as you use vegan graham crackers and vegan pumpkin butter. The ingredient that usually makes those two ingredients UN-vegan is honey, so you really just want to find some honey-free ingredients if you need these cheesecakes to be vegan. I've found some options here and here. You could also make your own pumpkin butter, which I haven't tried yet, but I'm very intrigued.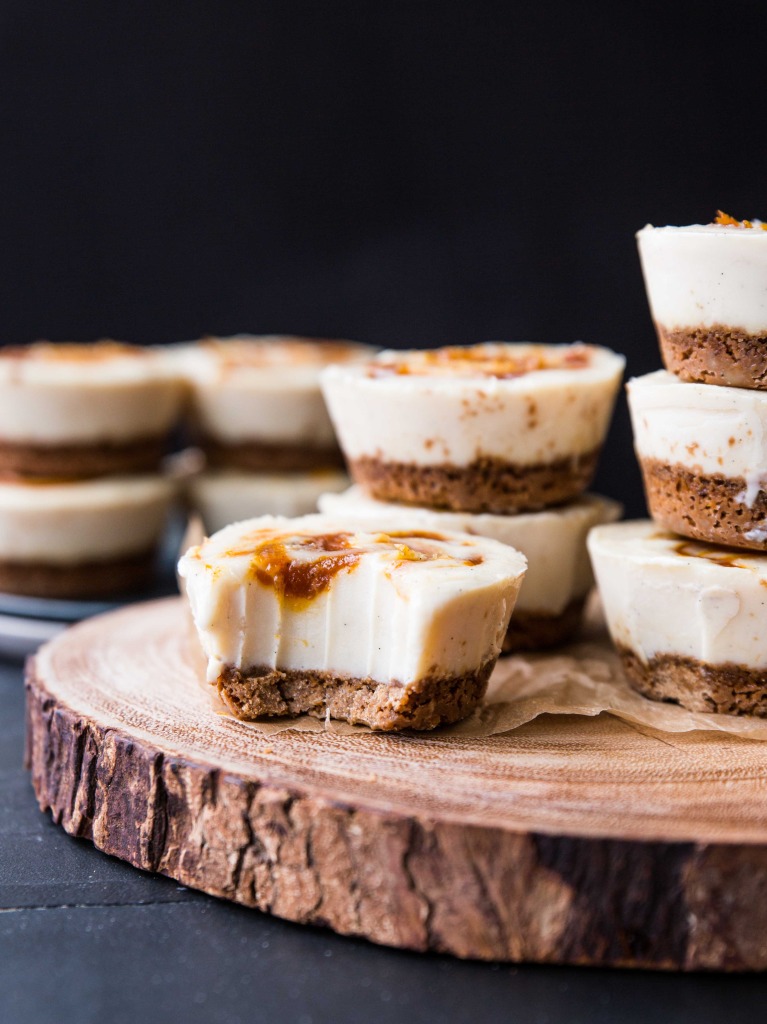 Even for the un-vegans, these little cheesecakes are perfectly rich and creamy, and could absolutely pass for a full-dairy dessert. Plus, you can make these ahead of time and just pop them out when you're ready for a treat. Or, you can take multiple bites of multiple cheesecakes while trying to take the perfect bite picture for your blog.
#reallife #somuchcheesecake

Individual Pumpkin Butter-Swirled Vanilla Bean Ice Cream Cheesecakes
Creamy and rich frozen vanilla bean cheesecakes swirled with pumpkin butter! Dairy free and vegan friendly!
Yield: 12 cheesecakes
Prep Time: 20 minutes
Cook Time: 10 minutes
Total Time: 30 minutes (plus freezing time)
Ingredients:
Graham Cracker Crust
8 ounces cinnamon graham crackers (vegan friendly, if needed)
½ cup coconut oil, melted
Pumpkin-Butter Swirled Vanilla Bean Cheesecakes
16 ounces organic soft tofu
3/4 cup agave nectar
½ cup cane sugar
½ cup light coconut milk
2 tablespoons brandy
1 vanilla bean, scraped
½ teaspoon sea salt
12 teaspoons pumpkin butter (vegan friendly, if needed)
Directions:
Preheat oven to 325 degrees. Pulse the graham crackers in a food processor until fine crumbs form. You should end up with about 2 1/4 cup (a little more or less isn't a big deal). Add the melted coconut oil, and pulse to combine. Divide the graham cracker crust among 12 well-greased muffin tins, pressing down firmly. Poke each one with a fork, and bake for 7-10 minutes, until golden.
Combine the tofu, agave, sugar, and coconut milk, brandy, vanilla bean, and sea salt in a food processor and process until totally smooth.
Divide the tofu mixture among the 12 muffin tins (about 3 tablespoons in each). If you did not grease the sides of your muffin tin before, make sure to do so now. Fill each muffin tin with 1 teaspoon of pumpkin butter, and use a knife to swirl.
Freeze until solid. Eat straight out of the freezer, or let sit at room temperature for 10 minutes (I prefer them a bit thawed).
If you do not want to use liners, here is how you remove the cakes from the pan: push a knife firmly into the side of one cheesecake. Once you get to the bottom, the cheesecake will pop out. Repeat with remaining cheesecakes. If you use greased muffin liners, you should be able to just peel them :)
Nutrition Information: Serving Size: 1 cheesecake, Calories: 303, Sugar: 29.6g, Sodium: 223mg, Fat: 14.3g, Saturated Fat: 10.2g, Carbs: 40.6g, Fiber: 1.3g, Protein: 3.7g
7 Responses to "Individual Pumpkin Butter-Swirled Vanilla Bean Ice Cream Cheesecakes"