One Bowl Chocolate Potato Chip Cookies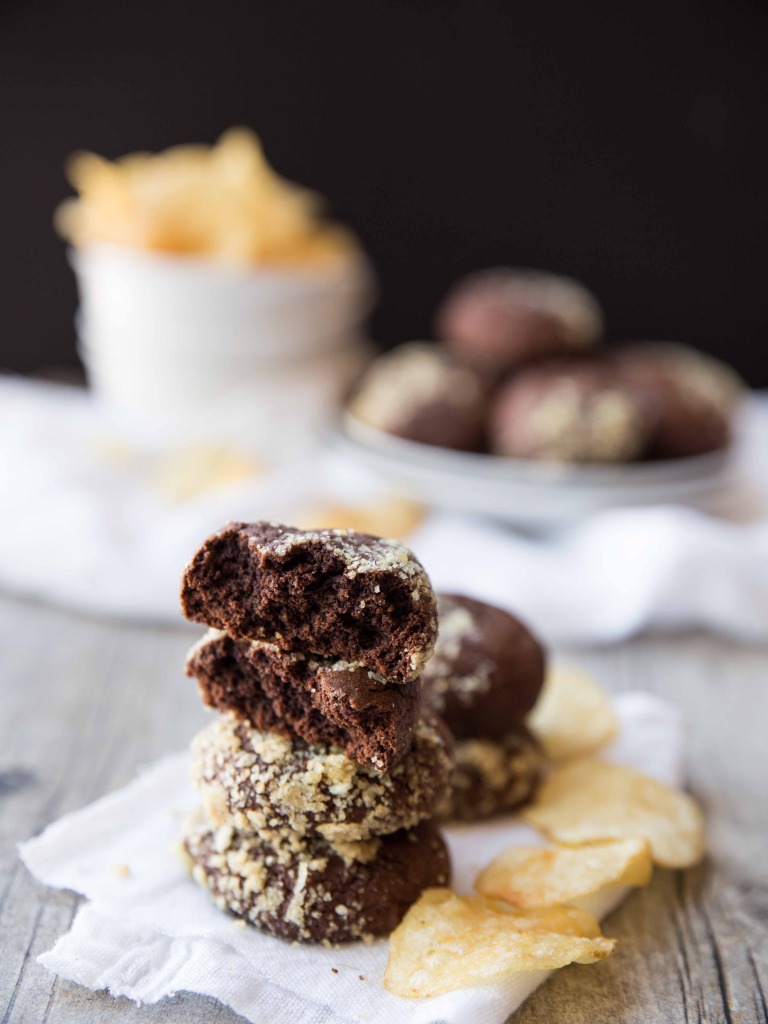 Potato chips have been my jam lately. I can't stop.
My sister, who's very pregnant and therefore has an excuse, reminded me of how good the kettle-cooked variety is, and I haven't looked back since.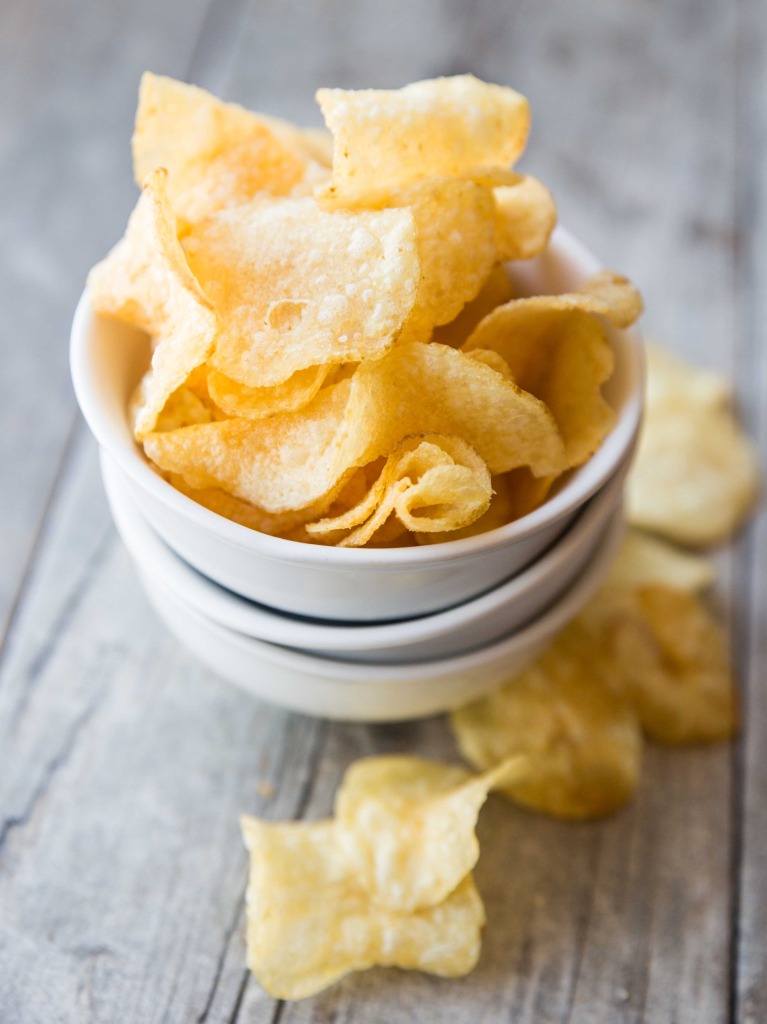 CRRRRRUNCH. all the time. They may even be better than tortilla chips to me right now, which is saying something.
I may just have a thing about chips, which is ironic for a person who generally avoids processed/packaged foods when possible. I just can't kettle cook chips at home – it's a problem!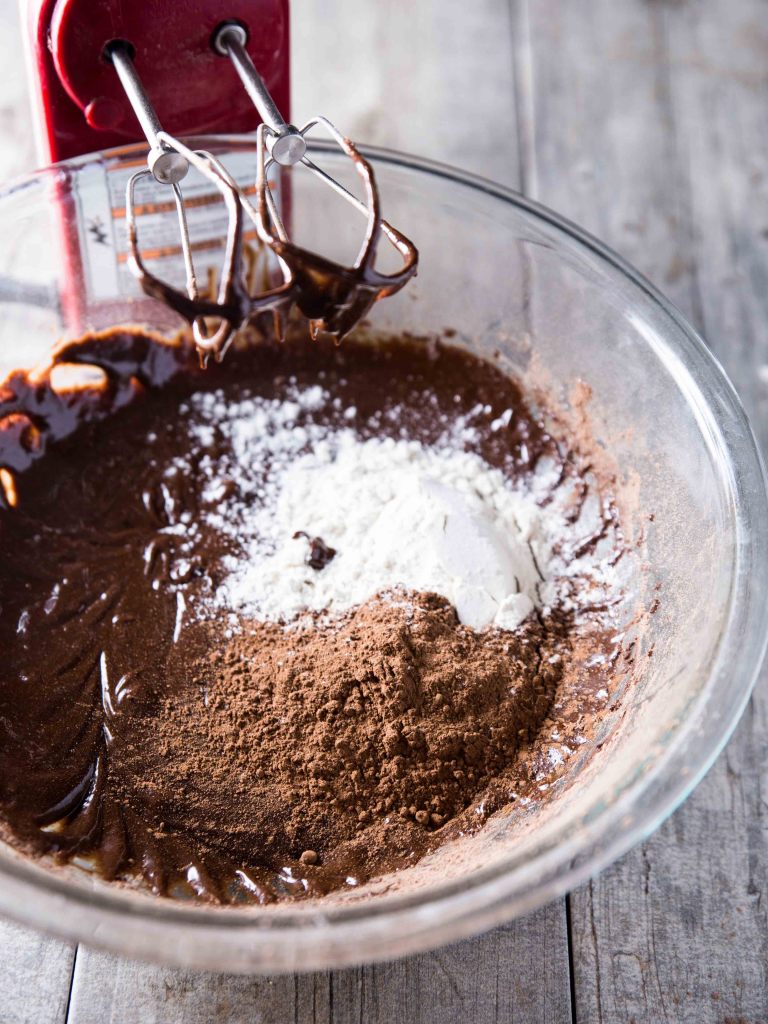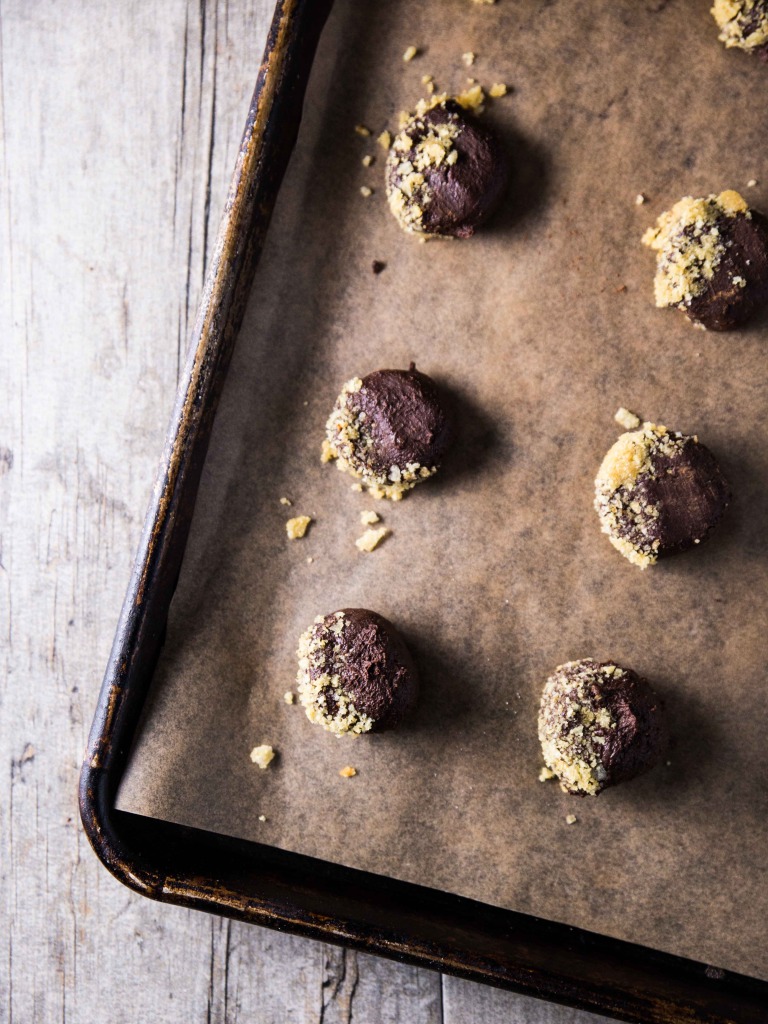 I CAN, however, crush those chips up and use them to coat cookies. Especially if those cookies are puffy, soft, chocolatey pillows that are just asking for a little salty crunch on the outside.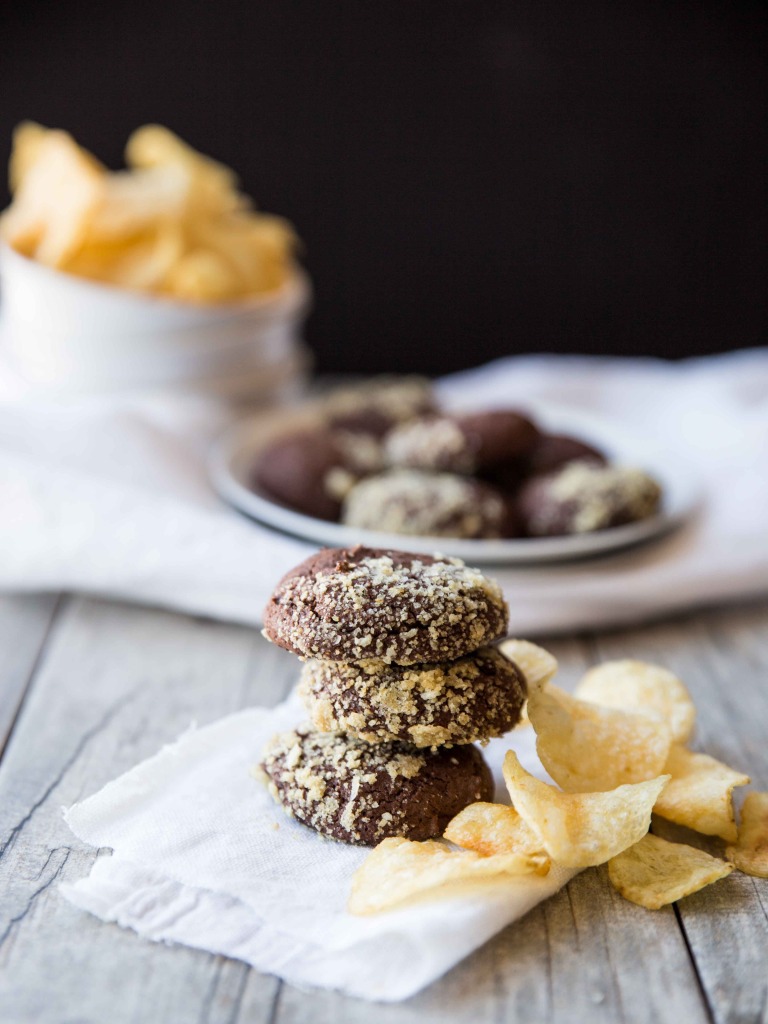 These cookies start with semisweet chocolate chips, which you melt with coconut oil. Into that melty, glossy chocolate goodness goes cane sugar, vanilla, eggs, and then you just add your dry ingredients to the bowl – no sifting/separate bowl required! Quickly refrigerate for 10 minutes so the dough is less sticky, then just roll into balls, dip in crushed chips, and bake up until puffy and perfect.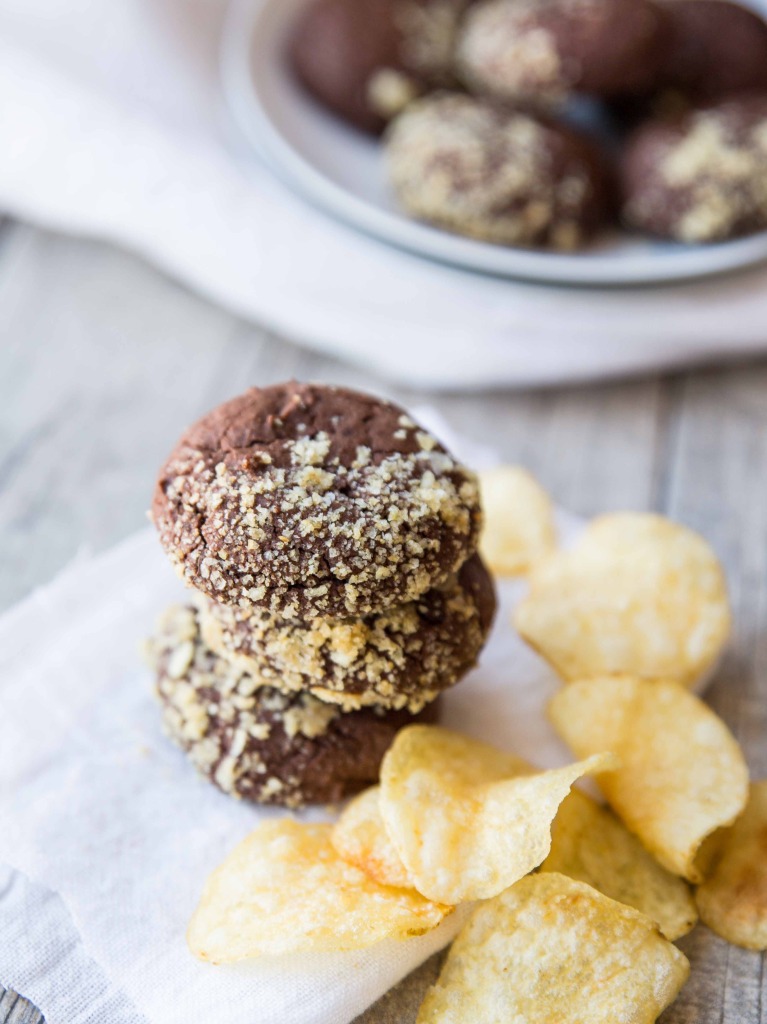 They literally melt in your mouth. Picture a brownie/cookie/cake hybrid of sorts – thick, soft, puffy, sweet with deep chocolate flavor. They also are dangerously addictive…I may have eaten 4 the night I baked them.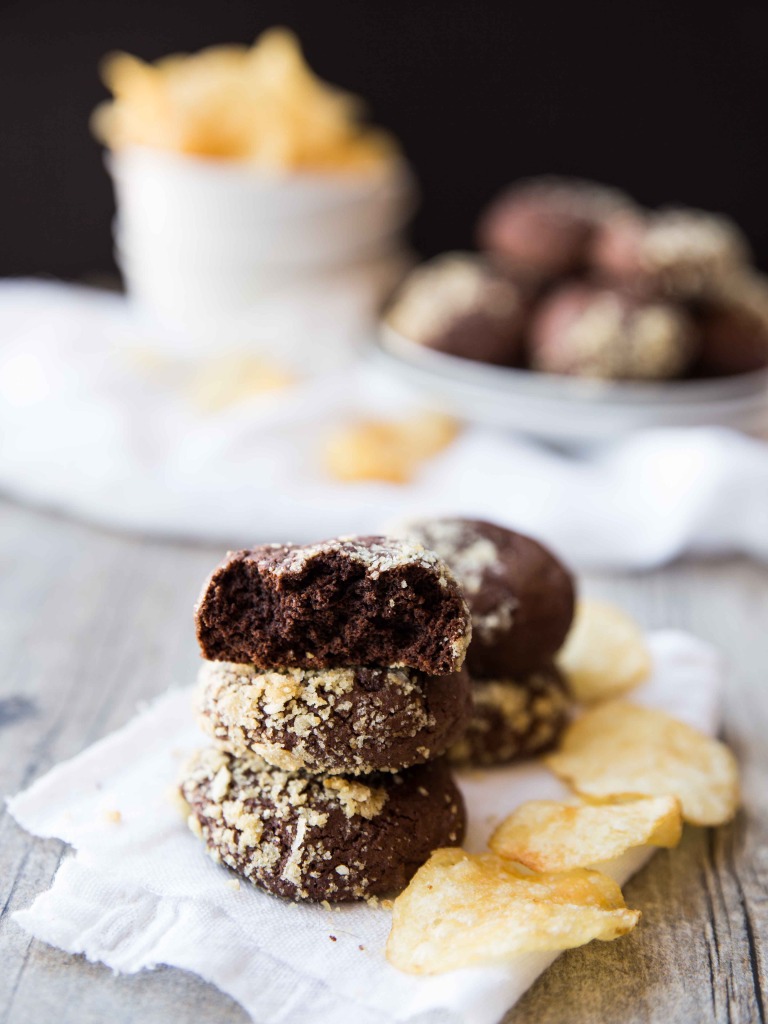 …in addition to a ton of potato chips. EEP. #holidays


One Bowl Chocolate Potato Chip Cookies
Soft, puffy cookies rich with chocolate flavor, coated in potato chip crumbs! Easy, one bowl, and totally addictive!
Yield: 2 dozen cookies
Prep Time: 15 minutes
Cook Time: 8 minutes
Total Time: 23 minutes
Ingredients:
1 cup semisweet chocolate chips
¼ cup coconut oil
1/2 cup cane sugar, processed until fine, or sub granulated
2 teaspoons vanilla extract
2 large eggs
1/2 cup unbleached all-purpose flour
1/2 cup cocoa powder (not dutch processed)
1 teaspoon baking powder
1/2 teaspoon salt
2 ounces potato chips (about 2 heaping cups), processed into crumbs
Directions:
Preheat oven to 375 degrees
Bring a pot of water to a boil, then place a glass bowl on top. Add the chocolate chips and coconut oil, and whisk until melted. Let cool for 5 minutes.
Whisk in the sugar, vanilla, and eggs.
Add half of the flour and cocoa powder to the bowl, along with the baking powder and salt. Mix until incorporated. Add the remaining flour and cocoa, and mix. Refrigerate for 10 minutes.
Using fingers lightly coated with cocoa powder (to prevent sticking), roll 1 tablespoon-sized pieces of dough into balls, and dip half of the ball into the crushed chips. Place on a parchment-lined baking sheet, and press down just slightly with your fingers (see picture #4).
Bake for 8-9 minutes. Let sit on the pan for 2 minutes, then transfer to a cooling rack to cool completely.
Store in an airtight container with a slice of bread (this will keep them soft for days).
Vegan Option: You can make these vegan by using flax eggs and vegan-friendly chocolate chips, but they won't be as puffy as the ones shown here. They're still be super tasty though!
Nutrition Information: Serving Size: 1 cookie, Calories: 115, Sugar: 9.0g, Sodium: 69mg, Fat: 6.5g, Saturated Fat: 4.3g, Carbs: 14.5g, Fiber: 1.2g, Protein: 1.3g, Cholesterol: 16mg
3 Responses to "One Bowl Chocolate Potato Chip Cookies"