High Protein Carrot Cake Waffles with Maple Cream Cheese Glaze + a Giveaway!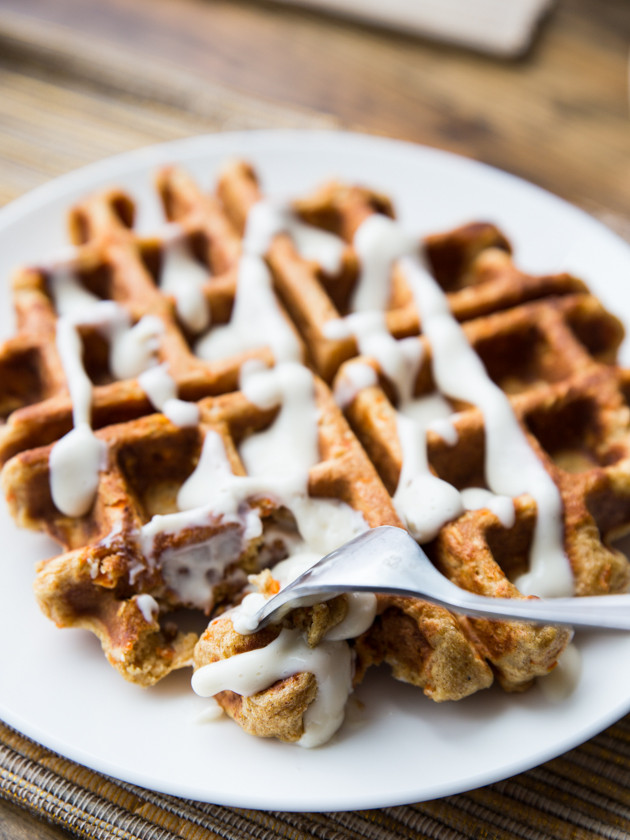 Hi hello. Happy Monday. I'm kind of sad it's Monday, and I think you probably are too, so I have a fun post today to make up for it.
The past week was just so exciting, with the official release of The High-Protein Vegetarian Cookbook
on the 5th, my 29th (eep) birthday on the 7th, and a book release/birthday party on Saturday with all my closest friends and family. It was all go! go! go! with the fun things and now it's all whomp whomp with the back-to-normal reality things.
Fortunately I can break through the mundane with carrot cake for BREAKFAST, and a couple exciting things to giveaway!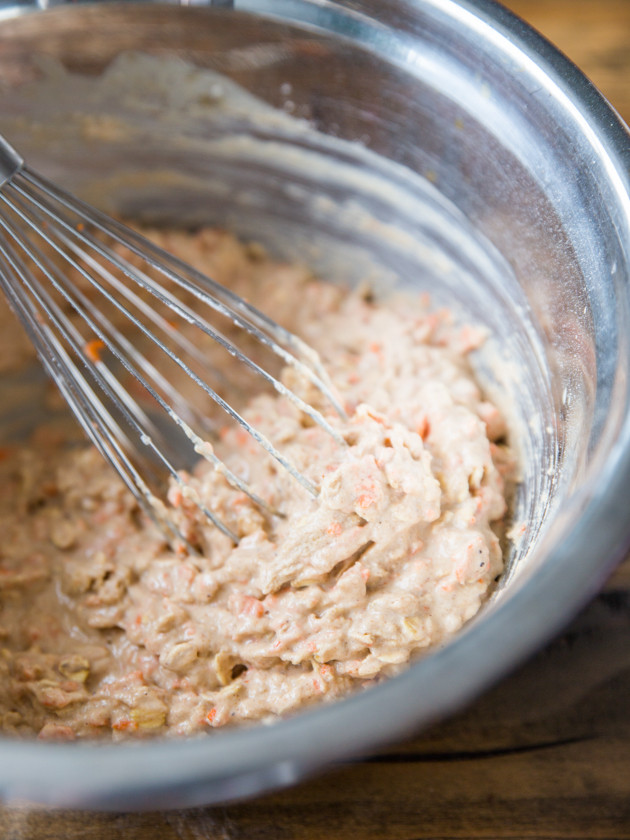 First things first ("I'm the realest" – damn you Iggy Azalea), let's talk about these waffles. They're one of my favorite breakfast recipes from The High-Protein Vegetarian Cookbook, because they taste like dessert, and admittedly they're pretty decadent, but they're packed with whole grain goodness and 20 (!!!) grams of protein in each waffle!
They're crisp on the outside, fluffy and lightly-textured by oats on the inside, and full of those warm carrot cake flavors. The maple cream cheese glaze is tangy and smooth and makes the waffles extra special. This recipes makes just enough for two – 4 smaller square or 2 larger round waffles – but can be easily doubled, tripled, etc. for a larger family.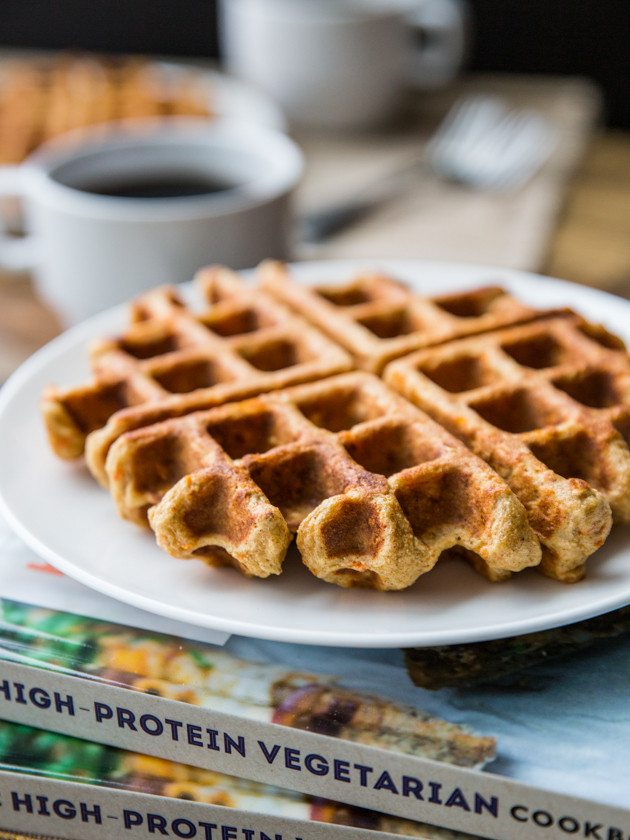 Secondly, since my cookbook is officially on sale, I am giving away a copy, along with my very favorite kitchen gadget: a KitchenAid 9-Cup Food Processor! I use it almost every day, whether it be for slicing vegetables, shredding cheese, making pesto, or blending up the glaze you see on these waffles. It's super versatile, easy to use, and a total magic-machine.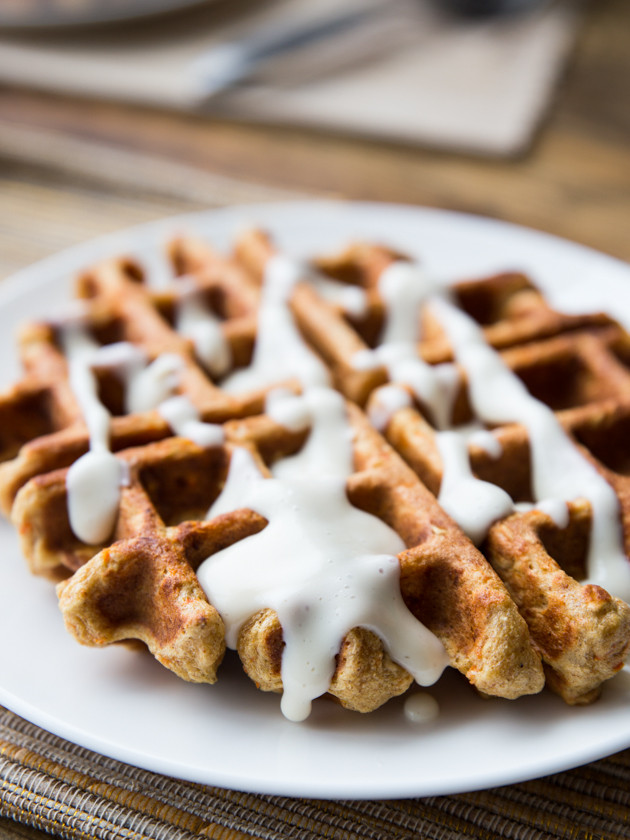 Several recipes in the book call for a food processor, so with the book in hand, and the food processor by your side, you will be ready to cook your socks off.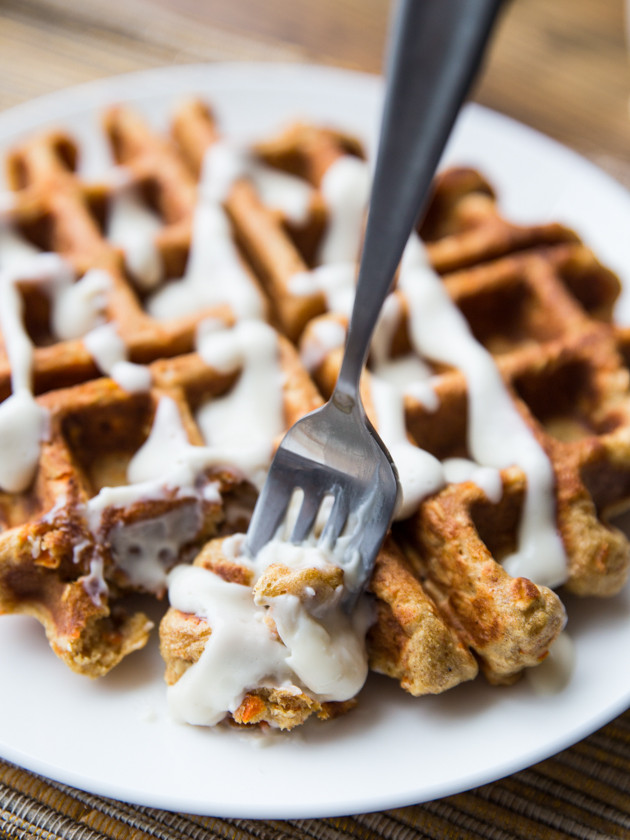 You can enter up-to five times by using the widget below:
The contest will be open through Friday at 11:59pm, at which time a winner will be randomly chosen. Good luck!


Whole Grain Carrot Cake Waffles with Maple Cream Cheese Glaze, for Two
Carrot cake waffles that are crisp on the outside, fluffy on the inside, and packed with 20 grams of protein! The whole wheat flour and oats make these super filling, while the maple cream cheese glaze adds decadence to the most important meal of the day.
Yield: 2 servings
Prep Time: 5 minutes
Cook Time: 10 minutes
Total Time: 15 minutes
Ingredients:
Whole Grain Carrot Cake Waffles
⅔ cup 2% plain Greek yogurt
3 tablespoons 2% milk
½ tablespoon vanilla extract
1 tablespoon dark brown sugar, packed
1 large egg, lightly beaten
½ cup peeled and finely-grated carrot (about ¾ of one regular-sized carrot)
½ cup white whole wheat flour
½ cup quick oats
3/4 teaspoon baking powder
⅛ teaspoon salt
3/4 teaspoon ground cinnamon
½ teaspoon ground nutmeg
¼ teaspoon ground ginger
Maple Cream Cheese Glaze
2 ounces light cream cheese
2 1/2 tablespoons maple syrup
Directions:
Preheat your waffle iron.
Whisk together the yogurt, milk, vanilla and brown sugar until smooth. Whisk in the egg, and then the carrot.
In a separate bowl, combine together the flour, oats, baking powder, salt, cinnamon, nutmeg, and ginger.
Use a fork to stir the dry ingredients into the wet ingredients until just combined. The batter will be thick - that's what you want.
Coat your waffle iron with nonstick spray, then scoop the batter onto the waffle plates. Cook the waffles according to your waffle iron's instructions. The recipe will make 4 deep-pocket belgium waffles.
While the waffles are cooking, heat the cream cheese and maple syrup in the microwave for 10-15 seconds. Transfer to a food processor or blender, and pulse a few times until smooth.
Divide the glaze between the cooked waffles.
This recipe makes 4 smaller square waffles, or 2 larger round waffles.
Nutrition Information: Serving Size: 1/2 recipe (including the glaze), Calories: 464, Fat: 11.8g, Saturated Fat: 6.0g, Protein: 20.5g, Carbs: 72.1g, Fiber: 9.8g, Cholesterol: 114mg, Sodium: 471mg
51 Responses to "High Protein Carrot Cake Waffles with Maple Cream Cheese Glaze + a Giveaway!"
Pingback: 22 Recipes For Your Easter Holiday