Winter Vegetable and Lentil Red Curry with Cilantro Lime Cauliflower Rice
Today we're working with some ugly vegetables. Like, the ugliest…but but BUT, those ugly vegetables get all dressed up for some winter vegetable curry and cilantro lime cauliflower rice. It's vegetables on vegetables on vegetables.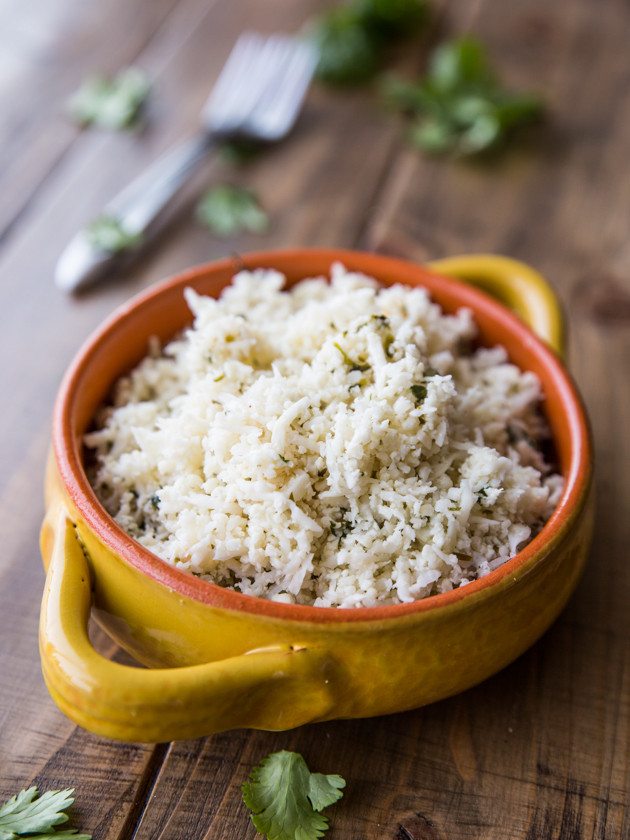 As you may guess from the heavy-handed vegetable-ness of this post, Ryan is out of town this week. Living without my man friend means after work food blogger nerdery. I'm sure the bloggers among you understand. I miss Ryan, and I would always rather be hanging out with him (especially since he's in Florida, ahem), but every so often it's nice not to feel like a weirdo geeking out about lighting, backgrounds, and new bowls to hold things like winter vegetable red curry.
Being a temporarily single lady also allows the necessary time to watch The Bachelor, Scandal, and Hart of Dixie. #priorities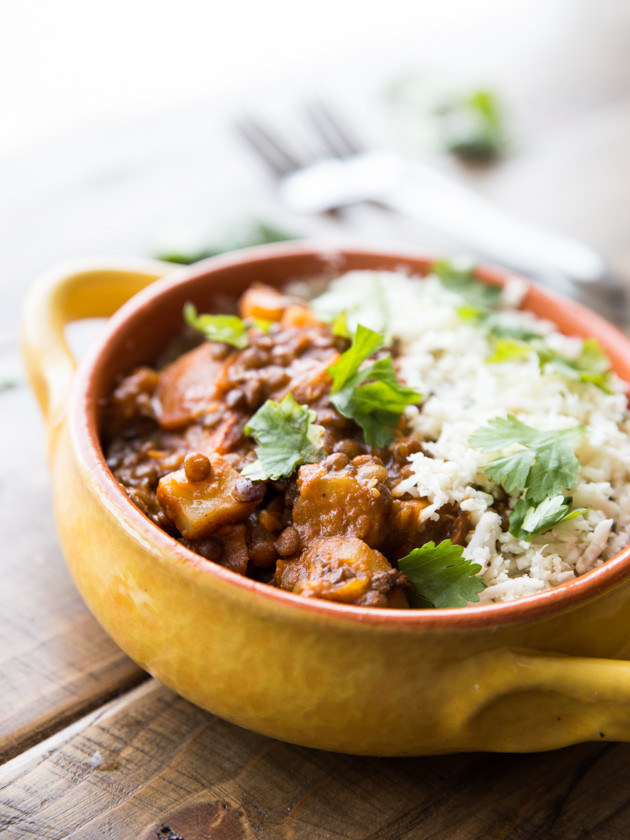 This curry needs to simmer for a while, since we're cooking lentils and some intense root vegetables, but that 35-40 minutes makes for a thick, flavorful sauce and tender veggies. The sauce starts with coconut oil, garlic, and shallot, sautéed until softened, and then comes the liquid (coconut milk and water), lentils, and vegetables: carrots, an old standby, as well as under-used parsnips and celery root. Celery root is literally the ugliest vegetable I've ever seen. Laughably ugly. It also smells (and tastes) very similar to celery, which lends great subtle flavor to the dish. The parsnips remind me of a milder carrot, but not quite as sweet.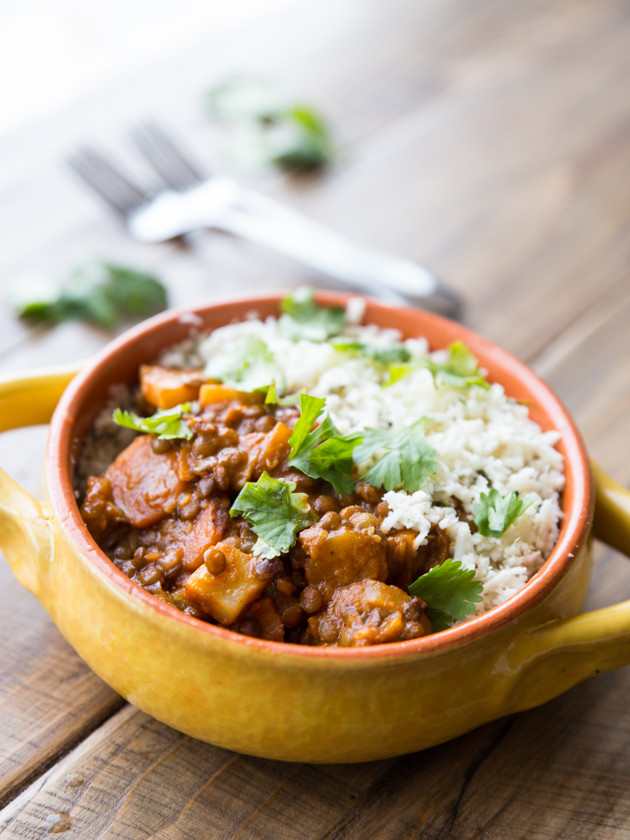 As far as spices, we have red curry paste, curry powder (double the curry power, yeah!), chili powder, cumin, ginger, red pepper flakes, and a splash of lemon juice. A touch of tomato paste adds a little depth and sweetness, which is heightened by a teaspoon of cane sugar.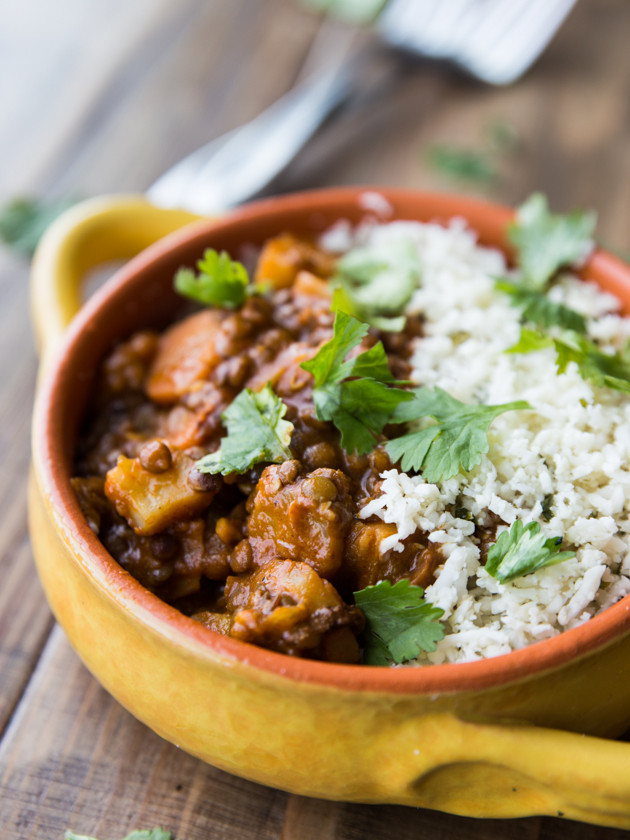 For the cauliflower rice, you just shred it up (a food processor makes this much easier), and sauté it with coconut oil, cilantro, and lime juice until tender. Voila – no grains needed.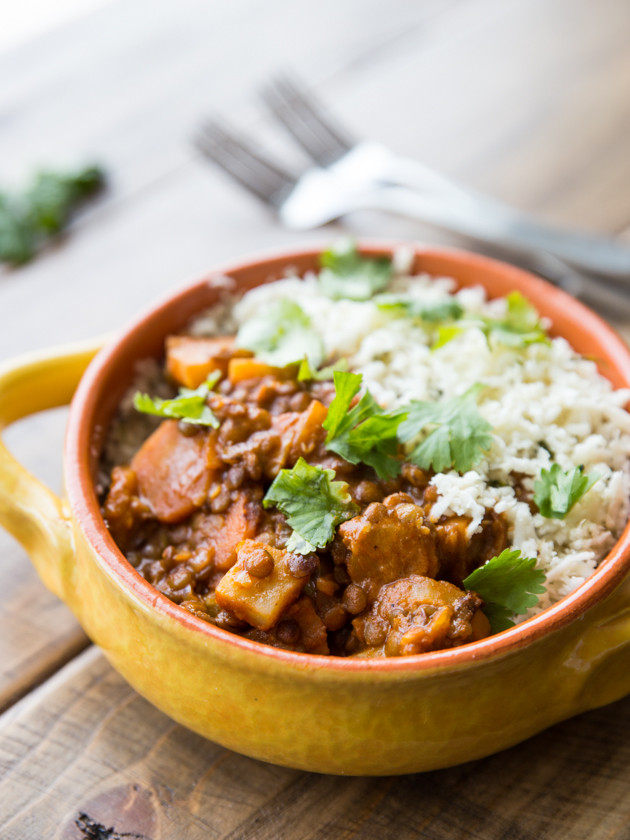 Ryan isn't picky or vegetable-averse at all, but I definitely eat differently when I'm cooking for just me. I lean into my vegetable love with salads, sooooo many brussels sprouts, and this curry. Do you eat differently when you're cooking for yourself?


Winter Vegetable and Lentil Red Curry with Cilantro Lime Cauliflower Rice
Rich red curry made with seasonal winter root vegetables and lentils! Served over cilantro lime cauliflower rice.
Yield: 4 servings
Prep Time: 15 minutes
Cook Time: 40 minutes
Total Time: 55 minutes
Ingredients:
Winter Vegetable Red Curry
1 tablespoon coconut oil
2 cloves garlic, chopped
1 shallot, diced
½ of one celeriac (celery root), peeled, roots removed, and cut into 1/2" cubes
1 parsnip, peeled and sliced
1 carrot, peeled sliced
1 can light coconut milk
¾ cup water
½ cup brown lentils, picked through and rinsed
1 tablespoon tomato paste
3 tablespoons red curry paste
1 teaspoon curry powder
1 teaspoon ground cumin
1/2 teaspoon ground ginger
½ teaspoon chili powder
1/4 teaspoon red pepper flakes
1 teaspoon cane sugar
1 tablespoon fresh lemon juice
1/2-3/4 teaspoon sea salt (to taste)
Cilantro Lime Cauliflower Rice
½ tablespoon coconut oil
1 head cauliflower, shredded
⅛ teaspoon sea salt
½ cup cilantro, chopped
1 lime, juiced
Directions:
Melt 1 tablespoon coconut oil in a large pot over medium low heat. Add the garlic and cook for 30 seconds, then add the shallot and cook for 3-4 minutes, until softened. Add all other ingredients to the pot. Taste and adjust salt to your liking. Bring to a boil, then reduce heat to a low boil for 35-40 minutes, stirring frequently. The curry is done when the vegetables are tender and the sauce is thick.
Five minutes before the curry is ready, melt the remaining 1/2 tablespoon coconut oil in a fry pan. Add the cauliflower, salt, cilantro, and lime juice. Cook, stirring frequently, for 5-10 minutes, or tender enough for your liking.
Serve the curry over the cauliflower rice, and top with cilantro for garnish.
Nutrition Information: Serving Size: 1/4 of recipe, Calories: 328, Total Fat: 13.2g, Saturated Fat: 4.8g, Cholesterol: 0g, Sodium: 992mg, Total Carbohydrates: 44.3g, Dietary Fiber: 10.8g, Sugars: 12g, Protein: 11.8g
13 Responses to "Winter Vegetable and Lentil Red Curry with Cilantro Lime Cauliflower Rice"