Fudgy Black Bean Nutella Brownies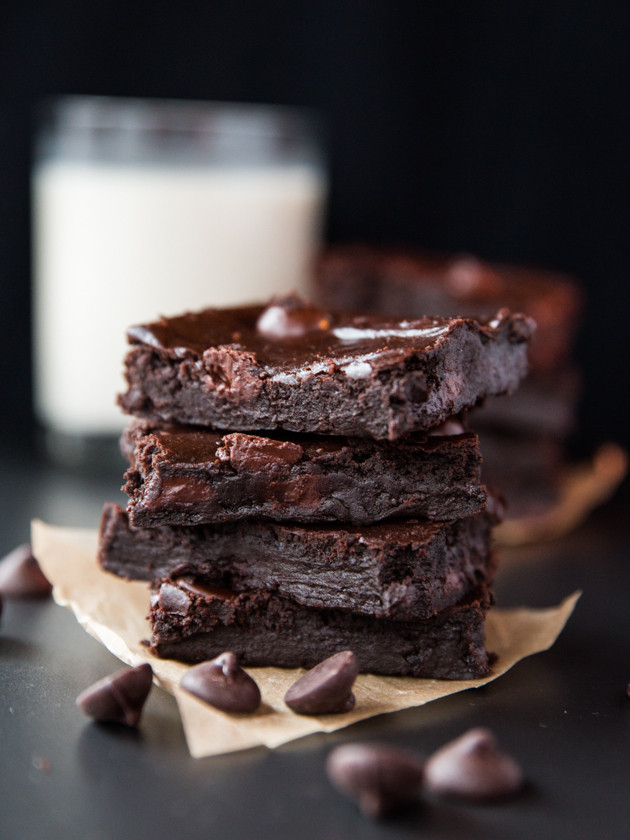 A big fudgy chocolate hug for you on this Friday. A hunka chocolate burning love, if you will.
Will you? I will.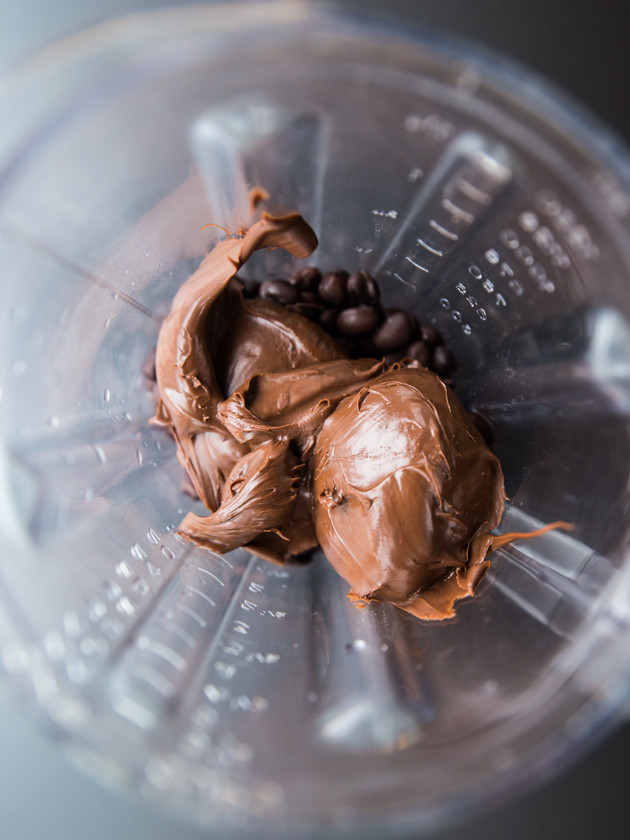 Here I am putting beans where they shouldn't be again. My mother is probably shaking her head at me right now, thinking "why take a perfectly good dessert and mess it up with beans?"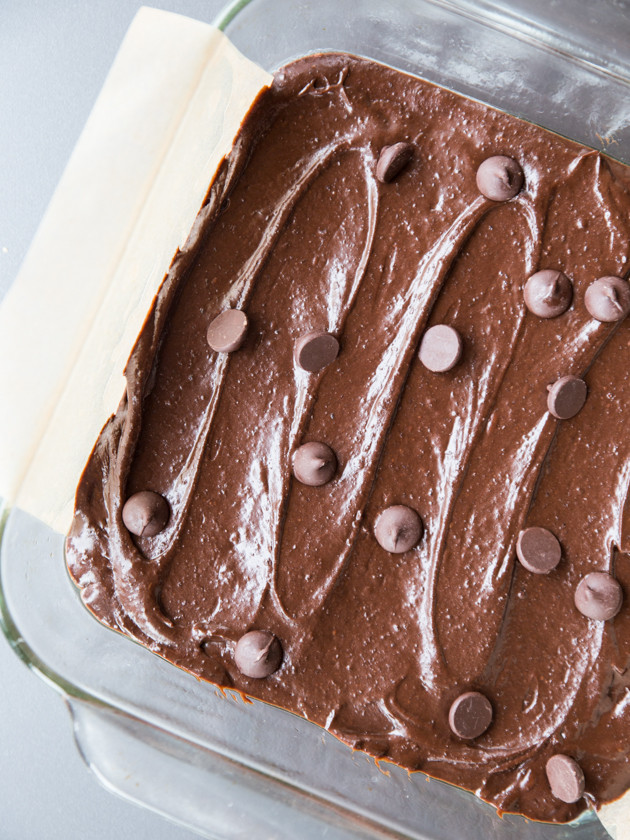 I've had black bean brownies before that taste like beans. It's not a pleasant experience, and it makes you question if the black bean brownie thing is just not for you. I get it. The thing about these brownies, though? They do NOT TASTE LIKE BEANS.
Do you see all that Nutella in picture #2? That's what they taste like: Fudgy Nutella gooey goodness.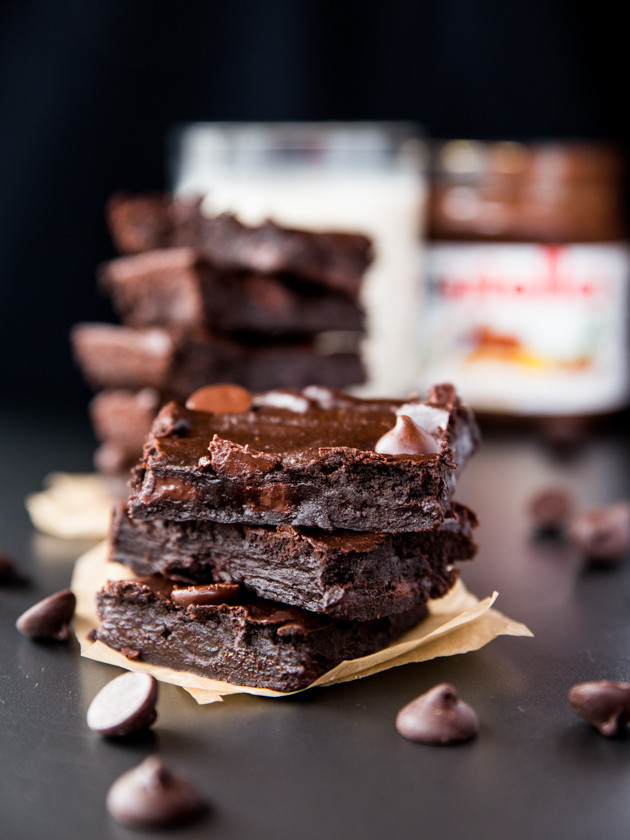 I made these for the first time last Thursday, before Ryan and I went on our belated Valentine's Day winter getaway trip to Wisconsin. I asked him to bring them with on our road trip so we wouldn't have to struggle through a dessert-less vacay, and he forgot. Obviously, instead of just going without chocolate, or eating a handful of chocolate chips when the craving hit, I decided to make another batch during our getaway. Since they're good enough to make twice in 3 days, I knew I needed to share them with you.
Admittedly, these brownies are FULL of Nutella, so they're not exactly good for you. However, I would venture to say that they're better-for-you than most brownies, since they're butter free, oil free, and flour free. Most importantly, they are hella delicious.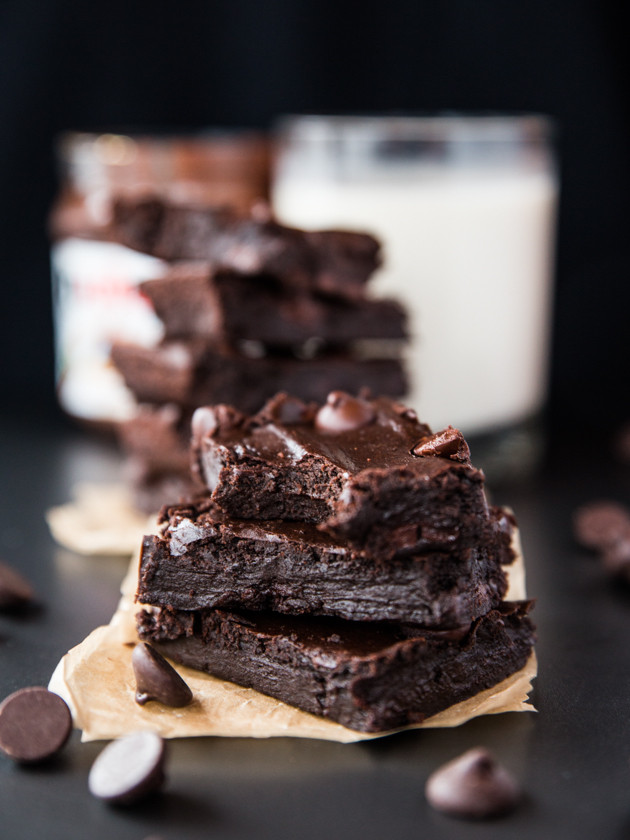 I think it's because we're in the dead of winter, but all I want to do lately is bake. My "recipe ideas list" is chock full of chocolate and sweet treats, and hardly any healthy meals. Anyone else eating their feelings this winter? I need spring, happy hours on patios, flip flops instead of furry boots, and fresh asparagus.
Until then, Nutella.


Fudgy Black Bean Nutella Brownies
Rich and fudgy Nutella brownies made extra moist with black beans. No butter, no oil, no flour required.
Yield: 12 brownies
Prep Time: 10 minutes
Cook Time: 30 minutes
Total Time: 40 minutes
Ingredients:
1 (15-ounce) can black beans, rinsed and drained
2/3 cup chocolate hazelnut spread (Nutella)
1/3 cup cane sugar or granulated sugar
1 tablespoon vanilla extract
1/4 tsp salt
½ cup cocoa powder
1 teaspoon baking powder
1/3 cup chocolate chips or chunks
Directions:
Preheat oven to 325. Move a rack to the lower 1/3 of your oven. Coat an 8x8 pan with nonstick spray, and line with a strip of parchment paper.
Combine the black beans, chocolate hazelnut spread, cane sugar, and vanilla in a blender. Blend until smooth.
Add the salt, cocoa powder, and baking powder. Blend until incorporated. Add all of the chocolate chips except a small handful, and use a spoon to stir.
Pour the batter into the pan and use the back of a spoon to spread. Sprinkle on the remaining chocolate chips.
Bake for 25-30 minutes. Remove from oven and let cool completely. Cut into 12 bars.
You can use chocolate hazelnut spreads other than Nutella, but the sugar content is likely different. If using a lower-sugar spread, I recommend increasing the cane sugar to 1/2 cup.
Nutrition Information: Serving Size: 1 brownie, Calories: 200, Total Fat: 7g, Saturated Fat: 5.9g, Cholesterol: 0.9mg, Sodium: 90.9mg, Total Carbohydrates: 30.7g, Dietary Fiber: 5.5g, Sugars: 18.5g, Protein: 5g
9 Responses to "Fudgy Black Bean Nutella Brownies"