Super Greens and Goat Cheese Soup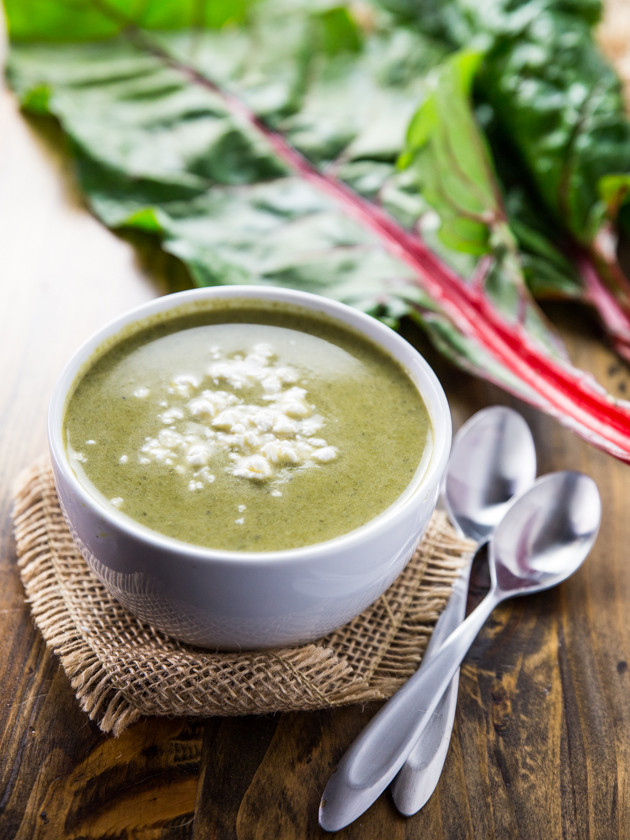 I've been all about leafy greens lately: Green smoothies (which actually end up looking grey/brown because blueberries and spinach do NOT a pretty smoothie make), salads, and even some cold-pressed green juice from Trader Joe's.
On the other side of the spectrum, I drank entirely too much beer on Saturday night, and had Jimmy Johns delivered to the bar at the brewery taproom I was at with my friends. What do you expect if you don't serve food, right? Anyone? I am the picture of class.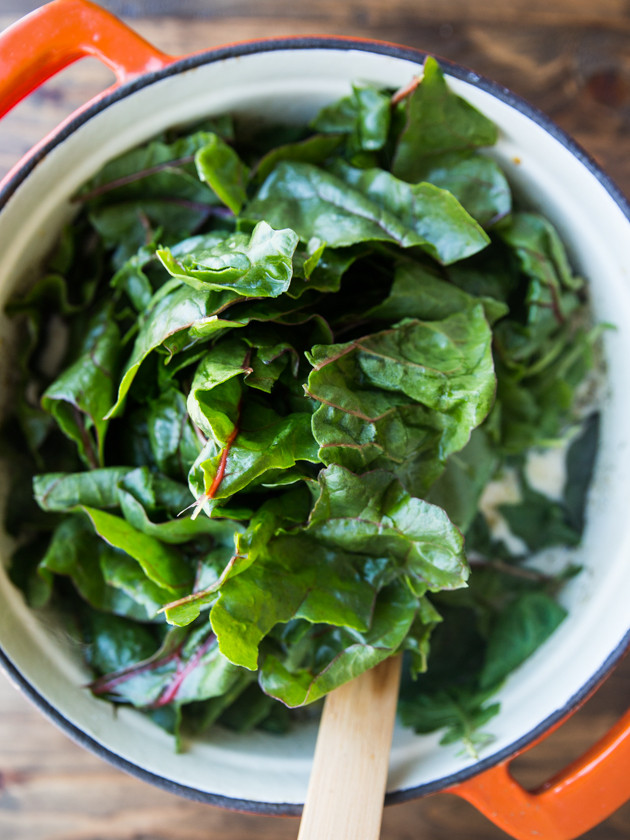 To bridge the gap between my winter carb-loving self and the fresh food season that is ohsoclose, I combined creamy comfort with hearty greens in the soup I'm sharing with you today.
I made a variation of this soup last fall when the weather started to chill and I found myself overloaded with greens. Ryan has since asked me repeatedly if "that green soup" ever went up on the blog, and since soup season is almost wrapped, I figured it was high time I shared this green gem.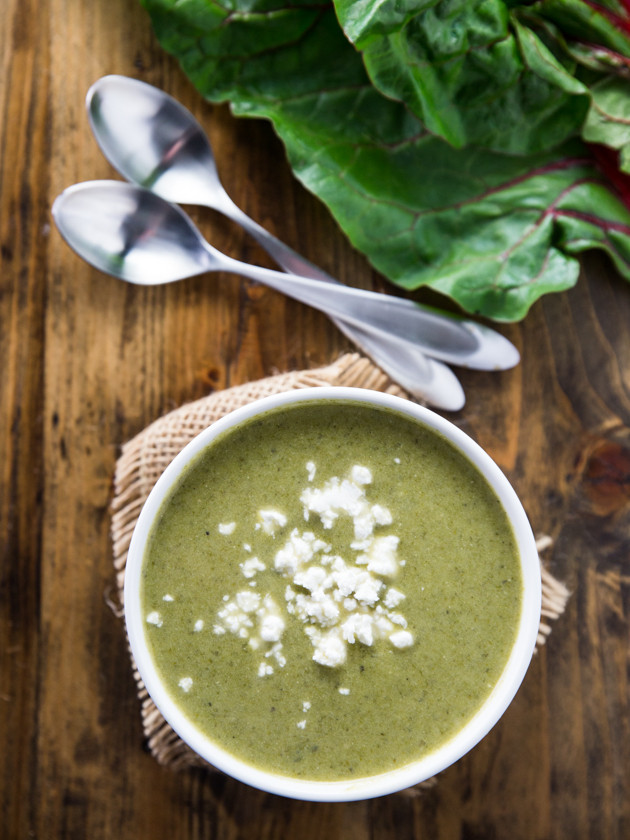 This soup starts with olive oil, garlic and leeks, which you cook down for about 5 minutes until your house smells amazing. Then, into the pot go broth, milk, starch (to thicken), spinach, kale, chard, dill, oregano, salt and pepper. Let that cook for 15-20 minutes, blend until smooth, and stir in the goat cheese until melted. It's so easy! and creamy! and green!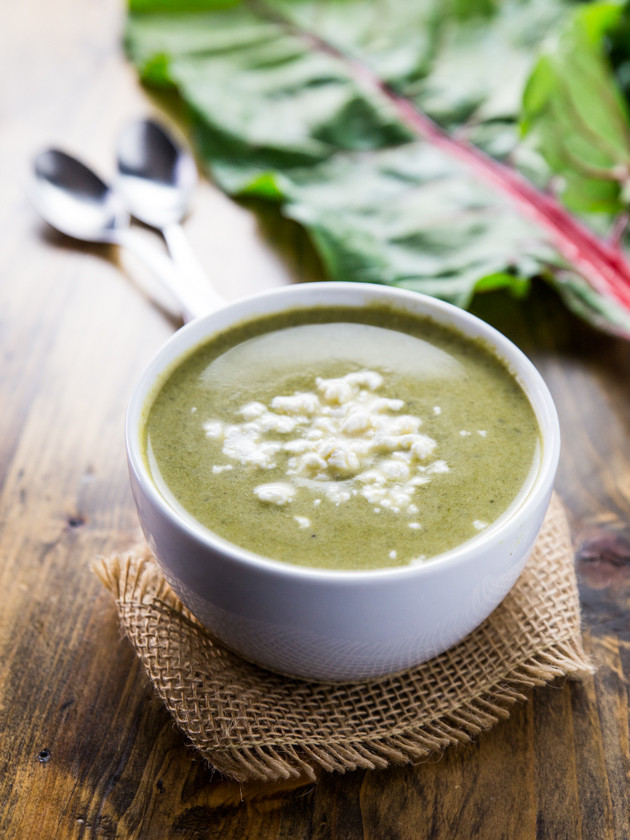 I expect that any meltable cheese (within reason) would be great here; I've made this soup with sharp white cheddar instead of goat cheese and loved the results. If you're digging this cheesy soup thing I have going on, I highly recommend you check out my creamy tomato and brie soup, spicy white cheddar chili, and smoky beer cheese and corn soup.

Super Greens and Goat Cheese Soup
Probably the tastiest way to get in your greens! Flavorful and creamy soup made with spinach, kale, chard, and goat cheese.
Yield: 8 cups
Prep Time: 15 minutes
Cook Time: 25 minutes
Total Time: 40 minutes
Ingredients:
3 tablespoons olive oil
3 cloves garlic, chopped
2 leeks, white and light green parts sliced
4 cups vegetable broth
2 cups whole milk
1 tablespoon arrowroot or cornstarch
3 cups baby spinach, packed
2 cups baby kale, packed
5 chard leaves, large center stems removed, chopped
1 teaspoon dried dill
1 teaspoon dried oregano
½ teaspoon fresh cracked black pepper
1/2-¾ teaspoon sea salt
4 ounces goat cheese, crumbled, plus more for garnish
Directions:
Heat the olive oil in a large soup pot. Add the garlic and cook until fragrant, about 30 seconds. Stir in the leeks and 1/4 teaspoon salt, and cook for 5 minutes, stirring frequently.
Pour in the remaining ingredients, except the goat cheese. Bring to a boil, then reduce heat to low and cover. Let simmer for 15-20 minutes.
Puree the soup with an immersion blender, or transfer to a regular blender or food processor to blend in batches. Return to the pot and stir the goat cheese into the warm soup until melted.
Serve soup warm with extra crumbled goat cheese for garnish.
Nutrition Information: Serving Size: 2 cups, Calories: 317, Total Fat: 20.9g, Saturated Fat: 7.9g, Cholesterol: 25.2g, Sodium: 718.5mg, Total Carbohydrate: 22.1g, Dietary Fiber: 4.3g, Sugars: 10.2g, Protein: 13.8g
2 Responses to "Super Greens and Goat Cheese Soup"