Simple Greek Pasta Salad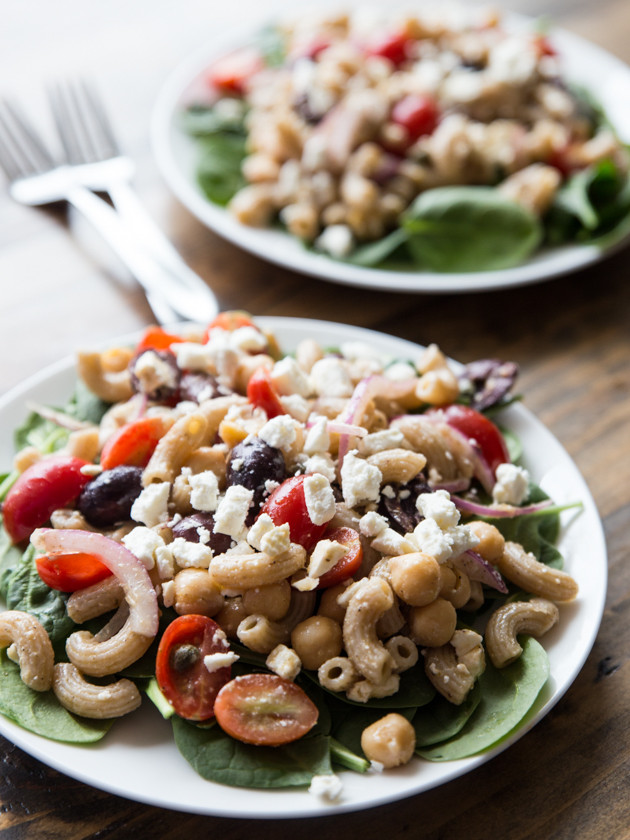 For the past several months, I've pretty much wanted only warm things in my life. My food choices have been grilled sandwiches, soups, brownies zapped in the microwave, and warmed salads. Outside of the food realm, I've been wrapped in blankets, covered in fleece sleepwear (sexy, I know), and using my 17-pound dog for warmth (surprisingly effective). Pretty standard winter stuff, eh?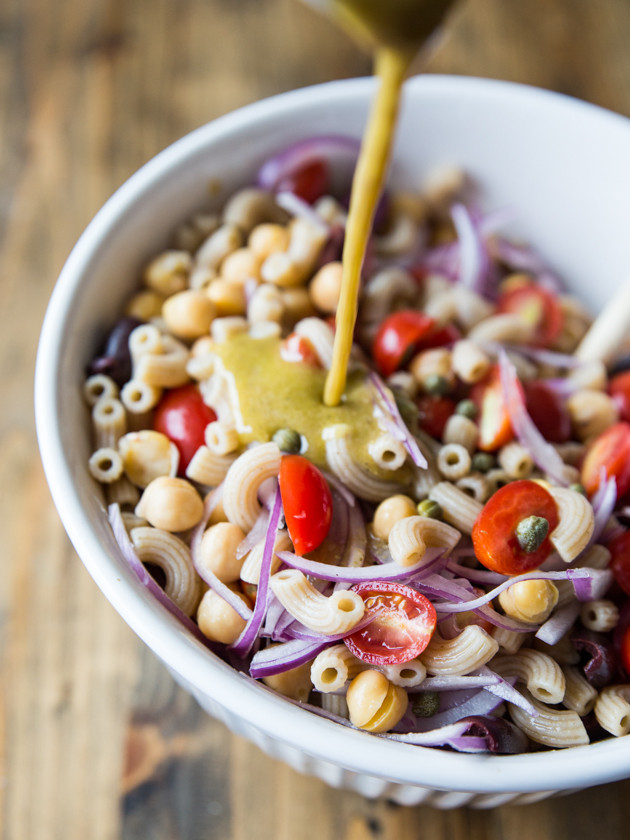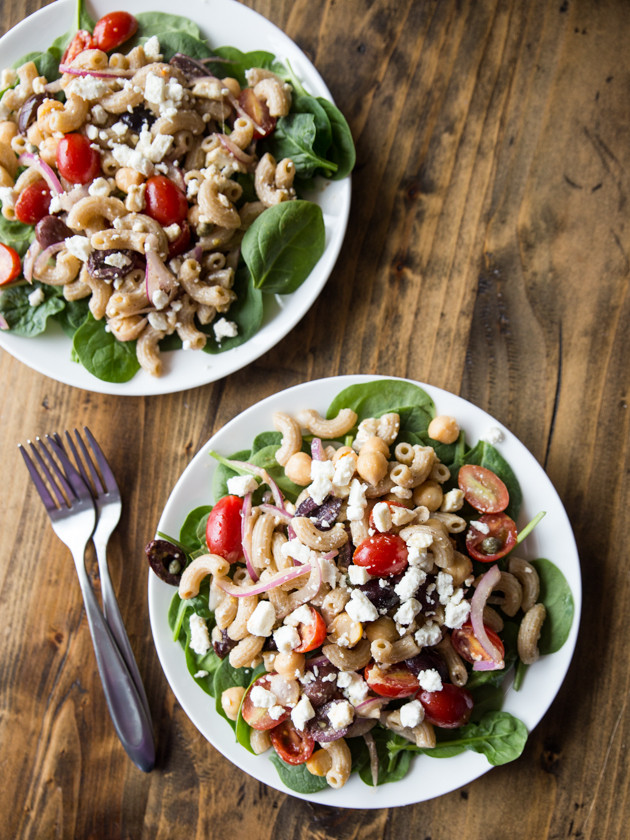 Although the outdoors doesn't seem to be on the same page as me, I'm ready to start tricking myself into spring thoughts. When we had a few glorious days of warmer weather a couple weeks ago, Ryan and I bundled up and sat out on the patio for dinner. We may have jumped the gun, but we just needed it. I can't wait for nights with Ryan on our patio drinking wine and playing Farkle, long walks with Teia around the lakes, and fresh produce. Ohhh goodness I need some new produce in my life. I just can't anymore with the root vegetables. Nope.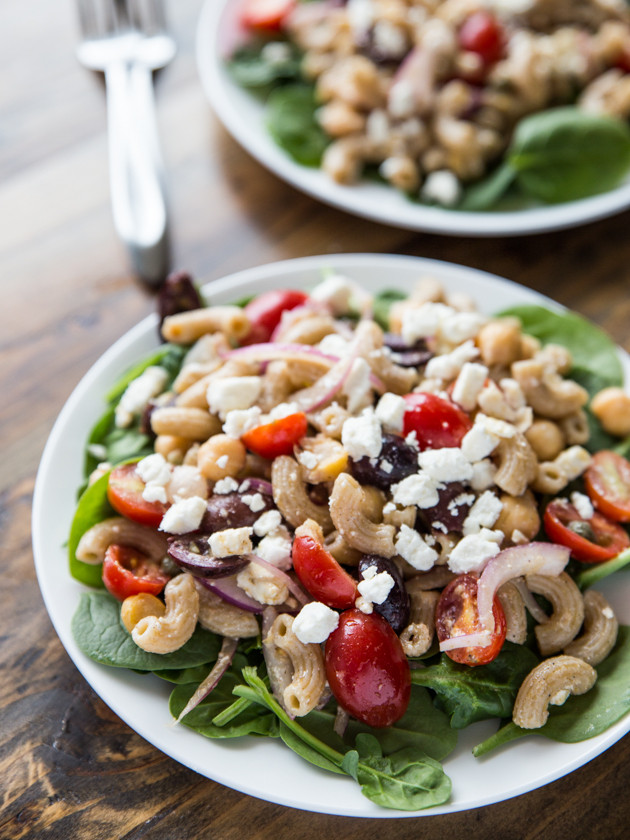 For this awkward time between food seasons, I made my first cold pasta salad of the year. What could be more summer potluck style than pasta salad? This one comes together quickly, keeps for days, and is jam-packed with Greek flavors from Kalamata olives, capers, red onion, feta, and an easy vinaigrette. You can eat this pasta by itself, or served over a bed of spinach (my style), and maybe with a little hummus (even more my style).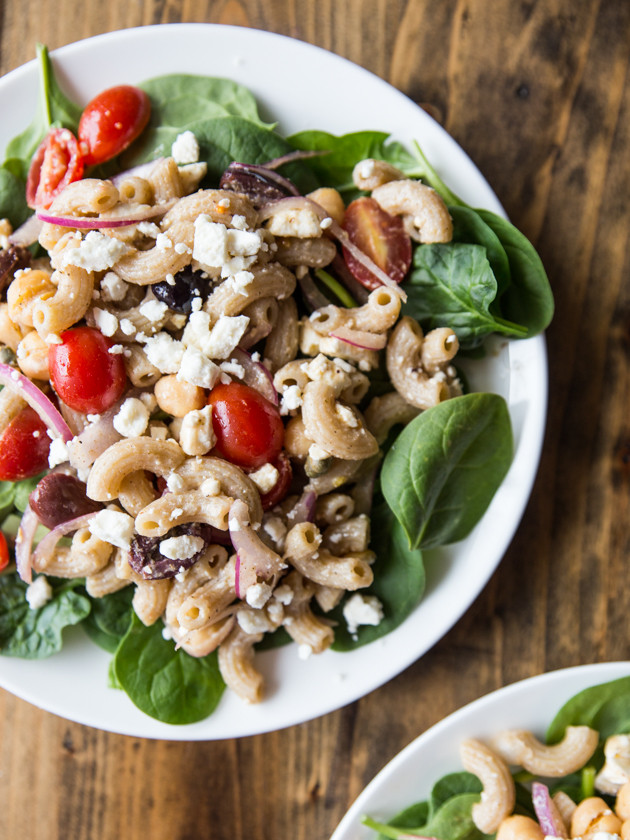 Stay strong, friends! Spring's a coming.

Simple Greek Pasta Salad
An easy pasta salad bursting with Greek flavors! Kalamata olives, cherry tomatoes, red onion, capers, and a simple Greek dressing.
Yield: 6 servings
Prep Time: 10 minutes
Cook Time: 10 minutes
Total Time: 20 minutes
Ingredients:
8 ounces whole wheat or gluten free macaroni noodles
½ red onion, thinly sliced
1 pint cherry tomatoes, halved
1/2 cup kalamata olives, drained and halved
2 tablespoons capers, drained
1 (15-ounce) can chickpeas, drained and rinsed
4 tablespoons olive oil
2 cloves garlic, chopped
2 tablespoons red wine vinegar
1 tablespoon dried oregano
¼ teaspoon black pepper
¼ teaspoon sea salt
1 cup crumbled feta
Directions:
Cook the pasta according to package directions. When finished, drain the pasta and rinse under cool water. Transfer to a large bowl, and add the onion, tomatoes, olives, and capers.
Combine all remaining ingredients (except the feta) in a blender, and blend until emulsified.
Pour the dressing over the pasta, and stir to combine. Fold in the feta.
May eat immediately, or refrigerate until fully chilled.
Eat alone, or serve over a bed of baby spinach (I like to add a scoop of hummus as well, but that's not necessary).
Vegan Option: Omit the feta.
Gluten Free Option: Make sure to use gluten-free pasta! I like quinoa and corn blend varieties.
Nutrition Information: Serving Size: 1/6th of recipe, Calories: 418, Total Fat: 19.2g, Saturated Fat: 5.8g, Cholesterol: 54mg, Sodium: 653.7mg, Total Carbohydrate: 48.4g, Dietary Fiber: 7.2g, Sugars: 6.4g, Protein: 14.7g
3 Responses to "Simple Greek Pasta Salad"