Almond Arugula White Bean Hummus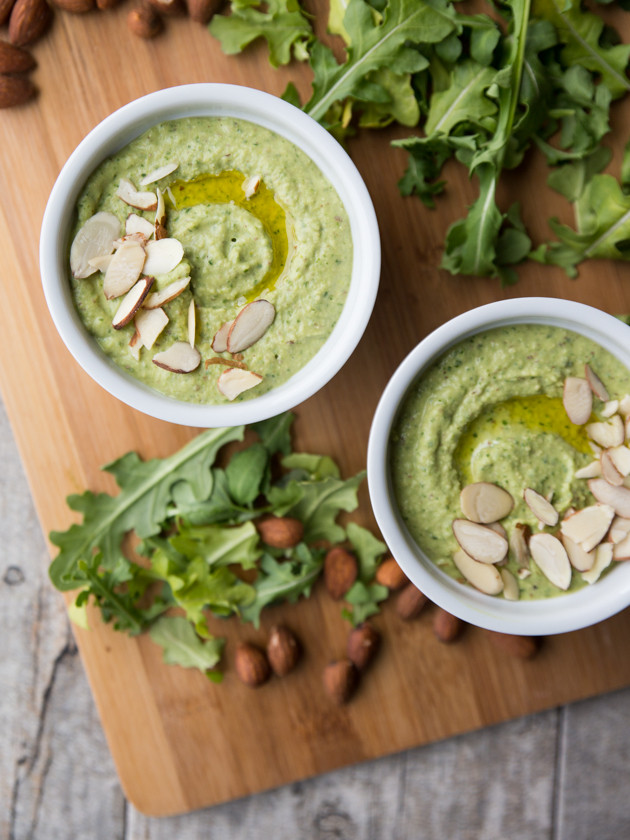 Green spring hummus! Let's do this.
As I mentioned last week, I'm fairly desperate for a season change. Bring it on, spring. Seriously, bring it now. I can't do the dingy grey outdoors anymore. Move on out.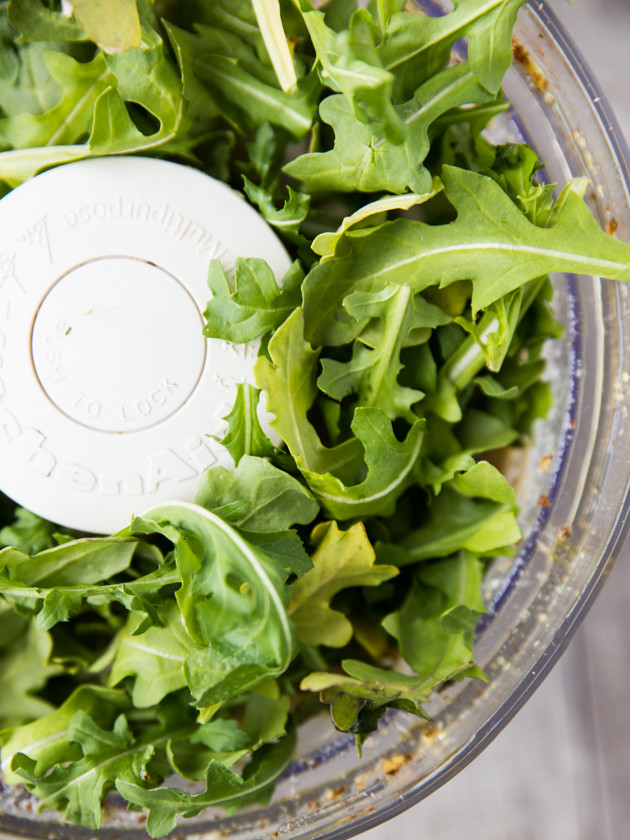 I've also been really trying to overhaul my unfortunate winter eating habits. Less mac and cheese, more green leafy things. To make this easier, I turn to my favorite salad toppings: a big, GIANT, scoop of hummus and a drizzle of balsamic vinegar or, if I'm feeling fancy, balsamic vinegar reduced into a glaze. As long as I have those elements I'll eat just about any vegetable you throw on a salad.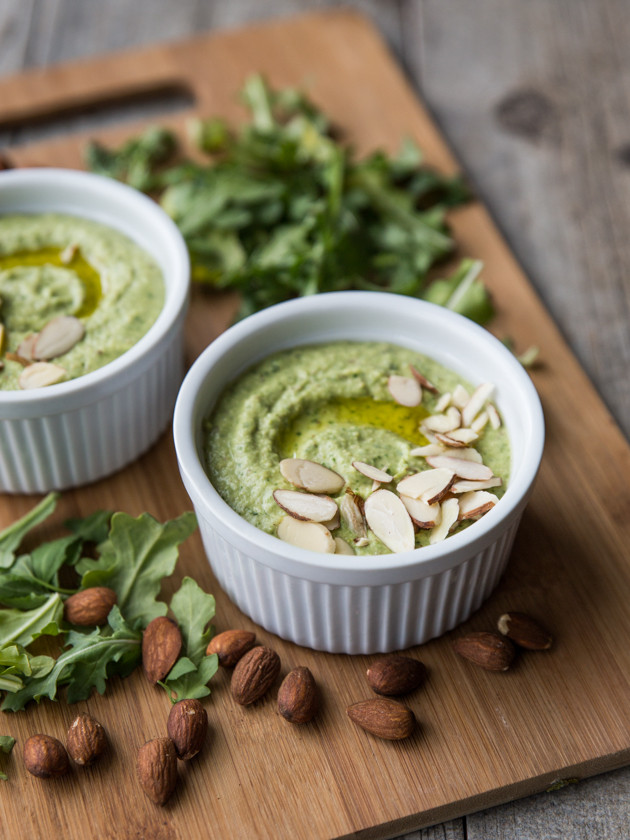 Ryan, on the other hand, needs his salads covered in cheese and French (or is it Western?) dressing. That bright orange eerily sweet stuff doesn't work for me, but I buy it for him so he'll eat side salads with me. Vegetable eating is more fun when done together, you know?
To keep my veggie consumption interesting, I like coming up with new hummus flavors outside of the chickpea and tahini realm. In this version, I processed almonds and garlic until finely chopped, then added white beans, salt, and olive oil and blended until super creamy. For a spring-y color and peppery flavor, I added bright arugula, a little more olive oil, and some water to make it super smooth.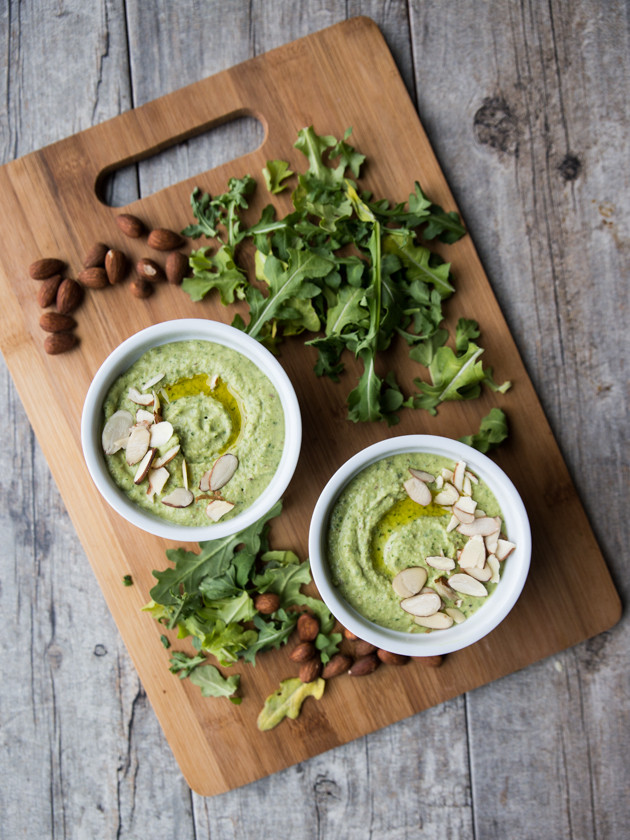 Once I achieved a creamy, smooth hummus, I scooped a tiny bit on a spoon to taste test, and then found myself eating it by the spoonful – whups! It's rich from the almonds, creamy from the white beans, and peppery/earthy from the arugula. A fresh, bright hummus and pesto mashup that is just begging to be scooped onto salads or served on toast (more on that later this week).


Almond Arugula White Bean Hummus
Springtime hummus made with almonds, white beans, and arugula. Rich, creamy, and full of flavor.
Yield: 2 cups
Prep Time: 15 minutes
Cook Time: 0 minutes
Total Time: 15 minutes
Ingredients:
¼ cup roasted unsalted almonds
2 garlic cloves
1 (15-ounce) can cannellini beans, rinsed and drained (Look for an organic, BPA-free variety), or 1 1/2 cups cooked cannellini beans
1/2 teaspoon sea salt
3 tablespoons olive oil
5-7 tablespoons filtered water, divided
2 cups baby arugula, packed
Directions:
Place the almonds and garlic in a food processor, and pulse until the nuts are very finely chopped. Add the beans, 3 tablespoons of olive oil, 3 tablespoons of water, and process until smooth.
Add the arugula (you may need to do this 1 cup at a time, depending on the size of your processor), and 2 tablespoons water. Process again until smooth, adding more water as needed to reach the consistency you want.
Nutrition Information: Serving Size: 2 tablespoons, Calories: 93, Total Fat: 3.8g, Saturated Fat: 0.5g, Cholesterol: 0mg, Sodium: 180mg, Potassium: 253mg, Total Carbohydrates: 10.9g, Dietary Fiber: 4.5g, Sugars: 0.6g, Protein: 4.5g
THANK YOU to Lakewinds Food Co-op for contributing supplies for this recipe, and having such an amazing spread of fresh, seasonal produce year-round. Food co-ops help support the local economy and contribute to a sustainable food system, and I believe they have hands-down the highest quality groceries around.
4 Responses to "Almond Arugula White Bean Hummus"
Pingback: 53 Hummus Recipes -