Spicy Chipotle Enchilada Tofu Tacos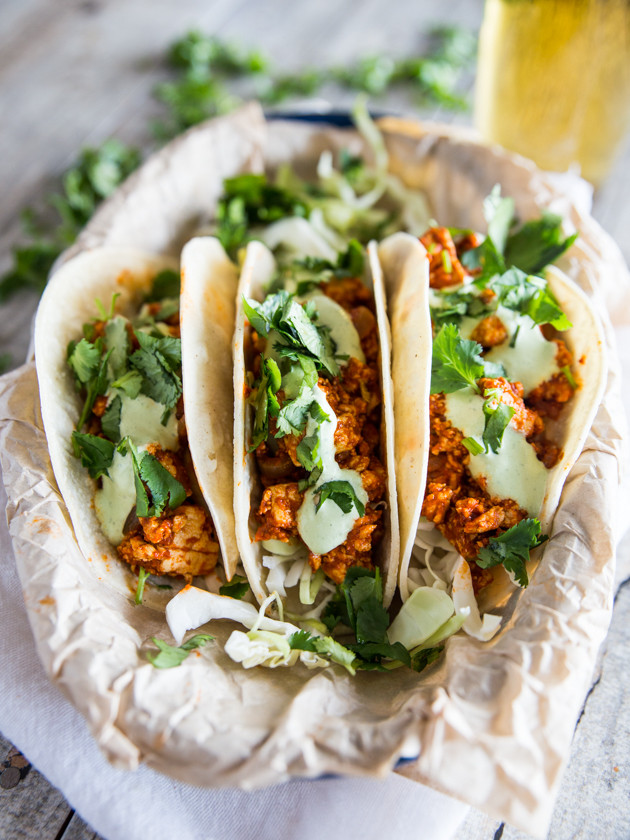 Although I'd like to say I have a creative, organized process for coming up with recipes, I have to admit that several recent blog post ideas have popped into my mind while driving home from work. Maybe it's because I have a rather long and boring commute, and Ryan gets too distracted with Jeopardy or the 5:00 news to talk to me the whole time, or maybe it's because I need to pack more afternoon snacks, but I tend to really hone in on food ideas on that trek home.
This week, while stuck on the highway with nothing to occupy my mind except brake lights and a recent love of Pop Country, I started thinking about what I would choose to eat if I could have anything in the world at that very moment. This is a dangerous game, mind you, because sometimes it requires an emergency cupcake stop, but this time it was a resounding answer of TACOS. Spicy, saucy tacos.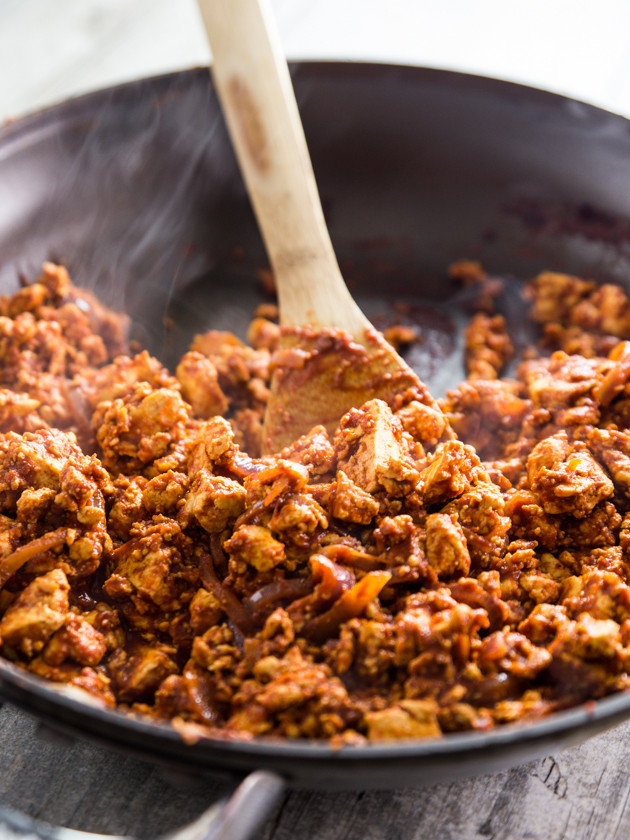 These spicy chipotle enchilada tacos were the answer to my commute-craving prayers. The sauce is incredibly simple, and comes together quickly in a blender. It is a variation of the enchilada sauce used in this recipe, but with some chipotle peppers for extra smoky heat. I used 2 peppers and it was sweat-on-your-forehead hot, so if you're wary of spice I would go with 1 pepper, or maybe even 1/2 a pepper and then work your way up from there.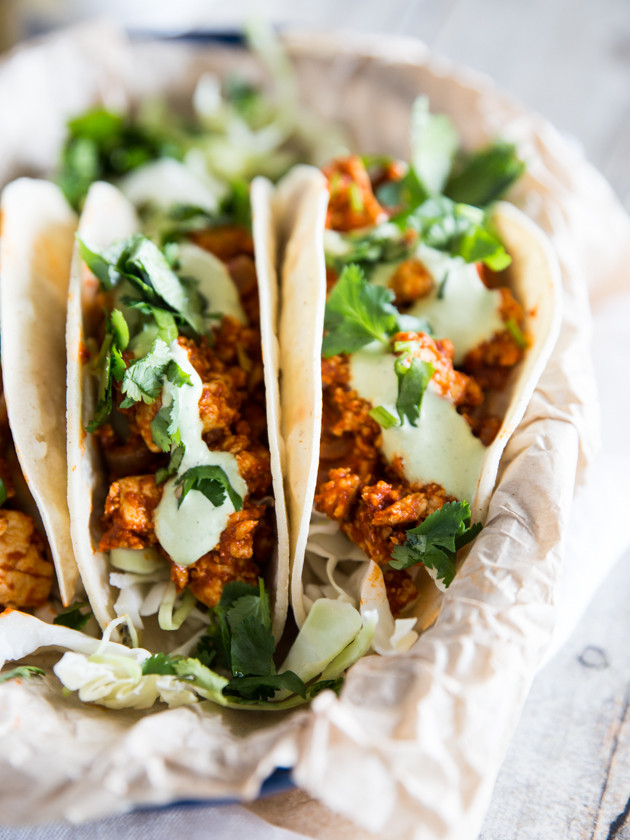 For the tofu, make sure you press it well to get out that extra liquid, because no one (NO ONE) likes soggy tofu. I include my go-to technique in the recipe below, but a tofu press would work as well. You then want to crumble the pressed tofu into a pan with onions and garlic sautéed in olive oil, and cook until lightly golden brown. Pour in the sauce, stir over medium until everything is mostly soaked up, and bam, taco goodness.
Since I've been feeding Ryan a lot of cashew cream lately, I decided to top these tacos with the real deal. No cashews, and not even any Greek yogurt masquerading as cream. This recipe is straight up sour cream, cilantro, garlic powder, and salt. Super simple, flavorful, and perfect for enticing that man of mine to love his tofu tacos.
That being said, you can definitely go the cashew cream route, and have yourself a filling and nutritious vegan meal. I highly recommend this avocado cashew cream, or this cilantro garlic cashew cream.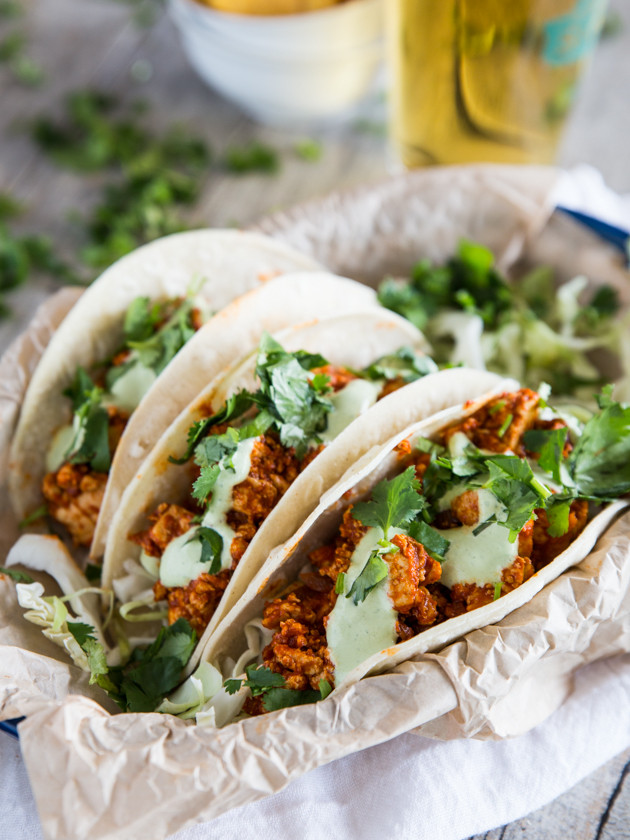 As I reported on Instagram earlier this week, Ryan not only devoured 3 tacos the night I made them, but also picked at them cold while I was shooting photos for this post the next day. When I pointed out he was eating cold tofu and he made a face, I asked him why he was doing it and he simply said, "because it tastes so good."
I love a man who's not afraid to like tofu, even if he makes a face when coming to that realization. I'll take it!
If you make this recipe (or any of my recipes), please tell me about it! Tag me on Instagram @veggiebeastblog, and use the hashtag #veggieandthebeast. It seriously makes my day!


Spicy Chipotle Enchilada Tacos
Spicy, saucy tacos made with a quick chipotle enchilada sauce, scrambled extra firm tofu, and a smooth and tangy cilantro cream!
Yield: 4 servings (8 tacos)
Prep Time: 15 minutes
Cook Time: 20 minutes
Total Time: 35 minutes
Ingredients:
Spicy Chipotle Enchilada Tofu Tacos
2 (14-ounce) packages extra firm tofu (preferably organic/non-GMO)
1-2 chipotle peppers in adobo sauce (depending on how spicy you like it), seeded
1 cup vegetable broth
6 tablespoons tomato paste
2 tablespoons chili powder
1 teaspoon dried oregano
1 1/2 teaspoons ground cumin
1 teaspoon cane sugar
2 tablespoons olive oil
2 cloves garlic, minced
1/2 red onion, thinly sliced
1/8 teaspoon sea salt
8 small corn tortillas (preferably organic/non-GMO)
Cilantro Cream
1 tablespoon fresh lime juice
1/2 cup cilantro
3/4 cup sour cream
1/4-1/2 teaspoon garlic powder
1/4 teaspoon sea salt
Directions:
Cut each tofu block in half lengthwise, and then in half again, so you have 4 pieces per block, or 8 total. Wrap them in a kitchen towel, set on a cutting board, top with another cutting board, and set something heavy on top (I use my dutch oven). Let sit for 15 minutes. Or, if you have a tofu press, you may use that.
While the tofu is pressing, combine the peppers, broth, tomato paste, spices and sugar in a blender and blend until completely smooth. Taste and adjust seasoning to your liking - if you only used one pepper and want it hotter, add another pepper, etc.
Heat the oil in a skillet over medium heat. Add the garlic and cook for 30 seconds, then add the onion and salt and cook for 3-5 minutes, until softened. Crumble in the pressed tofu and cook, stirring frequently, for 10 minutes. The tofu should be just lightly brown. Pour in the sauce and cook for another 5-7 minutes, until the tofu absorbs most of the sauce.
Combine all cilantro cream ingredients in a blender and blend until smooth.
Divide the tofu filling between the 8 tortillas, and top each taco with 1 1/2 tablespoons of the cream. Add desired other fillings: lettuce, tomatoes, feta, etc.
Nutrition Information: Serving Size: 2 tacos with cilantro cream, Calories: 459, Total Fat: 27.2g, Saturated Fat: 8.8g, Cholesterol: 19mg, Sodium: 609mg, Potassium: 869mg, Total Carbohydrates: 38.4g, Dietary Fiber: 8.7g, Sugars: 7.2g, Protein: 23.5g
17 Responses to "Spicy Chipotle Enchilada Tofu Tacos"
Pingback: Cardigan-Clad Culinary