Hot Jalapeño, Corn and Cholula Skillet Mac and Cheese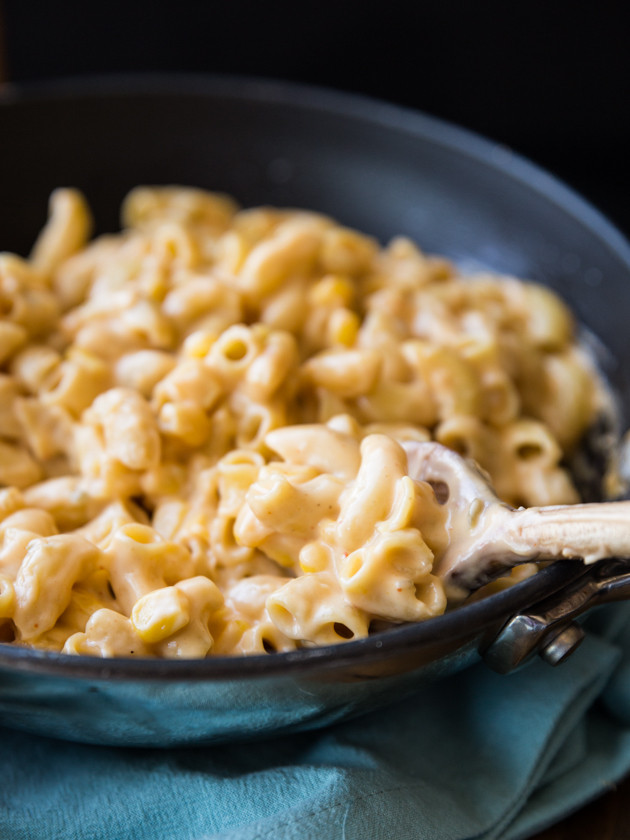 Oh you know me. I like big salads.
Green things.
Colorful plates full of healthy foods.
…but I also like eating mac and cheese with Ryan. This winter we started making 2 boxes of mac and cheese at a time, just so neither of us had to settle for only half a box. I'm not proud, but I am honest. Boxed mac and cheese is just SO GOOD sometimes.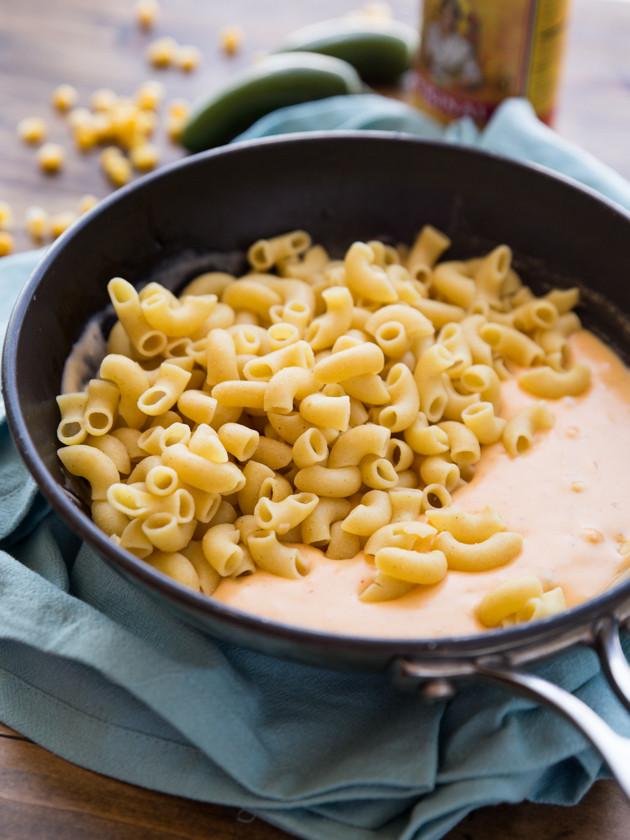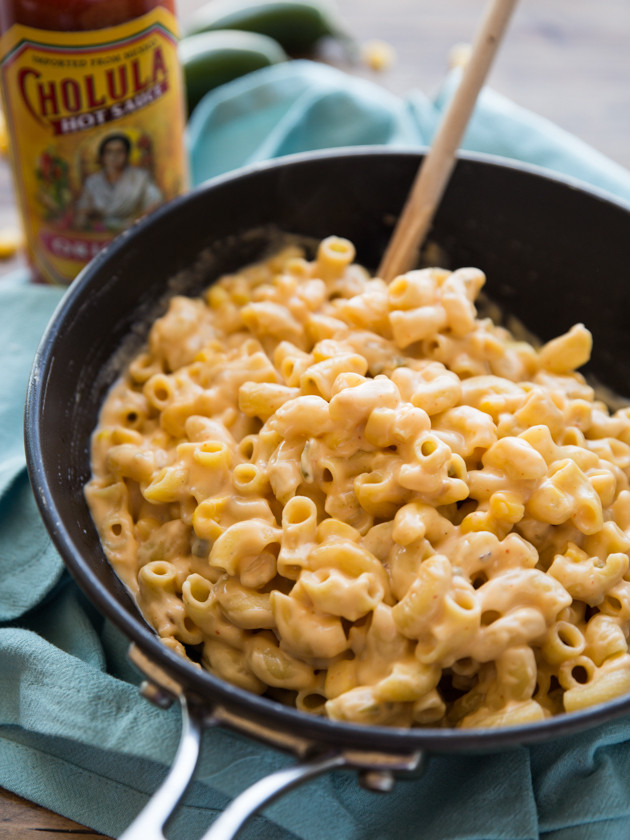 Other times though? I need that thick, creamy and cheesy sauce that only comes with the extra effort of the homemade label. The variation I'm sharing with you today has actually been on my recipe radar for almost 3 years; a wedding we attended in 2012 was catered by a local barbecue/rib restaurant, so I went in without much hope of a dinner. Then, however, I got my hands on some buttery biscuits and jalapeño corn mac and cheese. Carbs for the win (<--I just wrote "wine" instead of "win"...#life).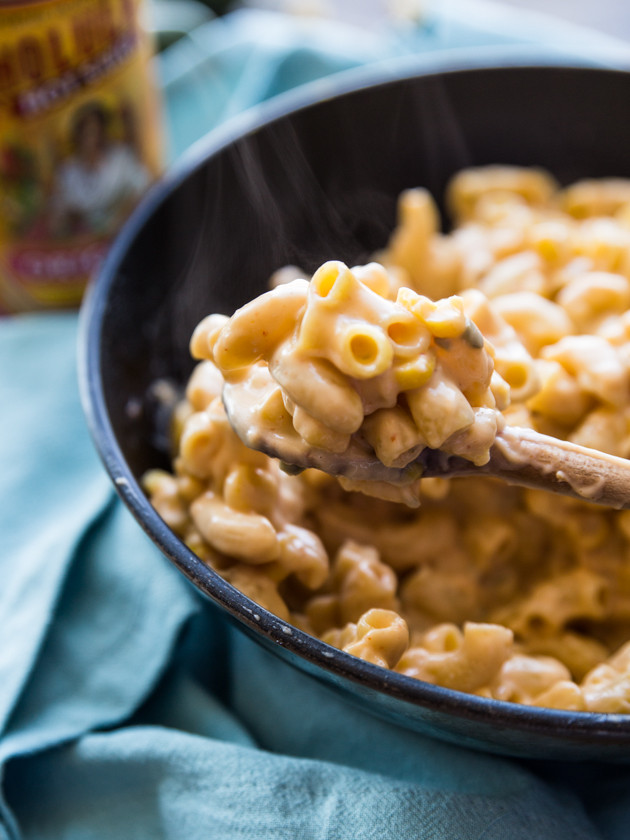 When I finally got around to making a version at home, I used whole grain macaroni for just the tiniest hint of a healthier choice, a mix of sharp cheddar for tang and monterey jack for creaminess, and a splash of hot sauce for some extra spice. I was a Sriracha girl for a long time, but lately I've been all about Cholula, which makes an appearance in the sauce and also on top when served. Ryan puts hot sauce on everything (it's impressive, actually), so I knew this mix of jalapeño heat, sweet corn, and peppery spice would go over well with that Beast of mine.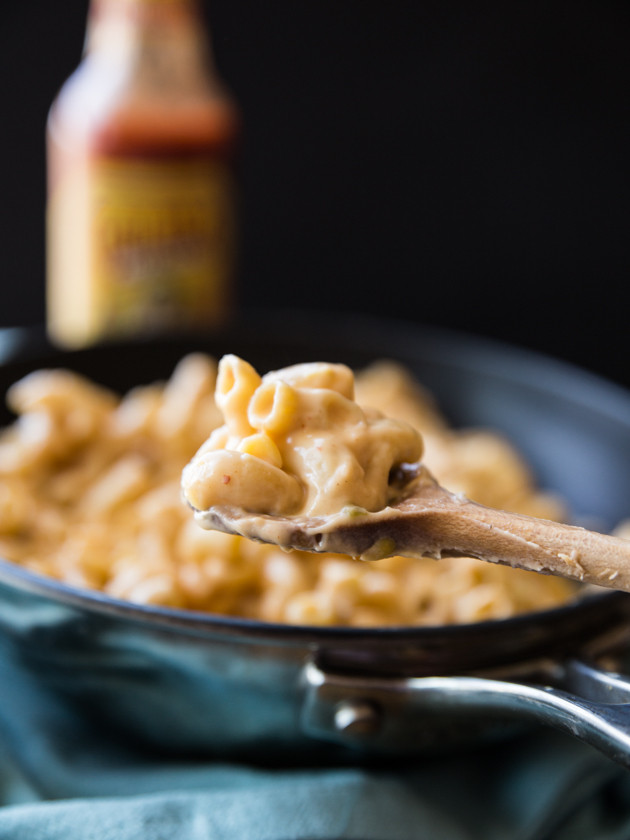 This macaroni has everything you want in a grown-up comfort food: salty, creamy, spicy, subtle sweet bites of corn, and PASTA. Plus it comes together quickly, and reheats well with an extra splash of milk. When you need a bit of easy decadence, this macaroni gets the job done.


Hot Jalapeño, Corn and Cholula Skillet Mac and Cheese
Whole grain elbow macaroni cloaked in a smooth jalapeño cheese sauce spiked with Cholula hot sauce, and studded with sweet corn. Rich, creamy and spicy comfort food at it's finest!
Yield: 4 servings
Prep Time: 10 minutes
Cook Time: 10 minutes
Total Time: 20 minutes
Ingredients:
8 ounces whole grain elbow macaroni (about 2 cups)
2 tablespoons olive oil
1 clove garlic, minced
½ jalapeno, chopped
1/2 cup canned corn kernels
2 tablespoons unbleached all-purpose flour
1 1/4 cups whole milk
¼-1/2 teaspoon sea salt (or to taste)
4 ounces sharp cheddar cheese, shredded
2 ounces monterey jack cheese, shredded
1-2 tablespoons cholula hot sauce (or hot sauce of choice), plus more for topping
Directions:
Cook pasta according to package directions. If the pasta is done before the sauce, drain and rinse under cold water until the sauce is ready.
While the pasta cooks, heat the olive oil in a skillet over medium heat. Add the garlic and cook for 30 seconds, then add the jalapeno and cook for 2 minutes.
Sprinkle the flour over the top of the jalapeno, and cook for 30 seconds, whisking. Pour in the milk and salt, and cook, whisking constantly, for 3-5 minutes, until thickened.
Add the cheese to the pan, and whisk until smooth and melted. Mix in the corn and cholula, then taste the sauce and add more cholula or salt if you'd like.
Stir the cooked pasta into the hot cheese sauce. Serve immediately, with more cholula on top if you wish.
Nutrition Information: Serving Size: 1/4 of recipe, Calories: 515, Total Fat: 24.2g, Saturated Fat: 11.3g, Cholesterol: 50mg, Sodium: 546mg, Potassium: 335mg, Total Carbohydrates: 53.3g, Dietary Fiber: 2.4g, Sugars: 6.4g, Protein: 21.4g
7 Responses to "Hot Jalapeño, Corn and Cholula Skillet Mac and Cheese"