Roasted Eggplant and Burst Tomato Mozzarella Pesto Salad with Easy Dijon Vinaigrette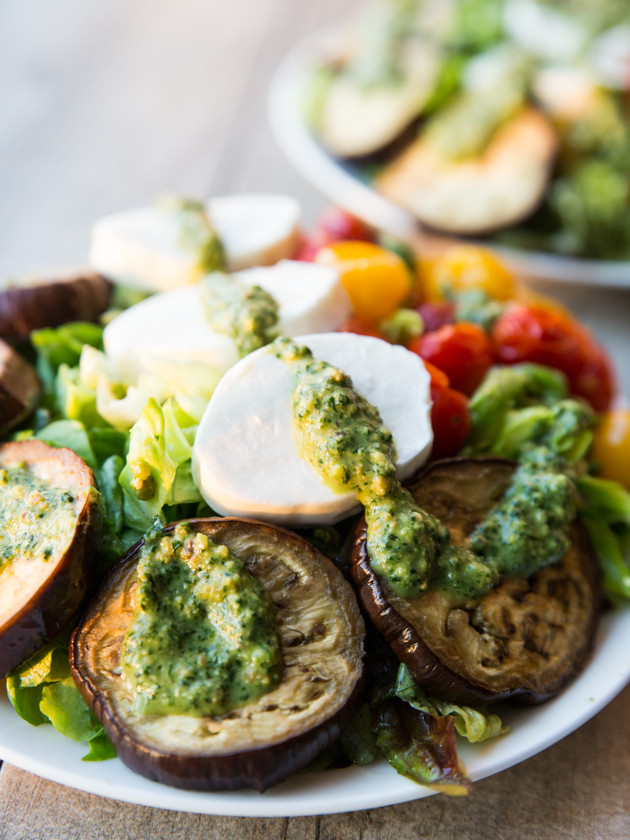 Full disclosure: this isn't a dainty salad.
It's not a diet salad.
It's a decadent, fully-loaded salad that reminds me of sitting by the Seine with Ryan and a glass of chilled white wine.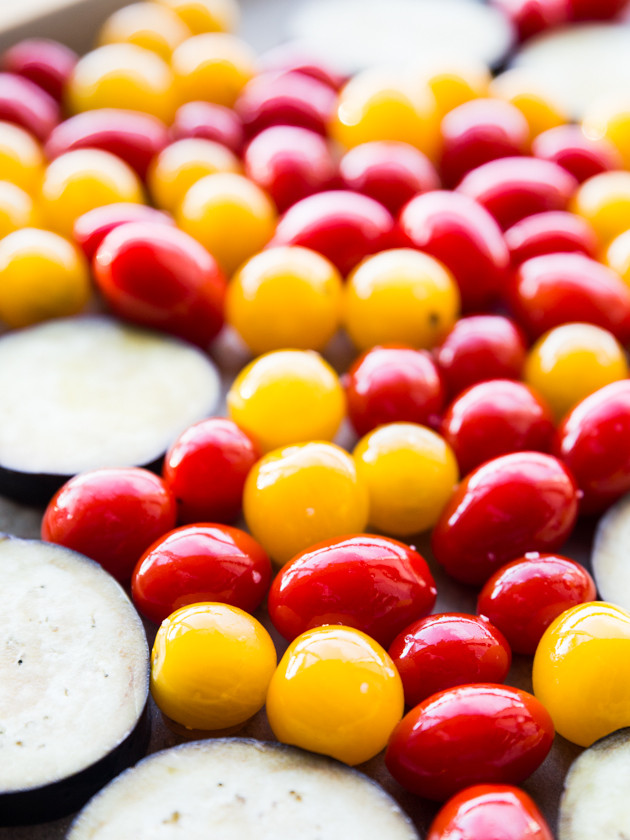 Ryan and I have been back from Paris for less than two weeks, but while looking through my pictures for this post I realized it feels like a dream. The best kind of whirlwind, but one that I feel more removed from than I expected so quickly. I want it back!
Before we get to the aforementioned salad, I wanted to share some of my favorite pictures and experiences of the trip. If you're here for the recipe, feel free to scroll on down to the bottom of this post :)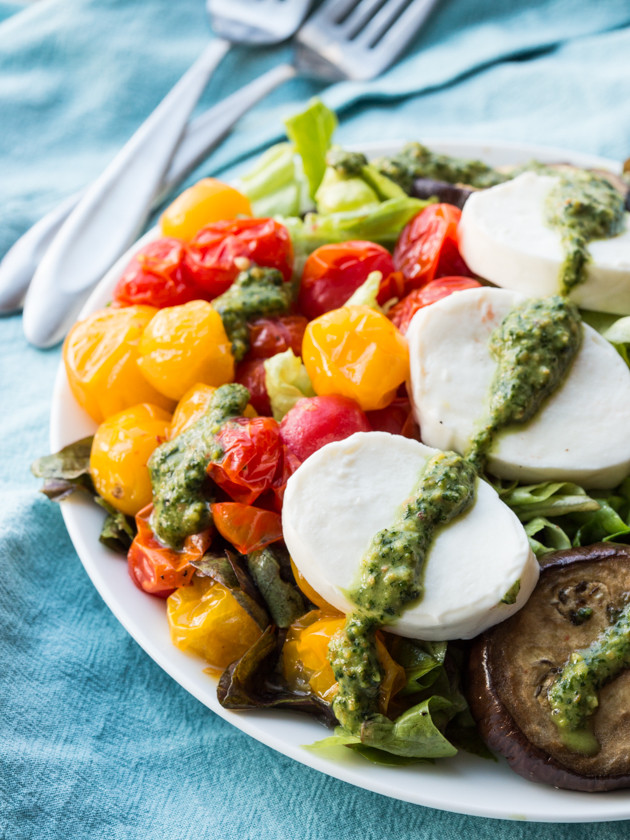 On Friday afternoon we arrived in Paris, where we stayed with our friends who are living there for a few years. They showed us some of their favorite dinner spots, took us to the Louvre on our first (rainy) day, and taught us how to picnic like the Parisians (and a bunch of tourists) on the Eiffel Tower lawn.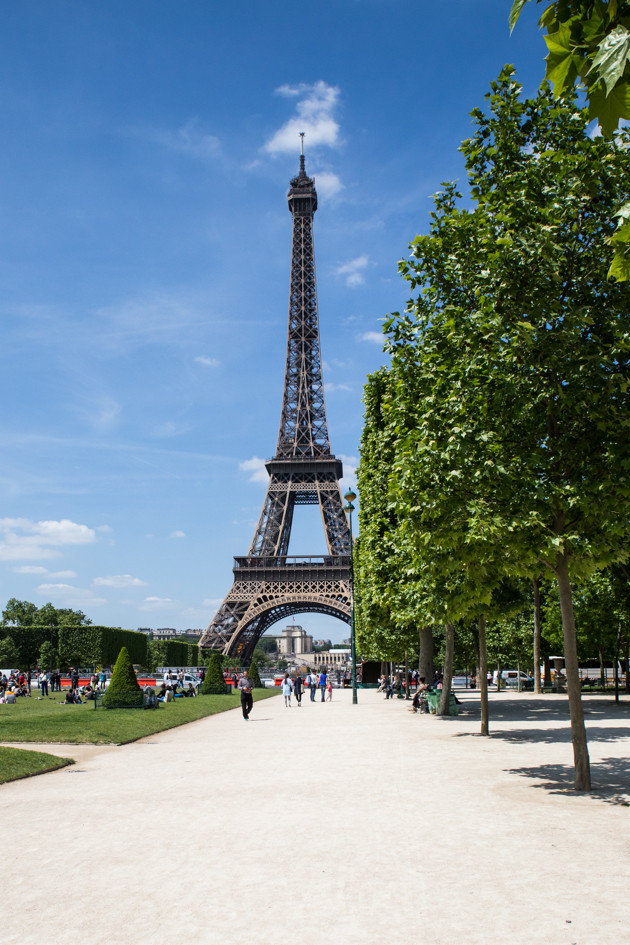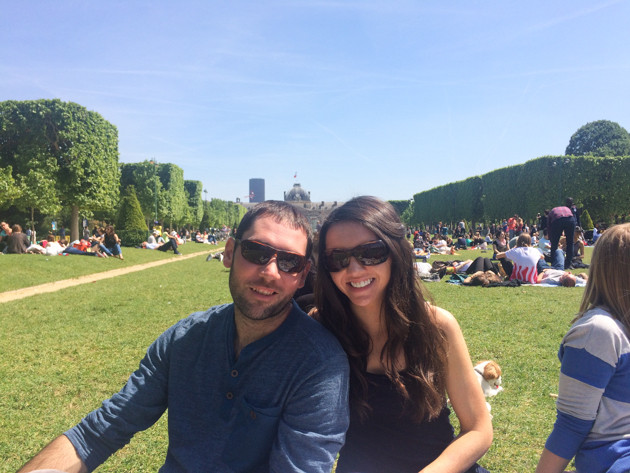 On Sunday we flew to Biarritz, which is a town in southwest France just north of Spain. We didn't have the best weather, but we ended up with 1 beach day, 1 day of hiking around in the drizzle, and 1 day of cafe hopping between downpours before flying out Wednesday night. I unexpectedly had the BEST pina colada of my life during those cafe hops. Okay maybe I had 2.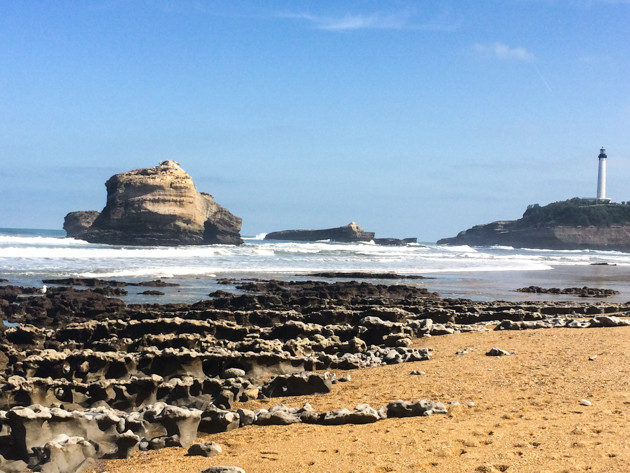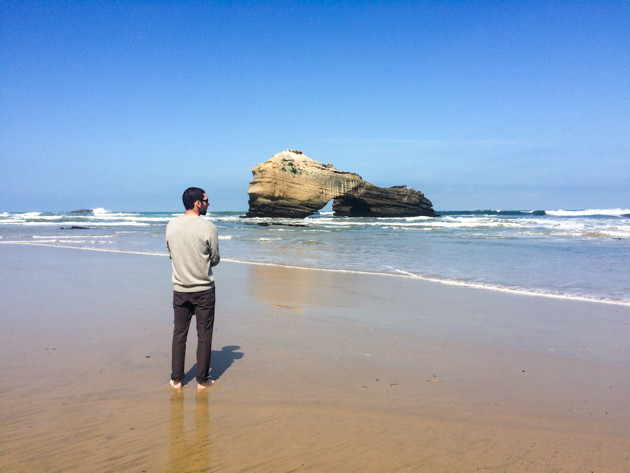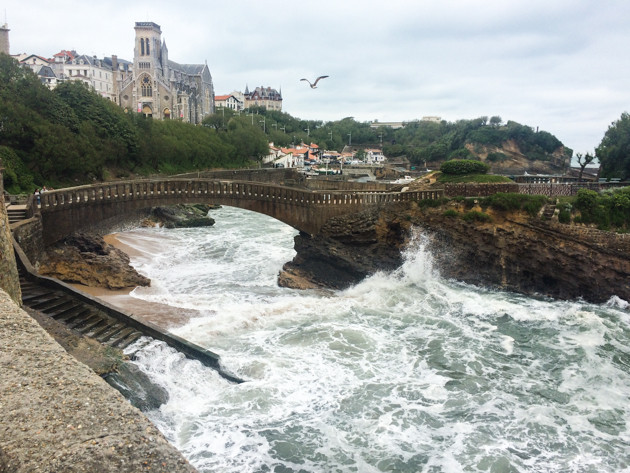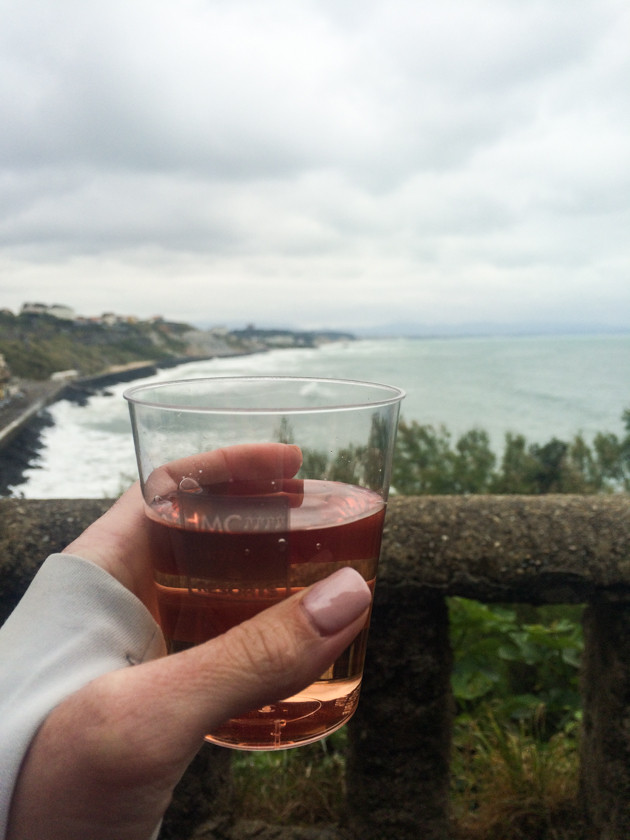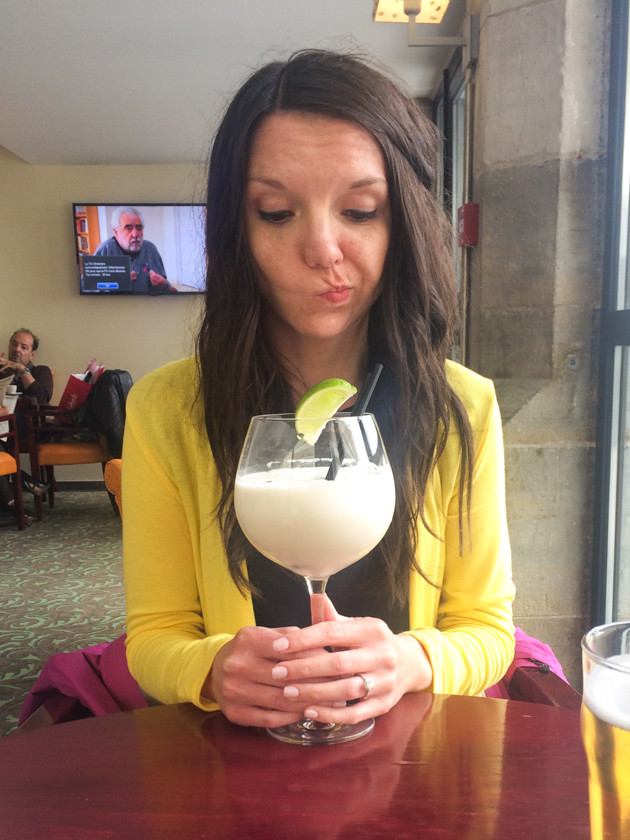 Thursday we climbed the stairs of La Basilique du Sacre Coeur, where we saw some breathtaking views of Paris, walked around Notre Dame, stopped along a quiet Paris street for some midday wine, and then walked to the top of the Arc de Triomphe. It was probably the most touristy of our days, but the amount of history and art in that busy city amazes me, and I'm so glad we were able to fit in those sights.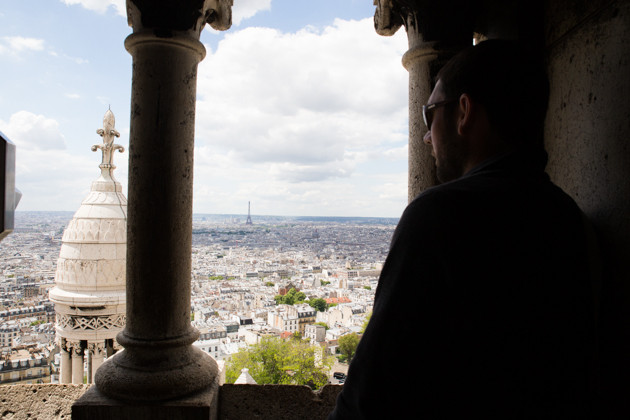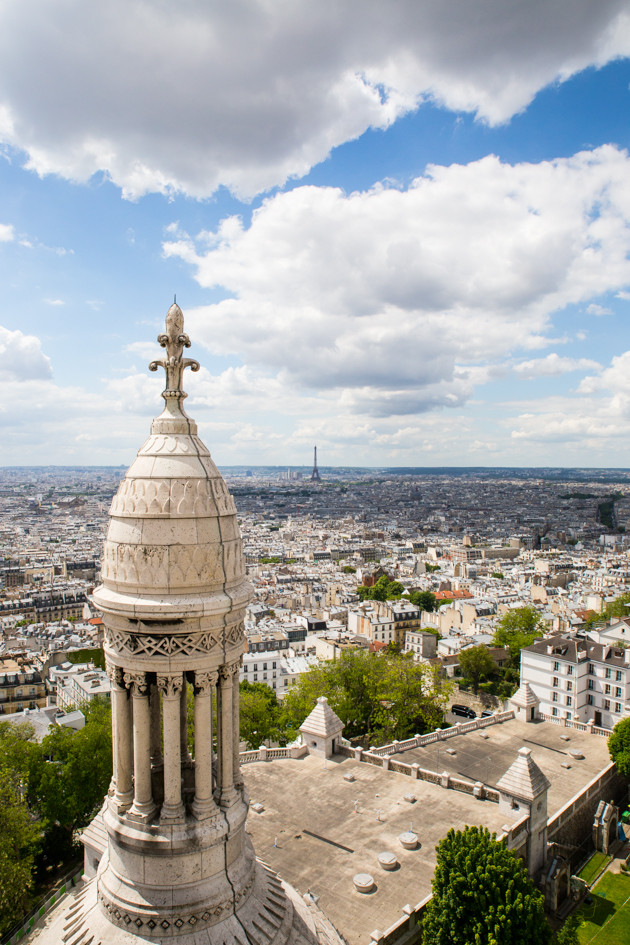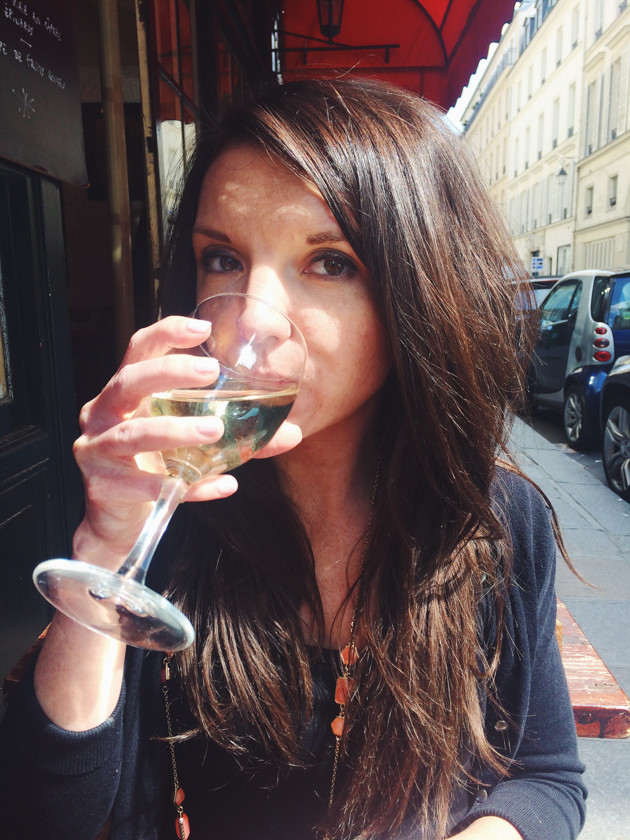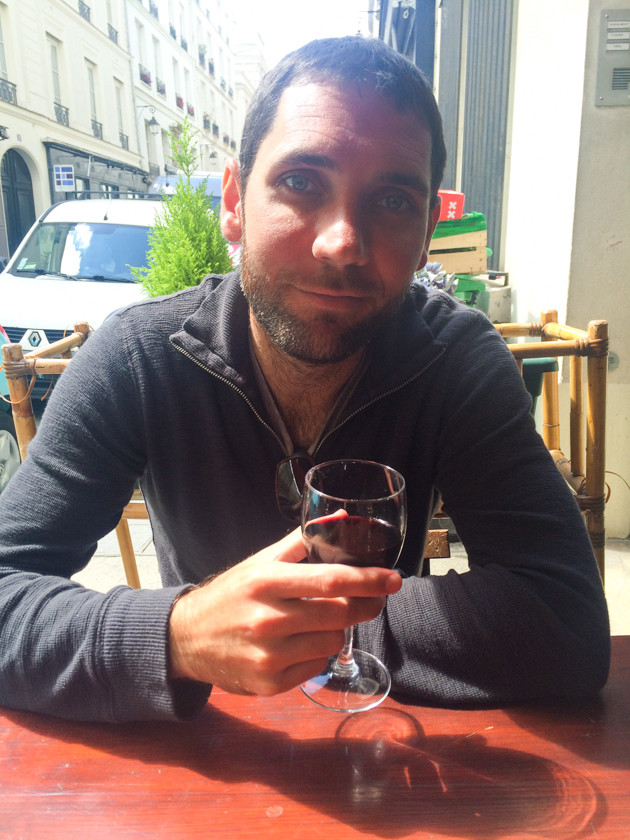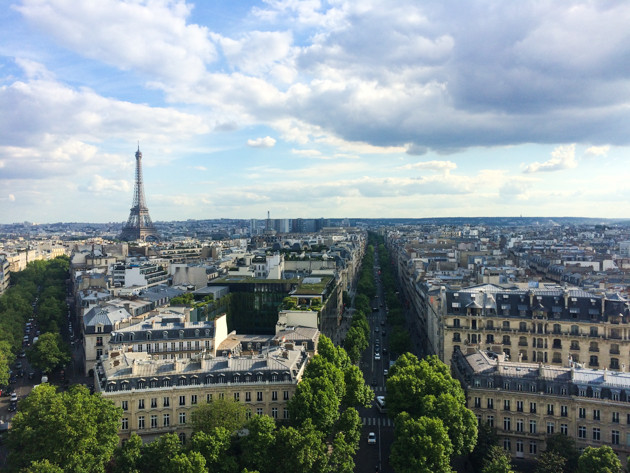 Friday we had planned on a day trip to Versailles, but it was sold out (!!!) so we ended up picnicking on the Eiffel Tower lawn in the afternoon while drinking wine, eating baguette and cheese, and playing cards. We had such a great time that after a quick run home to shower and nap, we came back to do the same thing at night. Sitting there with Ryan while the Eiffel Tower lights flashed was one of my favorite moments of the entire trip.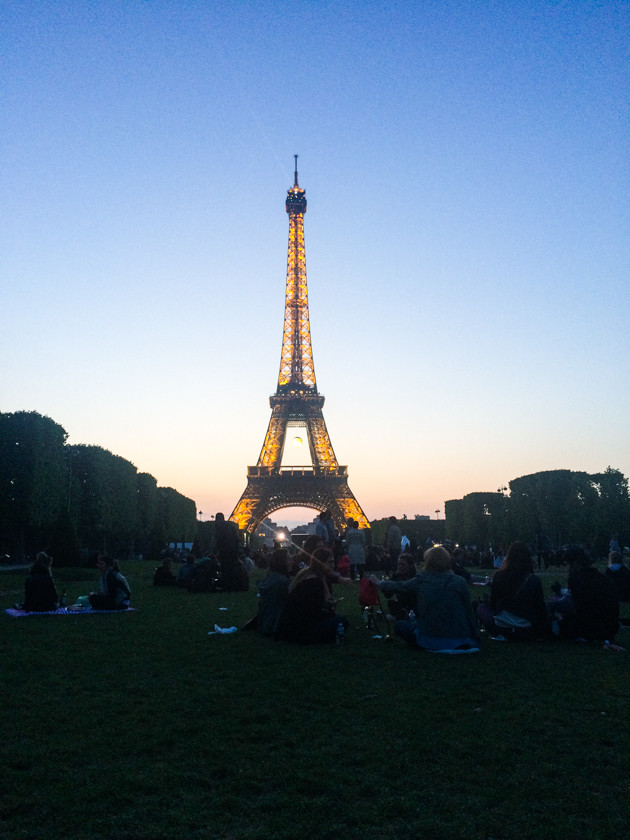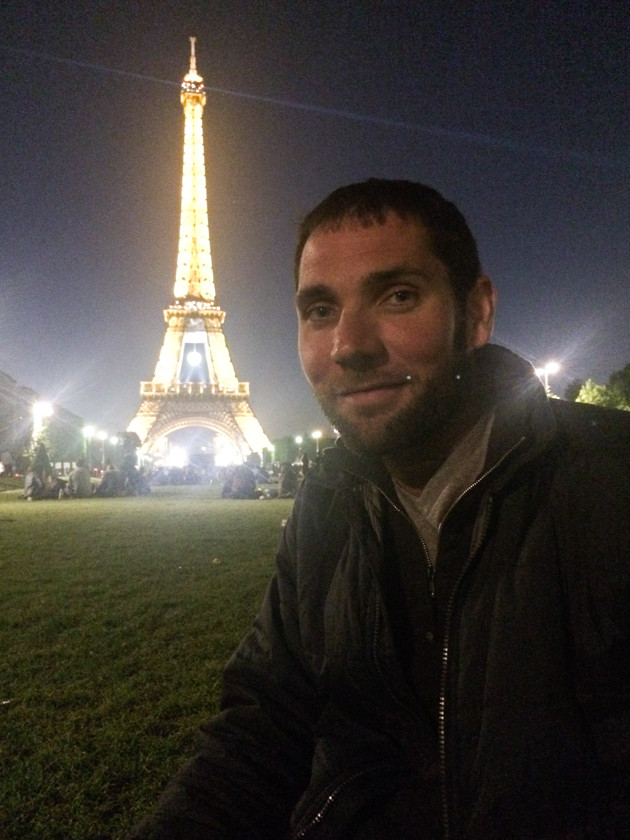 We spent our last full day of the trip at Versailles, walking through the palace with an audio tour, and then galavanting around the gardens. We were lucky enough to visit the gardens on a day where they ran the fountains with music. Something about the music with the crashing water felt really powerful, and was amazing to witness. The tasty plain baguette with sliced cheese didn't hurt either – why is a cold, plain bread and cheese so good in France?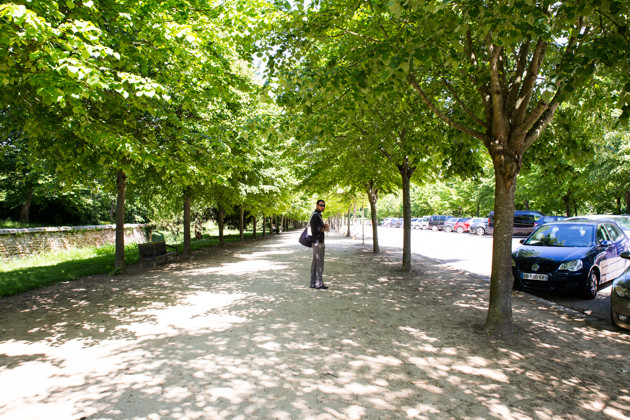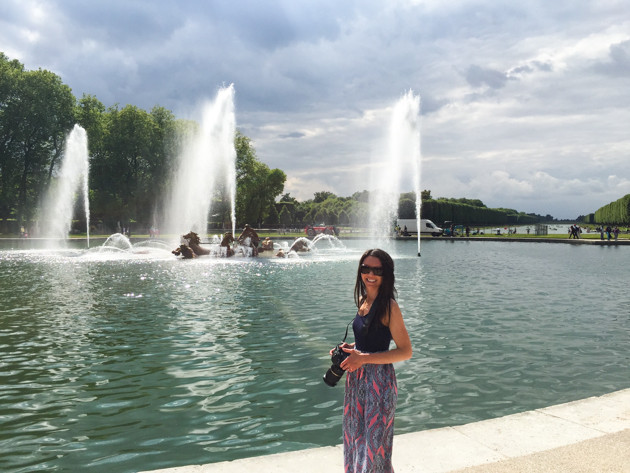 The trip was absolutely one of the most amazing experiences of my life. What a great way to welcome life with my new fiancé!
I realize you're probably here for the food, so let's get to it. As I mentioned on Facebook after returning, I had some of the best salads in France. The fresh produce, the cheese, and the vinaigrette were fabulous at every place we ate. Even when I came across a menu without a single vegetarian item, they happily threw together a flavorful salad jam-packed with bright, colorful veggies. At one point a waiter approached our table and asked if I ate goat cheese. I enthusiastically responded with an exaggerated nod and "oui," expecting goat cheese crumbles on my salad. The waiter came back and presented me with a fresh and simple salad that would have been perfect on its own, but was topped with a log of pesto-covered goat cheese topped with roasted cherry tomatoes, and baked in phyllo dough. WHUT. I love the French.
I will likely share a similar salad as that goat cheese wonder someday, but today's post is actually based off of a salad I stumbled upon in Paris, which included fresh butter lettuce, roasted eggplant and tomatoes, that magical French vinaigrette, fresh mozzarella, and a drizzle of pesto. We stopped at the restaurant for a glass of late-afternoon wine and a snack, but the flavor was so out of this world that I devoured the whole salad without looking back.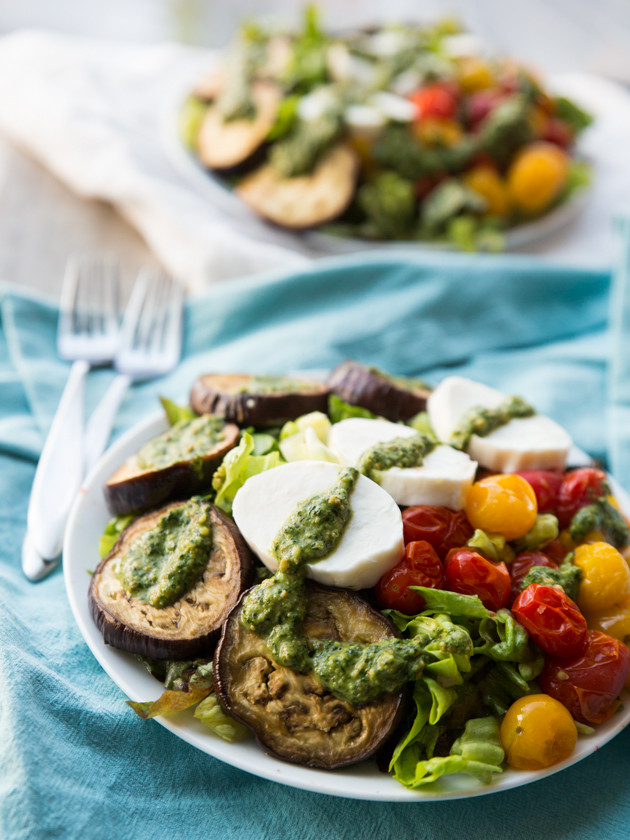 When I recreated this salad at home, I looked to David Lebovitz for dressing inspiration, used my favorite pesto for the extra burst of drizzled flavor, and roasted hella lot of eggplant and tomatoes, because I like my salads jam-packed with ingredients. Also, the French have reintroduced me to the magic that is butter lettuce. It's about as decadent as lettuce can get. I used to be a romaine girl, but I'm now a total butter lettuce convert.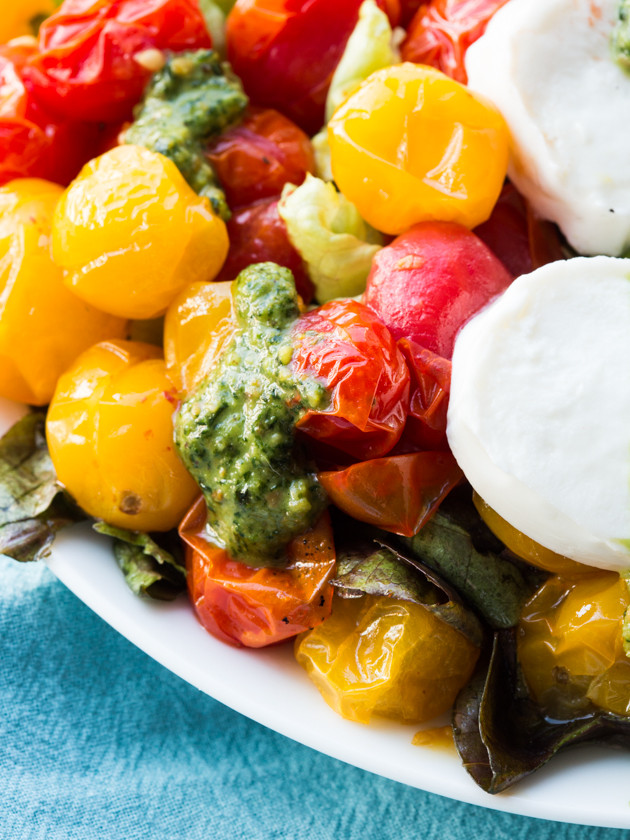 If you're a fan of hearty meal salads, this is for you! Tons of veggies, tangy dressing, rich pesto, and creamy mozzarella – it's dreamy.

Roasted Eggplant and Burst Tomato Mozzarella Pesto Salad with Simple Dijon Vinaigrette
A fresh, colorful salad jam-packed with flavor from roasted veggies, mozzarella, dijon vinaigrette, and pesto!
Yield: 4 servings
Prep Time: 10 minutes
Cook Time: 20 minutes
Total Time: 30 minutes
Ingredients:
Roasted Eggplant and Burst Tomato Mozzarella Pesto Salad
2 baby eggplants, sliced 1/4" thick
2 pints cherry tomatoes
1 tablespoon olive oil
1/4 teaspoon sea salt
8 ounces fresh mozzarella, sliced
6 tablespoons of your favorite pesto (here's mine)
10-12 cups chopped butter lettuce, packed
Simple Dijon Vinaigrette
2 tablespoons minced shallot
¼ teaspoon fine salt
2 tablespoons champagne vinegar
1 teaspoon good-quality dijon mustard
1 teaspoon honey
1/2 cup good-quality extra virgin olive oil
1/8 teaspoon black pepper (or to taste)
Directions:
Preheat oven to 400 degrees.
Combine the eggplant and tomatoes in a bowl and toss with olive oil. Transfer to a parchment-lined baking sheet, and sprinkle with salt. Bake for 20 minutes, flipping the eggplant halfway through.
While the veggies roast, get the dressing together. Combine the shallot, salt and vinegar in a bowl and let sit for 10 minutes. Whisk in the dijon and honey, then slowly drizzle in the oil while whisking. Taste and add pepper/more salt to your liking.
Place the lettuce in a large bowl, and drizzle with the dressing, using just enough to lightly coat the greens. Divide the greens among 4 plates, and top each plate with 1/4 of the roasted veggies and sliced mozzarella. Drizzle with pesto.
Vinaigrette recipe adapted from David Lebovitz.
If your pesto isn't very drizzle-able, add a teaspoon or two of water.
You shouldn't need all of the dressing, so don't dump it all on at once - you just want a light coat on the lettuce.
Nutrition Information: Serving Size: 1/4 of salad recipe with about 2 tablespoons vinaigrette. Calories: 569, Total Fat: 41g, Saturated Fat: 9.9g, Cholesterol: 36mg, Sodium: 734mg, Potassium: 1,304mg, Total Carbohydrates: 33.2g, Sugars: 16.2g, Protein: 23.6g
8 Responses to "Roasted Eggplant and Burst Tomato Mozzarella Pesto Salad with Easy Dijon Vinaigrette"