Grilled Veggie Sandwich with Herbed Goat Cheese White Bean Spread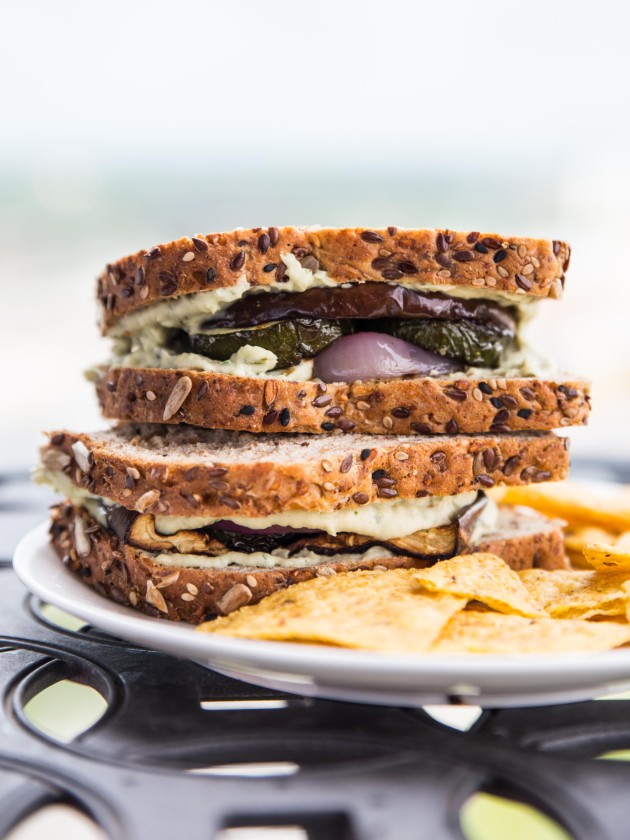 This summer I've reacquainted myself with my love of cooking. I had a bit of a slump this winter, when I'd get into the kitchen and just feel…meh. Cooking felt like an obligation instead of an enjoyment. I'd make things, and they'd taste fine, but the actual creation process didn't interest me much.
Enter summertime, and I'm back in my groove. After a busy day in the office I come home, turn on some tunes, and just get lost in the process of making dinner. It's been saving me lately, to be honest. Now that I'm grill-obsessed, I also get to do some of the dinner prep outdoors, which is a big bonus during these magical Minnesota summers.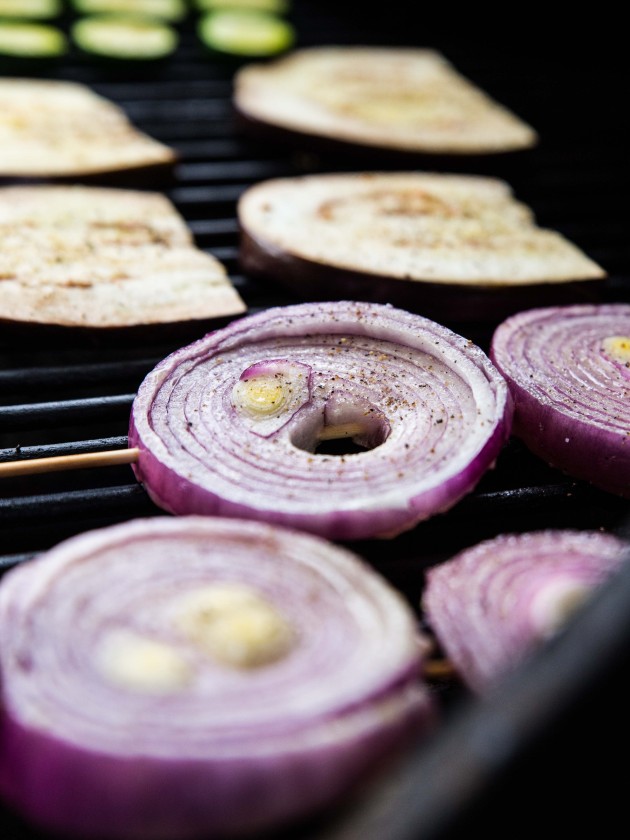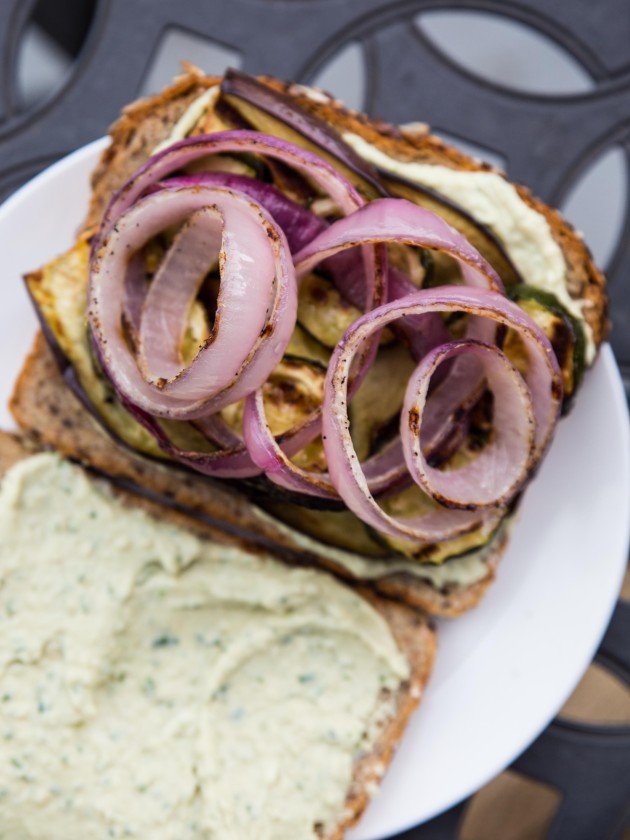 As I mentioned earlier this week, I only recently learned that I love grilling vegetables. Today is a sort of ode to grilled vegetables, with loads of the rich healthy stuff piled high between seeded bread with thick and creamy herbed goat cheese white bean spread.
Although all of my sandwiches tend to include loads of hummus and a separate layer of cheese, I decided to switch things up this time and combine my cheese and my bean spread into one flavorful knifeful. While my veggies grilled outside, I blended goat cheese with fresh rosemary, parsley, salt and pepper, and some creamy, protein-rich cannellini beans.
On a side note, never have I ever spelled cannellini correctly without the help of spell check. Not a once. Hrrumph.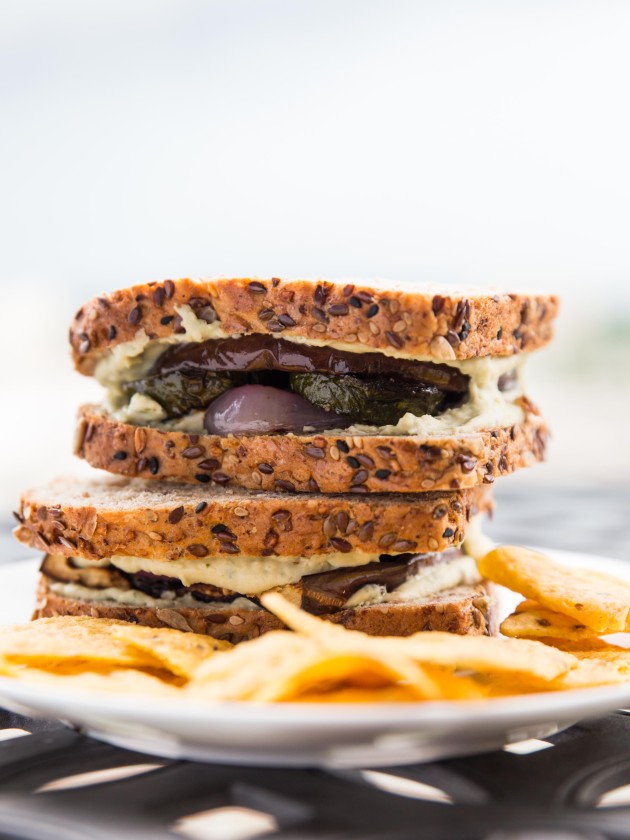 After the veggies are adequately charred, we slather each slice of bread with the herbed goat cheese spread, pile the veggies high, and sandwich it all together. If you're feeling fancy you can grill the sandwich as well, but I liked eating it between soft, untoasted whole grain bread.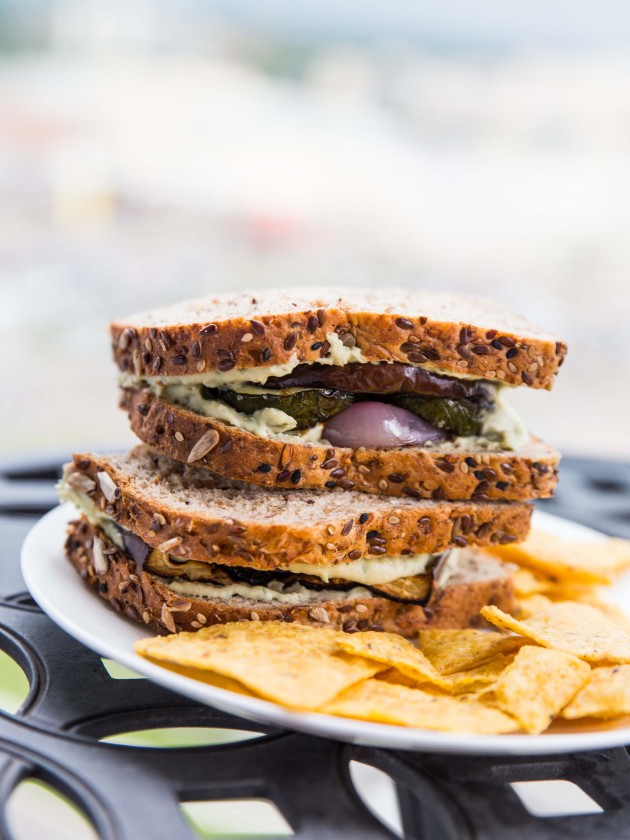 Side note #2 of the post: I got lightly rained on throughout the grilling and photo-taking portion of this recipe. Minnesotans truly do make the most of the weather.

Grilled Veggie Sandwich with Herbed Goat Cheese White Bean Spread
A grilled veggie sandwich made with eggplant, zucchini, red onion, and a creamy herbed goat cheese white bean spread!
Yield: 2 sandwiches
Prep Time: 10 minutes
Cook Time: 15 minutes
Total Time: 25 minutes
Ingredients:
Grilled Veggies
½ red onion, sliced ½-inch thick
½ eggplant, sliced lengthwise ½-inch thick
1 small zucchini, sliced ½-inch thick
1 ½ tablespoons olive oil
¼ teaspoon salt
Black pepper to taste
Herbed Goat Cheese White Bean Spread
4 ounces goat cheese, room temperature
2 teaspoons olive oil, divided
¼-½ teaspoon sea salt
Black pepper to taste
1 tablespoon fresh rosemary
¼ cup fresh flat-leaf parsley
1 (15-ounce) can cannellini beans, rinsed and drained
Sandwich Assembly
4 slices hearty whole grain bread
Directions:
Set your grill to medium heat. Brush the veggies with the olive oil on both sides, and sprinkle with salt and pepper. For the onions, spear the slices with skewers to keep them from falling apart (see picture #2 above). Grill for 5-7 minutes on each side, or until nicely charred on both sides (cooking times will vary depending on your grill, so check frequently).
While the veggies are grilling, combine the goat cheese and 1 teaspoon olive oil in a food processor, and process until mostly smooth. Add the salt, pepper, rosemary parsley, beans, and remaining olive oil, and process until smooth. Taste and adjust salt/pepper to your liking.
To assemble the sandwiches, set out 4 slices of bread, and coat one side of each slice with 2 tablespoons of the goat cheese spread. Divide the veggies across two slices of the bread, then top with the other two slices of bread.
You will have leftover spread - use it as a veggie dip, or on future sandwiches!
Nutrition Information is a rough estimate for 1 sandwich using 2 tablespoons of spread on each slice of bread.
Nutrition Information: Serving Size: 1 sandwich with 1/4 cup spread, Calories: 457, Total Fat: 21.3g, Saturated Fat: 6.8g, Cholesterol: 20mg, Sodium: 793mg, Potassium: 956mg, Total Carbohydrates: 49.4g, Dietary Fiber: 15.3g, Sugars: 9.8g, Protein: 20.8g
4 Responses to "Grilled Veggie Sandwich with Herbed Goat Cheese White Bean Spread"
Pingback: Food Love | A Cookie Named Desire