Superfood Chocolate Banana Chia Pudding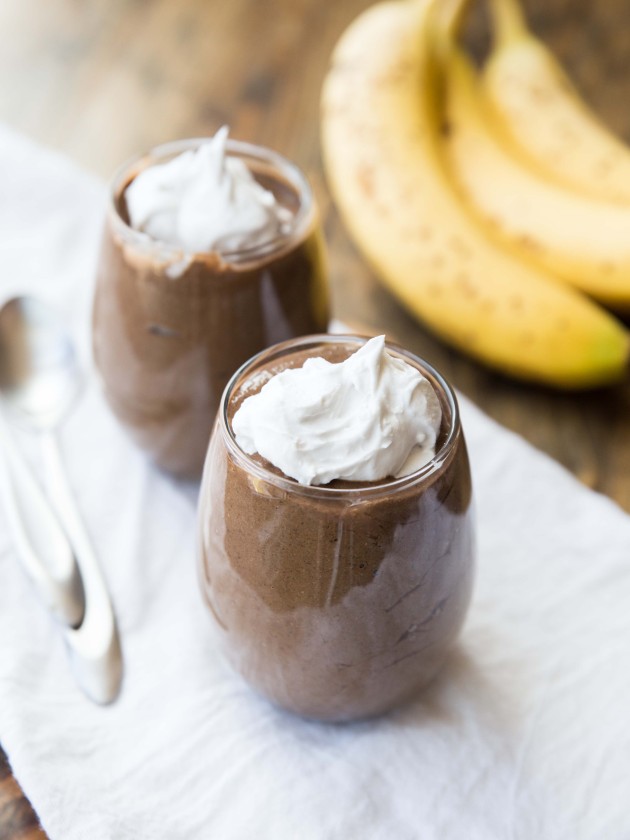 It's thick, chocolatey and luxurious, and you're going to think I'm a weirdo when you see the ingredient list.
I tried chia pudding once last spring, and those little balls of gelled seeds (appealing description, right?) were NOT for me. I could do chia seeds blended in smoothies or sprinkled on top of peanut butter toast, but soaking them in liquid and deeming the result "pudding" seemed like blasphemy.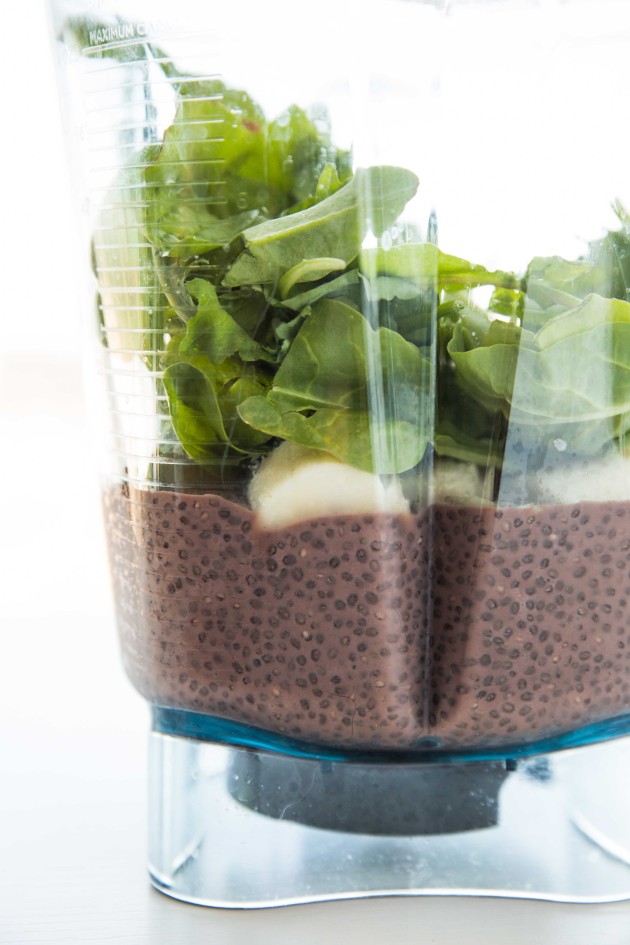 Then, last year I saw Ashley's post about blended chia pudding, and I thought that might get me on board the healthy pudding train. Without texture being an issue, it turns out chia pudding is worth all the hype.
This weekend I treated myself to this pudding for breakfast. It seemed a bit indulgent because yes, there's quite a bit of sugar, but it's also packed with all kinds of healthy goodness like chia seeds (duh), banana, cocoa powder, and GREENS.
Yes, I put greens in this pudding. I figured that since I can blend them into fruit smoothies without noticing, why not dessert too?
Did I lose you? Anyone?
Chia pudding is also a cinch to make: The night before you want your pudding (or the morning, if you want to eat it at night – you get where I'm going with this), combine the chia seeds with 2 cups of Almond Breeze Almond Milk Chocolate. After the seeds have soaked up that chocolatey goodness, throw the thickened "pudding" in a high-speed blender with 1 frozen banana, 1/4 cup cocoa powder, and 1 cup packed greens.
You end up with 2 large servings of thick chocolate banana pudding. Before serving give the mixture a taste – If your banana isn't super ripe, you may want a teaspoon or two of agave or maple syrup, but that's up to you. You may also want to top your pudding with a dollop of coconut whip, which I highly recommend for very important creamy decadent reasons.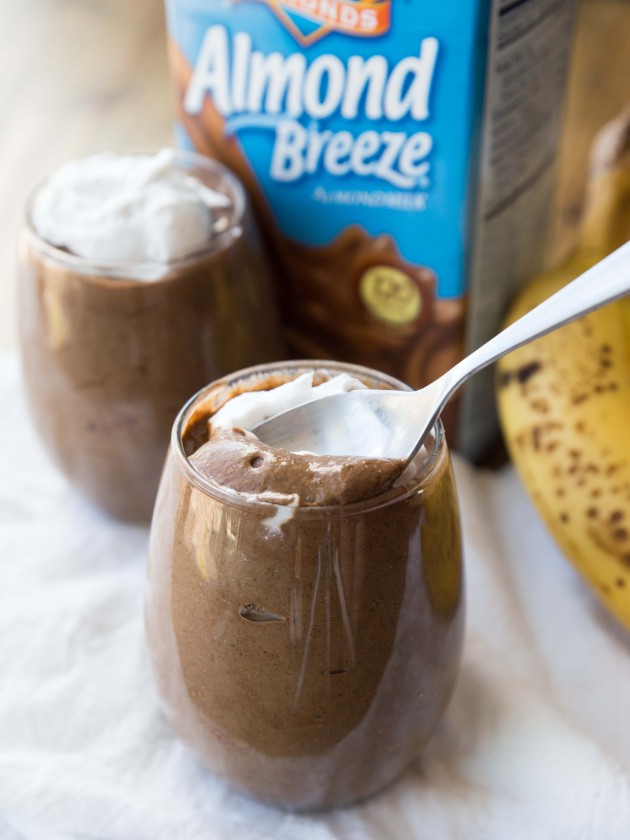 Is this breakfast or dessert? I'm tagging it as both because it's whatever you want it to be! I just want it to be available to me at all times.
This "Easy as Breeze" post is sponsored by Almond Breeze Almondmilk. For more "Easy As Breeze" recipes made with five ingredients or less, visit Almond Breeze on Facebook, Twitter, Instagram and Pinterest. I only work with brands that I actually use and enjoy in my everyday life. Thank you for supporting the brands that help keep this space up and running!

Superfood Chocolate Banana Chia Pudding
Thick, creamy pudding made from superfoods like chia seeds, cocoa powder, and spinach!
Yield: 2 servings
Prep Time: 4 hours
Total Time: 4 hours 15 minutes
Ingredients:
2 cups Almond Breeze Almond Milk Chocolate
1/2 cup chia seeds
¼ cup cocoa powder
1 very ripe banana, frozen and sliced
1 cup spinach (or greens of choice), packed
Optional - 1-2 teaspoons sweetener of choice (depending on how sweet your banana is)
Directions:
Mix together the almond milk and chia seeds. Refrigerate until the chia seeds have absorbed the liquid and thickened the mixture into a "pudding" - at least 4 hours.
Transfer the chia pudding to a blender and add the cocoa powder, banana, and spinach. Blend until completely smooth.
Taste and, if desired, add 1-2 teaspoons sweetener of choice.
Divide into two bowls (or wine glasses), and top however you want! Some ideas are: coconut whip, granola, fresh fruit, flaked coconut, etc.
Nutrition Information: Serving Size: 1/2 of recipe, Calories: 239, Total Fat: 7.1g, Saturated Fat: 1.2g, Trans Fat: 0.0g, Cholesterol: 0mg, Sodium: 164mg, Potassium: 857mg, Total Carbs: 44.5g, Dietary Fiber: 8.7g, Sugars: 27.5g, Protein: 5.6g
12 Responses to "Superfood Chocolate Banana Chia Pudding"