Simple Artichoke, Pesto and Goat Cheese Quesadillas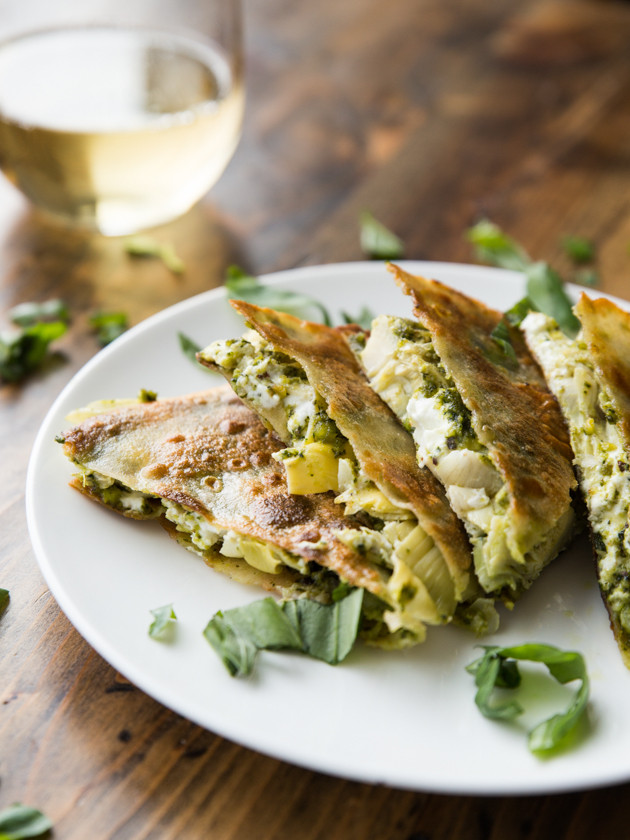 As I'm getting older and busier, I'm realizing that simple really is best. Not every soup needs 15 different spices, a straight-forward margarita pizza is sometimes just right, and ain't nobody got time for the fancy weeknight meals.
Perhaps that realization is why I've loved quesadillas so much lately; Simple meals leave more time for life living…or watching reality TV on the couch in pajamas. Whichever floats your boat that day, really.
On that note, I've started watching Bachelor in Paradise and it is gloriously awful. So many tears, so much scheming, and general drama overload. Just what I need to escape the stress of the day and feel a little bit trashier about myself.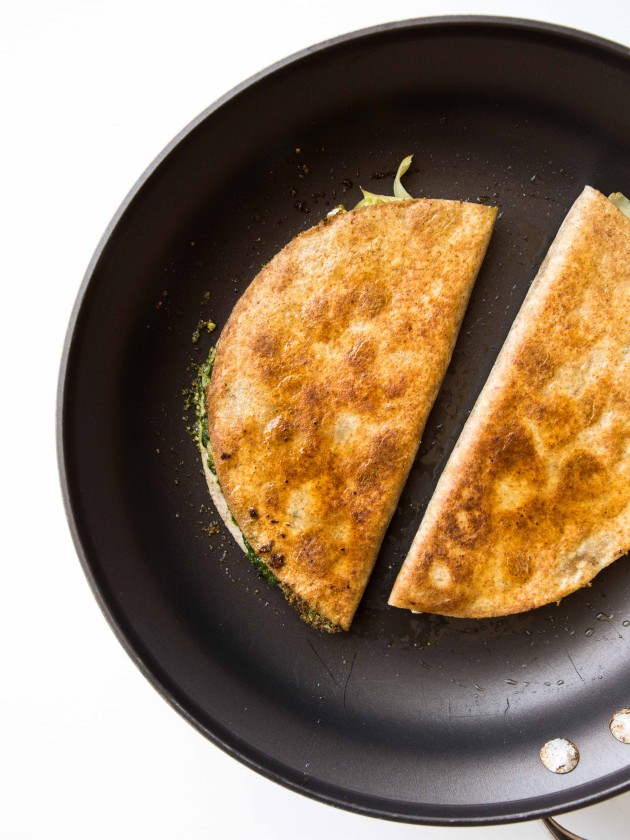 These quesadillas are packed with 3 of my favorite things: artichokes (canned, cause we're talking EASY here, folks), pesto, and goat cheese. I've recently found that buying the log of goat cheese and crumbling it yourself results in a WAY creamier texture than the pre-crumbled stuff. It's great for these quesadillas, because the cheese melts into those artichoke heart nooks and crannies. Mmmmmm yes.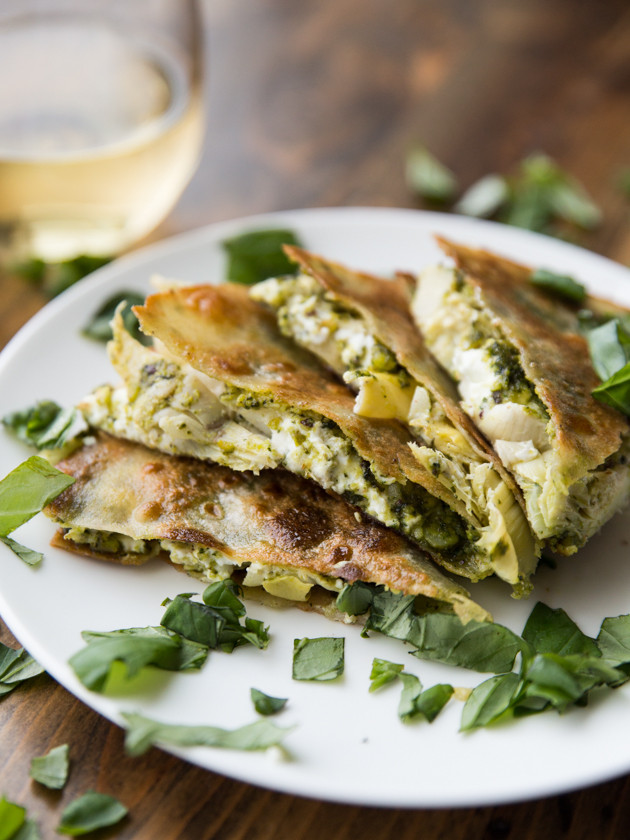 I used my pistachio pesto recipe, but feel free to sub your favorite recipe or even store bought. Three tablespoons of the pesto goes on each tortilla, and then gets topped with quartered artichokes (that we cut in half to make them fit better), that freshly-crumbled goat cheese, and black pepper. Fold the tortilla over, press down, and then pan fry each quesadilla in 2 teaspoons of oil (1 for each side) for 3-5 minutes on each side.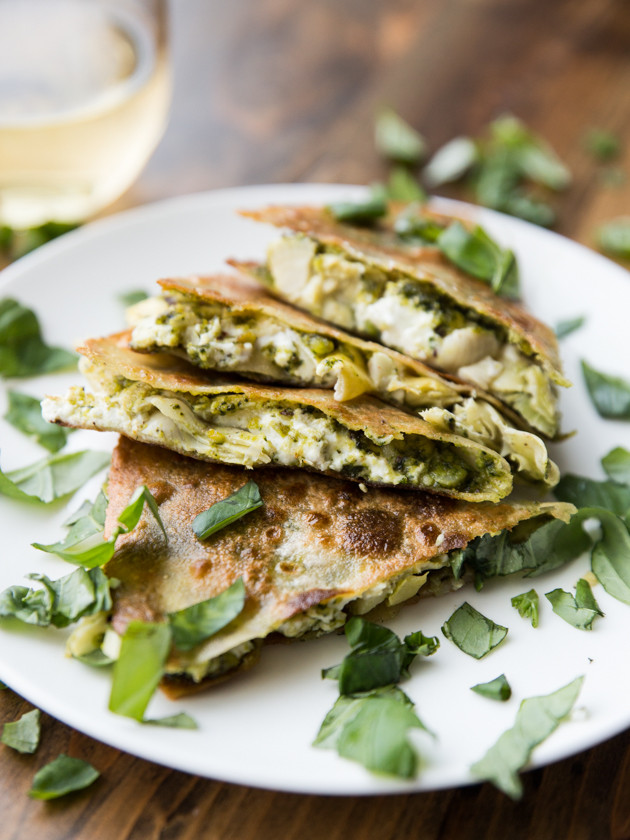 Easy! Hardly any prep work! And full of rich, creamy, artichoke goodness. Weeknight comfort food at its finest, leaving plenty of time for those guilty TV pleasures.


Simple Artichoke, Pesto and Goat Cheese Quesadillas
Super simple and mega flavorful vegetarian quesadillas made with artichokes, pesto, and goat cheese!
Yield: 2 quesadillas
Prep Time: 15 minutes
Cook Time: 10 minutes
Total Time: 25 minutes
Ingredients:
Pistachio Pesto
½ cup raw pistachios
4 cups fresh basil leaves
2-4 cloves garlic
½-1 teaspoon sea salt
6 tablespoons olive oil
Simple Artichoke and Pesto Quesadillas
½-1 can (15-ounce) quartered artichoke hearts, halved lengthwise (depending on how big your tortillas are/how much you love artichokes)
6 tablespoons pistachio pesto (or your favorite pesto)
Fresh cracked black pepper
3 ounces goat cheese, crumbled
2 whole grain or gluten free tortillas
4 teaspoons olive oil
Directions:
Make the pistachio pesto: combine all ingredients except the olive oil in a food processor until finely chopped. Stream in the olive oil with the processor running. Scrape down the sides of the processor as necessary, and process until smooth.
Spread 3 tablespoons of pesto on each tortilla. Divide the artichokes equally between the tortillas, covering just half of each tortilla. Crumble half of the goat cheese on each tortilla, top each tortilla with several turns of cracked black pepper, then fold over and press down.
If you have enough room, cook both quesadillas at the same time: Heat 2 teaspoons of olive oil in a nonstick skillet, and cook for 3-5 minutes, until golden, then flip over both quesadillas and add another 2 teaspoons of oil to the pan. Cook for another 3-5 minutes, then remove from the pan. Let sit for a few minutes, then slice into wedges and serve.
If you make the pistachio pesto, you will have some leftover. That's a good thing! It makes a great sandwich spread or dip for crackers.
The amount of artichokes you use is up to you. I ended up using about 3/4 of the can across the 2 quesadillas, but if you have smaller tortillas, or don't want your quesadilla as jam-packed, just use half the can.
Nutrition Information: Serving Size: 1 quesadilla, Calories: 539, Total Fat: 44.6g, Saturated Fat: 15.7g, Cholesterol: 56mg, Sodium: 647mg, Potassium: 66mg, Total Carbs: 16.8g, Dietary Fiber: 5.0g, Sugars: 5.2g, Protein: 19.9g
4 Responses to "Simple Artichoke, Pesto and Goat Cheese Quesadillas"