Roasted Broccoli and Smoked Gouda Calzones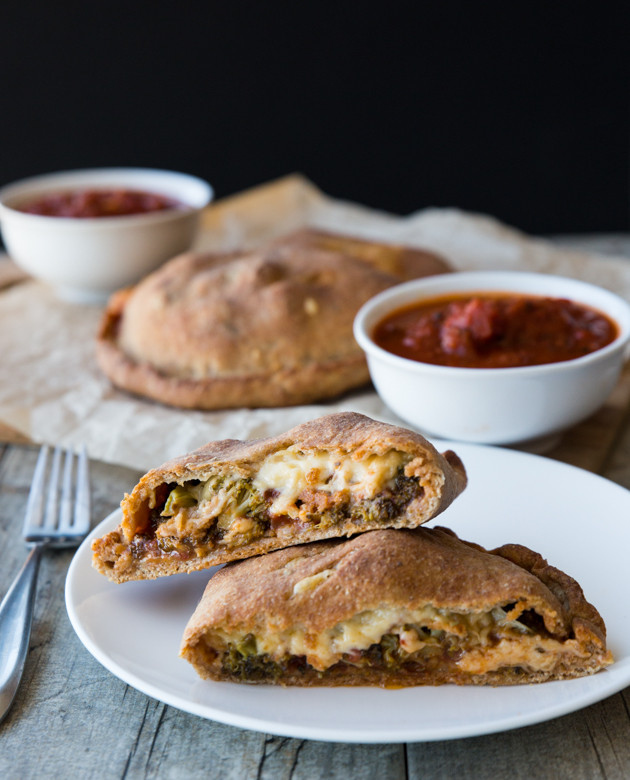 I really don't post enough pizza or calzones to accurately represent how often Ryan and I eat them. It's OFTEN. Probably at least once per week. Pizza is more common, especially in the summer when we can use the grill, but Ryan definitely prefers calzones. Food stuffed in food is his favorite thing, you know.
He also loves broccoli – he'll eat it raw, and keep the florets big, and doesn't mind if there's a little stem attached to those florets. I, however, prefer my broccoli roasted until golden brown and a tad crispy on the outside. And the stems? Those can't be anywhere in sight. It's really the only way broccoli is palatable to me, which seems a little wrong, being the veggie-obsessed person that I am. The nutty, crisp, olive-oil coated broccoli is the only broccoli that has made its way into my heart.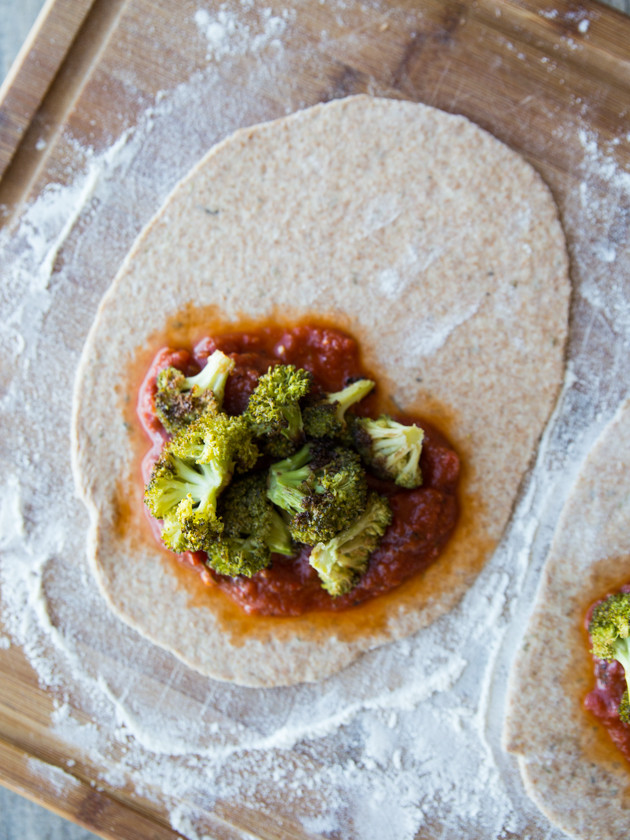 This recipe is a three-for-one. It includes a garlicky beer crust, my favorite pizza sauce, and simple roasted broccoli. However, if you want to make it simpler you can definitely buy pizza dough (Trader Joe's has GREAT whole wheat dough for $1) and your favorite pizza sauce (if I go store-bought I usually buy Muir Glen marinara). Despite the multiple steps, the process is pretty seamless since you can prep the broccoli and the sauce while the dough rises, then just roll out, stuff, seal and bake!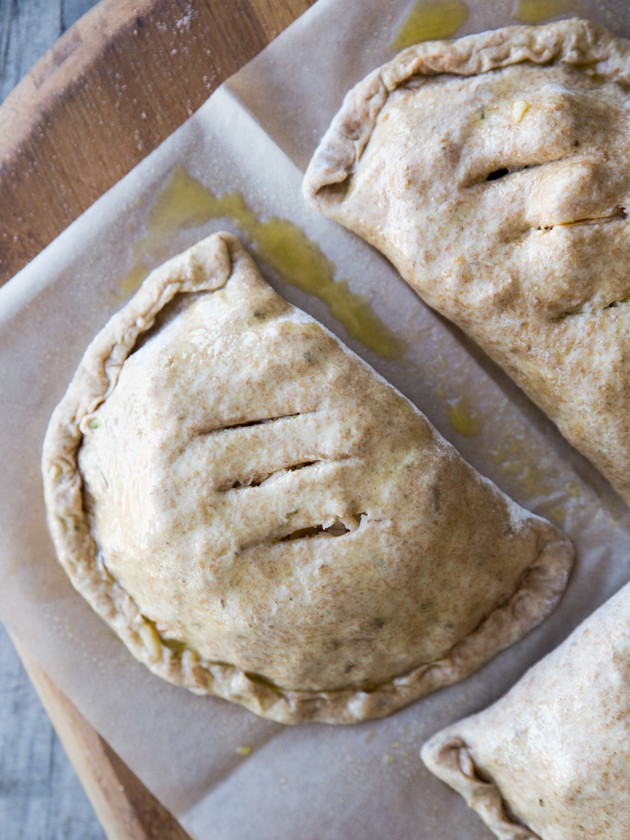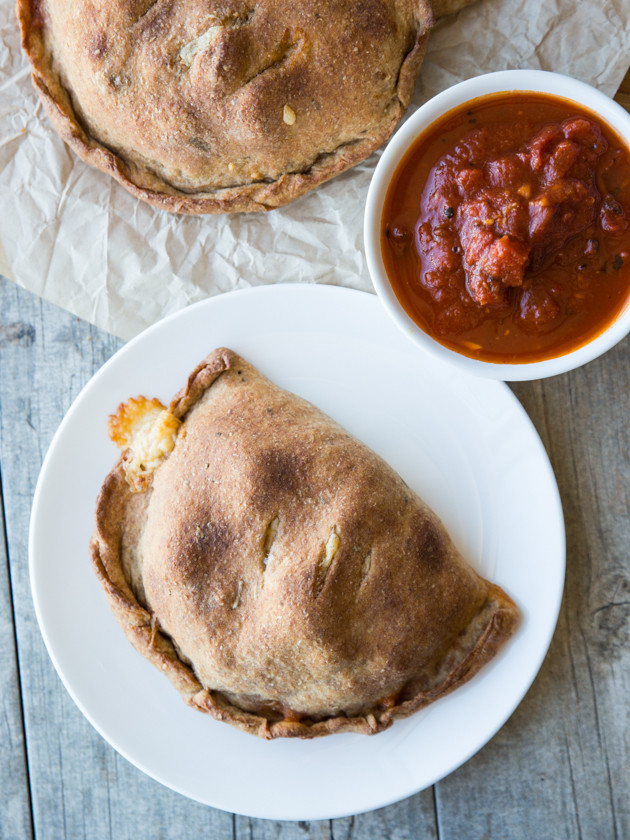 The dough is lightly flavored with garlic and oregano, and when baked gets slightly crisp on the outside, yet retains a nice chew as well. The sauce is super flavorful from fire-roasted crushed tomatoes, herbs, and my favorite secret ingredient: dark brown sugar! The sweet molasses flavor takes the sauce to the next level. I could eat it by itself, and I usually do. Just a little sauce goes into the calzones, and then you serve the rest either on top of the calzones, or on the side for dipping. The nutty, slightly crisp roasted broccoli gets covered with smoky gouda that melts into those broccoli nooks and crannies.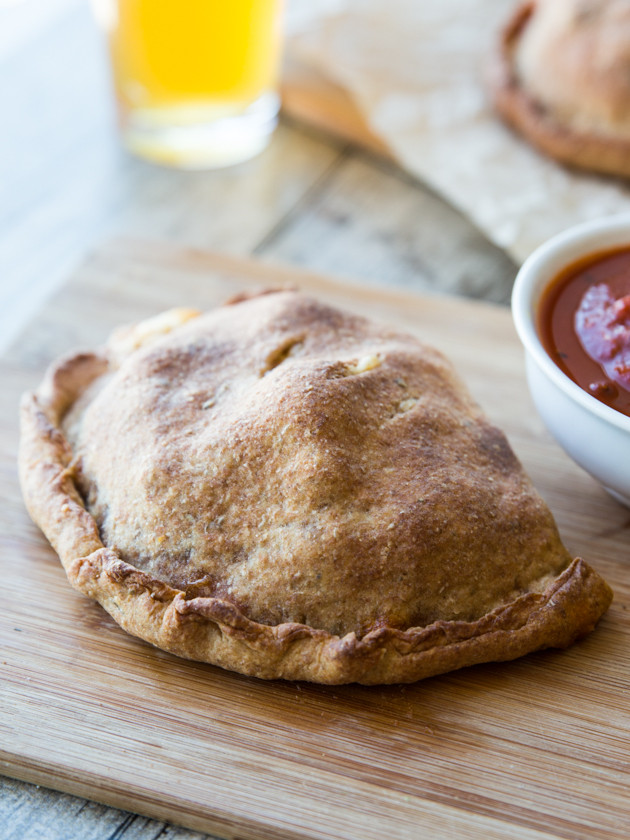 These babies might just be my ultimate comfort food. AND they're individual sized, so you can eat the whole thing. Anyone else think there's something satisfying about a clean plate? I'm definitely NOT the girl who always has leftovers at restaurants. I want it all, all the time. Let's hope this metabolism keeps on kicking!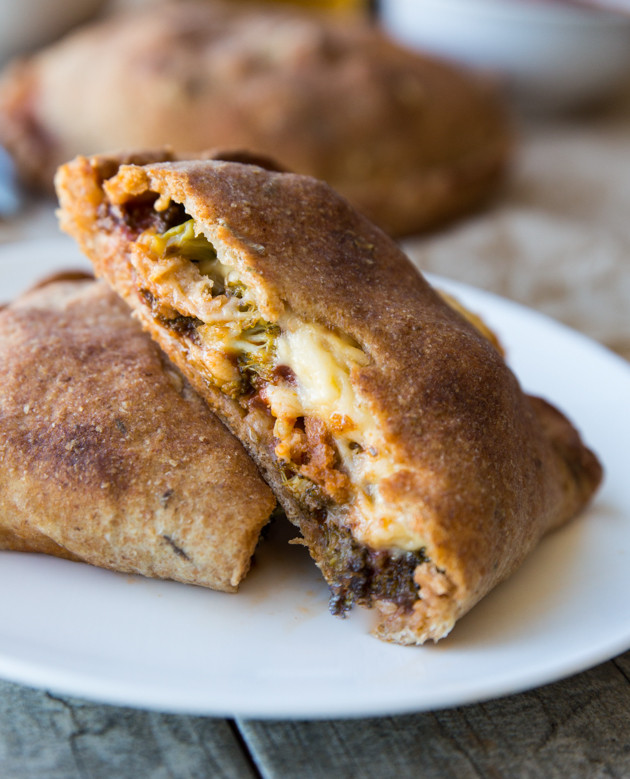 Let me know if you make these calzones! It always makes my day to see pics on Instagram – be sure to tag me @veggiebeastblog!


Roasted Broccoli and Smoked Gouda Calzones
Scratch-made calzones filled with roasted broccoli, my favorite homemade pizza sauce, and smokey gouda!
Yield: 4 calzones
Prep Time: 1 hour 15 minutes
Cook Time: 40 minutes
Ingredients:
Garlic Oregano Beer Crust
2/3 cup beer, warm (not hot)
1 packet instant yeast (2 1/4 teaspoon)
1 teaspoons cane sugar
1 teaspoon olive oil
3/4 teaspoon sea salt
1/2 teaspoon garlic powder
1/2 teaspoon dried oregano
1 1/2 cup whole wheat flour
Roasted Broccoli and Assembly
4 cups broccoli florets
1 tablespoon olive oil
¼ teaspoon sea salt
8 ounces smoked gouda, shredded
My Favorite Pizza Sauce
1 teaspoon olive oil
2 cloves minced garlic
1 28-ounce can fire roasted crushed tomatoes
1 teaspoon dried oregano
1 tablespoon dark brown sugar
Directions:
Whisk together the warm beer, yeast, and sugar. The beer should be warm to the touch but not uncomfortably hot. Let sit for 5 minutes - it should get bubbly in this time. If not, your yeast is dead so throw it out and start again.
After 5 minutes, whisk in the oil, then mix in the flour, salt, garlic powder and oregano. I use the paddle attachment on my mixer to incorporate everything, but a wooden spoon and your hands would work as well. After everything has come together, turn the dough out onto a floured surface and knead for 3-5 minutes, until the dough is smooth and firm.
Lightly oil a bowl, then add the dough and turn to coat. Cover loosely with plastic wrap or a towel, and let rise until doubled in size (45 minutes - 1 hour)
While the dough is rising, preheat the oven to 400 degrees. Toss the broccoli florets with the olive oil and salt. Transfer to a baking sheet, and bake for 18-20 minutes, until tender and dark green with lightly golden edges. After it's done baking remove the pan from the oven and place your pizza stone in the oven.
For the sauce, heat the olive oil in a saucepan over medium heat. Add the garlic and cook for 30 seconds, then add all remaining ingredients. Taste and add more salt if you wish (I usually don't need to). Bring to a boil, then reduce heat to low and let simmer for 20 minutes.
After your dough has doubled in size, punch it down and turn it out onto a floured surface. Cut it into 4 equal-sized pieces and form into balls. Cover loosely with plastic wrap and let sit for another 20 minutes.
After 20 minutes are up, roll each ball of dough into an 8 1/2 x 6-inch oval on a piece of parchment. Spread 2 tablespoons of sauce on the lower part of each oval, leaving an inch border. Top with 1/4 of the broccoli, and 1/4 of the cheese. Fold the top of the oval over the filling, and roll up the border, pressing together. You may also use a fork to press the edges. Cut a couple small slits in the top of each calzone (see picture in post). Spray the top of each calzone with pure olive oil cooking spray, brush with olive oil, or brush on an egg wash (1 egg whisked with 1 tablespoon of water).
Transfer the calzones (and parchment) to the preheated pizza stone. If you don't have a pizza stone you may use a pizza pan or baking sheet, but the crust may not end up as crispy. Bake for 20 minutes.
Serve calzones with additional pizza sauce on the side. To reheat, bake cooked calzones at 350 degrees for 10-15 minutes.
Serving Size: 1 calzone, Calories: 586, Total Fat: 25.0g, Saturated Fat: 13.1g, Cholesterol: 61mg, Sodium: 1186mg, Potassium: 406mg, Total Carbs: 64.7g, Dietary Fiber: 7.3g, Sugars: 13.7g, Protein: 22.6g
2 Responses to "Roasted Broccoli and Smoked Gouda Calzones"