Vegan Roasted Red Pepper Aioli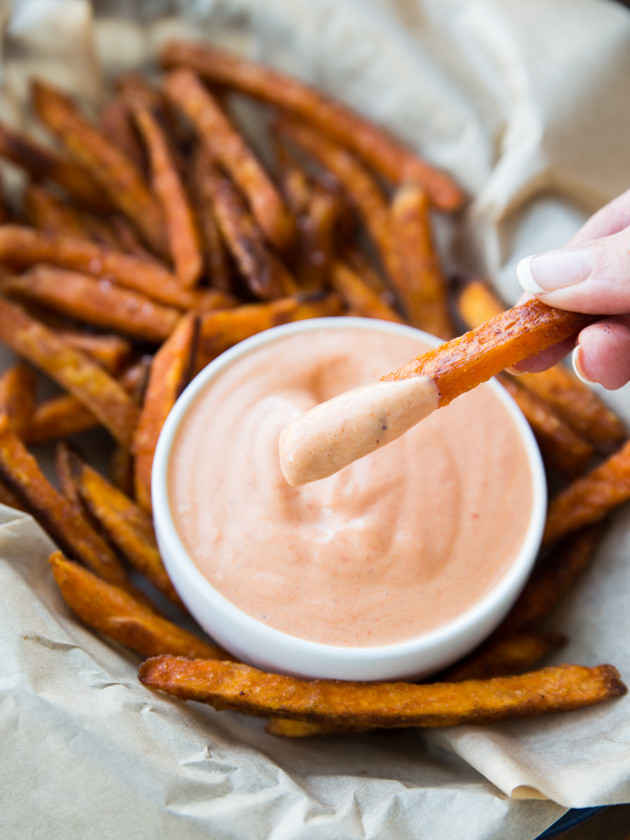 Those who know me well, or who have been paying attention to this blog for a while, know that I can't get on board with mayonnaise. I will sub sour cream and Greek yogurt and soaked cashews everywhere I can, because that mysterious white stuff with the raw eggs is not welcome in my belly.
I've had these strong feelings for several years, and my no-mayo stance has definitely gotten in the way of enjoying some otherwise attractive menu options at my favorite restaurants. Fancy shmancy places throw around the word "aioli" with pride – pesto aioli, sundried tomato aioli, jalapeno aioli. It sounds so good, but I know it's just a horn-tooting way of saying "we threw some fun stuff in some mayo."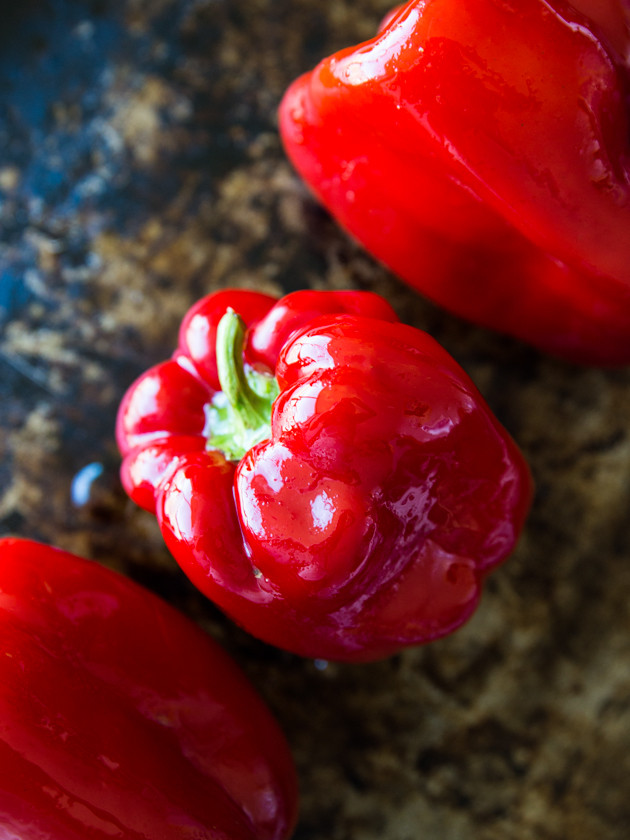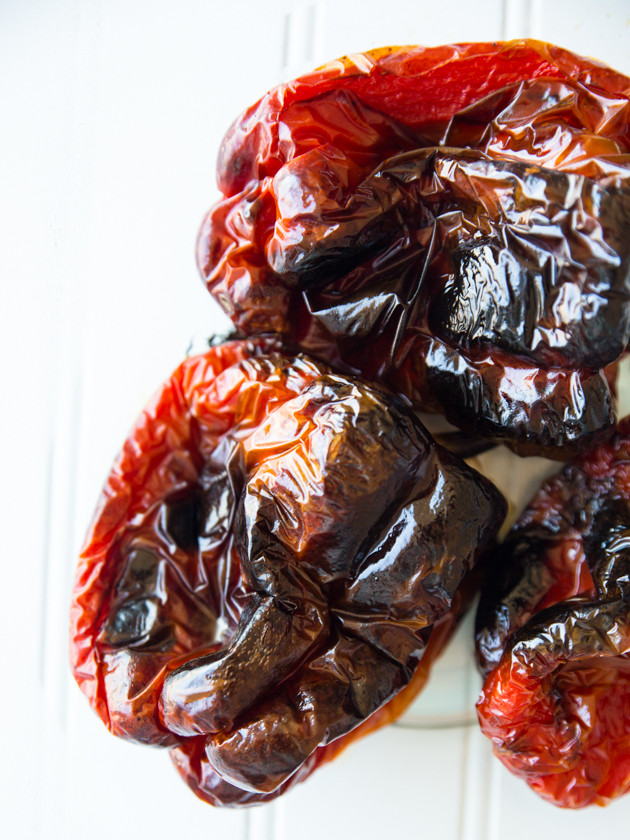 One of my favorite lunch spots serves a red pepper sauce with their sandwiches, and I used to DEVOUR that sauce. I did so confidently, because upon initial inquiry I was assured it was sour-cream based. Then, one day my suspicious mind decided to ask again about the ingredients, and when I heard the words "a little bit of mayo" my world came crashing down. Maybe that's a bit dramatic, but I felt strong feels for this sauce, and that sauce could no longer be in my life. My sister said, "You ate it and didn't die – keep eating it! Get over it!" but those raw eggs in there aren't going to be ignored by my finicky mind. I still go to that place, but my hummus melt is much less enticing without that creamy sauce. Good thing they have some bomb face-sized cookies to make up for my heartbreak.
I know I've lost some of you. I know many vegetarians love mayo and think I'm crazy. I know I am crazy. BUT, thanks to some experimentation, I also know that I can make an egg-free version of my favorite sauce, and I'm sharing it with you today.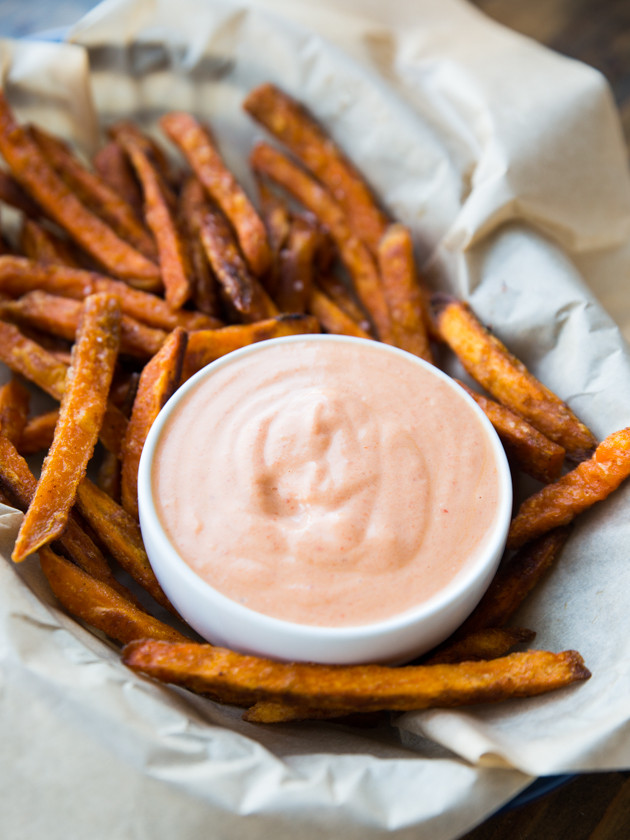 Before I started playing with the roasted red pepper flavor, I decided to educate myself on the art of vegan mayo. I looked to vegan guru Angela Liddon's cookbook (one of my all-time faves), and stared in awe at the magic that comes from whipping together soy milk and grapeseed oil. While the texture and flavor was convincing (maybe too convincing, actually), I wanted something a little lighter, because I tend to be heavy-handed with sauce serving sizes. My next plain-jane mayo trial consisted of silken tofu and olive oil – the consistency and flavor were nearly identical to the richer version, but there was a little more tanginess, which I thought would go well with the sweet roasted red peppers. PLUS it required only 1/4 of the oil – bingo!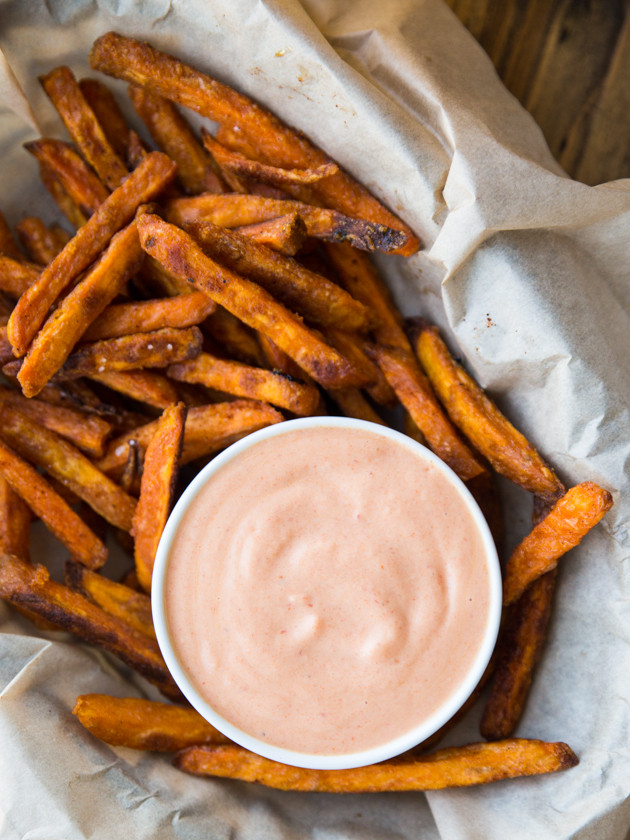 Our CSA has blessed us with several beautiful red bell peppers lately, so I've included instructions for roasting your own below. If you want to make this recipe even easier, feel free to sub the store-bought version, but taste one of the peppers before whipping up the whole batch of aioli – I've had some jars of roasted red peppers that turned out to be duds – an off flavor without any of the smoky sweetness you want from roasted red peppers.
When in doubt, and armed with seasonal beauties – make your own! It's really quite easy, even if it is a bit time intensive.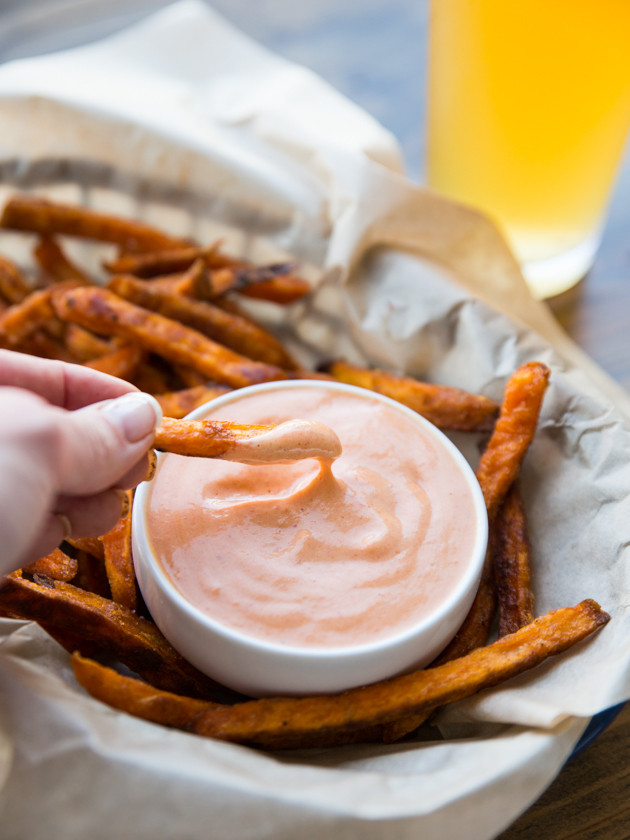 I've been eating this sauce with fries (obviously, pictured), as well as on sandwiches (homemade hummus melt for the win!), but I'm also excited to try it drizzled on some veggie tacos. Food doors open when you have egg-free mayo!

Vegan Roasted Red Pepper Aioli
Creamy egg-free and vegan aioli with the sweet and smoky flavor of roasted red peppers!
Yield: 1 3/4 cup
Prep Time: 30 minutes
Cook Time: 30 minutes
Total Time: 1 hour
Ingredients:
Roasted Red Bell Peppers
3 red bell peppers
1 tablespoon olive oil
Roasted Red Pepper Aioli
12 ounces soft silken tofu
1/2 cup sliced roasted red peppers
1 tablespoon apple cider vinegar
1/2 teaspoon dijon mustard
1 teaspoon minced garlic
1 teaspoon cane sugar
3/4-1 teaspoon sea salt
1/4 cup olive oil
Directions:
For the roasted red bell peppers: Preheat oven to 500 degrees. Brush the peppers with the oil, and place on a roasting sheet (make sure it's the heavier-duty kind that doesn't bend with high heat).
Roast for 30-35 minutes, turning 3 times.
Once the skins are charred and wrinkled all the way around, transfer to a bowl and cover tightly with a lid or plastic wrap. Let sit for 20 minutes, until cool enough to handle. Discard the stems and seeds, and carefully peel off the skin. Cut into strips. You will have more peppers than you need, but that's good! You can use them as on sandwiches, pizza, and salad.
For the aioli, place all ingredients in a blender except the olive oil. Blend until smooth, then slowly drizzle in the olive oil. Taste and adjust salt level to your liking. Store in an airtight container in the fridge.
Nutrition Information: Serving Size: 1/4 cup, Calories: 95, Total Fat: 8.6g, Saturated Fat: 1.2g, Cholesterol: 0mg, Sodium: 237mg, Potassium: 113mg, Total Carbs: 2.9g, Sugars: 1.8g, Protein: 2.5g
3 Responses to "Vegan Roasted Red Pepper Aioli"