Smoky Chipotle Sweet Potato Soup with Lime Cashew Cream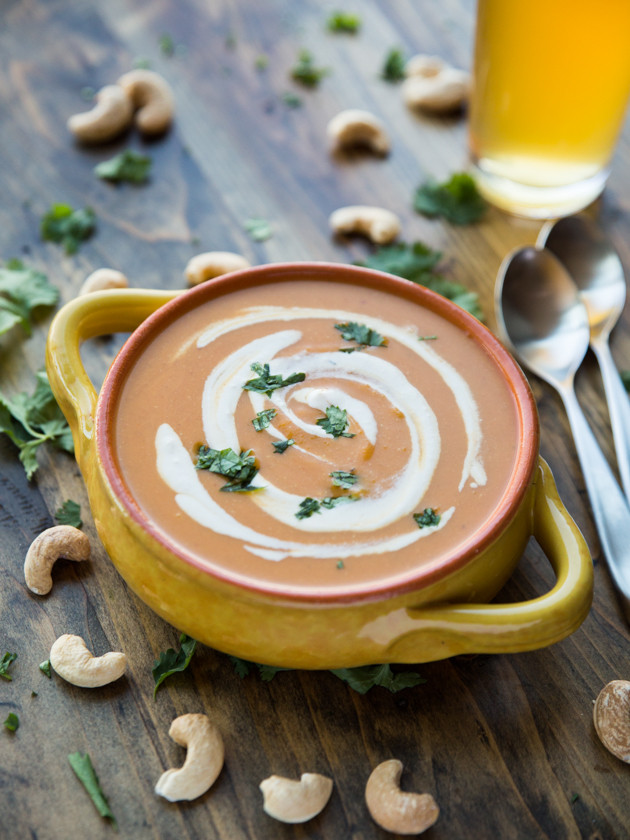 Before we get to all the sweet n' smoky n' spicy soup business, I have to acknowledge the crickets on this blog over the past few weeks. Turns out working full time, planning a wedding, and being at the age where baby and bridal showers abound equates to little cooking time and LOTS of takeout and delivery. Speaking of delivery, I have to share – Ryan and I had a craving for Indian this week and used Bite Squad for the first time. Have you tried it? Game changer.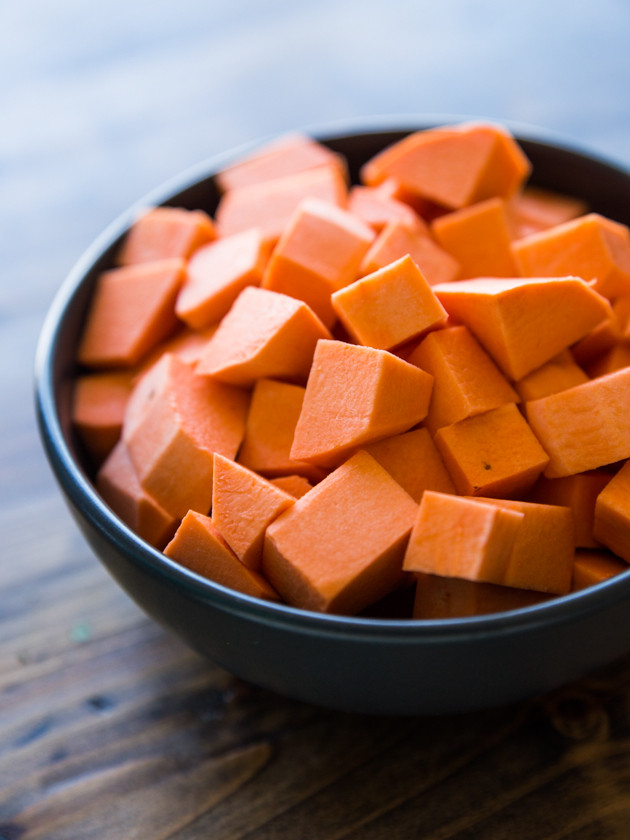 I've also been going through a phase lately where immediately after I eat something I feel nauseated by the thought of it. For a girl who loves leftovers, this is kind of an issue. I made Ryan broccoli, kale, and cheese soup on Monday, and I enjoyed it as I ate it, but when I went to pack it up for my lunch the next day I realized NOPE, I could not eat another bite of it. No way no how. To Noodles & Company I went.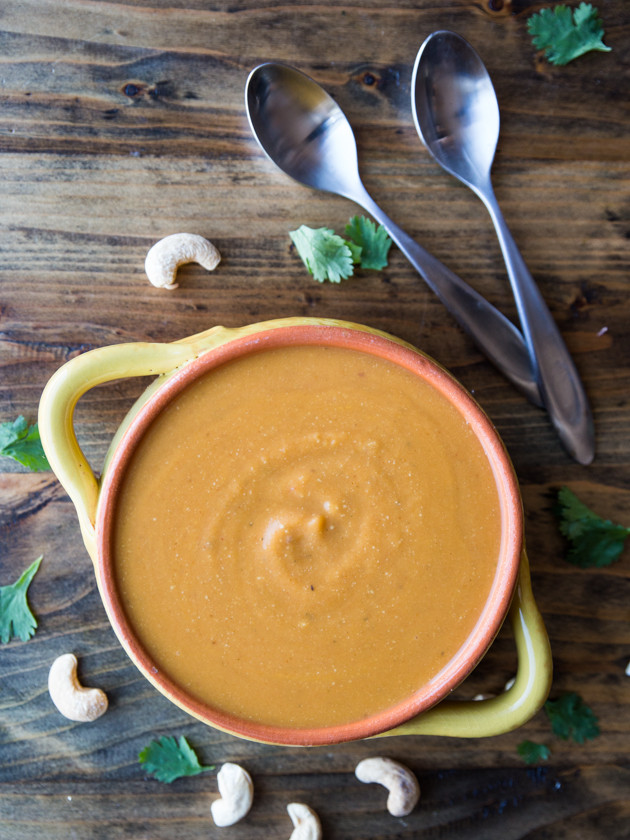 My one saving grace during this food funk has been sweet potatoes. In addition to the recipe today, I've been roasting them for rice bowls, putting them in tacos, and baking up beautiful purple sweet potatoes fries.
Although I mourn the end of tomato season, and summer produce in general, I have to say that sweet potato season nearly makes up for it.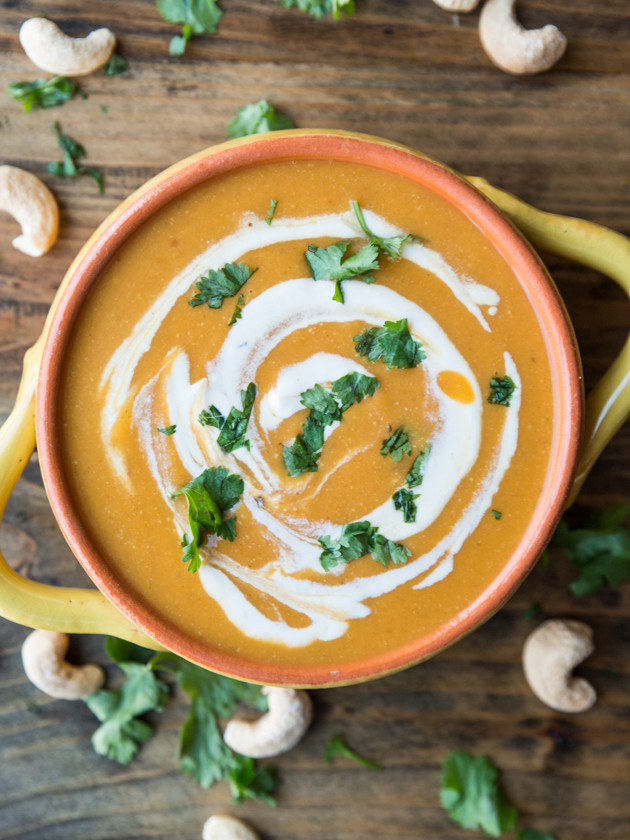 For today's sweet potato love, we're bringing all the cozy fall feels with a thick, creamy, smoky and spicy soup. The ingredients are a simple but flavorful blend of garlic, onion, sweet potatoes, chili powder, and the star of the show: chipotle peppers in adobo sauce. Cashews help add creaminess to the base, along with some healthy (and happy!) fats. To cool down that smokiness a bit, I topped off the soup with a cool and creamy lime cashew cream that takes it to the next level of yum.
Don't you love a soup thick enough hold a drizzle of cream on top? I do. I love it so much.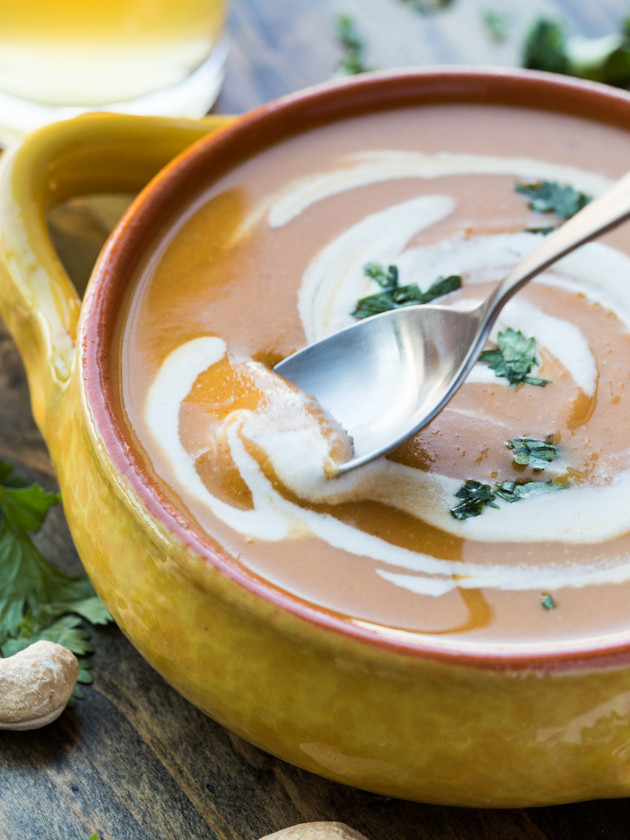 Despite my food funk of late, I ate this soup every day for lunch until it was gone, and I looked forward to it. Sweet potatoes are damn magical, I tell ya.



Smoky Chipotle Sweet Potato Soup with Lime Cashew Cream
Creamy sweet potato soup made smoky and spicy with chipotle peppers! Topped off with a refreshing lime cashew cream.
Yield: 8 cups
Prep Time: 15 minutes
Cook Time: 30 minutes
Total Time: 45 minutes
Ingredients:
Smoky Chipotle Sweet Potato Soup
2 tablespoons olive oil
2 cloves garlic
1 yellow onion, chopped
3 sweet potatoes, peeled and cut into 1/2-inch cubes (about 6 cups)
1/2 cup cashews, soaked for at least 4 hours (soak them with the cashews for the lime cream, below)
5 cups vegetable broth
2-4 chipotle peppers in adobo sauce, seeded*
2 teaspoons chili powder
1/2-1 teaspoon sea salt (plus more to taste)
Lime Cashew Cream
1/2 cup raw cashews, soaked for at least 4 hours
1 lime, juiced
1/4 teaspoon sea salt
1/4-1/2 cup water
Directions:
Heat the olive oil in a large soup pot over medium heat. Add the garlic and cook for about 30 seconds, then add the onion and ¼ teaspoon of salt. Cook until softened, about 3-4 minutes. Pour in all remaining soup ingredients, bring to a boil, then reduce heat to low and simmer for 20 minutes, until potatoes are tender.
While the soup is cooking, combine the cashew sauce ingredients in a blender, starting with 1/4 cup water. Blend until totally smooth, and add enough water so that it's thick yet pourable - I ended up using ½ cup.
Let soup cool for a few minutes, then transfer to a blender and blend until smooth, or use an immersion blender. Taste and add salt or additional peppers to your liking, then blend again.
Serve soup warm with a drizzle of the lime cashew cream on top.
I would start out with 2 chipotle peppers, taste after blending, and then add more if you want additional spicy/smoky flavor.
Nutrition Information: Serving Size: About 1 1/2 cups soup plus 2 tablespoons cream, Calories: 475, Total Fat: 20.3g, Saturated Fat: 3.8g, Cholesterol: 0mg, Sodium: 1165mg, Potassium: 1887mg, Total Carbohydrates: 64.3g, Dietary Fiber: 9.9g, Sugars: 4.4g, Protein: 12.2g
3 Responses to "Smoky Chipotle Sweet Potato Soup with Lime Cashew Cream"
Pingback: $8 Meal – jessica claire.