Super Vanilla Whole Wheat Pancakes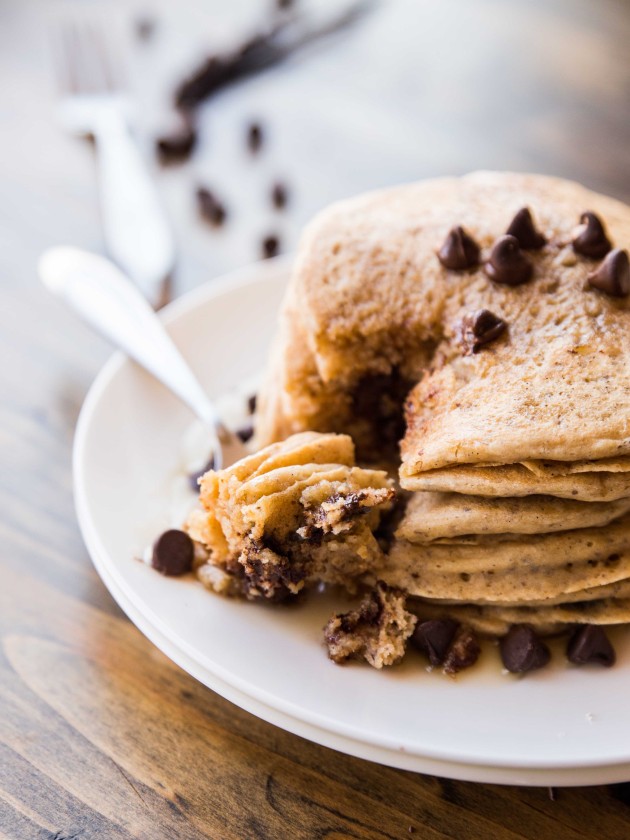 It feels like an eternity since I've sat down and shared a recipe with all of you…probably because that's kind of the situation here. A three month break (!!!) in the blog world is forever. Especially when there was a time a short while ago when I was working long hours trying to post twice a week.
It's unfortunate that the millennial in me is going to have to describe this, but the overwhelming feeling I had in December was "I can't even." Those feelings weren't exclusively for the blog – they were basically with everything: work, wedding planning, social expectations, you name it and it overwhelmed me.
So, I stepped away from the only thing I could – blogging. It helped, because instead of creating my own anxiety about recipe fails and poor lighting among a plethora of other life stressors, I spent my weekends nurturing my relationships and chilling out, which I don't do easily.
I cooked plenty, but instead of scraping the bottom of my burnt-out blogger brain barrel for new ideas, I stuck to a few favorites recipes (this and this) and tried some bookmarked recipes I'd been eyeing for a while. In fact, I'm still doing that – this week we've been devouring Dana's loaded veggie nacho soup, and I'm soaking chickpeas tonight for these falafel waffles with harissa tahini tomorrow.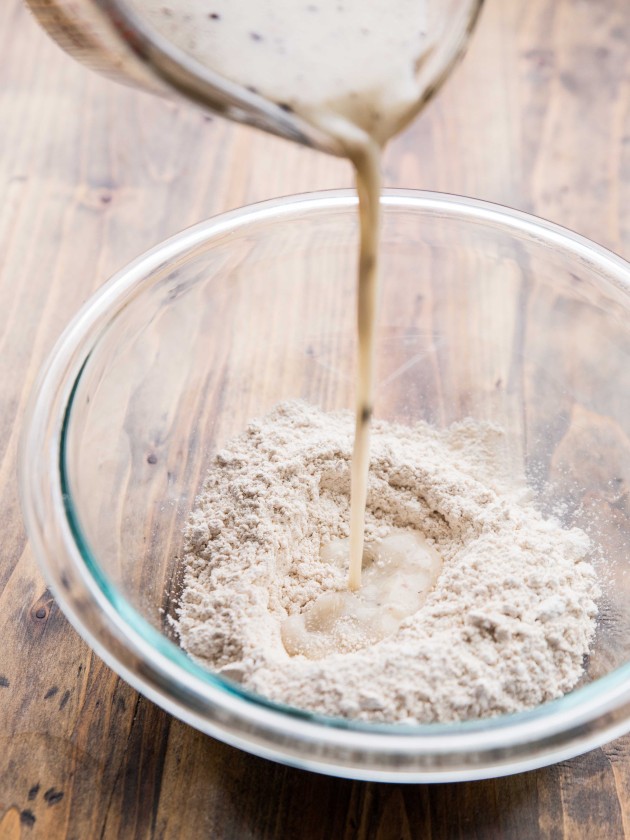 Cooking for the love of FOOD instead of the need to keep up with a blog schedule did wonders for my desire to create. For the first time in several months, I have a full list of new recipe ideas and motivation to do something with it. So here I am, coming to you with a new recipe and a refreshed outlook on this blog. My goal moving forward is going to post once a week (twice, if recipe inspiration allows). Recipes will be vegetarian (duh), sometimes vegan, but probably not with eggs, because again, "I can't even." I really have tried to enjoy eggs, because I love easy proteins and brunching, but, I just…it's liquid chicken. I don't eat solid chicken, so why eat it in liquid form?
Oh boy, that got gross fast. Sorry.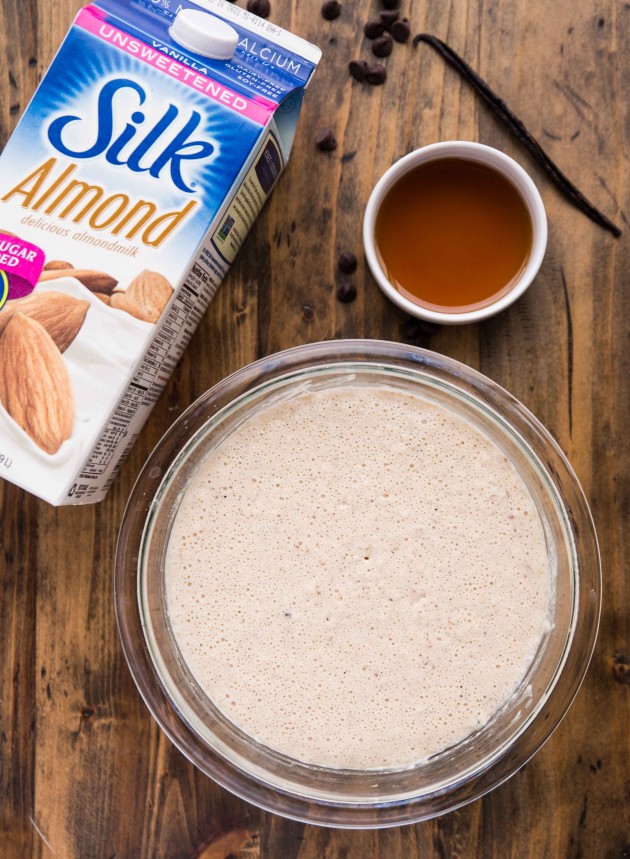 When I wonder if my interest in vegan cooking sprouted just from blogging, I remind myself about my complicated relationship with pancakes. In college, my friends would get excited for pancake day in the cafeteria, but I would usually go with my trusted peanut butter toast – even back then I just didn't think that eggs in pancake form were properly cooked…or at least cooked enough for me to deem them eatable, by my quirky definitions. I will still eat regular egg-filled pancakes from time to time, and I've even posted some on the blog, but every time I feel a little like I'm eating raw eggs, and it kind of ruins what should be a tasty breakfast experience.
Fortunately, my friend Shelly introduced me to Oh She Glows and the beauty of flax eggs several years ago, and my binding needs have been happily egg free ever since. This especially helps for my weekend pancake needs.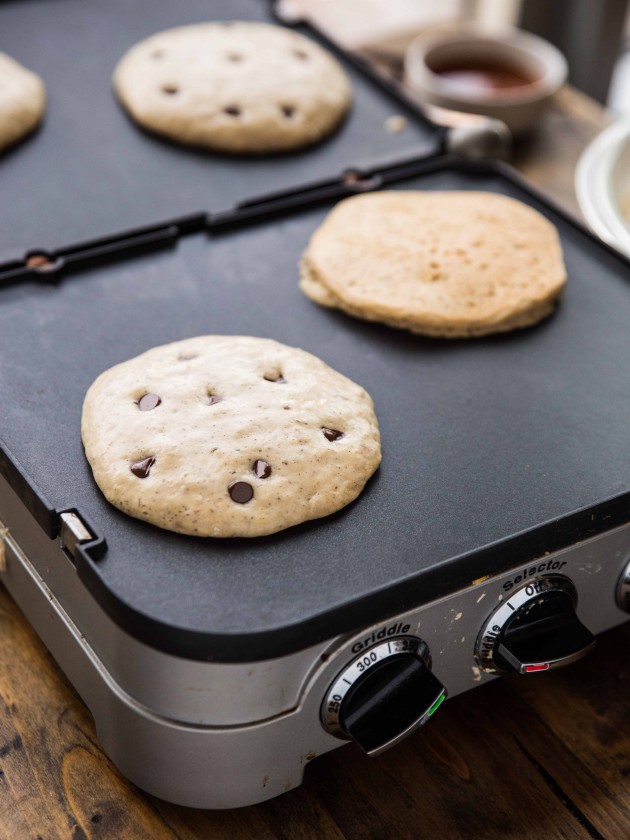 The pancakes I'm sharing today are a simple, vanilla-infused take on my maple chai spice pancakes. They're full of vanilla flavor from vanilla beans and Silk Unsweetened Vanilla Almondmilk. Whole wheat pastry flour keeps these light in taste yet hearty in the nutrition department, while honey adds sweetness with no need for refined sugar.
I'm going to be a Silk Ambassador this year, which means I'll be bringing some dairy-free goodness to you once a month. Silk was the first dairy-free milk I fell in love with. In college, I drank two big glasses of their chocolate soy milk with every meal (wow, I know), and when I graduated from college I poured vanilla soy milk in my cereal every morning. These days I rarely purchase sweetened beverages, so I love that they have an UNSWEETENED vanilla flavor, and it works beautifully in these vanilla pancakes. The more vanilla flavor the better, as far as I'm concerned.
Although, speaking of sugar, if I'm feeling indulgent I like to sprinkle a few chocolate chips on top of these pancakes for that added swoon factor. I mean, you're eating pancakes for breakfast, not a kale smoothie – live a little!
Hope you all are doing great, and I'm happy to be back!
This is a sponsored conversation written by me on behalf of Silk. The opinions and text are all mine.

Super Vanilla Whole Wheat Pancakes
Simple, naturally sweetened whole wheat pancakes infused with flavor from vanilla almond milk and vanilla beans!
Yield: 6 pancakes (2 servings)
Prep Time: 15 minutes
Cook Time: 10 minutes
Total Time: 25 minutes
Ingredients:
1 flax egg
3/4 cup Silk Unsweetened Vanilla Almondmilk
1 tablespoon grapeseed oil
2 tablespoons honey or maple syrup
1 vanilla bean, seeds scraped
3/4 cup whole wheat pastry flour
1 tablespoon baking powder
1/8 teaspoon salt
Directions:
Whisk together the flaxseed meal and warm water. Set aside for 5 minutes.
Combine the almond milk, egg, oil, honey and vanilla bean.
In a medium-sized bowl, mix together the flour, baking powder, and salt. Pour in the wet ingredients, and whisk together until no clumps remain. Let sit for 5 minutes - it will bubble up a bit in this time.
While the batter is sitting, heat the griddle to 375 degrees.
Coat a 1/4 cup measuring cup with nonstick spray. Drop 1/4 cup of batter on the heated griddle, gently and quickly using the back of the measuring cup to spread it into an even circle. If you're adding chocolate chips, sprinkle them on top at this point. Let cook for 3-5 minutes, until the edges have started to firm up, and bubbles come to the surface and break. Use a spatula to flip up one corner and check if the pancake is golden brown. If it is, flip and cook on the other side for another 3 minutes.
Repeat with remaining batter. Recipe will make 6 pancakes.
Top with warm maple syrup or honey and enjoy!
I prefer these pancakes when sweetened with honey, but maple syrup works well too!
Nutrition Information: Serving Size: 3 pancakes (1/2 of recipe, no chocolate chips), Calories: 330, Total Fat: 9.8g, Saturated Fat: 0.8g, Cholesterol: 0mg, Sodium: 223mg, Potassium: 868mg, Total Carbohydrates: 55.6g, Dietary Fiber: 6.0g, Sugars: 17.7g, Protein: 5.6g
8 Responses to "Super Vanilla Whole Wheat Pancakes"