I started this blog 2 years ago today, so today we eat celebratory cupcakes. Boozy cupcakes.
Since we only have a small sweet bit of autumn left, I combined the warm fall flavors of cider and cinnamon with caramel apples, and then added a bit of booze to, well, everything, because this is a celebration! Hard cider goes in the cake, and whiskey winds up in both the caramel apple filling and the buttercream. These are adult cupcakes, folks.
…adult cupcakes that can easily be made kid friendly, of course. The alcohol in the hard cider bakes out of the cupcakes, and you also cook the whiskey out of the caramel. If you want to make the cupcakes entirely alcohol free, you can substitute regular apple cider in the cake, and water for the whiskey in the apple filling. Since the whiskey is obviously not baked out of the frosting, you'll want to either omit the whiskey, or swap it with heavy whipping cream (HIGHLY recommended), especially if you're serving to little ones. I brought the second half of the batter to my parent's house for a family dinner, and my nephews helped me make booze-free frosting for their cupcakes. I'm not sure I've ever heard my cute little nephews rave about dessert as much as they did while they were devouring these cupcakes.
These cupcakes are loosely inspired by my St. Patrick's Day chocolate stout cupcakes with whiskey caramel and buttercream. You should try those too, but let's not get distracted.
I usually feel like the cake portion of a cupcake is something you have to bite through to get to the good stuff (i.e. filling and frosting), but that is definitely not the case here. These cakes are fluffy, moist, and full of flavor from brown butter, cinnamon, dark brown sugar, vanilla, and hard cider. You could really just be done after you take these out of the oven; I ate one of the cupcakes plain – no filling or frosting – and it was divine.
Side note: If you're the kind of person who doesn't eat the "cupcake holes" that result from cupcake coring, I'm not sure I trust you.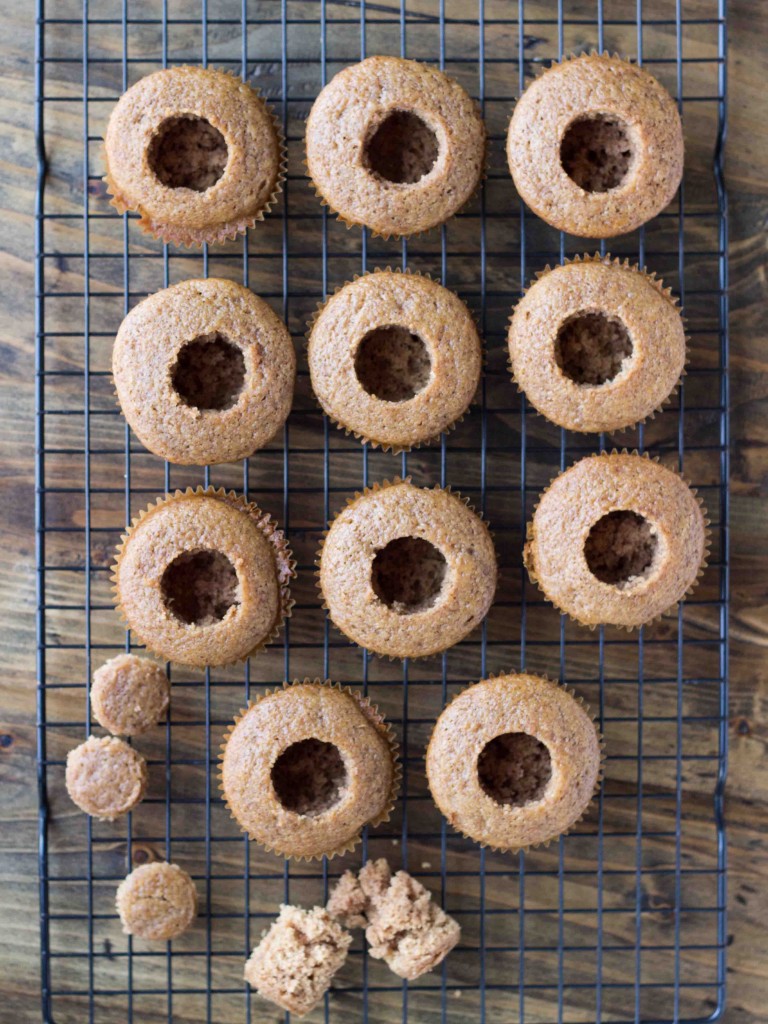 No matter how tasty a cupcake is, I could never actually leave a whole batch naked without filling or frosting (for SHAME). These little dreams are filled with apple bites that are cooked in butter, sugar, and cornstarch until the liquid transforms into a cinnamon-spiced boozy caramel. The cloud of frosting on top is a simple, creamy cinnamon whiskey buttercream that's beaten on high until the texture becomes super fluffy. The cinnamon notes that are dispersed through all elements of the cupcake make it taste so warm, comforting, and fall-ish.
Perhaps it's the food blogger/baked goods FANATIC in me, but I feel that every milestone is better celebrated with a dessert. When I brought these into work and admitted to my coworkers that I made them in honor of my blog's 2nd birthday, the general response was "Wow, you need to have a kid," but, naturally, the mockery stopped when they started shoving their faces with the cupcakes. I understand it's silly to celebrate a blog birthday with treats, but I'll take any excuse I can to spend a Sunday afternoon coring cupcakes, making caramel, and piping on frosting…AND, if the cupcake making includes a half-empty can of Strongbow that needs finishing? Sign me up!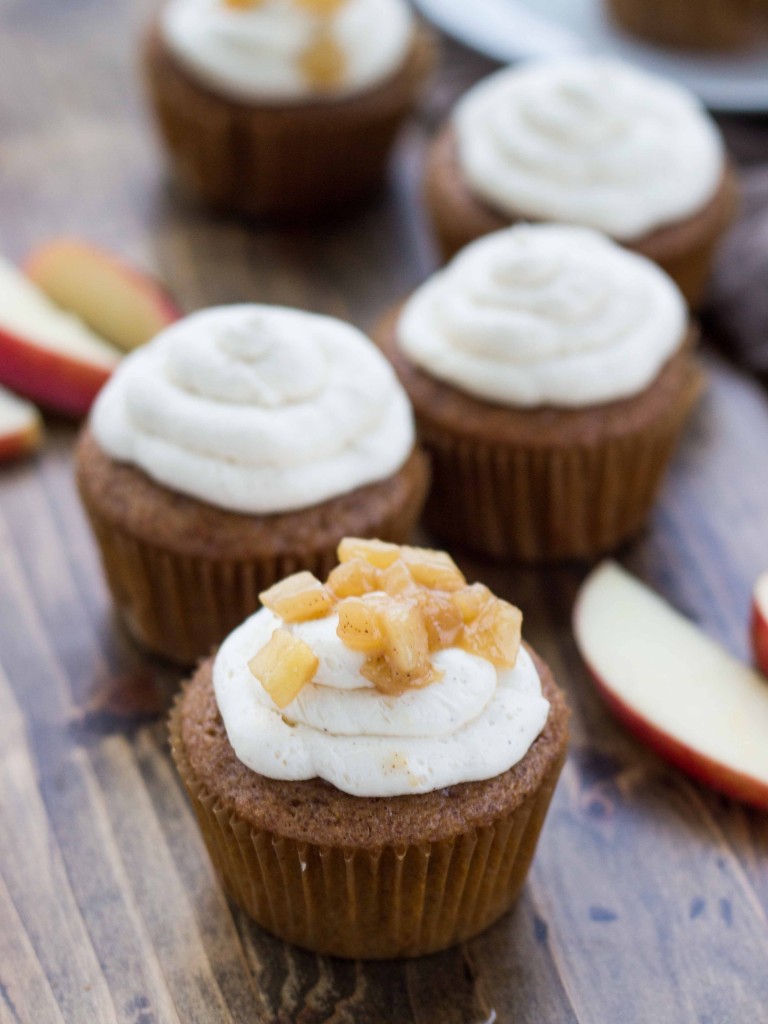 Anywho, whether this is the first time you've stumbled upon my blog, or if you're one of the awesome people who subscribes to it, thank you SO much for being here! I know the recipes can be random; sometimes I'm making boozy cupcakes, sometimes I'm making healthy vegetarian meals, sometimes I pretend I'm vegan, and sometimes I get on a breakfast kick and post waffles, scones, and muffins for weeks. In order to make this blog as fun-to-read as possible, I would love it if you'd leave a comment about what you would like to see more of in the coming year!
Now go make some cupcakes!
Continue reading →