Protein Powerhouse Veggie Burgers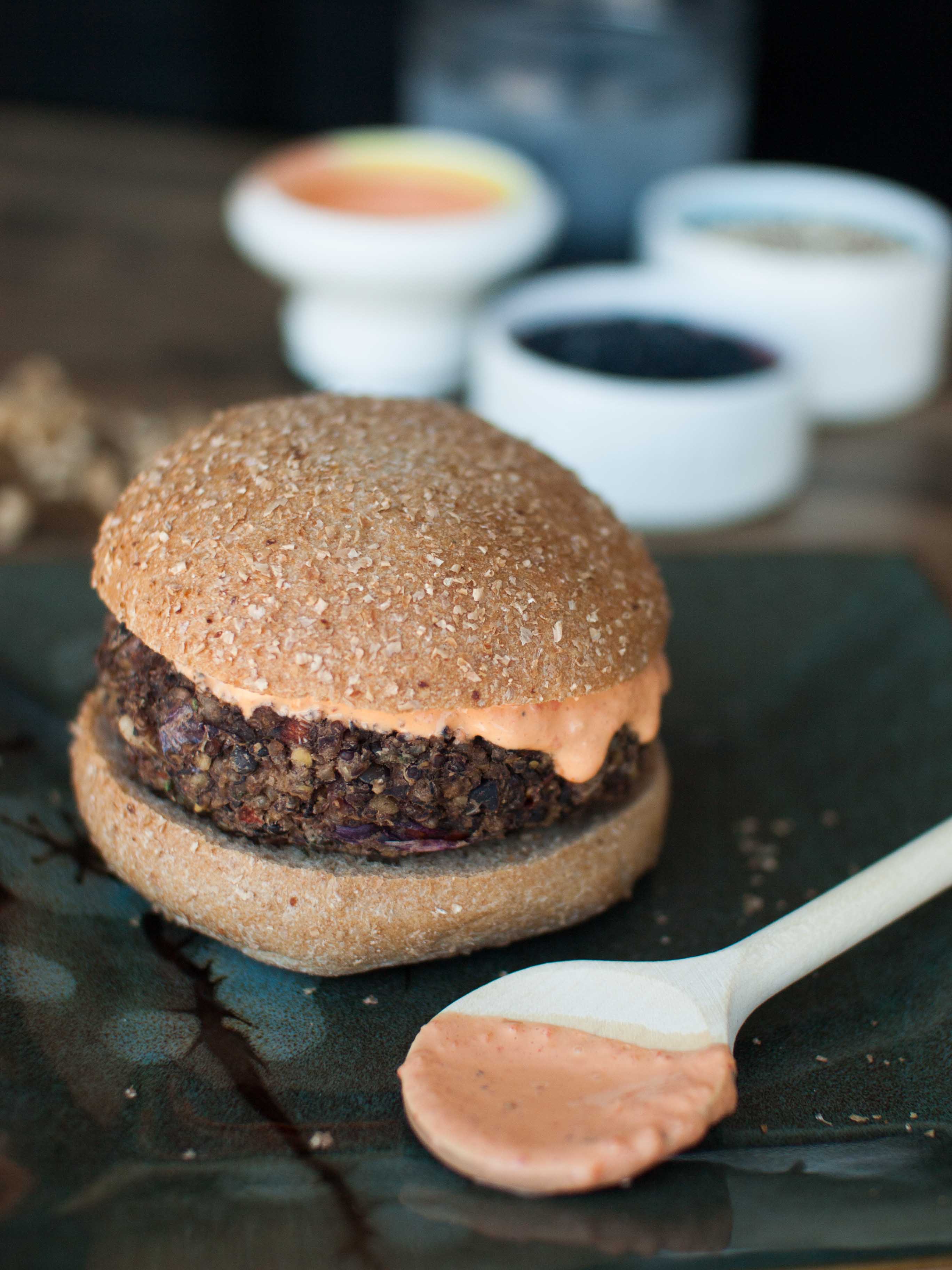 "You're a vegetarian? How do you know you're getting enough protein? I know someone who nearly died because they were a vegetarian and didn't eat enough protein. Did you know soy can give you cancer? What do you even EAT?" I know it usually comes from a harmless place, but I'm continually amazed when people critique my diet, particularly the protein issue. You'd think more people would talk to me about Iron or B Vitamins, which could actually be a more interesting topic, but nope, it's always just protein.
I understand where it comes from, as the generic American diet is MEAT-MEAT-MEAT focused, and meat is packed with protein. Boom, logic. However, I think I speak for the majority of vegetarians when I say that we know what we're doing, we know what foods are rich in protein, and we're often more focused on creating balanced meals than the average meat eater.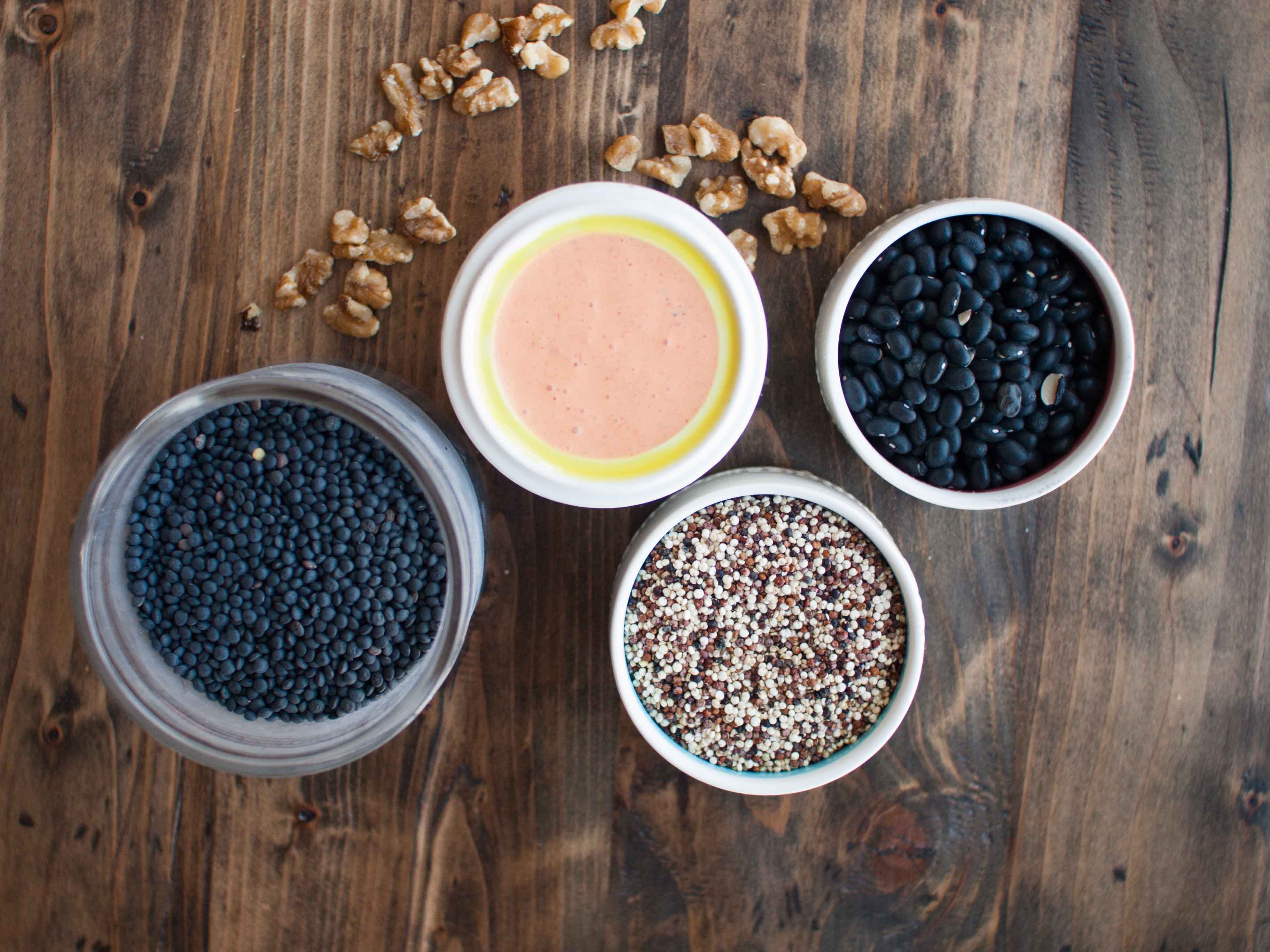 Take this burger for example, which has 11 grams of protein in every damn patty. Add a whole wheat burger bun, and your meal climbs up to about 17 grams of protein. The burger is hearty, rich, spicy, and downright irresistible when slathered in a smooth roasted red pepper Greek yogurt sauce.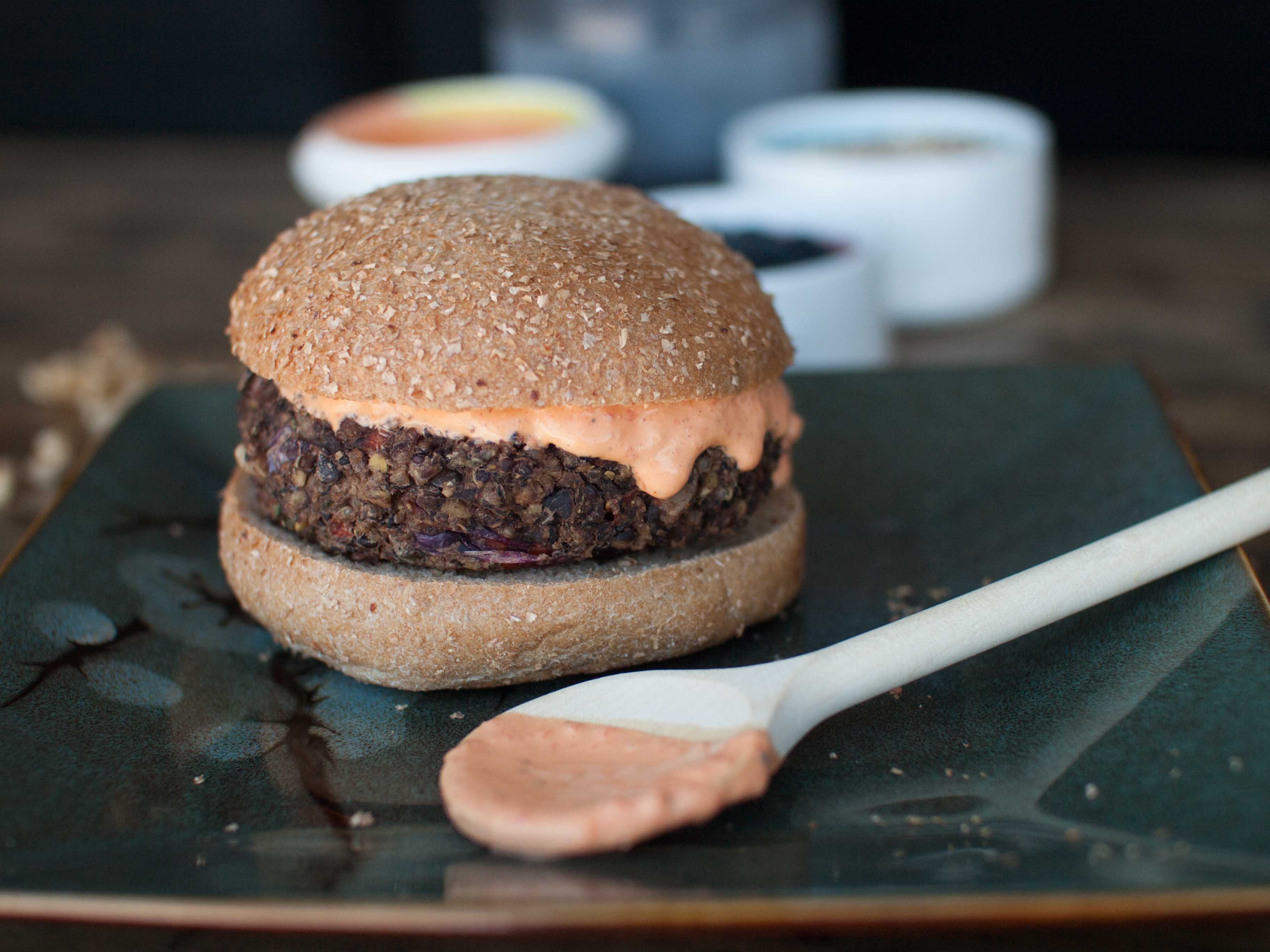 Since vegans get even more grief about protein than I do, I decided to really drive home the plant-based protein point by making the patty completely vegan. Simply leave off the sauce (and top with avocado instead-yum!), for a vegan, high-protein meal. For gluten-free folks, put the patty between a gluten-free bun and you're golden.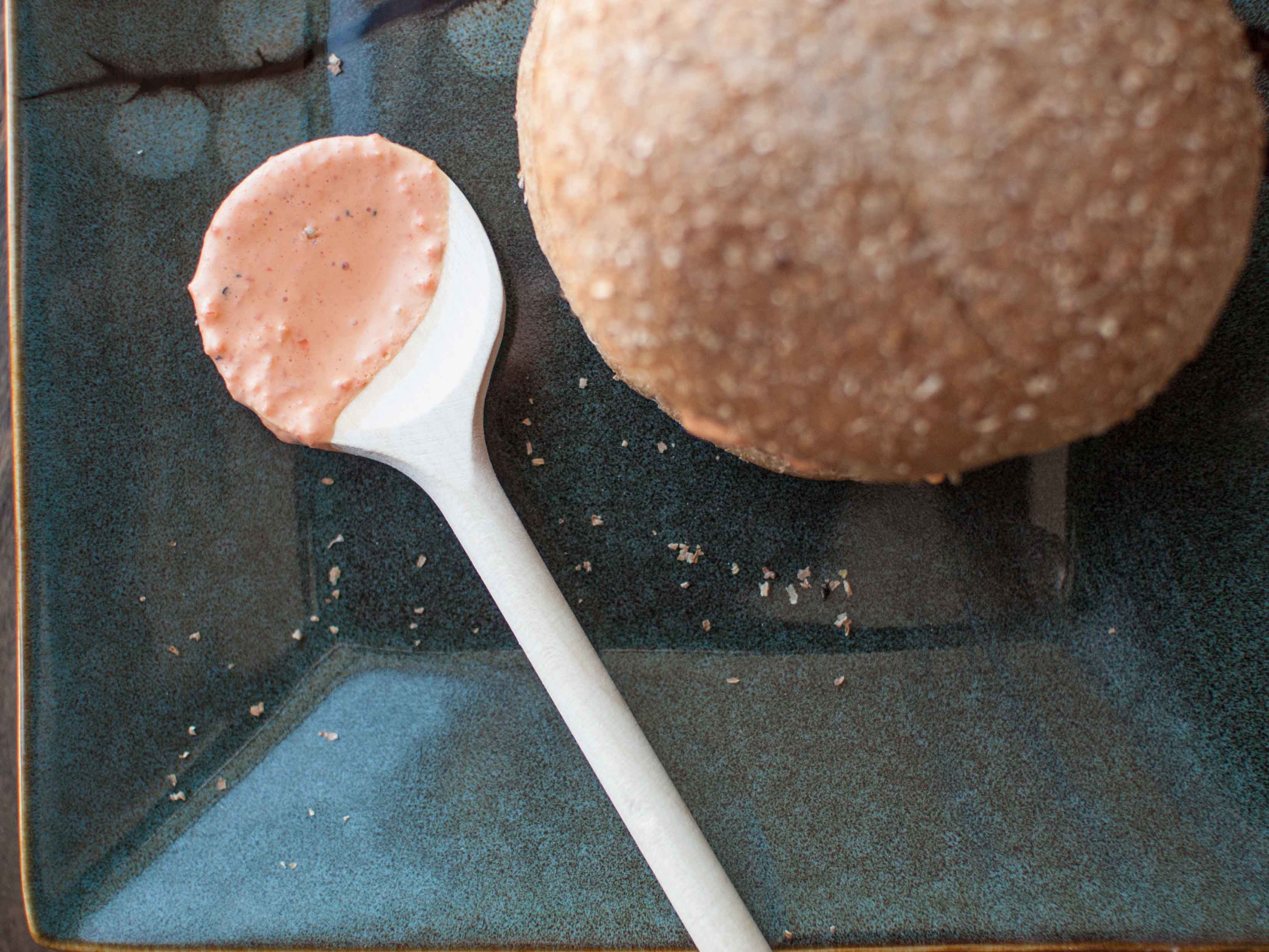 If you've read my blog at all, you've probably realized I'm not a judgmental vegetarian. I know there are all kinds of diets that can be healthy, energizing, and smart; it just seems that vegetarian and vegan foods are often overlooked by meat-eaters. However, I live with one of the biggest carnivores around, and that carnivore ate two of these protein-packed patties within 6 hours. If that's not a stamp of approval for veggie burgers, I don't know what is.


Protein Powerhouse Veggie Burgers
Hearty and delicious veggie burgers made with beluga lentils, black beans, and quinoa. Vegan, gluten free, and packed with 11 grams of protein in each patty!
Author: Katie of Veggie and the Beast
Recipe type: Veggie Burger, Sandwich
Cuisine: Vegan, Gluten Free
Serves: 11
Ingredients
Protein Powerhouse Burgers
2 15-ounce cans black beans, rinsed and drained
1 cup beluga lentils, picked through and rinsed
1 cup cooked quinoa
½ cup oats, processed into flour (gluten-free if desired)
½ cup warm water mixed with 3 tablespoons ground flax
2-3 cloves of garlic
½ of a red onion, chopped
1 red pepper, finely chopped
1 tablespoon ground cumin
½ teaspoon cayenne
1 teaspoon Sriracha (or other hot sauce)
1 teaspoon kosher salt
¼ teaspoon freshly ground black pepper
½ cup walnuts, chopped
Roasted Red Pepper Crema*
10 ounce jar roasted red peppers, drained
½ cup Greek yogurt
¼ cup sour cream
¼ teaspoon cayenne
½ teaspoon kosher salt
1 tablespoon olive oil
Instructions
Preheat the oven to 375.
Bring 4 cups of water to a boil. Do not add any salt.
Add the beluga lentils to the boiling water, let cook for 5 minutes, and then simmer for 10-15 minutes. When the lentils are tender, drain the excess water and rinse the lentils until the water runs clear. Set aside.
Combine the ground flax with the warm water and let sit for 10 minutes.
Puree the lentils with 1 can of the black beans. Pour into a large bowl with the remaining black beans, quinoa, oat flour, garlic, red onion, red pepper, walnuts, flax egg, and spices. Taste the mixture and adjust the spices to your liking.
Refrigerate the mixture for 1 hour. This isn't necessary, but will make your life a lot easier as you form the patties.
To form the patties, grab a handful of the patty mixture and form it into a ball. It will be a bit sticky, but don't fret. Drop onto a parchment-lined sheet, and press down lightly with your fingers to flatten. Repeat with remaining mixture, to form a total of 11 patties. Bake for 12 minutes on one side, flip carefully with a spatula, and bake on the other side for another 12 minutes.
Optional - pan fry each patty in a bit of oil to crispen the outside of the burger. I haven't tried this yet, because they're pretty great the way they are.
While the patties are baking, combine the red peppers, sour cream, Greek yogurt, salt, and cayenne in a food processor. Pulse until smooth, then pour in the oil with the processor running. Set aside until the burgers are ready.
Notes
*Omit roasted red pepper sauce for vegan option.
74 Responses to "Protein Powerhouse Veggie Burgers"
Pingback: friday fave's

Pingback: Fluids. | Megan knows arse-all about...

Pingback: 3.3.13 | Rounded Utensil

Pingback: 26 Veggie Burgers That Will Make Meat Question Its Very Existence | Sharing Interesting Stuff, Updates News & Free Tips

Pingback: Changing of the seasons | create n eat

Pingback: Video: Top 10 Fast Foods for Weight Loss and Losing Belly Fat-Lose Weight Eating Junk Food! - Mens Home Workout

Pingback: Top 10 Fast Foods for Weight Loss and Losing Belly Fat-Lose Weight w/ Junk Food and Calisthenics! – How to Lose Weight Fast?