California Caprese Grilled Cheese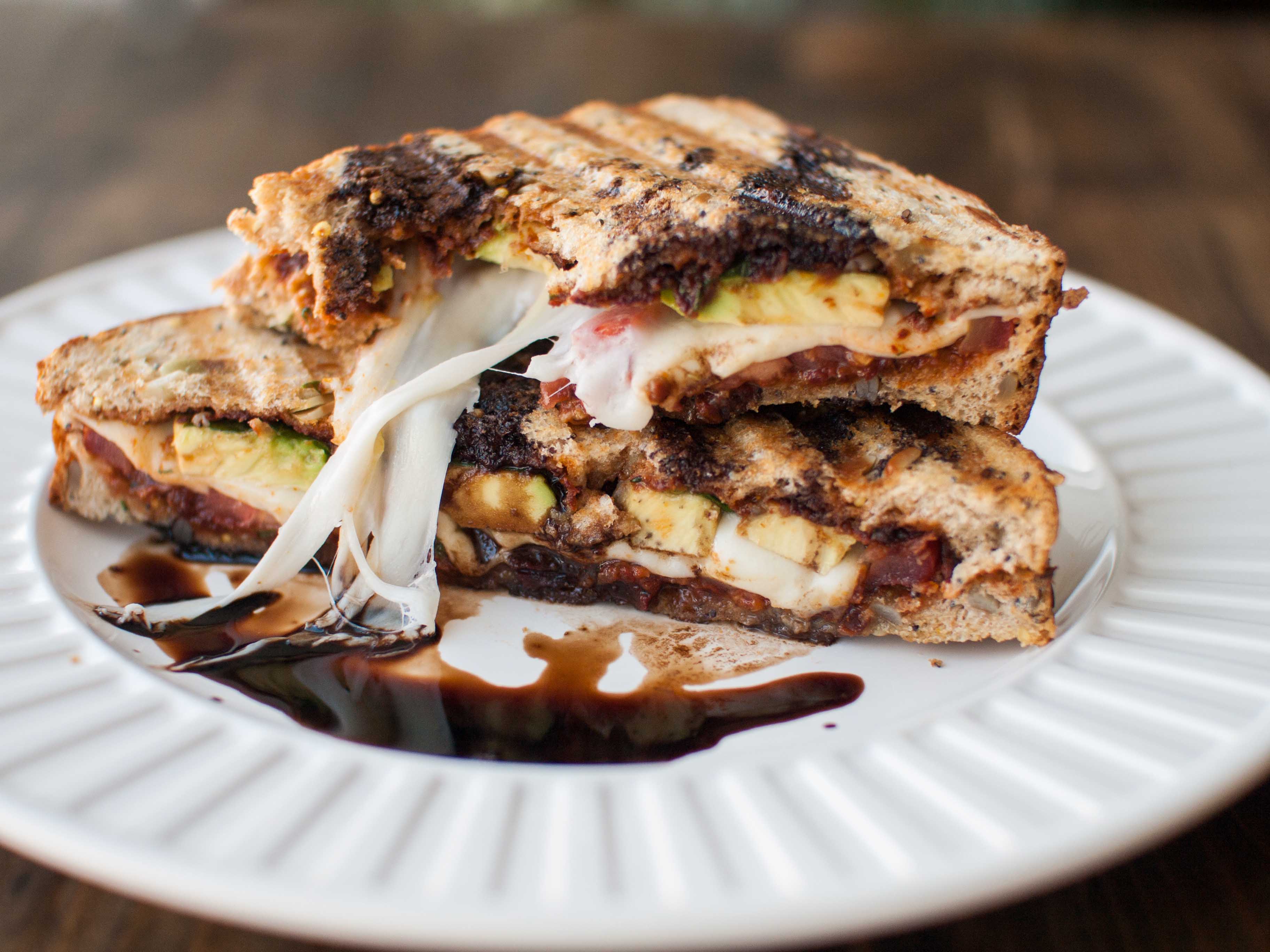 You know those tasks that sit in the back of your mind, making themselves quietly comfortable until the most inopportune times? Then, when you're doing something like falling asleep or driving, you remember that one thing (or those twenty things) you need to do, think "dang it!" momentarily, but then those responsibilities fade away away as quickly as they came.
There are several (SEVERAL) tasks that fit this description for me, ranging from paying my dental bill to organizing my closet, but the only one I acted on recently was making a Recipe Index page. I can't even describe to you the satisfaction and pride I felt after completing that task on Friday.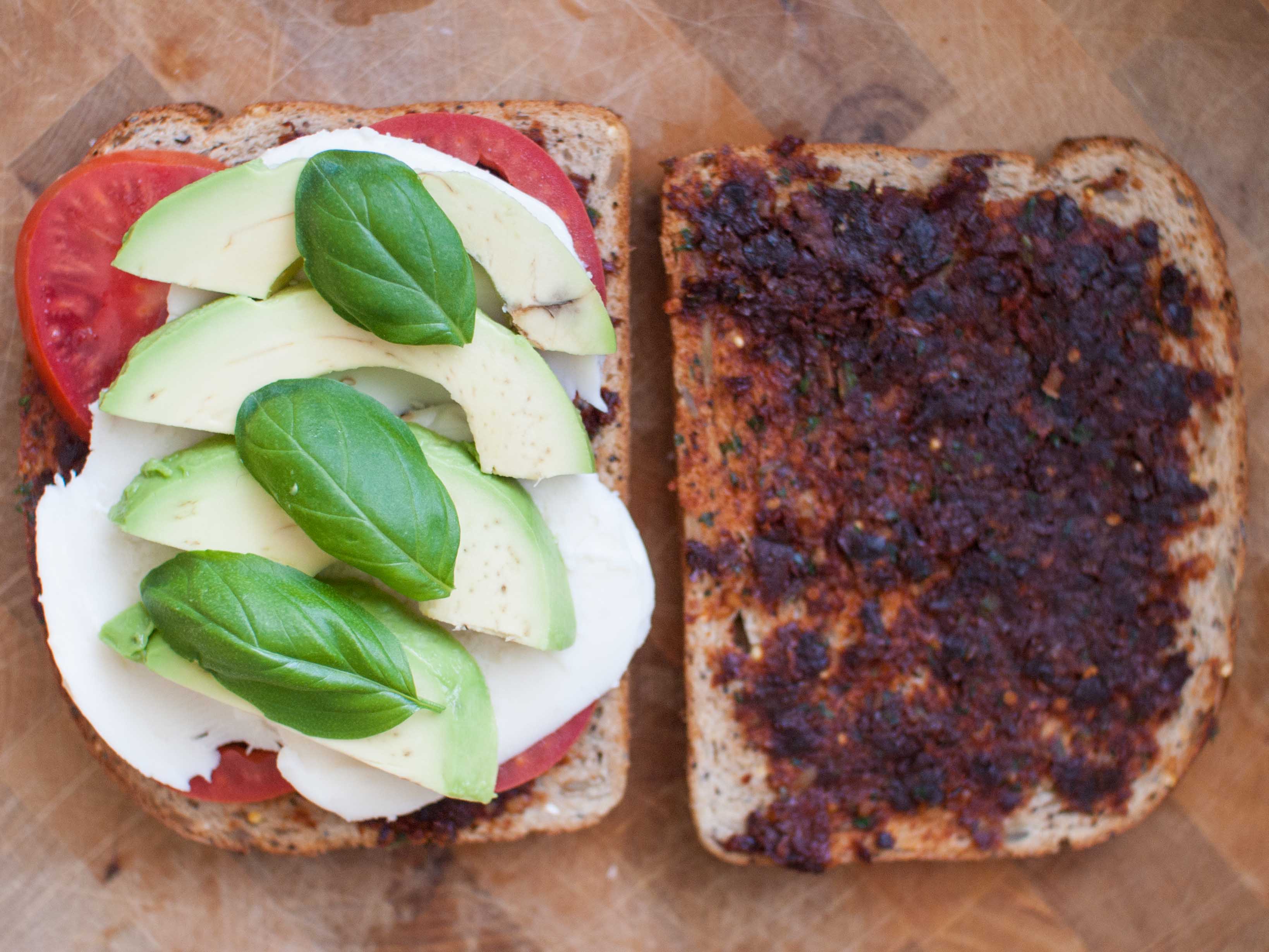 As I built the "Burgers/Sandwiches" section of the page, I came to the realization that I've never posted a sandwich recipe. Not a one! Plenty of burgers, but no sandwiches. You'd probably think this means I'm not a big sandwich eater, but you would be dead wrong. In fact, I'm obsessed with sandwiches. I eat them all the time, so why not share them with my internet friends?
To remedy this huge, HUGE issue, today I'm sharing my very favorite type of sandwich: tomatoes two ways (including a pesto!), creamy mozzarella, and rich avocado, all sandwiched between hearty, seeded bread. I literally eat something along these lines at least once a week. The Beast and I call it our "Grown-Up Grilled Cheese Night," so it's obviously a very adult, refined meal.
If my grown-up grilled cheese needed to get ready for a fancy night out, it'd drench itself in this balsamic drizzle. It makes the whole delicious combination even more appealing; The tomatoes get sweeter, the subtle flavors of the mozzarella and avocado are heightened, and when the drizzle hits the basil you will INSIST that you're eating bruschetta for dinner…and there is absolutely nothing wrong with that.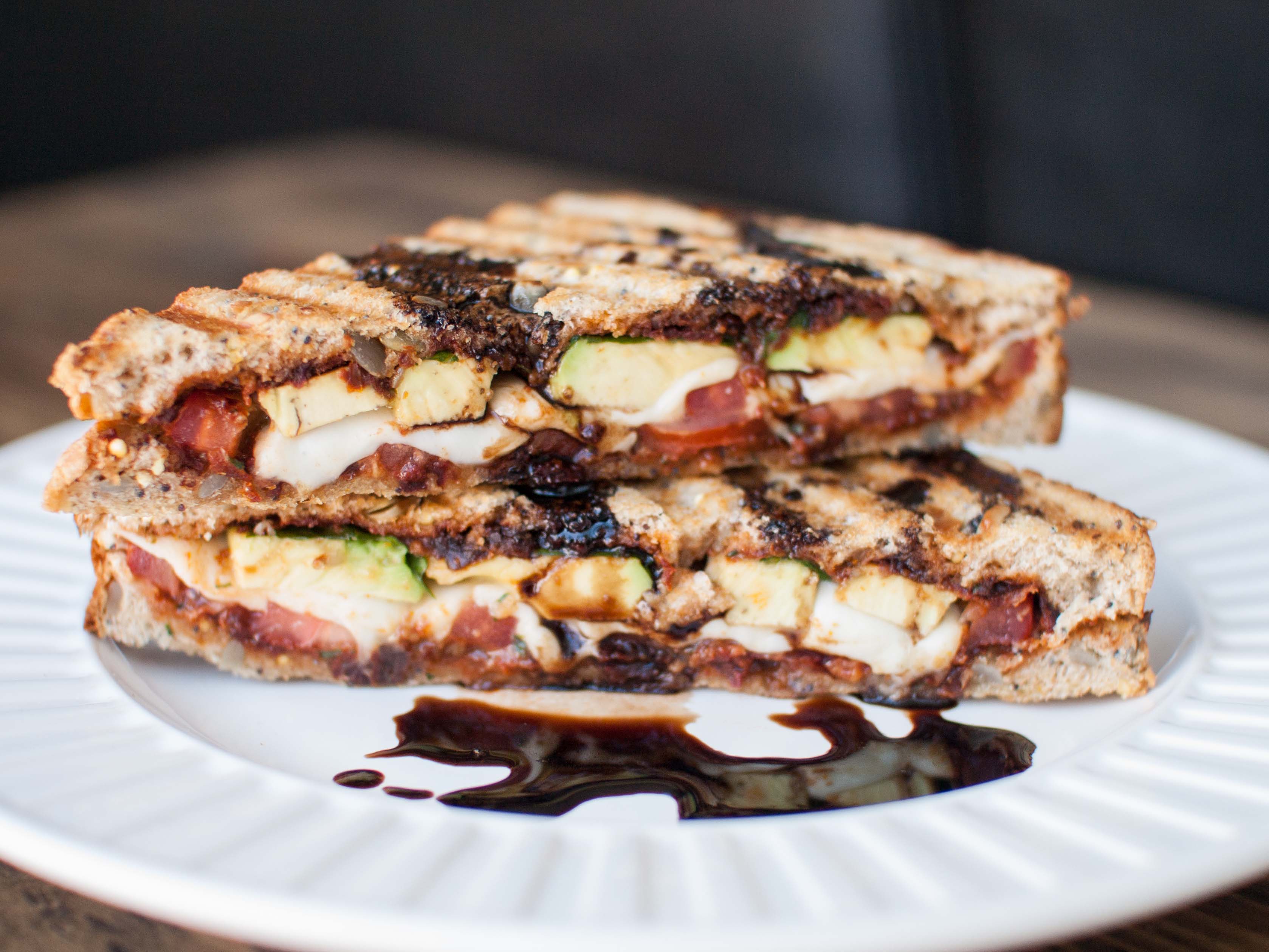 At long last, there is a sandwich on this blog, listed on my fancy new Recipe Index page. Whew, it feels good knowing I can check that one off the list. My dental bills may still be sitting in the office, and my closet may still be a hot mess, but dang it now you know I eat sandwiches in a big, bad way.

California Caprese Grilled Cheese
Sundried tomato pesto, creamy mozzarella, and rich avocado, all sandwiched between hearty, seeded bread and drizzled with balsamic glaze.
Author: Katie of Veggie and the Beast
Recipe type: Sandwich, Grilled Cheese
Cuisine: Vegetarian
Serves: 1
Ingredients
California Caprese Grilled Cheese
2 slices of your favorite bread (I LOVE Early Bird Multi Seed from Whole Foods)
½ avocado, sliced
½ roma tomato, sliced thin
1-ounce fresh mozzarella, sliced thin
2 tablespoons sun-dried tomato pesto, recipe follows
3 or 4 fresh basil leaves
¼ cup balsamic vinegar
Olive oil for brushing
Sundried Tomato Pesto
¼ cup sundried tomatoes, soaked in water for 5 minutes
3 tablespoons fresh basil leaves
2 cloves garlic
1 tablespoons olive oil
Instructions
Put the balsamic vinegar into a small saucepan. Bring to a boil, and then reduce to a simmer for 10-15 minutes. It will thicken and be syrupy. Set aside.
If your sun-dried tomatoes are in the jar, rinse them thoroughly. If your sun-dried tomatoes are in a bag, hydrate them in a bowl with water for about 5 minutes, and then drain.
Combine the sun-dried tomatoes, garlic, basil, and salt in the food processor. Pulse until the sun-dried tomatoes are finely chopped. Pour the olive oil in while the processor pulses.
Scoop a tablespoon of the pesto onto each slice of bread, then top one side with the tomatoes, mozzarella, avocado, and basil. Top with the other slice of bread, then brush both sides with olive oil.
Grill in a panini press until golden and melty, or in a small non-stick pan, flipping after a few minutes so both sides become golden.
Top with a bit of balsamic drizzle, and then dig in.
4 Responses to "California Caprese Grilled Cheese"
Pingback: Smashed Chickpea, Avocado and Roasted Tomato Sandwich with "Cheesy" Tofu | Veggie and the Beast