Smashed Chickpea, Avocado and Roasted Tomato Sandwich with "Cheesy" Tofu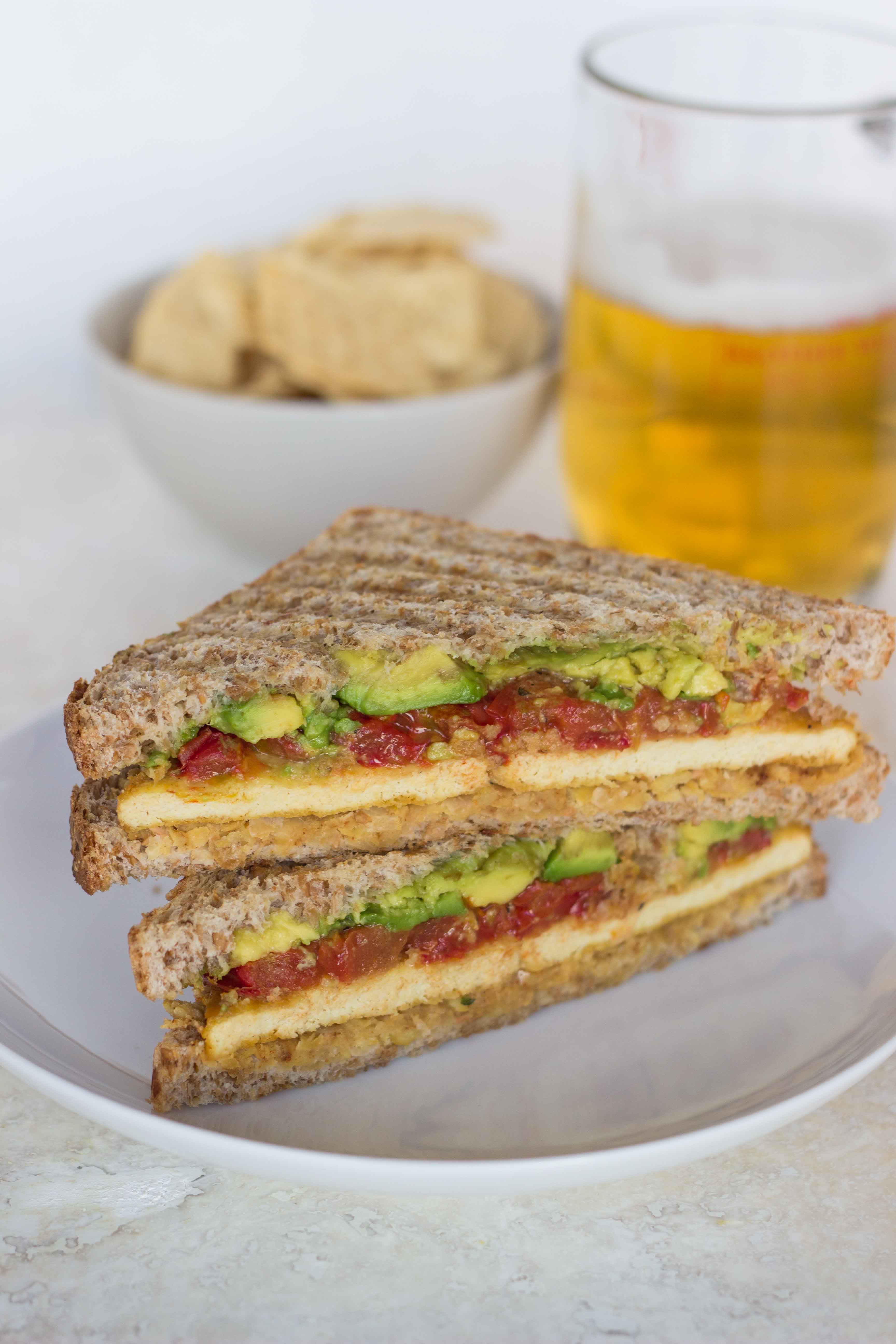 My vegan challenge officially ended on Monday. The first night I dined on cheesy potato pizza and soft serve. The second night I ate a balanced meal of brie and puff pastry. I'm concerned about what the third night could bring.
From my recent dairy binges you'd think that I found the whole vegan thing difficult, but not really. I made a lot of meals and snacks that I really loved, and I didn't feel deprived most of the time. I often pack vegan lunches for work, and making dinner at home proved to be fairly easy (when The Beast wasn't flaunting his melted cheese, of course). I struggled the most with going out to eat, ordering the one vegan thing (or the one thing I could adapt to be vegan) on the menu, and shelling out $10-$15 for something I could easily make at home…and, to be honest, I could probably make it better.
Sorry, mainstream restaurants, but you seriously need to up your vegan game.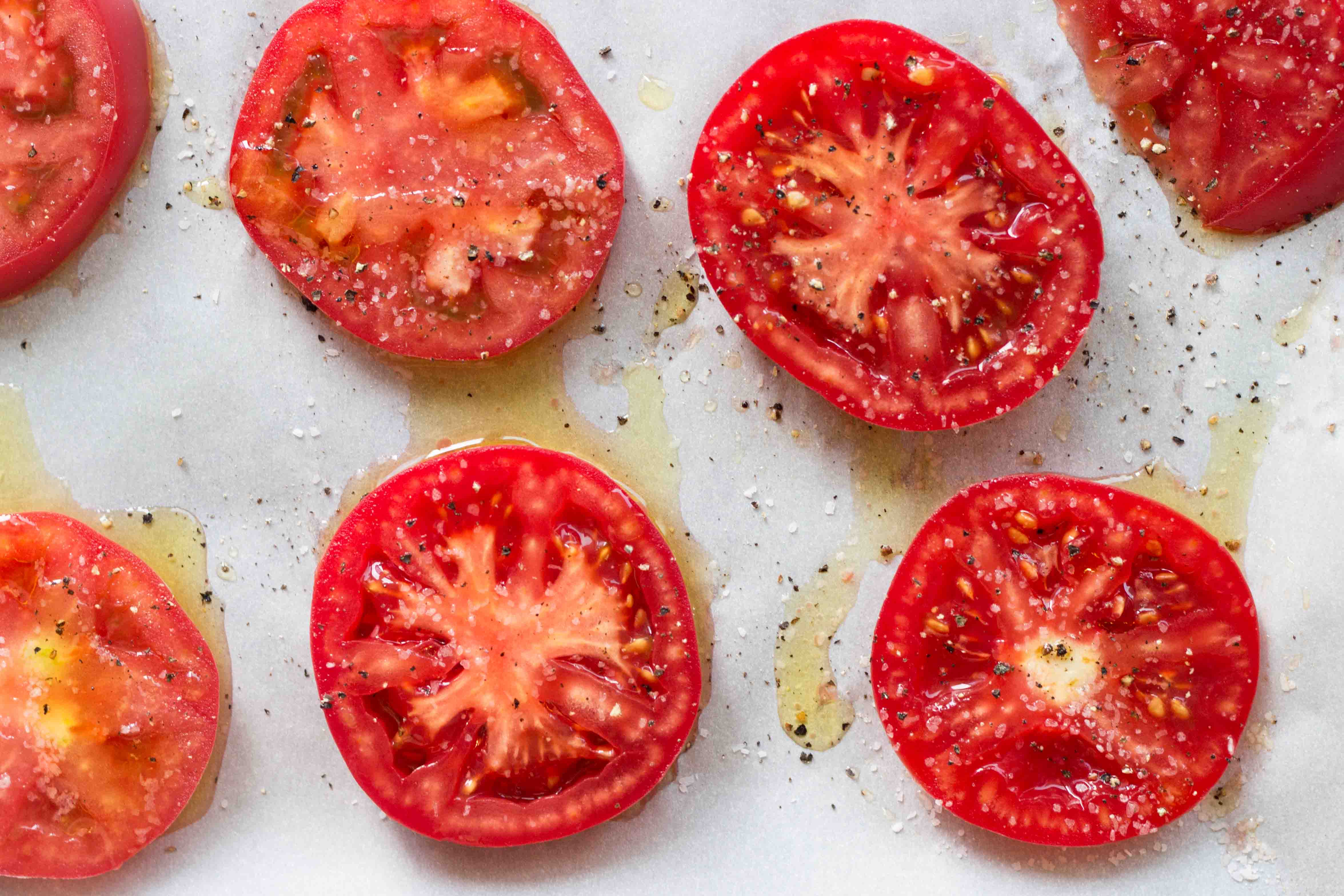 The go-to meal I missed most during my vegan month: sandwiches. Specifically grilled cheese sandwiches, since that's really the only sandwich worth making in my book. When I'm not eating vegan, The Beast and I enjoy weekly "Adult" Grilled Cheese night, where we take the basic grilled cheese and pimp it out with all sorts of things. See Example A and Example B.
Last week, as my grilled cheese cravings worsened, I knew some vegan cheese experiments were necessary for me to successfully finish my challenge. Although I had bought a pack of Daiya pepperjack shreds that proved to be pretty darn convincing, I wanted to work with the other vegan magic ingredient: nutritional yeast. I bought about 8 ounces of the golden flakes at the beginning of the month, and had enjoyed sprinkling it on top of pizzas, in pasta sauces, and even in a vegan version of my favorite quick Mexican meal. Nutritional yeast has a crazy-impressive buttery flavor that, while not identical to cheese, can make a big difference in the savory decadence of a dish.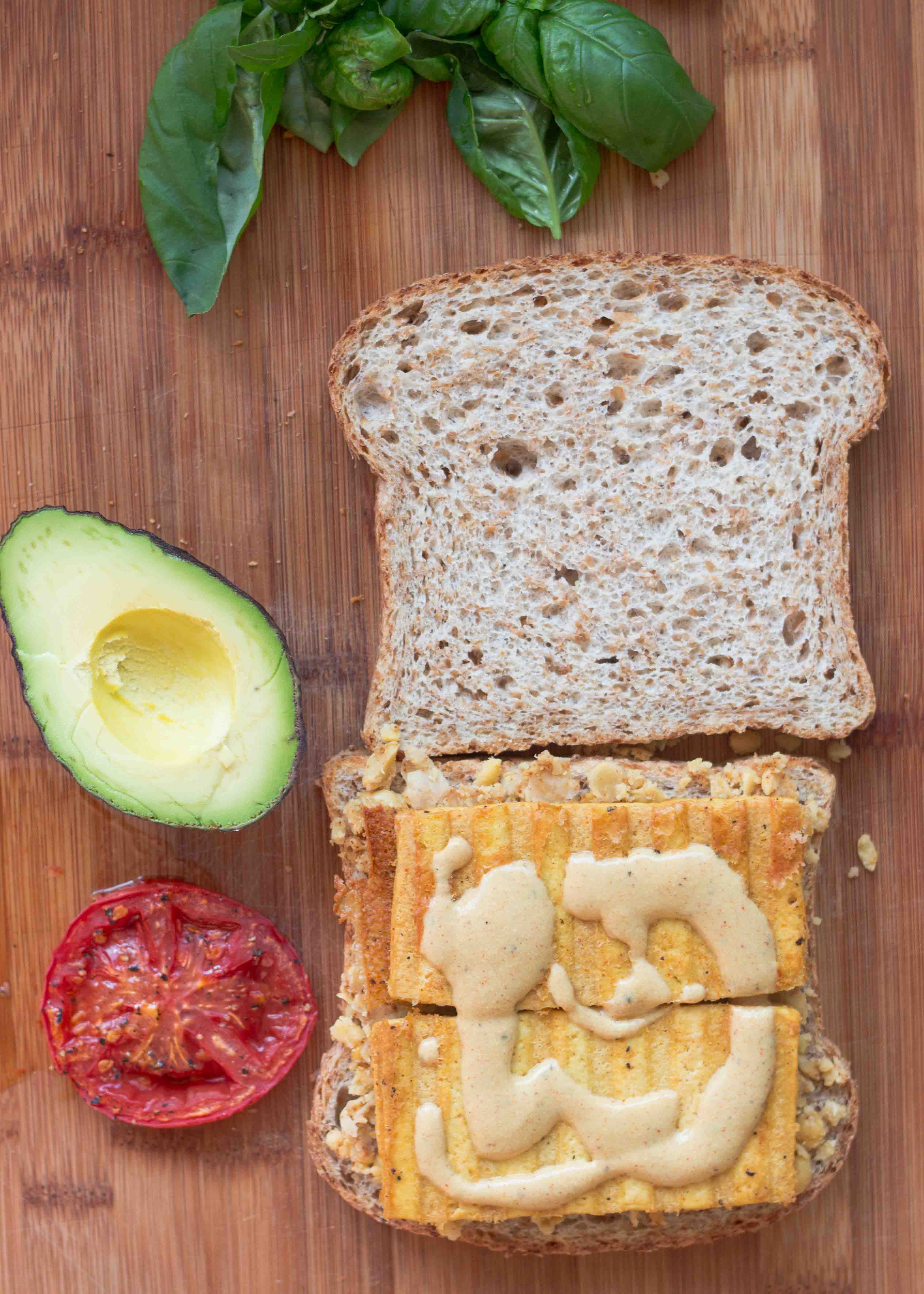 For this sandwich I made a simple "cheese" bechamel sauce with some olive oil, flour, almond milk, nutritional yeast, spices, and dijon mustard. I coated the tofu in the sauce and let it marinate for 20 minutes…and during this time I also dipped chips, pretzels, and my fingers in the sauce so I could appease my need for cheese (totally not desperate or anything…). While the tofu marinated and then grilled in a sandwich press, I sprinkled tomatoes with olive oil, salt and pepper, then roasted them until they shrunk down into little spheres of concentrated, juicy, subtle sweetness. Finally, I smashed down 1/3 cup of chickpeas with a fork, and then mixed in some spices to make it the smashed bean layer wonderfully umami-flavored.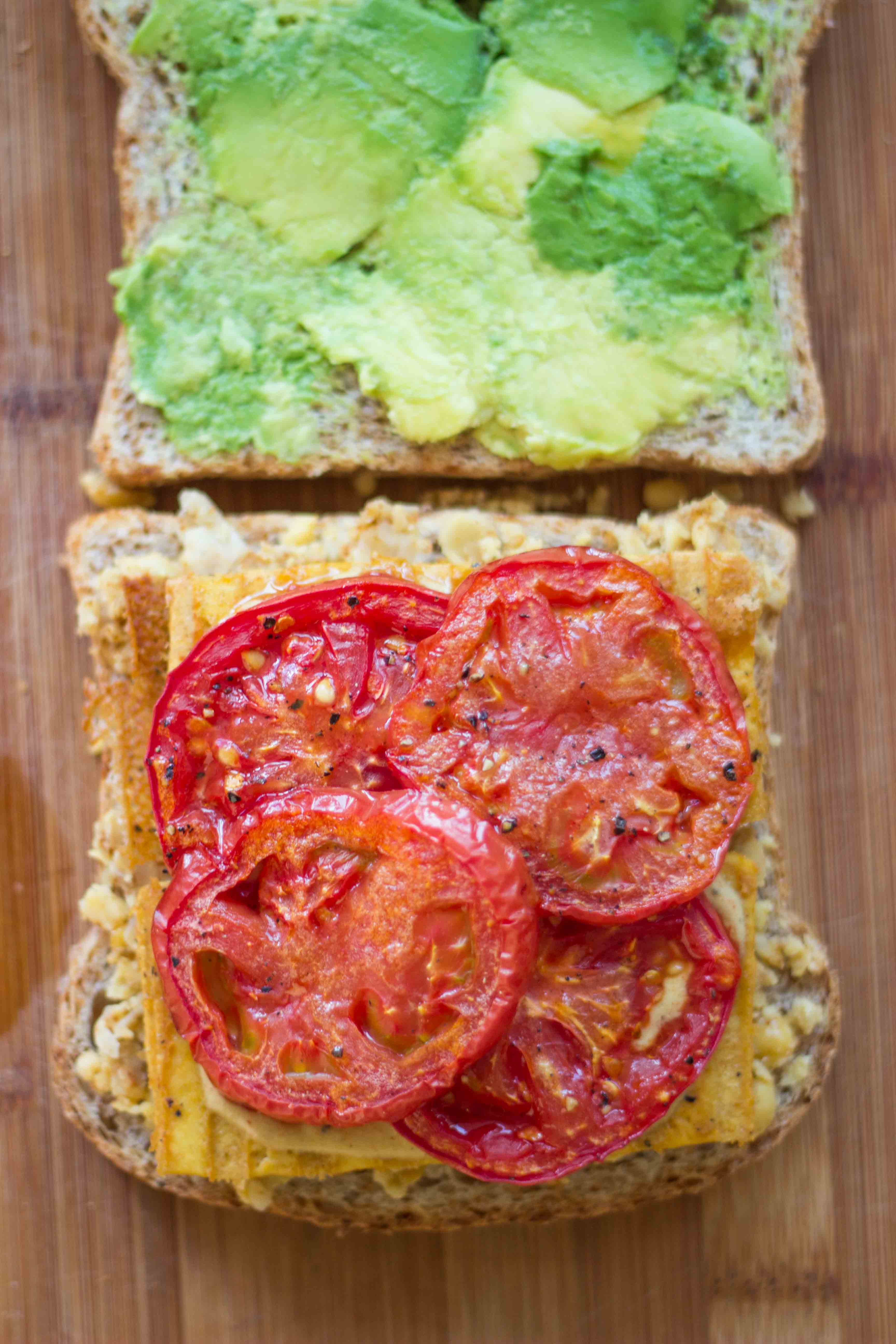 Once all the pieces were in place, I layered the chickpeas, grilled tofu, leftover sauce, tomatoes, fresh basil and smashed avocado on hearty multigrain bread, then lightly grilled the sandwich just until the flavors melded together.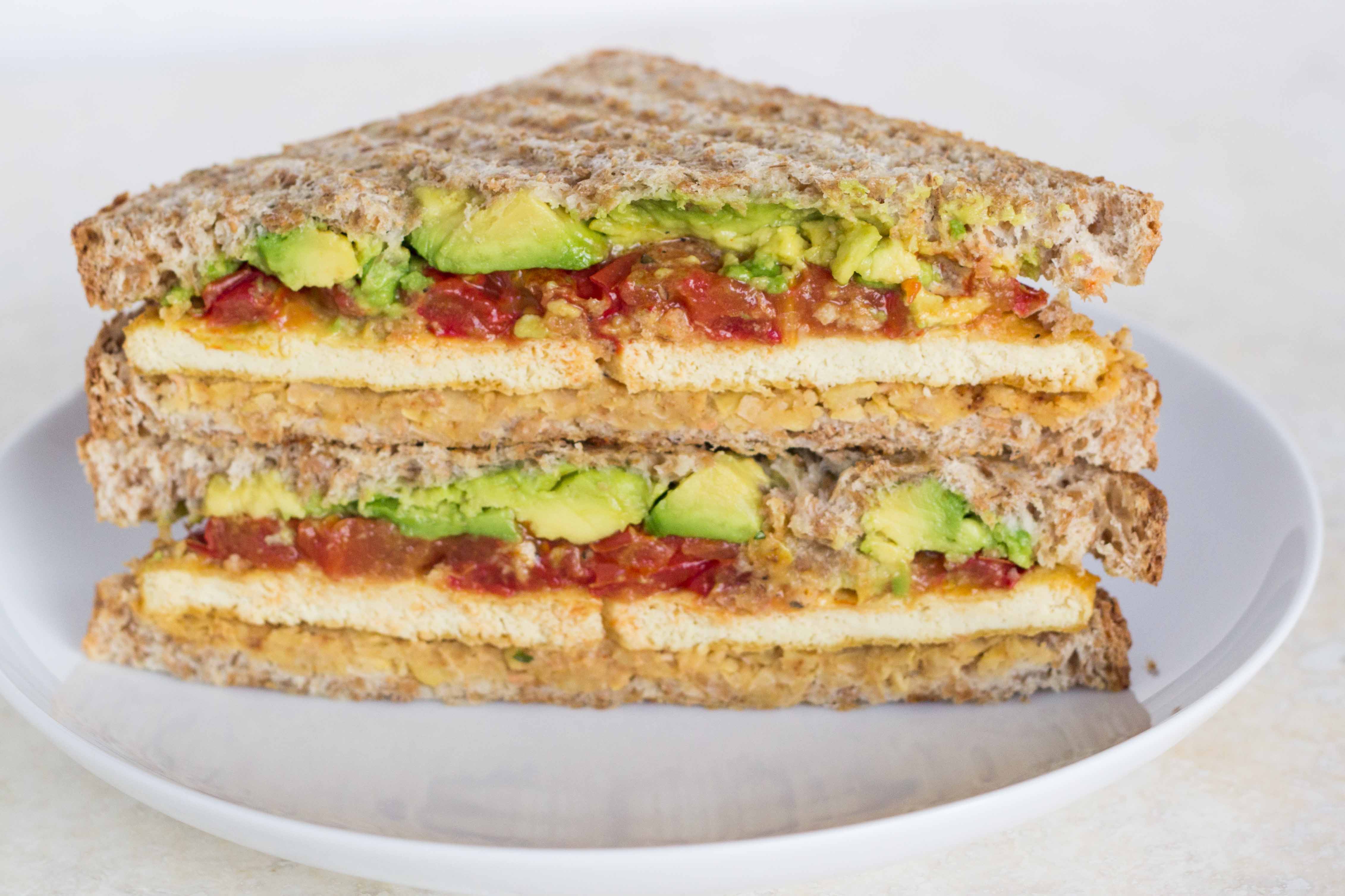 Maybe there's no actual cheese melting around all corners of the sandwich, but the cheese flavor infuses the sandwich just enough to satisfy those aches of cheese need. The sweetness of the roasted tomatoes plays off of the savory smashed chickpeas, and the avocado adds a creaminess that brings everything together. It's truly a perfect sandwich for the vegan who needs a bit of cheese flavor in life. Like me, 3 days ago.


Smashed Chickpea, Avocado and Roasted Tomato Sandwich with "Cheesy" Tofu
A vegan version of fancy grilled cheese! Smashed avocado and chickpeas, roasted tomatoes, and extra firm tofu marinated in a cheesy sauce and grilled to toasty perfection.
Yield: 1 sandwich
Prep Time: 25 minutes
Cook Time: 45 minutes
Total Time: 1 hour 10 minutes
Ingredients:
Smashed Chickpea, Roasted Tomato and Avocado Sandwich
2 slices of your favorite bread
1 roma or hothouse tomatoes, sliced into ½-inch slices
1 tablespoon olive oil
Kosher salt to taste (I used ½ teaspoon)
Pepper to taste (I used ¼ teaspoon)
⅓ cup chickpeas, canned or cooked
¼ teaspoon cumin
⅛ teaspoon chili powder
¼ teaspoon onion powder
¼ teaspoon garlic powder
2-3 leaves fresh basil
½ of a medium avocado (or ⅓ of a large avocado)
3 ounces Cheesy tofu and sauce (recipe follows)
Cheesy Tofu
3 ounces extra firm tofu, cut into strips lengthwise (see note)
1 teaspoon olive oil
1 teaspoon unbleached all-purpose flour
½ cup unsweetened almond milk (or other non-dairy milk)
¼ teaspoon kosher salt (or to taste)
2 tablespoons nutritional yeast
1 teaspoon dijon mustard
¼ teaspoon paprika
⅛ teaspoon black pepper
Nonstick Spray (preferably natural, non gmo, etc.) or olive oil
Directions:
Preheat oven to 350 degrees.
Place tomatoes on a parchment-lined baking sheet. Drizzle with olive oil, and sprinkle with salt and pepper. Bake for about 35 minutes, until wrinkled, shrunk down and super juicy.
Heat 1 teaspoon of olive oil over medium high heat in a small saucepan. Add the flour and whisk until it forms a paste (about 1 minute), pour in the almond milk and bring to a boil. Whisk for 4-5 minutes, until it just starts to thicken. Stir in the nutritional yeast and spices. Pour over tofu and let sit for 20 minutes.
Remove the tofu from the marinade, reserving the leftover sauce. Cook the tofu pieces either in a sandwich press (my preferred method) or fry in a pan coated with nonstick spray or a bit of oil. Cook on each side until it's firm and golden (this took me about 10 minutes in a sandwich press). You'll lose some of the sauce in the process, but that's okay – the flavor will be infused in the tofu.
Use a fork to smash the chickpeas into small pieces. Add the spices and stir well.
Spread the smashed chickpeas on one side, lightly pressing down so they stay put. Top with the tofu, additional cheese sauce, roasted tomatoes and basil. Smash the avocado on the other side of the bread, and then place that on top. Grill in a sandwich press or in a fry pan with a bit of nonstick spray or oil for 5-10 minutes (depending how grilled you want your sandwich).
11 Responses to "Smashed Chickpea, Avocado and Roasted Tomato Sandwich with "Cheesy" Tofu"