Butternut Squash Barley and Cheddar Gratin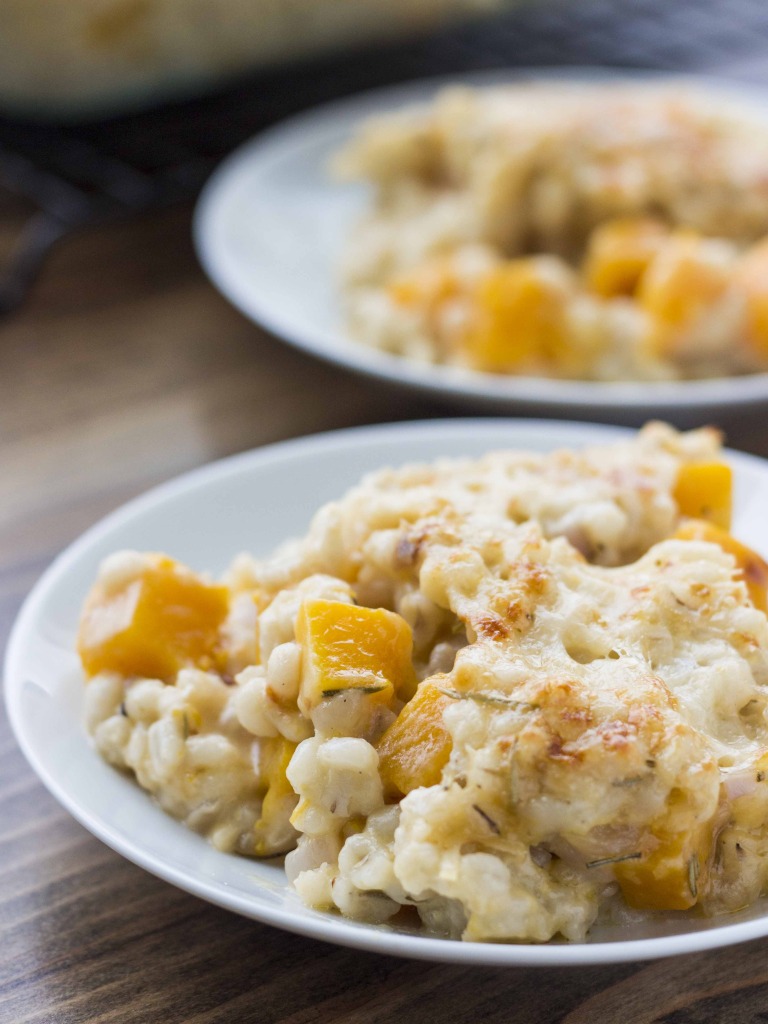 Happy September! Tis the season for school bells, crisp air, and gourds. As I've mentioned before, back-to-school season always made me a little anxious as a kid. Never one to deal well with change, I struggled with the transition back to classes. Now when I spot school supplies at Target, or when my Facebook news feed fills up with pictures of kids on their first days of school (which happened a TON yesterday), I get a bit nostalgic and jealous. There's not much in the adult world that clearly marks the shift in seasons, while giving you that rush of something new, something scary, something unknown.


Instead of a new classroom, new teacher, and new sparkle Gelly Roll pens (REMEMBER those???), I transition into adult-life autumn by buying pounds of funny-looking squash, cans of pumpkin puree, and more soy chai lattes than I care to admit. Not quite the same as the first day of school, but you know, it'll do.
Some people (like my mother) find squash sweetness inappropriate in savory main dishes. I'll admit that at first I found the taste a bit intimidating; it's sweet and comforting, but also, well, a vegetable. Instead of leaning into the sweetness with butter and brown sugar (again, like my mother), I've found that I prefer my squash with creamy, cheesy sauces. In this dish, the subtle sweetness of the squash boosts the level of comfort with a depth of flavor that makes me want to curl up in an oversized sweater, drink tea, and read a book.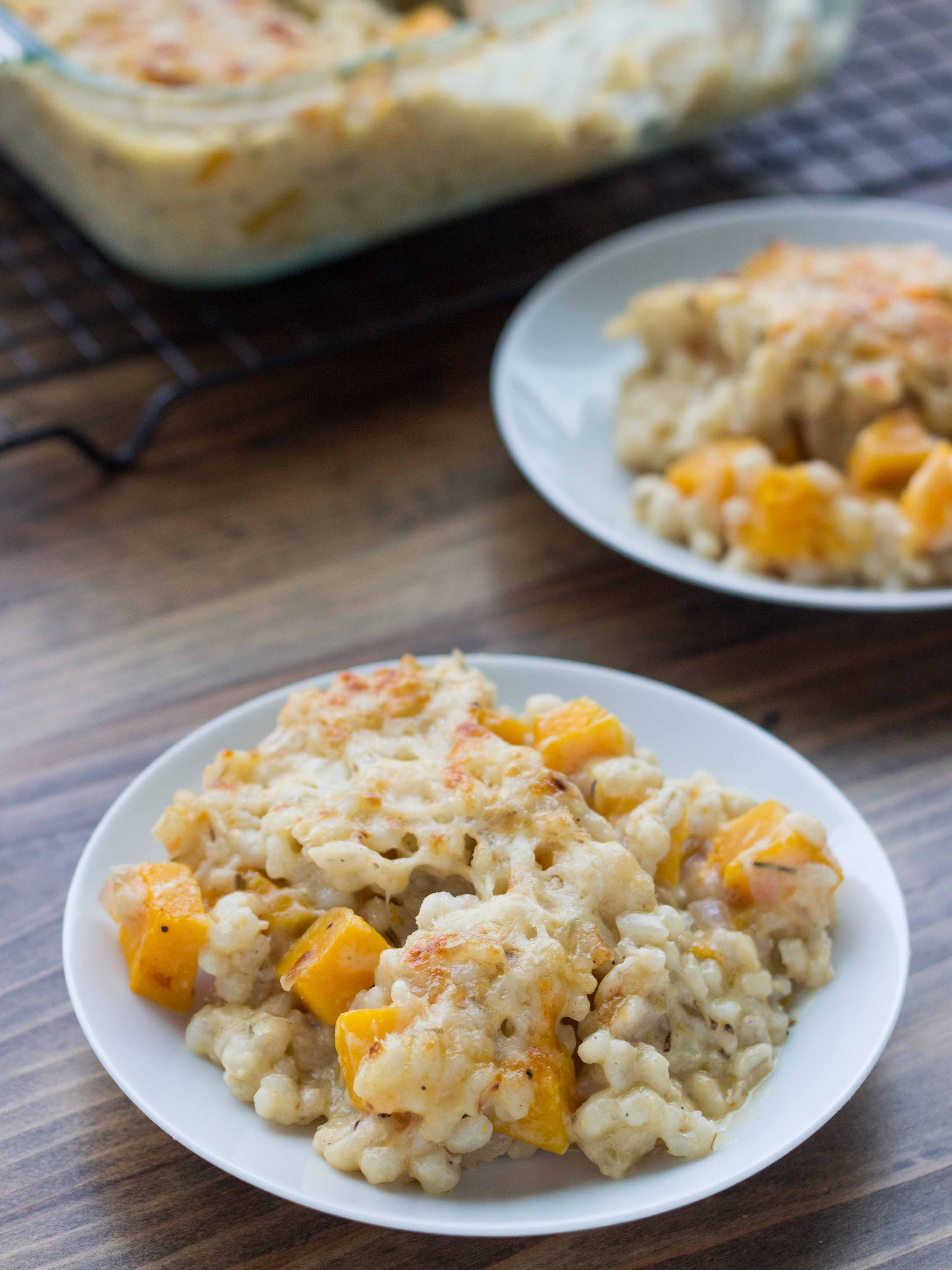 I'm calling this a gratin because it's based off of my Brussels Sprout Quinoa Gratin, but you could also refer to it as a casserole, a variation of mac and cheese, and maybe even a hotdish (straight-up Minnesota talk, don't ya know). Call it what you will, but my main point is that it's a perfect way to transition into the cooler days of fall that require a bowl of creamy, warm comfort.
In case you're thinking that all of this cheese is too decadent/naughty for you, know that it has around 400 calories and over 17 grams of protein per serving, so go ahead and get at these fall flavors.
Off to buy a chai latte, Gelly Roll pens, and maybe some Cuddly Cuties folders for, you know, all my important grown-up things.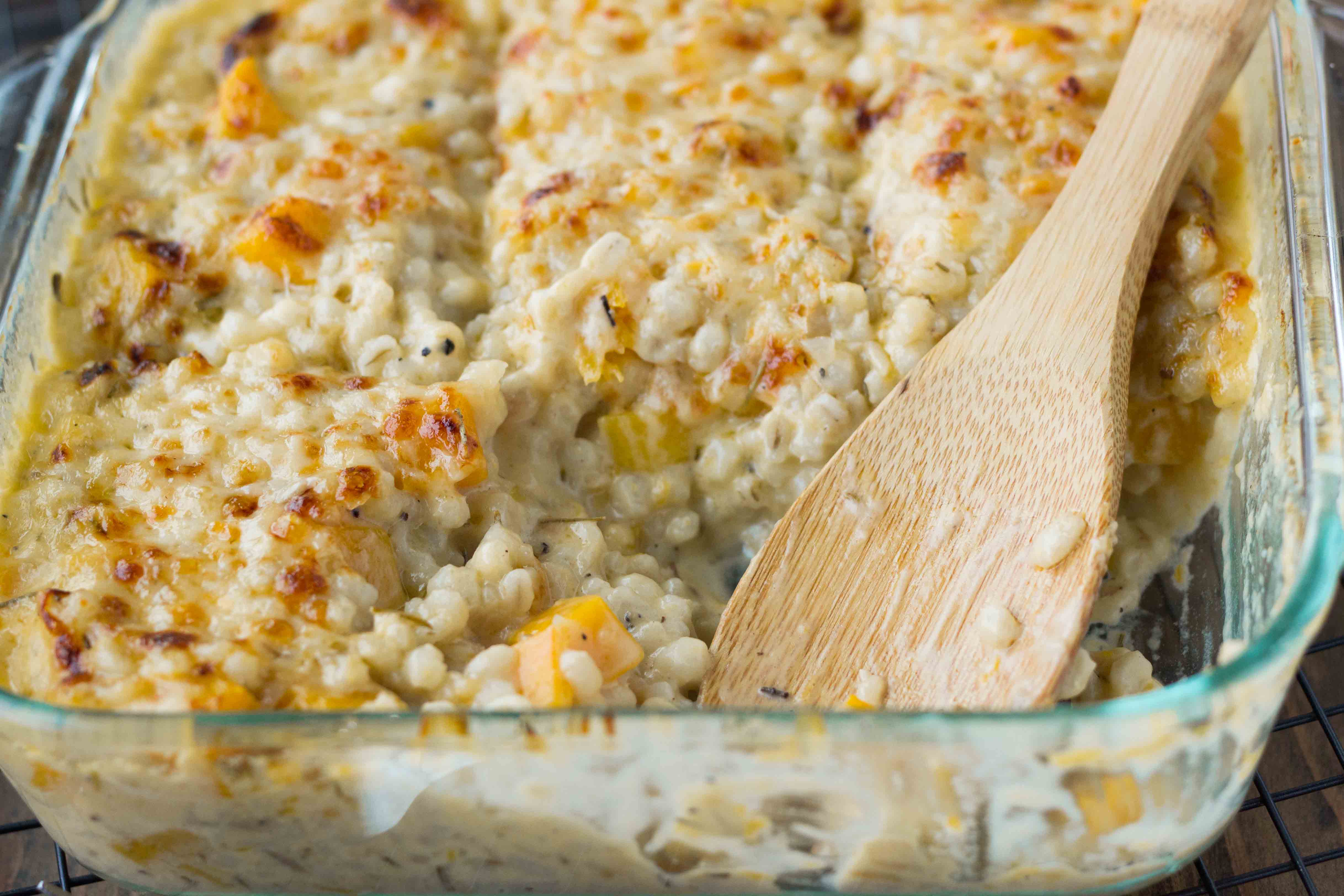 Butternut Barley Cheddar Gratin
A creamy, cheesy gratin filled with plump pearl barley and lightly-sweet butternut squash. The perfect comforting dish to welcome autumn.
Yield: 6 servings
Prep Time: 20 minutes
Cook Time: 30 minutes
Total Time: 50 minutes
Ingredients:
2 tablespoons olive oil
2 cloves garlic, minced
½ red onion, diced
3½ cups cubed butternut squash
1 cup uncooked pearl barley
2 tablespoons butter
2 tablespoons unbleached all-purpose flour
2 cups low-fat milk (I used 1%)
½ teaspoon kosher salt
¼ teaspoon black pepper
⅛ teaspoon freshly grated nutmeg
2 teaspoons dried rosemary
4 ounces extra sharp cheddar cheese, shredded
3 ounces parmesan cheese, shredded
Directions:
Preheat oven to 350 degrees
Combine the barley with 3 cups of salted water. Bring to a boil, reduce to a simmer, and cover for 35-40 minutes, until most of the water is absorbed. Drain any remaining water.
While the barley is cooking, heat the olive oil in a large fry pan. Add the garlic and cook for 30 seconds over medium heat, until fragrant. Add the onion and cook for another 3 minutes, until translucent. Pour in the squash and cook for another 10 minutes, stirring occasionally, until the squash is just fork tender.
While the squash cooks, melt the butter in a separate saucepan. Whisk in the flour and cook for 30-45 seconds, until it forms a paste. Pour in the milk, salt, pepper, rosemary, and nutmeg, and bring to a boil. Whisk constantly for 5 minutes until the sauce thickens. Remove from the heat and stir in the cheddar until smooth.
In a large bowl, combine the barley, squash, and cheese sauce. Stir until the sauce is well distributed. Pour into an 8x8-inch baking dish, then top with the parmesan. Cover with aluminum foil and bake for 25 minutes. Uncover, put the oven on broil, and broil for 5 minutes, until the top is golden.
Allow to sit for 10 minutes before serving.
Serving size: ⅙th recipe Calories: 414 Fat: 19.7g Saturated fat: 10g Carbohydrates: 44.5g Sodium: 585mg Fiber: 7.5g Protein: 17.2g Cholesterol: 44mg
4 Responses to "Butternut Squash Barley and Cheddar Gratin"