Sweet Potato Cupcakes with Salted Coconut Oil Frosting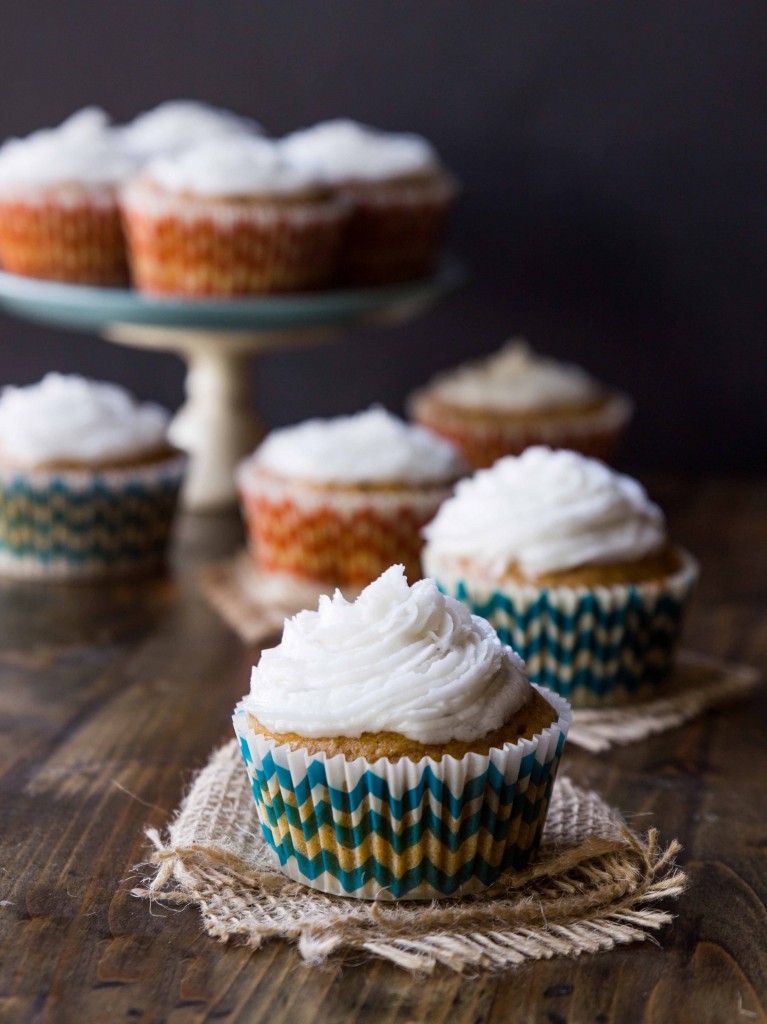 Despite the recent surge of fall-ish recipes on my blog, I'm still in denial about this changing season thing. Although I usually love fall, I'm having to kind of force myself into embracing it. I could use another month or so of summer before the beginning of the end of the outside time.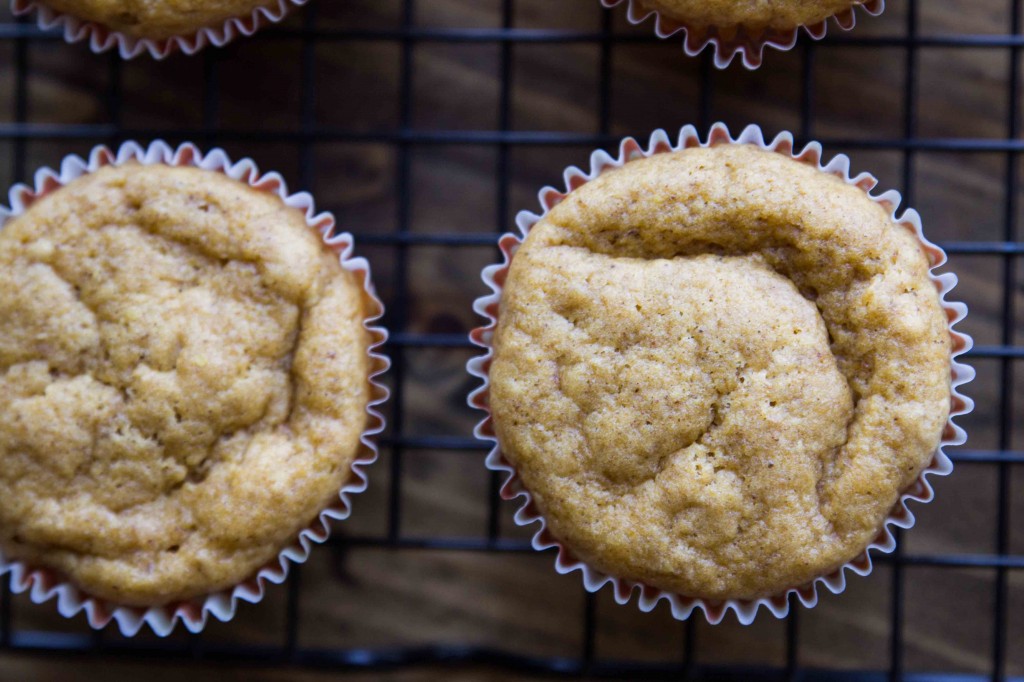 Ryan, on the other hand, leaps face first into this season. When we met he told me he loved fall because of the trees changing. He said he went to his dad's house in Wisconsin to see the leaves change and bird watch. BIRD WATCH! ha! That cracks me up every time I think about it.
Three dates in he admitted his dirty secret which, if you read this blog you already know: he's a hunter, and was too afraid to tell me this after hearing I'm a vegetarian.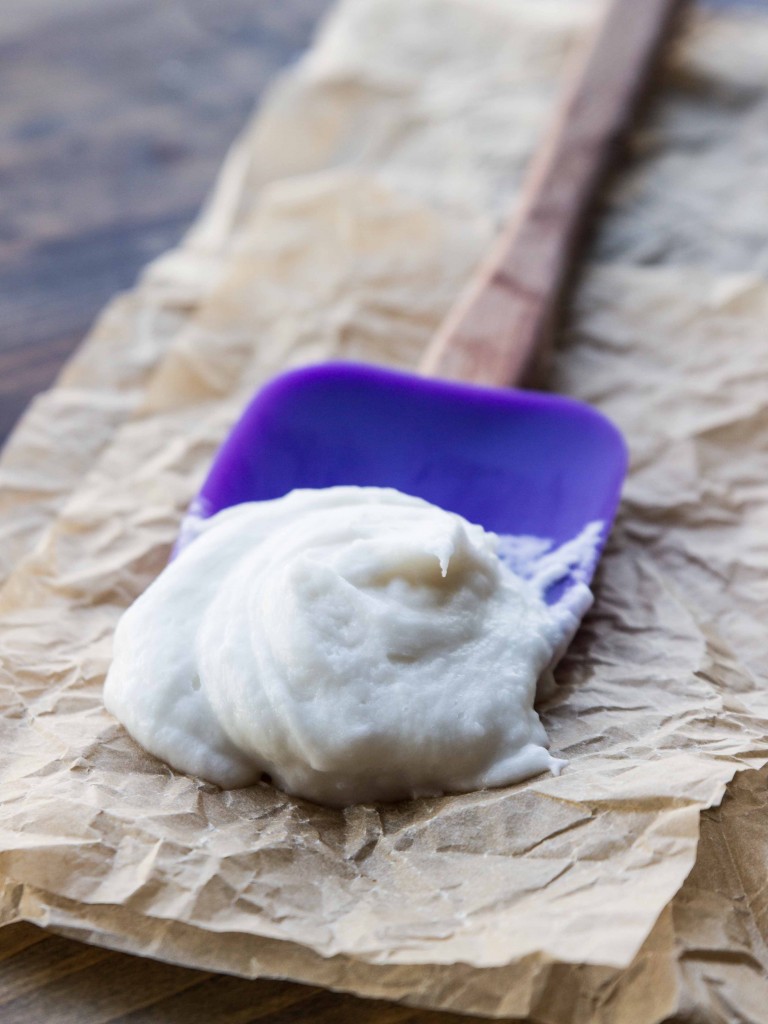 For Ryan this season means sitting in a tree stand and observing nature (he rarely shoots anything – don't tell him I said that), for me, however, it's all about the food: pumpkin, chai, aaaaand sweet potato!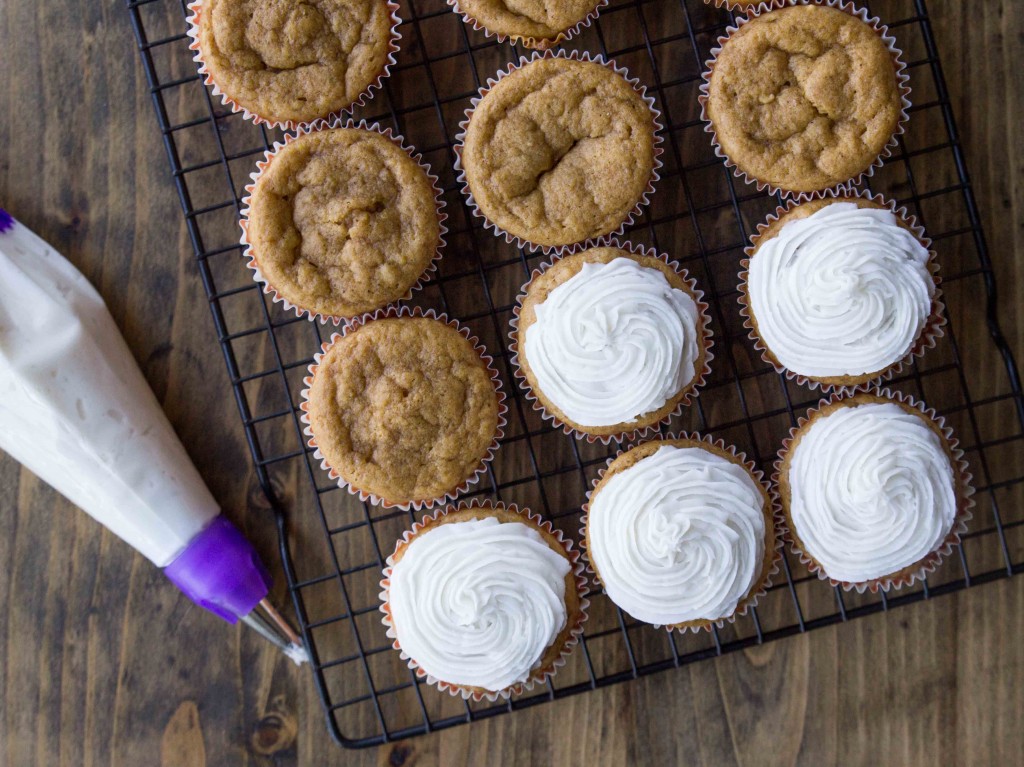 If you're like my mom, you may be weirded out by the idea of a sweet potato dessert (to be fair, she's also one of those anti-pumpkin people), but but BUT, think about it…sweet potato adds moisture just like pumpkin, but it's sweeter, so it works perfectly in these little spiced cakes.
Also like pumpkin, sweet potato can be found pre-pureed in cans (I have found it at Whole Foods and the local co-op), so you have a convenient shortcut that makes peeling, cooking and mashing potatoes a non-issue.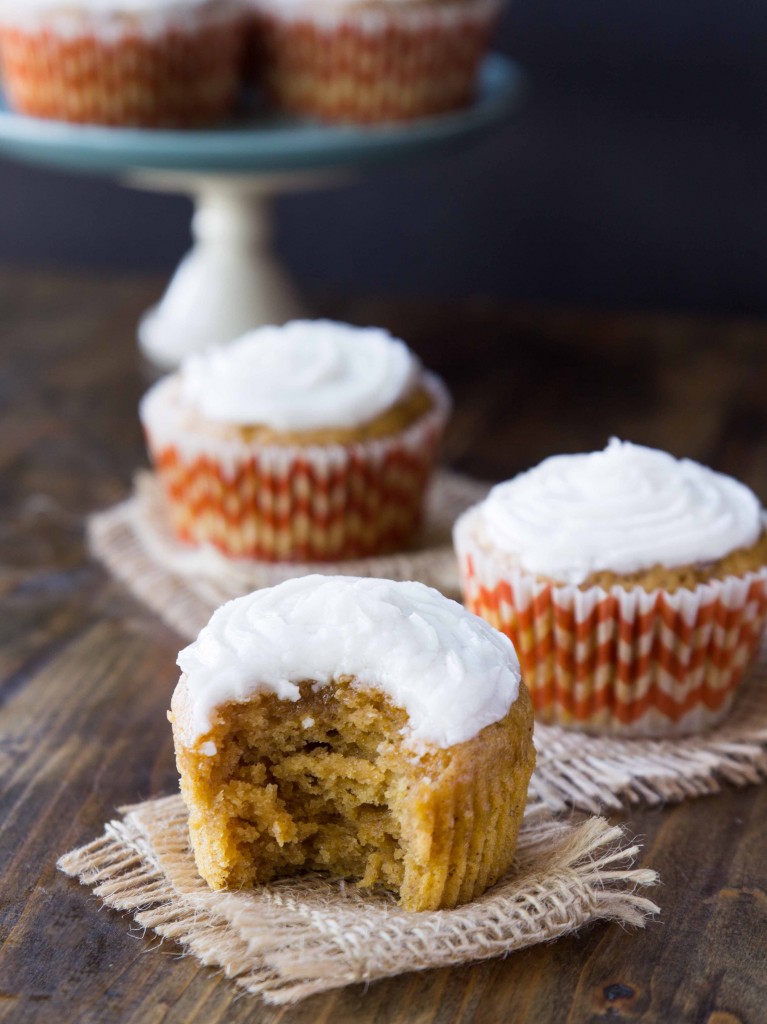 The cute little frosting that's all prettily piped on top gets its sturdiness (and fat, shhhh…) from coconut oil. I recently saw that Butter Loves Company adapted my vegan chai cake and topped it with a coconut oil frosting. Intrigued, I played around with the idea as the topper for these cakes, added some salt, and luuurved the result. The coconut oil base makes for a creamy frosting that packs tons of flavor.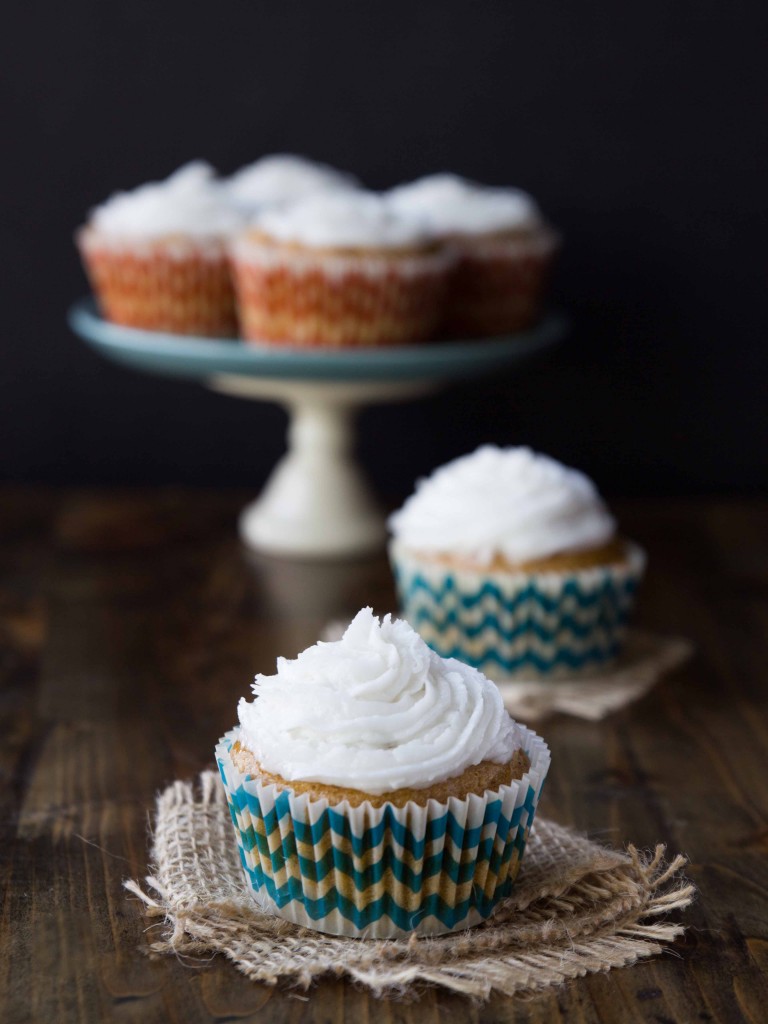 A heads-up about that flavor: Since the coconut oil is not cooked, the frosting DOES taste like coconut. Ryan and I love everything about coconut, but if you're serving to someone who is not a coconut fan, you may want to consider another frosting.
…Or use the coconut oil frosting anyway and just be all "GIVE ME YOUR FROSTING," and double up that coconutty goodness.

Sweet Potato Cupcakes with Salted Coconut Oil Frosting
Fluffy, perfectly-spiced sweet potato cupcakes topped with a simple salted coconut oil frosting.
Yield: 16 cupcakes
Prep Time: 10 minutes
Cook Time: 20 minutes
Total Time: 30 minutes
Ingredients:
Sweet Potato Cupcakes
3/4 cup unsweetened almond milk, room temperature
2 teaspoons apple cider vinegar
2 flax eggs
1/2 cup cane sugar, processed until fine*
1/2 cup maple syrup
2 teaspoons vanilla extract
1/2 cup coconut oil, melted
1 cup sweet potato puree
2 1/4 cups white spelt flour (or unbleached all-purpose flour)
1 teaspoon ground cinnamon
1/2 teaspoon ground nutmeg
1/2 teaspoon ground ginger
1/4 teaspoon ground cloves
1/2 teaspoon ground allspice
1/2 teaspoon salt
1/2 tablespoon baking powder
Salted Coconut Oil Frosting
1/2 cup coconut oil
2 cups powdered cane sugar
1/2 teaspoon vanilla extract
1/8 teaspoon fine salt (or more to taste)
1-2 tablespoons unsweetened almond milk
Directions:
Preheat oven to 375 degrees
Whisk together the apple cider vinegar and milk. Set aside for 5 minutes.
Whisk together the flax eggs, cane sugar, and maple syrup until fully incorporated. Add the vanilla, coconut oil, almond milk/vinegar mixture, and sweet potato, and mix well until smooth (I used the whisk attachment of my mixer for this).
In another bowl whisk together the flour, spices, salt, and baking powder.
Gradually add the dry ingredients to the wet ingredients, mixing until just combined.
Grease muffin liners, and pour 1/4 cup of batter into each liner. Bake for 16-18 minutes, until a toothpick inserted in the center comes out clean. Let cool completely.
To make the frosting, whip the coconut oil with a whisk attachment of your mixer until smooth. Slowly beat in half of the powdered sugar with 1/2 tablespoon of the milk and vanilla.
Add the remaining powdered sugar in two waves, adding 1/2 tablespoon of additional milk as needed. Mix in the salt, taste, and then whip on high for 1-2 minutes until totally smooth.
Pipe frosting onto the cooled cupcakes.
*You may use a food processor or coffee grinder to process the cane sugar into granulated, or simply sub granulated sugar.
Not Vegan? Sub chicken eggs for the flax eggs, and buttermilk for the almond milk and vinegar.
Storage: The cupcakes are best stored in an airtight container on the counter, as the refrigerator will dry them out quickly. If it's too hot in your house, the frosting may melt a little.
13 Responses to "Sweet Potato Cupcakes with Salted Coconut Oil Frosting"