The Easiest 3-Ingredient Fudge Bites

Are you ready for the easiest dessert ever?
Aside from eating a handful of chocolate chips, of course…which I do on the regular. On top of a spoonful of peanut butter.
Ahem…


Fudge always reminds me of my family reunions on the East Coast, where we met up every August for the first 20 years of my life. At least twice every trip, someone would buy a couple pounds (!!!) of fudge to share with the group. Although there were many fancy flavor options, I was (and still am) all about the straight-up chocolate.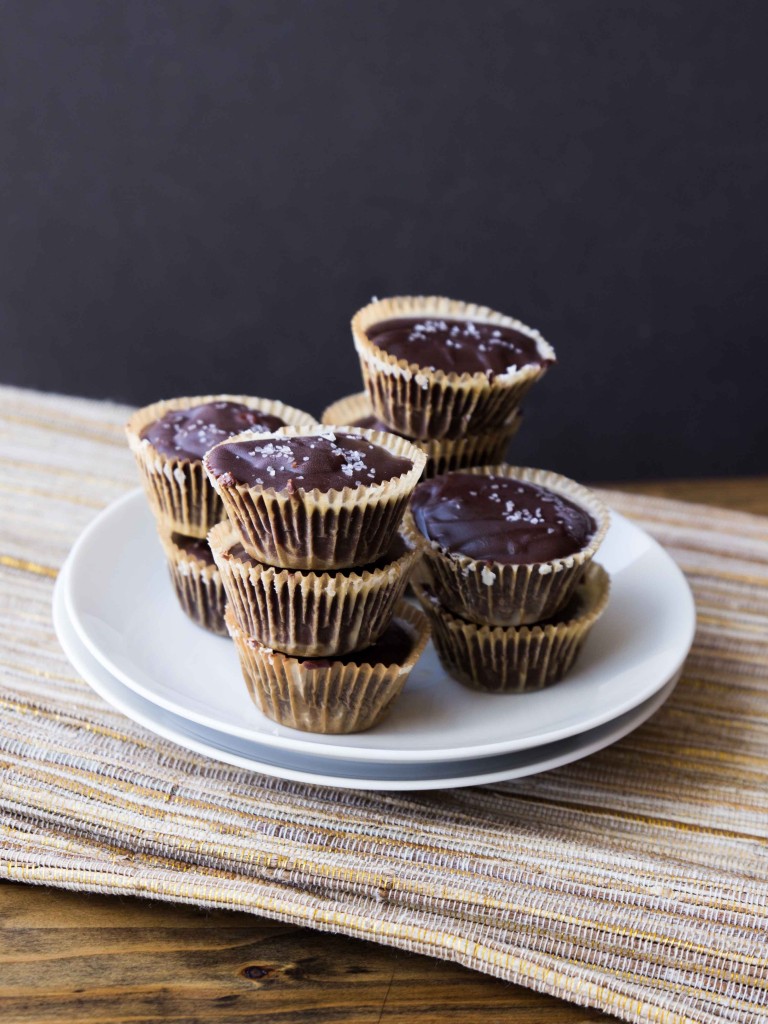 During these trips I would cut little chunks off of the big fudge block every time I passed by the counter that held the boxes, and then fall into an inevitable sugar coma by the end of the day. Remembering that overloaded feeling, I used a mini muffin pan to build some portion control into my version.
That's of course assuming you can stop at just one of these cute little things. Eeep.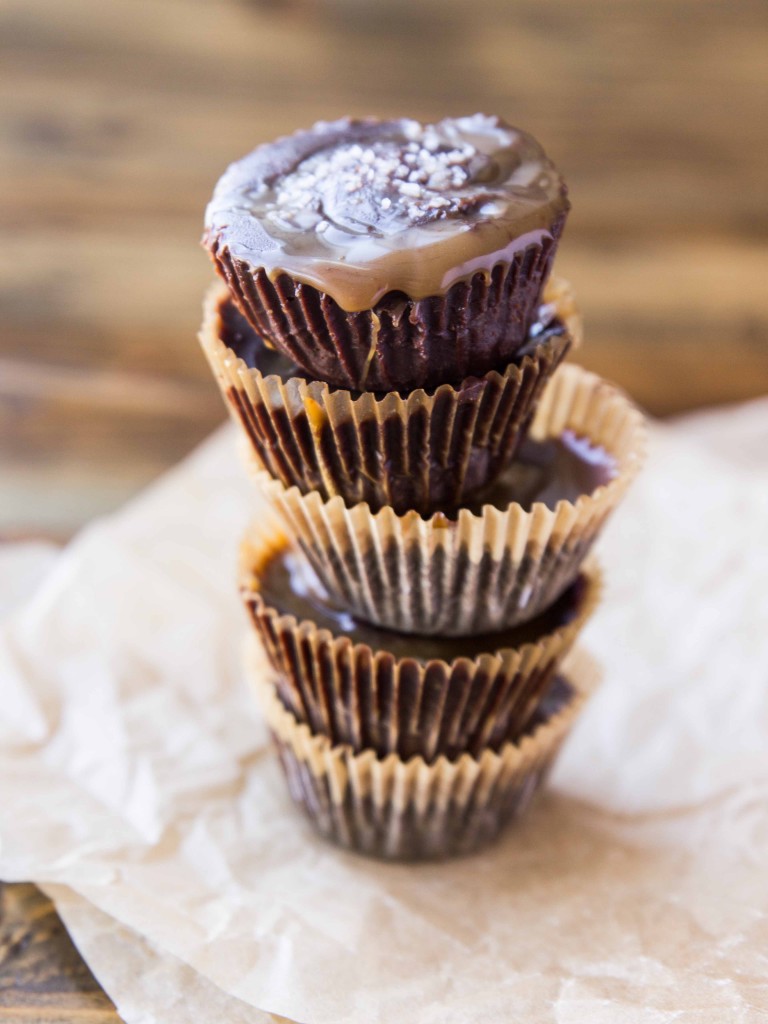 In addition to the simple ingredient list, the actual process of making this fudge couldn't be much easier. The recipe is basically a play on ganache: heat up a high fat liquid (usually heavy cream, but in this case coconut milk), pour it over chocolate, let it sit for a couple minutes, whisk, and bam. The addition of coconut oil to the hot liquid helps make the fudge a little smoother and richer, so don't leave it out!
Once your chocolate is super glossy and smooth after the whisking, just scoop heaping tablespoons into well-greased muffin liners, top them however you like (more on that below), and stick the pan in the freezer (fast/impatient route) or the fridge (if you're a stronger person than me).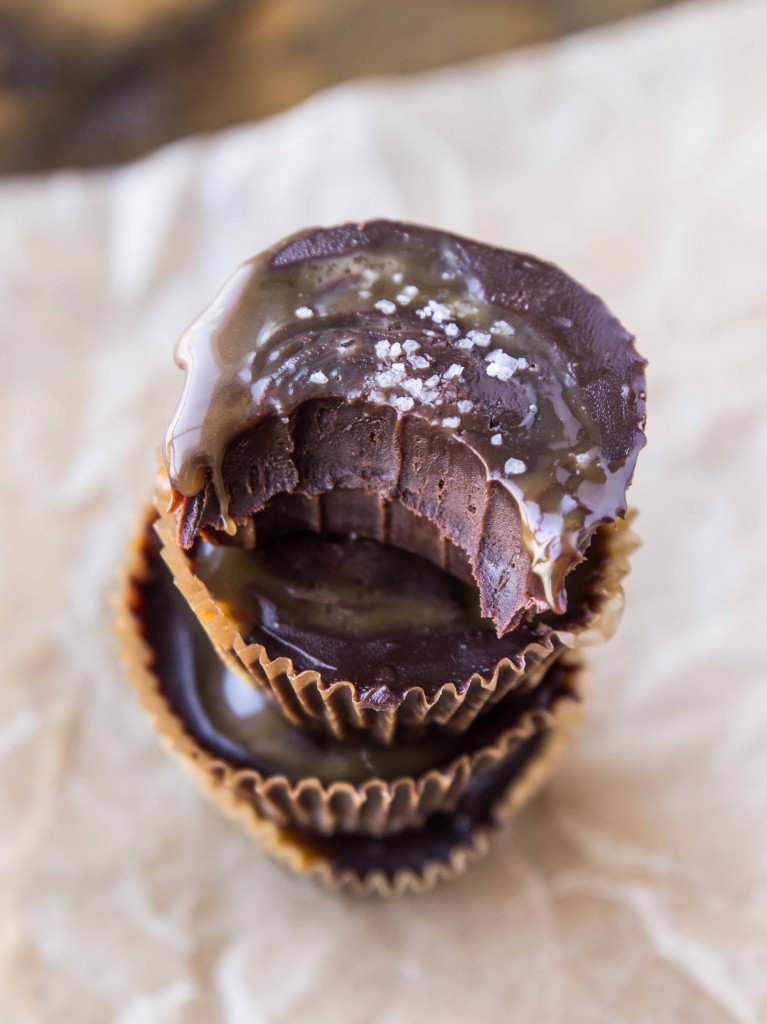 I opted to top my fudge with sea salt and caramel, and I highly recommend both. I used this recipe for salted caramel, and just boiled it for 3 minutes instead of 1 (resulting in a slightly thicker caramel), but you could use store-bought caramel in a pinch. If you go the caramel route, know that the caramel stays pretty sticky, so unwrap with caution. That comment is for all you parents with little ones – don't say I didn't warn you! :)
If you're into walnuts, pistachios or coconut in your fudge – go for it! Top to your heart's content.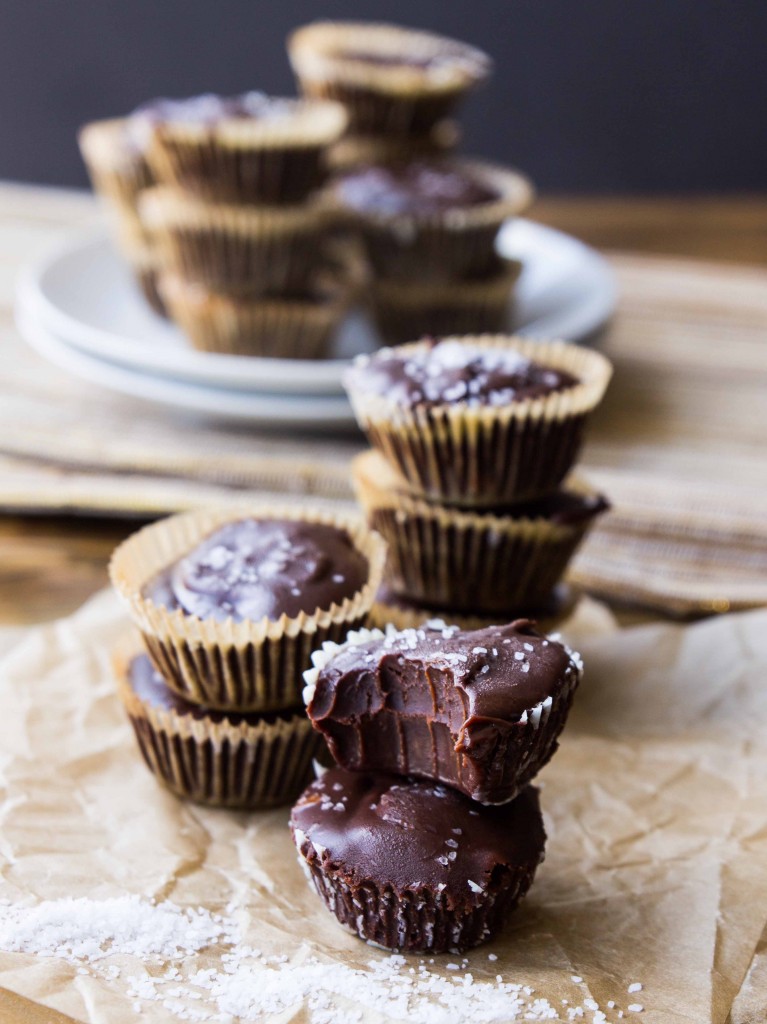 No more plain old chocolate chips from the bag for me; I'm totally in love with this fudge! Let me know if you make it!
The Easiest 3-Ingredient Fudge Bites
The easiest fudge ever, made with just 3 ingredients! Rich, thick, and easy to adapt to your tastes.
Yield: 24 fudge bites
Prep Time: 1 hour 15 minutes
Total Time: 1 hour 15 minutes
Ingredients:
3-Ingredient Fudge Bites
3 cups semisweet chocolate chips (dairy free, if needed)
3/4 cup full-fat coconut milk
2 tablespoons coconut oil
Optional Toppings
Sea salt
Chopped nuts
Flaked coconut
Directions:
Place the chocolate chips in a large bowl.
Combine the coconut milk and coconut oil in a small pan, and bring to a boil, whisking occasionally to ensure the coconut oil melts fully, and the milk warms evenly.
Pour the hot coconut milk/oil mixture over the chips, and let sit for 2 minutes. Whisk until totally smooth. Every so often I still have some lumps at this point, so I place the bowl (I use a glass bowl) over a pan of simmering water and whisk until all the lumps are gone.
Line a mini muffin pan with liners, and grease liberally. Fill each liner to the top (a heaping tablespoon of the chocolate).
Sprinkle sea salt on top (or any of the other toppings listed above). If using caramel, drizzle 1/2 teaspoon on each fudge bite, and use a toothpick to swirl.
Freeze (1 hour) or refrigerate (2-3 hours) until set.
You can store your finished fudge bites in the fridge or freezer. As you may guess, storing them in the fridge makes them a little softer, and the freezer makes them slightly firmer. They never freeze solid, which is a scientific mystery to me. They WILL melt if left out on the countertop, so don't do it! :)
The chocolate chips are key to the quality of the fudge, so I recommend not skimping on the brand. I like Ghirardelli or Guittard (if not vegan), or Enjoy Life (if vegan).
112 Responses to "The Easiest 3-Ingredient Fudge Bites"
Pingback: Weekend | Chronicles of Passion

Pingback: Who's Hungry | Babe Daily

Pingback: The Southern Chocolatier – Ever bite into fudge and think just kill me now? | My Life. One Story at a Time.

Pingback: Friday Favorites #7 | ALD.FIT

Pingback: Guest Post: Anne - justjacq

Pingback: TeenTimes.com - It's Our Thing!

Pingback: 11 Healthy Coconut Recipes to Lose Weight and Prevent Heart Attacks - Healthy Holistic Living

Pingback: Fudge Bites - The Culinary Beautician

Pingback: šokolaadi fudge | tsempionideeine

Pingback: Easy Fudge Cups - Dreaming Dessert

Pingback: NIA Arrests 20 Terror Suspects, Hints That Indian Mujahideen Is Regrouping As IS | Breaking World News

Pingback: Weekend

Pingback: 12 Healthy Desserts You'll Drool Over