Sweet Potato, Pinto and Black Bean Enchiladas with White Cheddar Sauce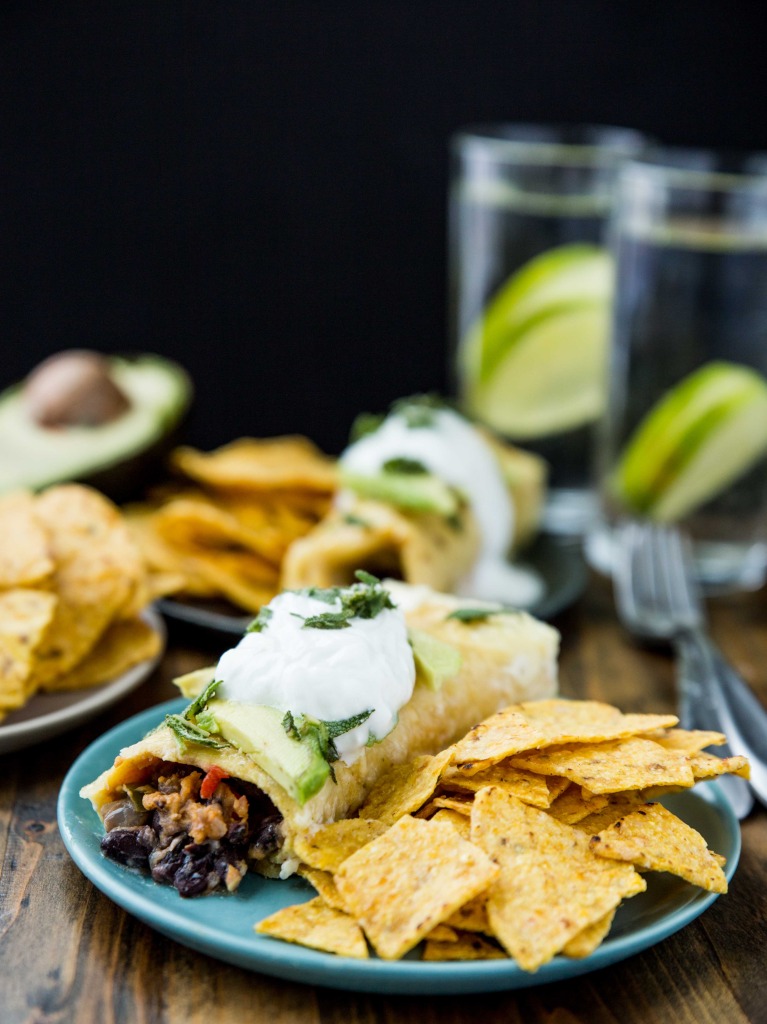 When Ryan and I meet new people, and they learn that I blog about food, they generally say to Ryan something along the lines of, "Lucky you! You must eat so much good food!"
Except he forgets to eat. Like, it'll be 8:00 at night, I'll ask what he ate during the day, and he'll look super pensive for what feels like a LONG time, and then realize he ate NOTHING.
I would not be functional. Actually, I would never be in that situation.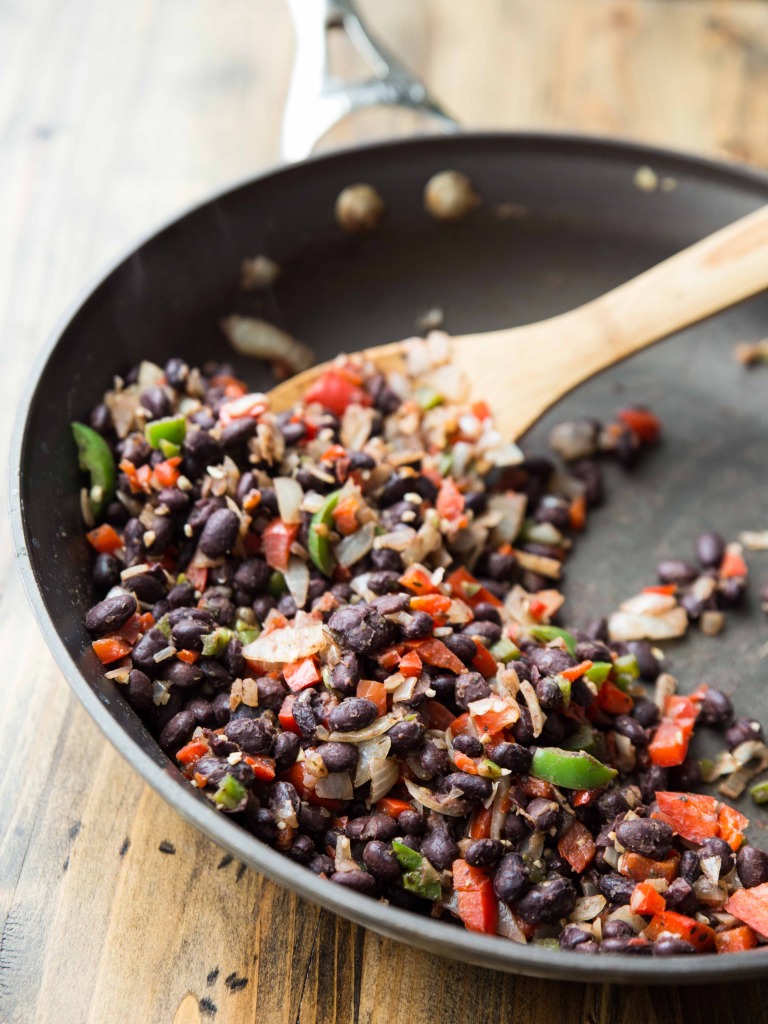 This, friends, is how I know these enchiladas are awesome: Mr. Forgets To Eat ate these twice a day, every day, until they were gone…and I made 2 batches of them.
I sort of knew he'd like these, because there's a white cheddar sauce, jalapeños, and an enchilada is basically a stuffed tortilla, and we all know how he feels about food stuffed inside of food. I just didn't expect him to like them enough to remember to eat them without being reminded because, well, that never happens.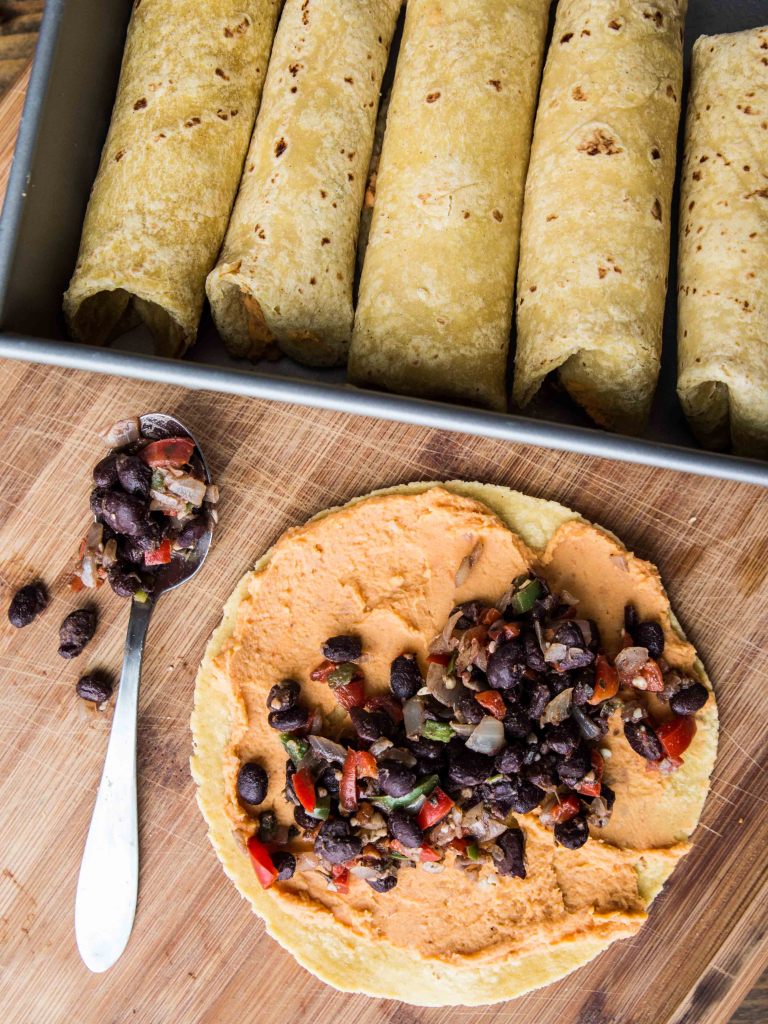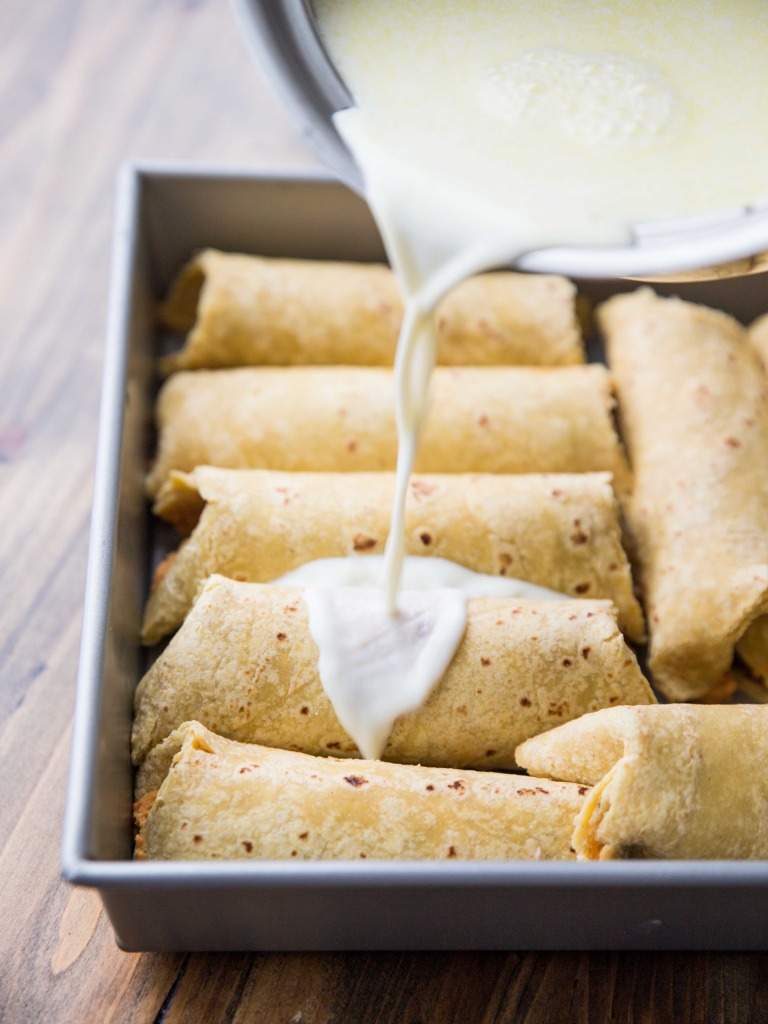 I also ate these every day until they were gone, although I never eat the same food twice in a day (unless we're talking about dessert, because YES). There are so many levels of flavor going on inside each little enchilada: creamy chili-spiced sweet potato and pinto bean spread, garlicky black beans with red bell peppers and jalapeños, and a rich white cheddar sauce. Bake it up all bubbly, and then serve it with a dollop of cool Greek yogurt or sour cream, and some fresh cilantro or sage (we LOVED sage with these).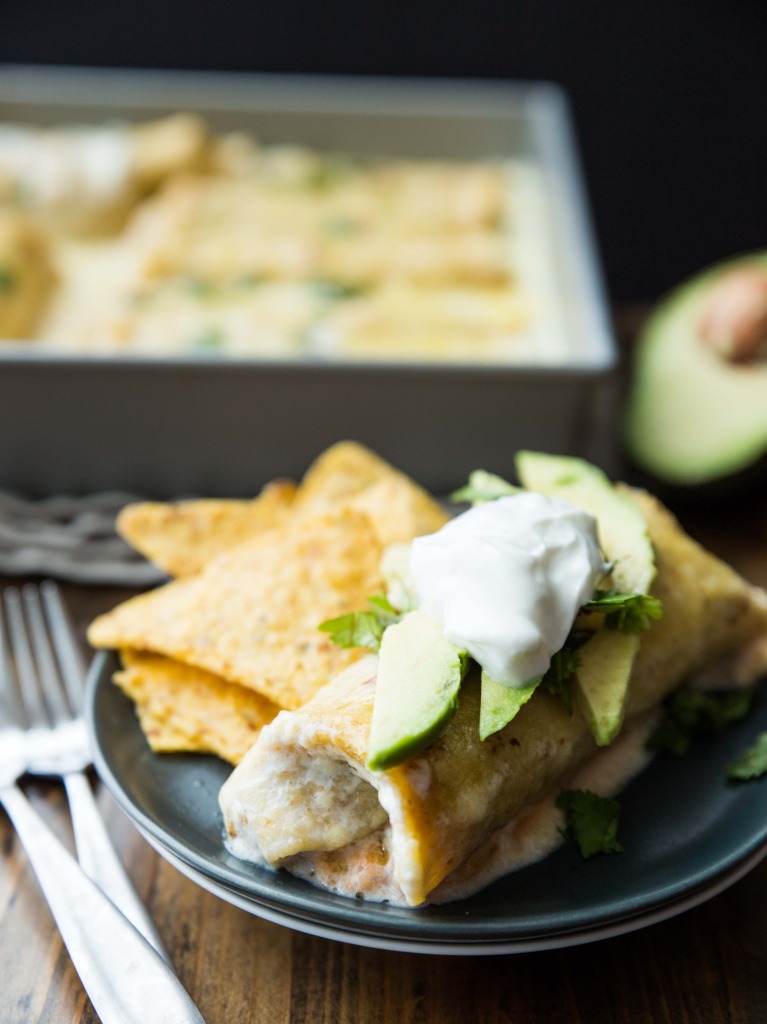 Ryan ate two enchiladas at every sitting, but I stuck with one because they're quite filling, and also I liked having a handful of tortilla chips on the side. They would also be great with a side of spanish quinoa – especially if you scoop up some of that cheddar sauce with the quinoa – mmmmmmmYES.

Sweet Potato, Pinto and Black Bean Enchiladas with White Cheddar Sauce
Vegetarian enchiladas made with a chili-spiced sweet potato and pinto spread, black beans, and a rich white cheddar sauce.
Yield: 8 enchiladas
Prep Time: 20 minutes
Cook Time: 30 minutes
Total Time: 50 minutes
Ingredients:
Chili-Spiced Sweet Potato and Pinto Bean Spread
1 sweet potato
1 cup pinto beans
1/4 teaspoon salt
3/4 teaspoon chili powder
1/4 cup 2% Greek yogurt
1 tablespoons olive oil
White Cheddar Sauce
1/2 tablespoon olive oil
1/2 tablespoon flour
2 cups 2 % milk
½ teaspoon salt
2 ounces sharp white cheddar, shredded
Black Bean Enchiladas
½ tablespoon olive oil
2 cloves garlic, minced
1/2 yellow onion, diced
1/4 teaspoon sea salt
1 red bell pepper, diced
1 jalapeño, diced
1 (15-ounce) cans black beans, rinsed and drained
½ teaspoon dried basil
1 teaspoon ground cumin
2 ounces sharp white cheddar, shredded
8 small corn tortillas
Fresh sage and/or cilantro, for topping
Directions:
Preheat oven to 350 degrees.
Poke several holes in the potato with a fork, and microwave on high for 3-4 minutes, until tender. Push through a potato ricer into a food processor. If you don't have a potato ricer, peel the potato before microwaving, and after microwaving, slice into chunks.
Add the pinto beans, salt, chili powder, Greek yogurt, and 2 tablespoons olive oil to the food processor. Process until smooth.
For the cheddar sauce, heat the olive oil in a medium pan, and whisk in the flour and cook for 30 seconds. Pour in the milk and salt, and bring to a boil. Cook for 5 minutes, whisking constantly, until thickened. Remove from heat and whisk in the cheese.
For the filling, heat 1/2 tablespoon oil in a large skillet over medium heat. Add the garlic and cook for 30 seconds, and then add the onion and salt, and cook for 2-3 minutes, until soft. Pour in the black beans, red bell pepper, jalapeño, and all spices, and cook for 5-7 minutes minutes, until the peppers start to soften slightly.
Spread a couple tablespoons of the sweet potato mixture on each tortilla, and top with the bean/pepper mixture. Roll up tight, and place seam-side down in a greased 9x9-inch pan.
Pour the cheese sauce over the rolled enchiladas, and top with remaining 1/2 cup cheddar.
Cover the pan with foil and bake for 20 minutes, then bake uncovered for 10 minutes.
Serve with a dollop of sour cream/Greek yogurt, avocado, and fresh cilantro.
I used a 9x9 square pan, which was a little tight. If you're having trouble fitting your enchiladas in a square pan, use a 9x13 - that'll work fine.
I used small corn tortillas for these, because I like the texture, but you can definitely use whole wheat or regular flour tortillas if you prefer. They will likely be a little larger, so you'll want to make them in a 9x13 pan.
Gluten Free Option: Sub 1 tablespoon plus 1 teaspoon gluten free flour for the 1 tablespoon flour called for in the recipe.
Nutrition Information: Serving Size: 1 enchilada, Calories: 334, Sugar: 6.0g, Sodium: 425mg, Fat: 11.3g, Saturated Fat: 4.7g, Carbs: 42.8g, Fiber: 8.3g, Protein: 16.0g, Cholesterol: 21mg
10 Responses to "Sweet Potato, Pinto and Black Bean Enchiladas with White Cheddar Sauce"
Pingback: Meal Planning | Quiet Jubilation