Whole Wheat Ginger Cutout Cookies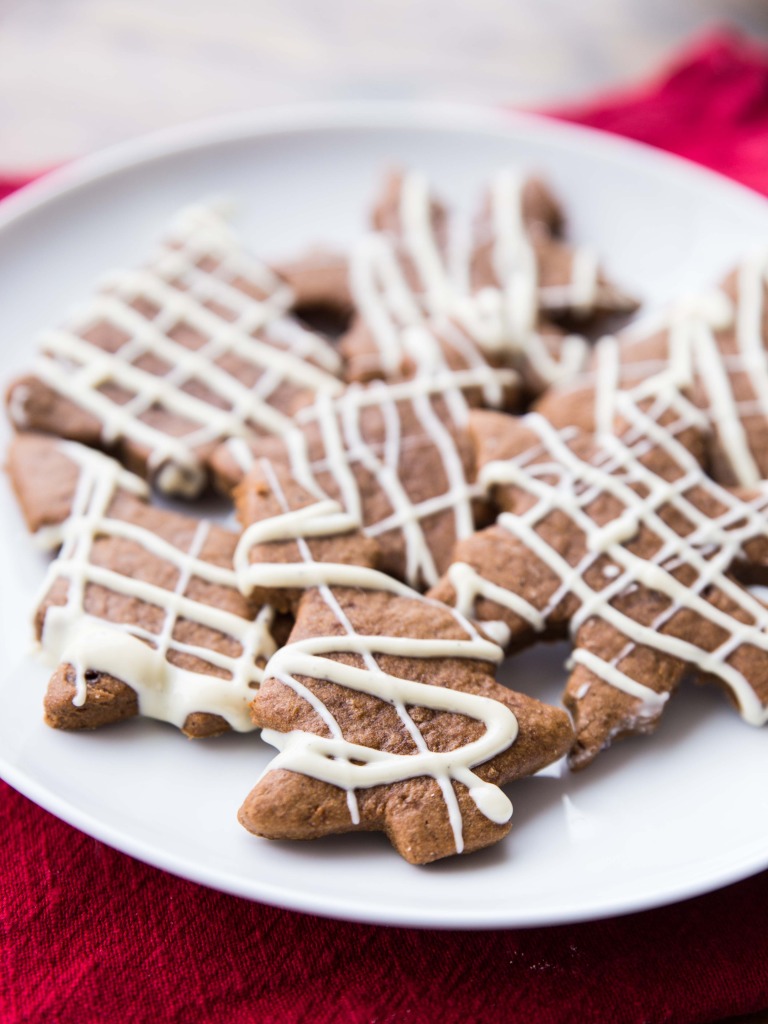 This blog is about to be overtaken by cookies. Something just comes over me during Christmas.
As in, I've baked cookies 3 times in the past 5 days. Holy intense Christmas love, batman.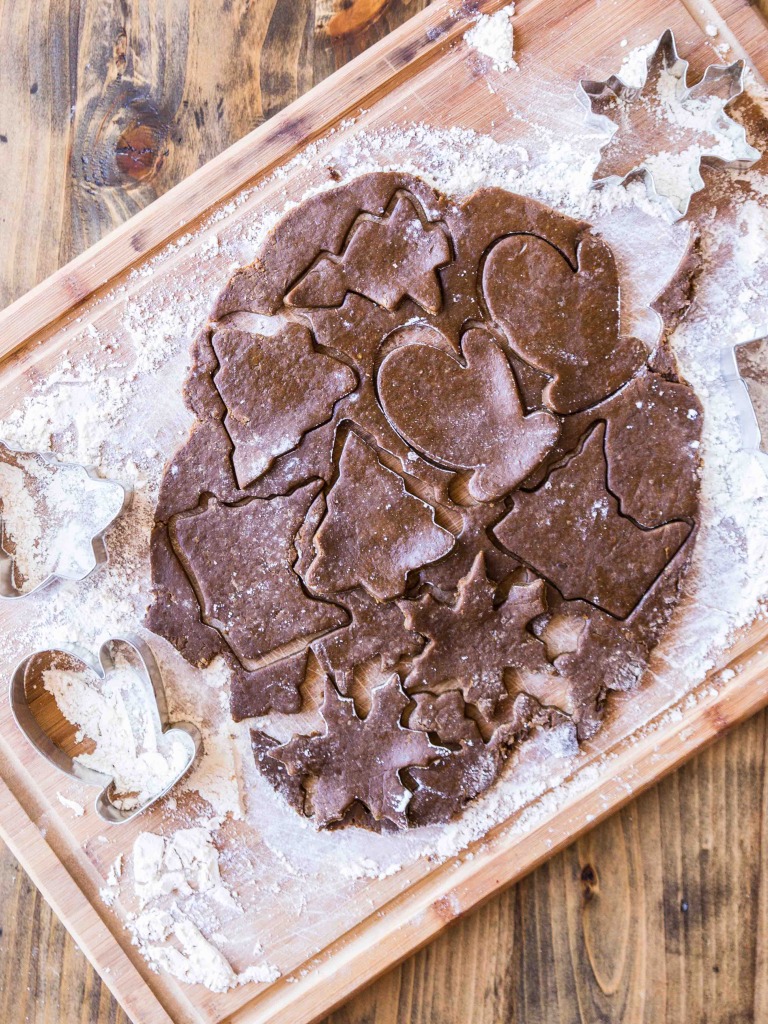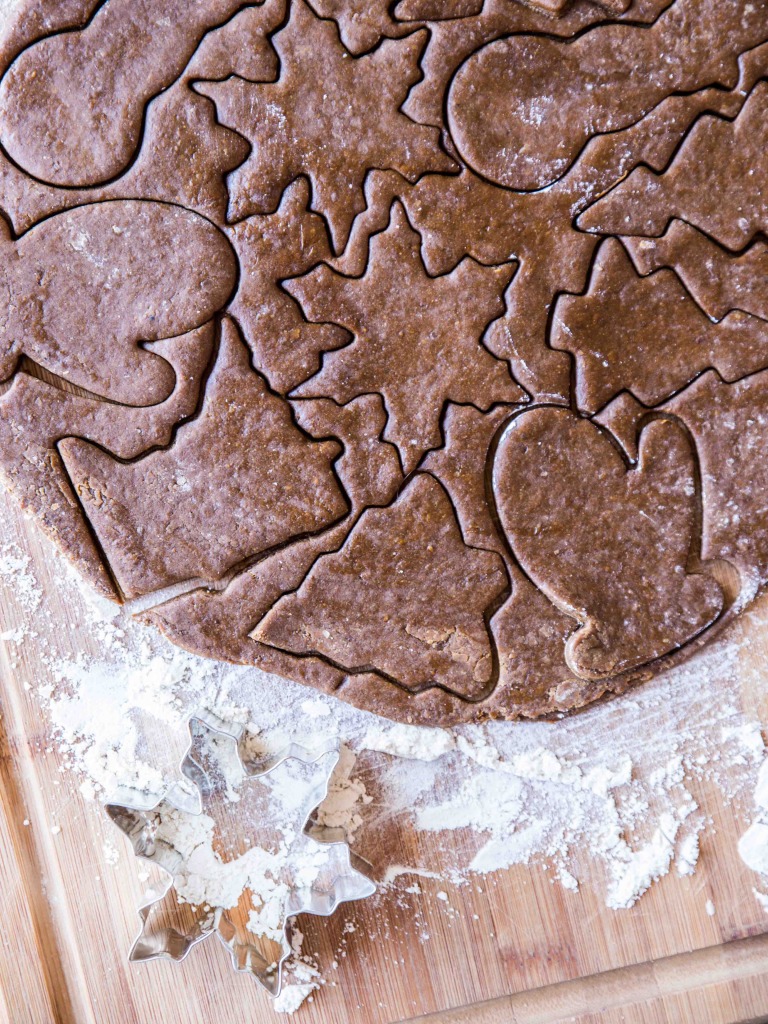 I wanted to kick the season off right with a family fave: ginger cutout cookies. We make cutout cookies every year, both the regular sugar and ginger varieties, and top them with sugary glaze and colorful sprinkles. Cookies full of white sugar and white flour were the only cookies welcome at my family's Christmas until last year, when I made whole wheat coconut oil cutout cookies. These cookies are like those, but vegan-friendly and full of rich molasses and spices.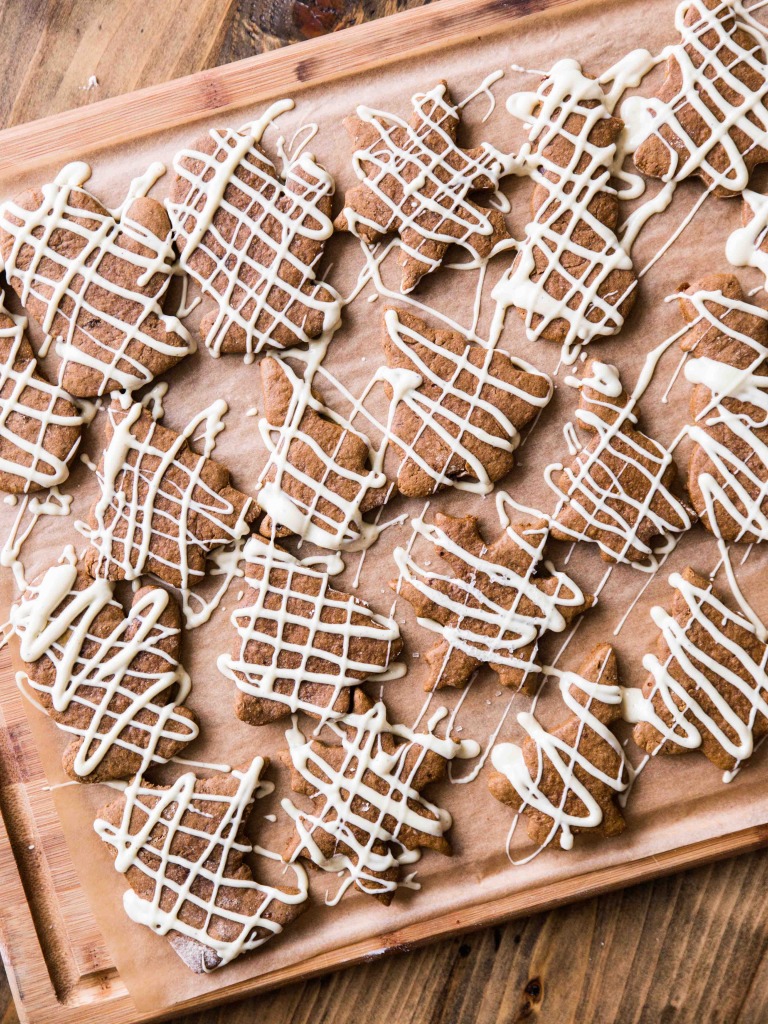 Like last year's version, these cookies have zero refined flour and sugar. I know that sounds crazy, but before you place these cookies in the no-fun zone, let me assure you that they're wonderfully chewy, sweet, and spiced just right. Whole wheat flour lends a nutty taste that works well with the ginger spices, and coconut sugar's subtle hint of caramel mixes with the molasses to create deep flavor magic.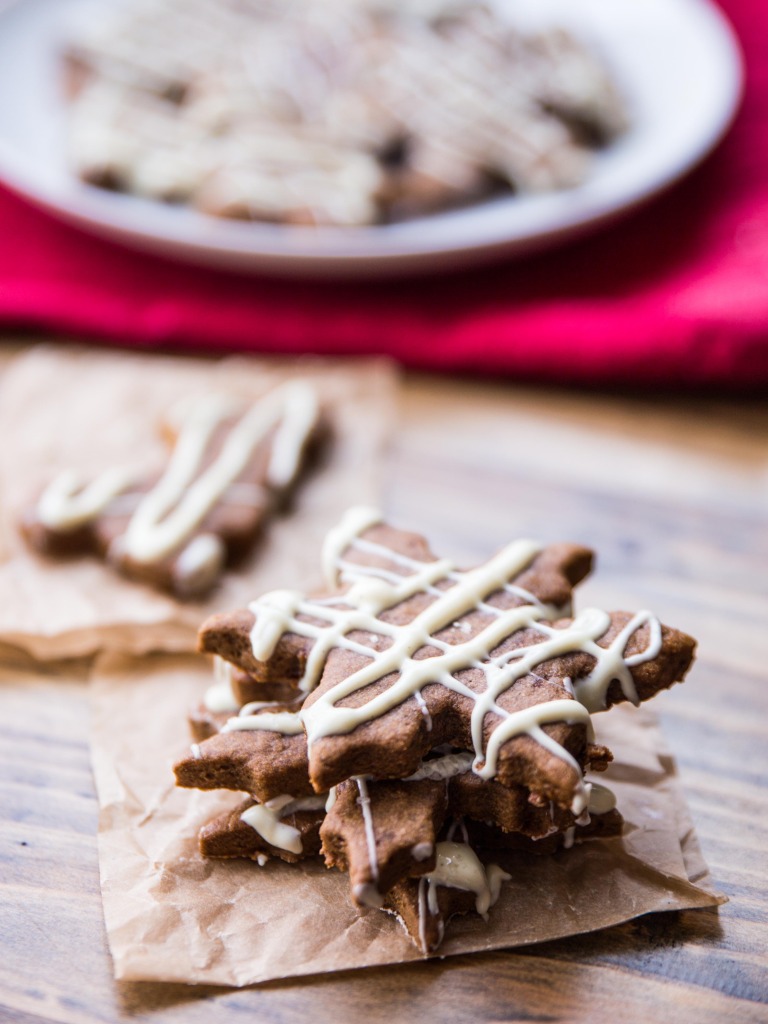 These may be considered better-for-you cookies, but don't forget that you can trash them up with whatever glaze you like. Healthier glaze? Sure. Straight up white chocolate drizzle? Shhhuuuuure.
These cookies are easy to put together, fun to make, and will satisfy your need for a holiday-themed, sweetly spiced chewy cookie.
On another note, Ryan pointed out to me all-too-late that thin snowman cutouts, although cute in theory, bake up quite phallic. You've been warned.


Whole Wheat Ginger Cutout Cookies
Ginger cookies made without refined sugar or flour! Sweet, chewy, and spiced just right.
Yield: 25 cookies
Prep Time: 15 minutes
Cook Time: 8 minutes
Total Time: 23 minutes
Ingredients:
½ cup coconut oil, melted
3/4 cup coconut sugar
¼ cup molasses
1 teaspoon vanilla extract
2 flax eggs, or 2 chicken eggs
2 1/2 cup whole wheat pastry flour (see note)
2 teaspoons ground ginger
1 teaspoon ground cinnamon
½ teaspoon ground cloves
1/2 teaspoon salt
½ teaspoon baking powder
Directions:
Preheat oven to 350
Whisk together the coconut oil and sugar. Add the molasses and vanilla extract and mix well, then whisk in the eggs.
In a separate bowl, stir together the flour, spices, salt, and baking powder. Gradually add the dry to the wet ingredients, until fully incorporated
Shape the dough into a ball, and roll out into 1/8" thickness. Use cookie cutters to cut out shapes. Place cookies on a parchment lined baking sheet. Press the scraps together into another ball, and cut out more cookies, Repeat until you've used all the dough
Bake on a parchment-lined baking sheet for 8-9 minutes. Let sit on the cookie sheet for 2-3 minutes, then transfer to a cooling rack to cool completely.
Once cooled, top with your favorite icing, melted chocolate, etc.
If you're weary of 100% whole wheat cookies, I would recommend using half whole wheat pastry flour and half unbleached all purpose flour.
Nutrition information is a rough estimate for 1 cookie without any glaze. Obviously cookie sizes will vary depending on the cutouts you use.
Nutrition Information: Serving Size: 1 cookie, Calories: 117, Sugar: 7.6g, Sodium: 48mg, Fat: 4.8g, Saturated Fat: 3.8g, Carbs: 17.4g, Fiber: 1.4g, Protein: 1.3g, Cholesterol: 0mg
11 Responses to "Whole Wheat Ginger Cutout Cookies"