Spicy Nacho Kale Chips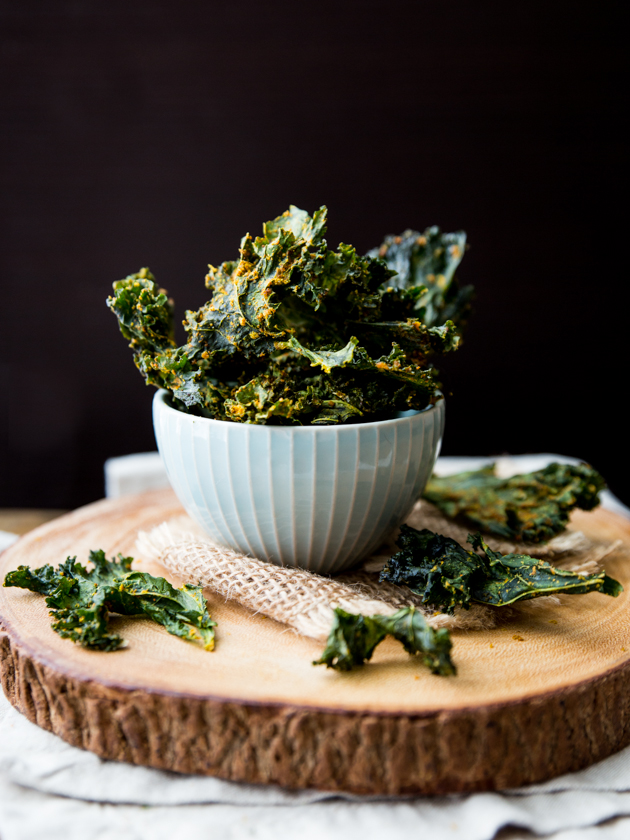 Hi hello! Happy week after Christmas. I hope you all had a wonderful holiday if you celebrated, or at least some time off of work to spend with your favorite people. I had a lovely relaxing week of family, friends, and cookies. So. many. cookies.
The day after Christmas, I went to the co-op and checked out with an embarrassing amount of vegetables. I was craving greens like whoa, while still craving peanut butter blossoms. confusing.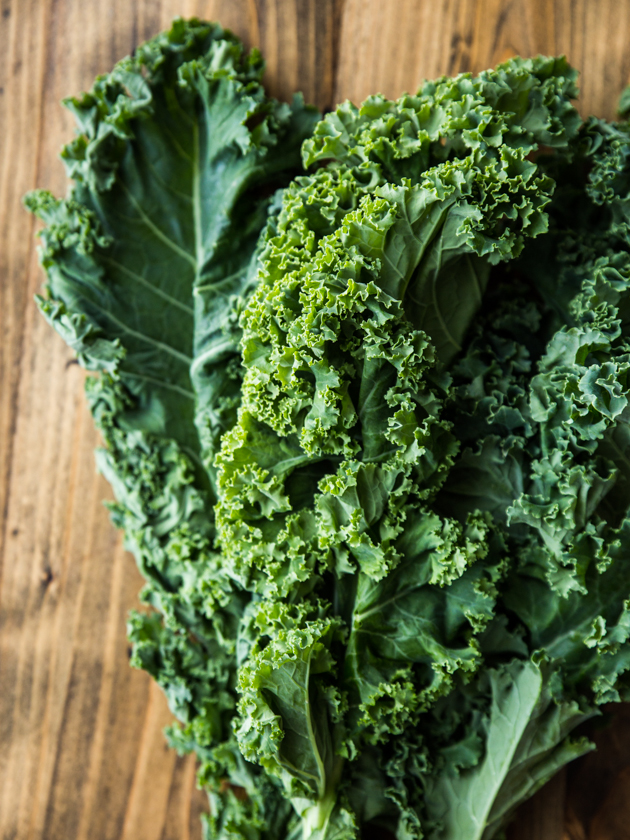 I made several greens-focused recipes over the past few days, and thought I'd start out the week after Cookiemas with some healthy (yet-ridiculously addictive) kale chips. Fitting, since I've been alllll about chips lately.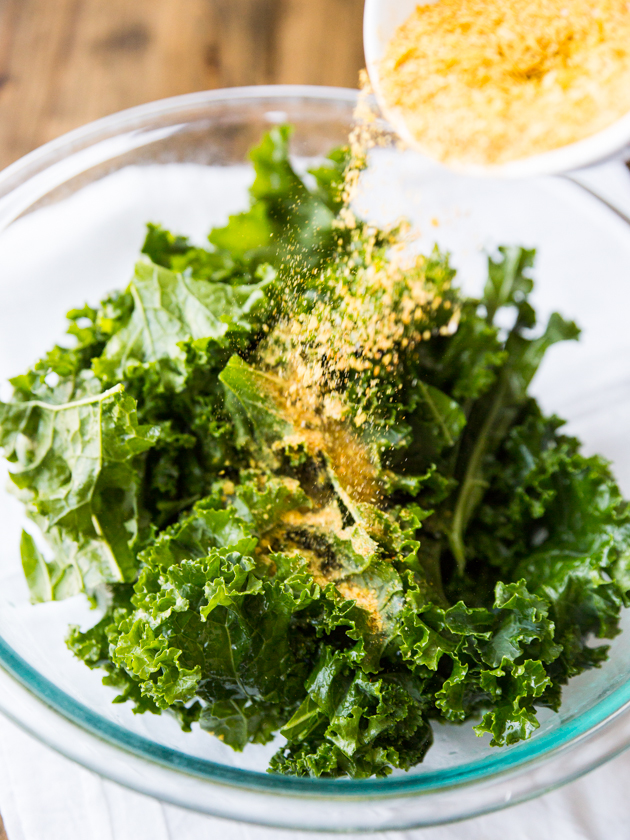 If you haven't had kale chips, they are a perfect healthier option for salty, crunchy cravings. I've been making them for a couple years now, and cannot keep myself from eating the entire batch (as long as Ryan isn't home to steal some). For this reason, the recipe today is a single serving (a HUGE single serving), because let's be honest – no one is going to stop at half the batch. If you do, you're stronger than I am.
Since kale chips are easy to make at home, I rarely buy the overpriced pre-packaged variety. Until, of course, I saw "Zesty Nacho" kale chips at Trader Joe's. Intrigued, I bought them, opened them in the car, and proceeded to eat the entire bag. They were cheesy, crunchy, and tastier than I ever expected.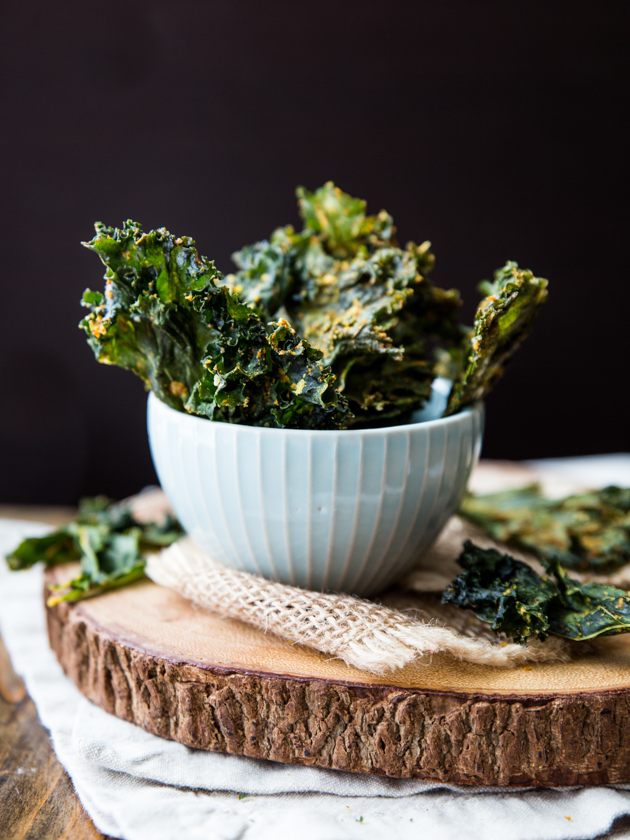 After looking at the ingredients on that package, I decided I had to make my own version at home. It seems as through Trader Joe's uses blended sunflower seeds to create a sort of cheese sauce, but I kept things a little easier by using nutritional yeast, salt, and tons of spices: onion powder, garlic powder, chili powder, cumin, cayenne, and turmeric (for a little extra nacho color).
The result is a POW nacho flavor, and oh-so-very healthy. Like, obscenely healthy. As in, 200 calories, 10g fiber, 15g protein, and so many nutrients I won't even bother to list them here.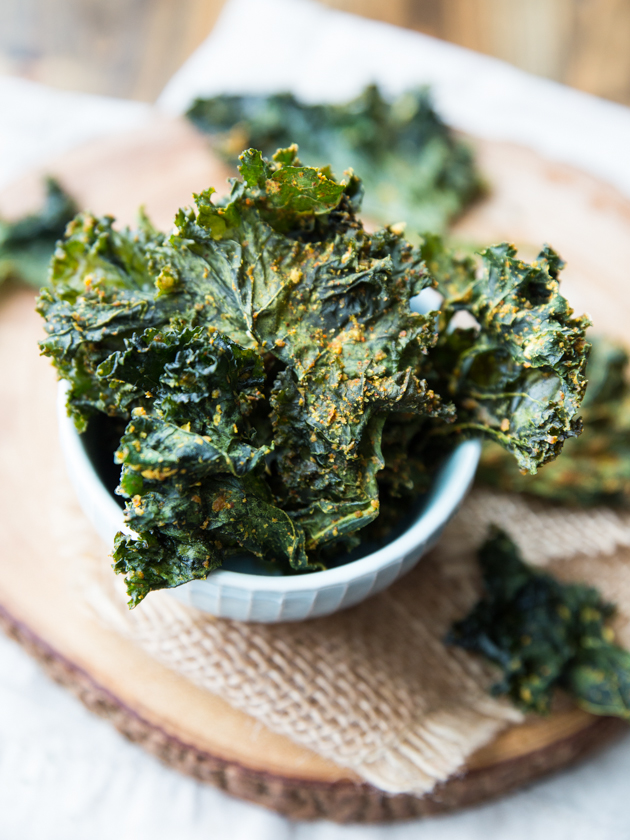 We like heat in this house, so I used a hefty dash of cayenne. If you're not into spicy, use half or just leave it out. I made them without the cayenne before, and they're still perfectly nacho-y and flavorful.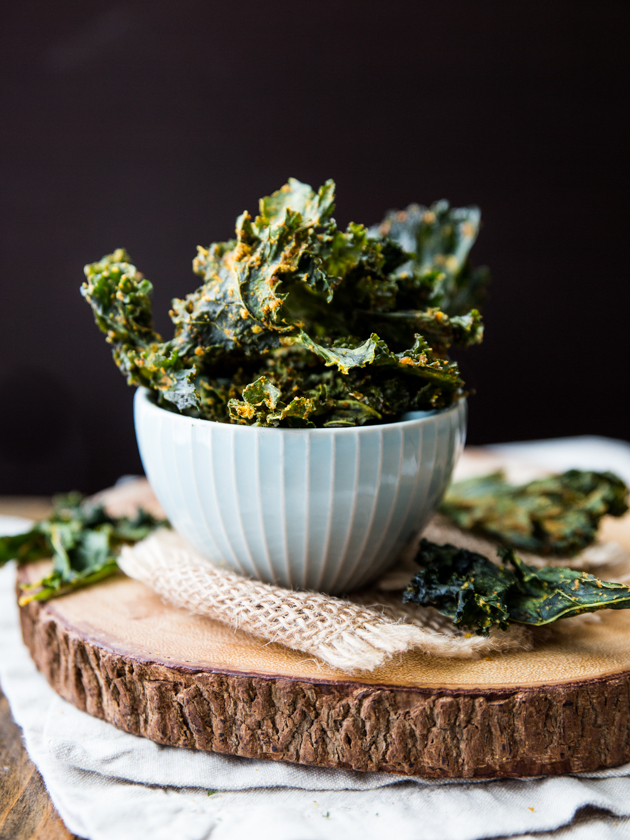 I still love my potato chips, of course, but it is great to have a healthy, easy-to-make alternative for at-home chip cravings. Let me know if you try these!

Spicy Nacho Kale Chips
Crispy, cheesy, and super healthy kale chips! Full of protein, fiber, nutrients and nacho flavor.
Yield: 1 serving
Prep Time: 5 minutes
Cook Time: 25 minutes
Total Time: 30 minutes
Ingredients:
½ bunch curly green kale (~5 large leaves)
1/2 tablespoon olive oil
2 1/2 tablespoons nutritional yeast
½ teaspoon garlic powder
½ teaspoon onion powder
½ teaspoon chili powder
¼ teaspoon turmeric
¼ teaspoon ground cumin
¼ teaspoon sea salt
¼ teaspoon ground cayenne
Directions:
Preheat oven to 300.
Slice each leaf along the stem, and then cut into 2-inch pieces. Wash and thoroughly dry. Pour on the olive oil, and use your hands to massage the olive oil into each leaf.
Combine remaining ingredients in a small bowl, then pour over the kale, and use your hands to mix the spices among all of the leaves.
Spread the kale in a single layer on a large parchment-lined cookie sheet. Bake for 12 minutes, turn the cookie sheet, and bake for another 12-14 minutes. Let sit on the cookie sheet for 2-3 minutes before enjoying.
Nutrition Information: Serving Size: Full recipe, Calories: 205, Fat: 10.4g, Saturated Fat: 1.4g, Cholesterol: 0mg, Sodium: 541mg, Potassium: 1166mg, Carbs: 19.2g, Fiber: 10.2g, Sugars: 2.2g, Protein: 15.5g
22 Responses to "Spicy Nacho Kale Chips"
Pingback: Kale Recipes

Pingback: Nyttiga snacks | Allers

Pingback: Goda nyttiga snacks | Residence