Chewy Coconut Oatmeal Chocolate Chip Cookies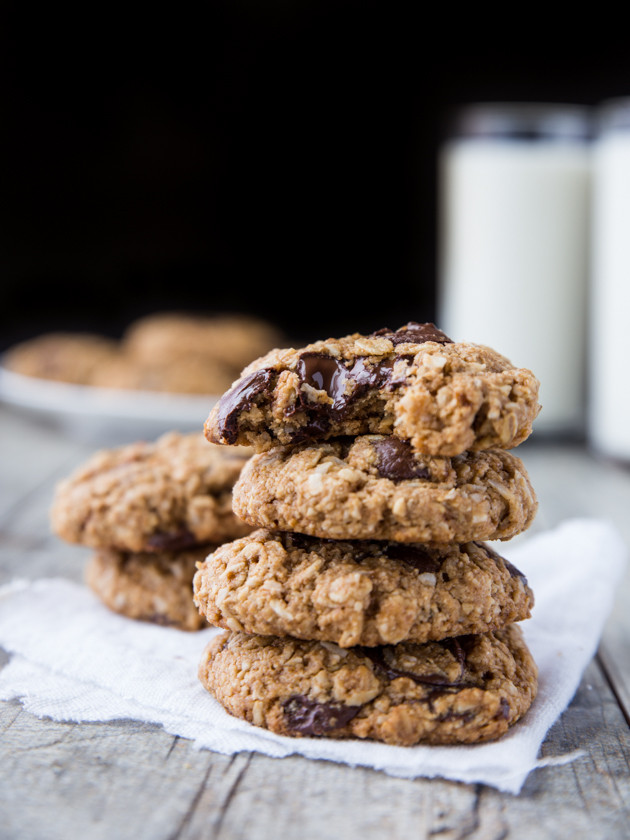 There have been some changes to this blog recently, and while I realize you probably didn't notice, on the off-chance that you did, I want to give some context to those changes.
First off – I have many new vegan followers (hi! I'm so happy you're here!) because I've been posting more vegan recipes lately, such as the one today (which I love, btw). To be totally transparent, I want to be clear that I am not completely vegan, but over the past several months I've eaten vegan meals and desserts probably 75% of the time. My family thinks that this change is a short-lived phase, and it very well might be, but it seems inauthentic to post things I'm not 100% excited about and ready to devour at any moment, ergo (did I just say 'ergo'? yikes) the content on this blog has reflected my vegan shift.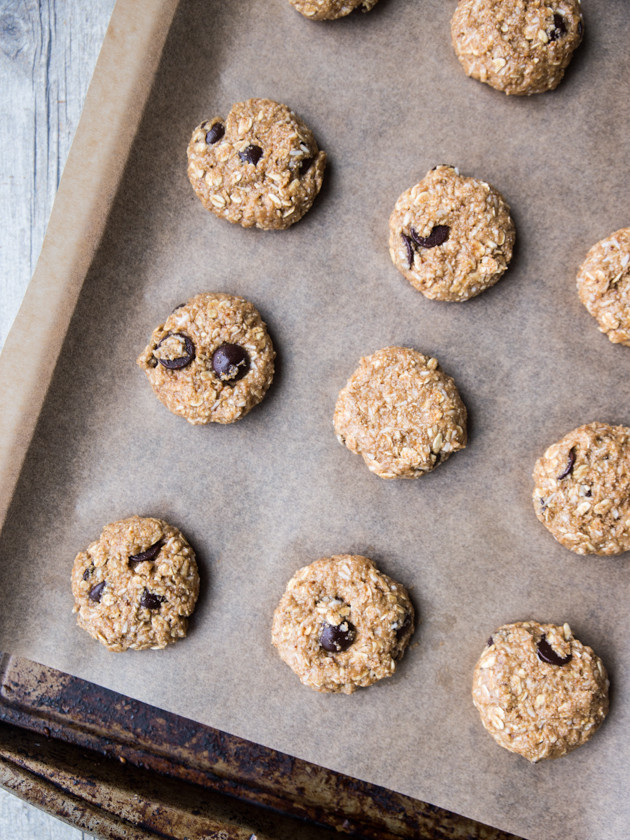 I think that I will continue to be an almost-vegan for a while, because dairy and eggs don't interest me much at the moment, but since I'm not completely vegan there will likely still be some dairy and eggs showing up from time to time. I'm not a big fan of labels, so I hope you guys will accept the midway-me for the time being.
On that note, have any of you vegetarians tried the vegan route, or vice versa? Any vegans have some insights to share? My food self is very confused…and hungry.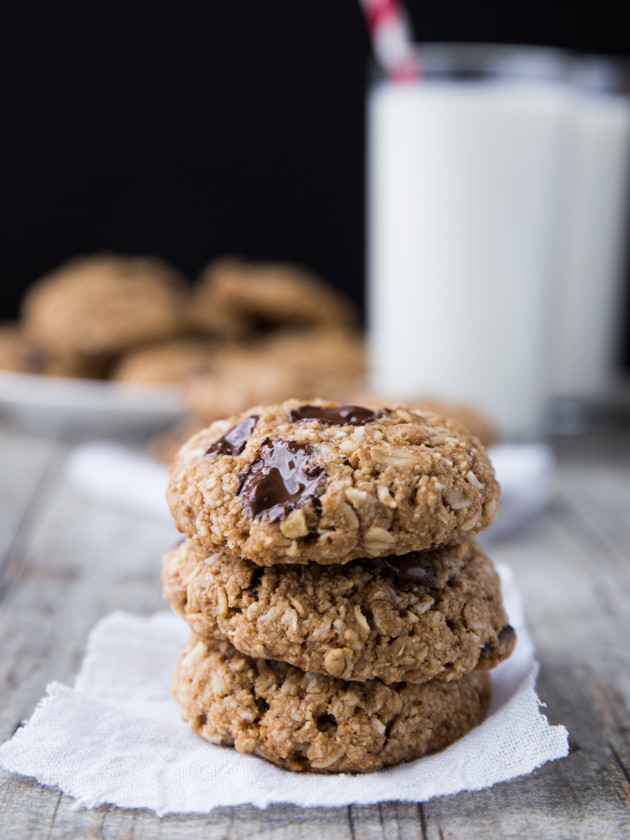 Now that we've cleared that up (ahem), let's talk about nutrition information. I started including those stats after I wrapped up the cookbook, but I really struggled with that decision. I have been that girl that's been obsessed with calories and fat, and the exercise it would take to burn off even the smallest indulgence. I know from experience that the obsessive thinking is not only very exhausting and hurtful, but it also takes the fun out of eating, and since eating is AWESOME, I didn't want to support any kind of post-meal or dessert guilt.
While writing the cookbook, however, my co-author Kristen provided nutrition stats that surprised me – I was a couple years removed from my tiresome nutrition stat obsession, in fact I actively avoided them, but I realized that meant I really had no idea what numbers were in my food. I don't really pay attention to calories anymore, but Kristen made me realize I had no insight into the sodium, carbs, or sugars I was consuming, and I personally wanted that information because I believe in embracing what you are eating, which means knowing the facts. After that realization, I had trouble weighing my dislike of calorie-counting with my support of knowing your food – it resulted in a difficult dichotomy, but ultimately knowledge won out…funny how knowledge does that, eh?
I share nutrition stats NOT because I want people to count calories – the opposite, actually. I want people to know what they're eating, to know the information behind their food, and actively embrace it. Eat a cookie with oil and sugar and chocolate, and love every bite of it, because it's delicious real food that you made and should choose to enjoy with all the information in front of your face.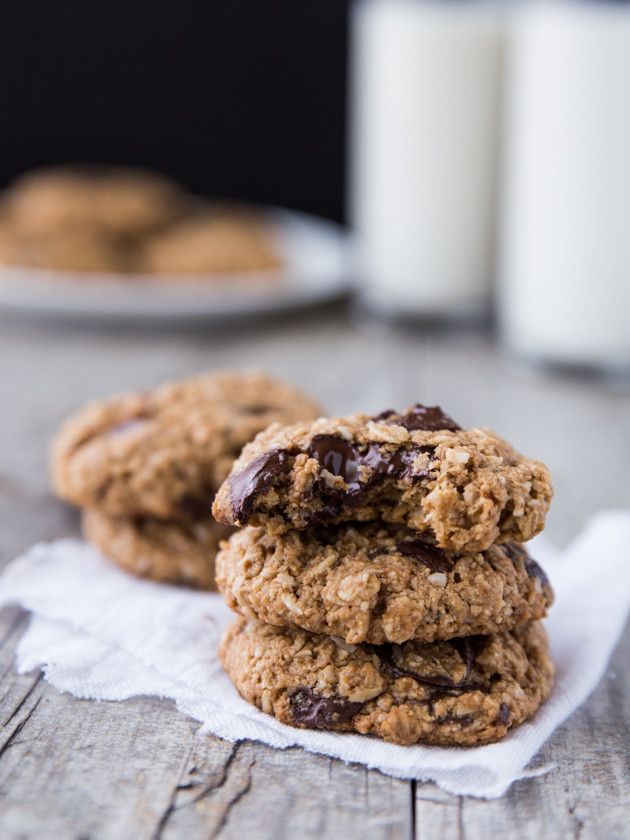 I figured there was no better way to share my nutrition philosophy than with one of my very favorite things: chocolate chip cookies. I've been eating these cookies every night for the past week, and yes, they stay soft for that long. These beauts are packed with chewy texture from oats and coconut, moisture from coconut oil, and hella-lot of dark chocolate chips. You can eat them straight out of your air-tight storage container, but I like them microwaved for 10-15 seconds so that chocolate gets drippy within those oat and coconut nooks and crannies.
Excuse me while I devour these calories, and love myself and my non-labeled diet with every bite.

Chewy Coconut Oatmeal Chocolate Chip Cookies
Thick and chewy cookies filled with oats, coconut, and melty chocolate chips! Easy to put together, plus they're vegan and gluten free!
Yield: 1 1/2 dozen
Prep Time: 10 minutes
Cook Time: 10 minutes
Total Time: 20 minutes
Ingredients:
2 1/2 cups gluten free old fashioned oats, divided
1/2 cup unsweetened finely-shredded coconut
1 teaspoons baking powder
1 teaspoon ground cinnamon
1/4 teaspoon sea salt
1/2 cup coconut oil, solid
1/2 cup coconut sugar
2 tablespoons maple syrup
1/4 cup unsweetened applesauce
1 flax egg (1 T ground flax, 3 T warm water, let sit 5 minutes)
2 teaspoon vanilla extract
1 teaspoon coconut extract
3/4 cup semisweet chocolate chips (dairy free if needed)
Directions:
Preheat oven to 375 degrees.
Place 1 1/2 cup of the oats in a food processor or blender and process until a fine flour forms. Pour into a bowl and mix with the remaining oats, shredded coconut, baking powder, cinnamon, and salt. Set aside.
Beat together the solid coconut oil and sugar. Mix in the maple syrup and applesauce, then stir in the flax egg and extracts.
Gradually add the dry ingredients to the wet ingredients, scraping down the sides as necessary. Fold in the chocolate chips.
Line a cookie sheet with parchment paper. Scoop out 2 tablespoons of cookie dough, shape into a ball, then flatten lightly with your hand (see picture #2 in post). Repeat with remaining dough.
Bake for 10-12 minutes, let sit on the cookie sheet for a couple minutes, then transfer to a cooling rack to cool completely.
If you have oat flour on hand, you may use 1 3/4 cup oat flour instead of blending 1 1/2 cup oats into flour.
If you want to lower the sugar in this recipe, you may reduce the chocolate chips to 1/2 cup, but I like chocolate :)
To make these gluten free, make sure your extracts are made with gluten free alcohol, or opt for an alcohol-free version.
Nutrition Information: Serving Size: 1 cookie, Calories: 192, Total Fat: 10.9g, Saturated Fat: 8.2g, Trans Fat: 0.0g, Cholesterol: 0mg, Sodium: 29mg, Potassium: 94mg, Total Carbohydrates: 23.0g, Dietary Fiber: 2.2g, Sugars: 12.7g, Protein: 1.8g
16 Responses to "Chewy Coconut Oatmeal Chocolate Chip Cookies"
Pingback: Vegan Chocolate Chip Cookies (12 Ways)