Simple Asparagus Ribbon and Leek Grilled Pizza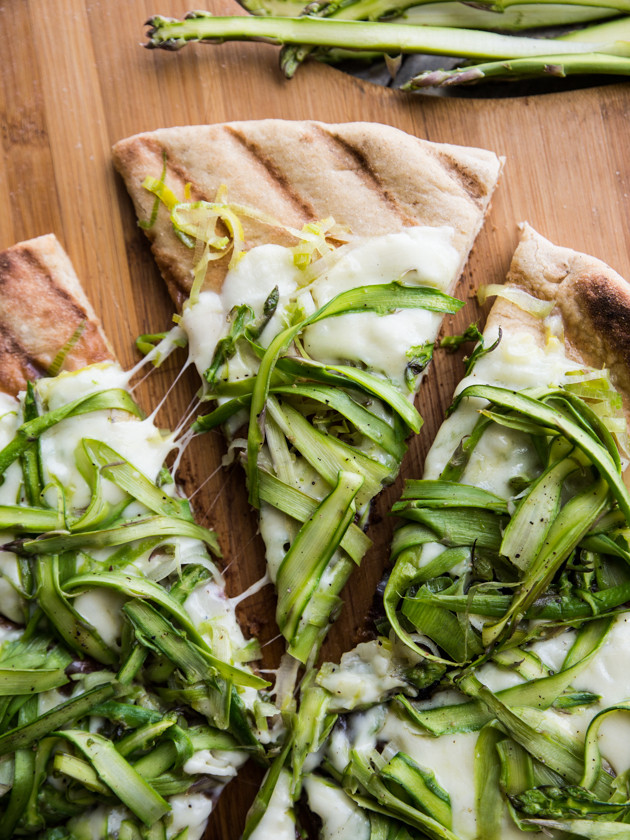 How great is spring? I've been falling back in love with our little patio, reacquainting myself with country music, and trying to learn the art of mixing summery cocktails. It's happening, guys! The hard Minnesota winters really force you to appreciate turning that springtime corner.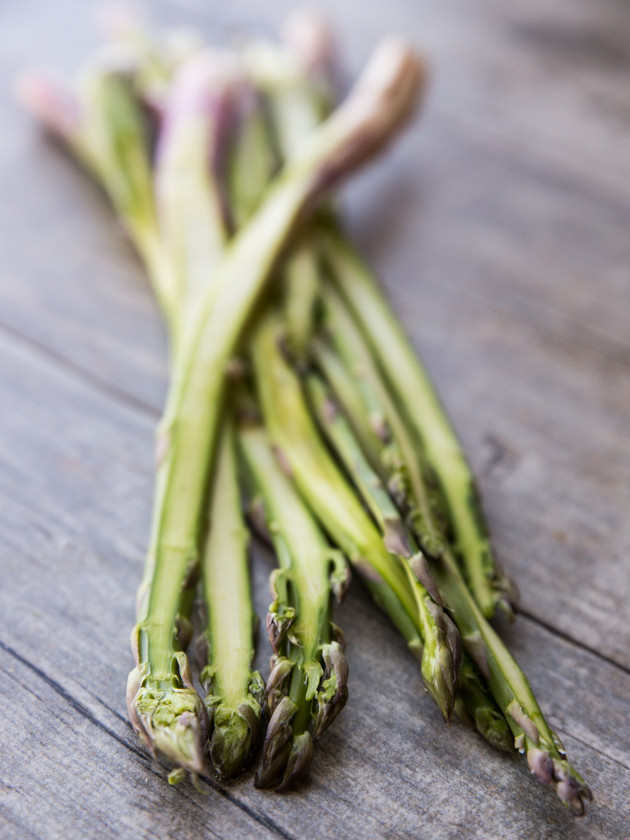 Also, I can't believe I haven't mentioned this yet, but Ryan and I will be enjoying some of our springtime in Paris! A couple of our friends are living there for a few years, so we're flying to Paris to spend some time with them, and will also be exploring the Champagne region (bubbles!), and Biarritz (beachy!). It's just four short weeks until I get to dust off my high school and early-college French skills (errm, I hope I my memory serves me well).
Although I'm sure the next month will feel rather slow because of anticipation, at least I have all the excitement of springtime to keep me occupied. I can do things like eat asparagus and grill pizza! Which is exactly what we're talking about today.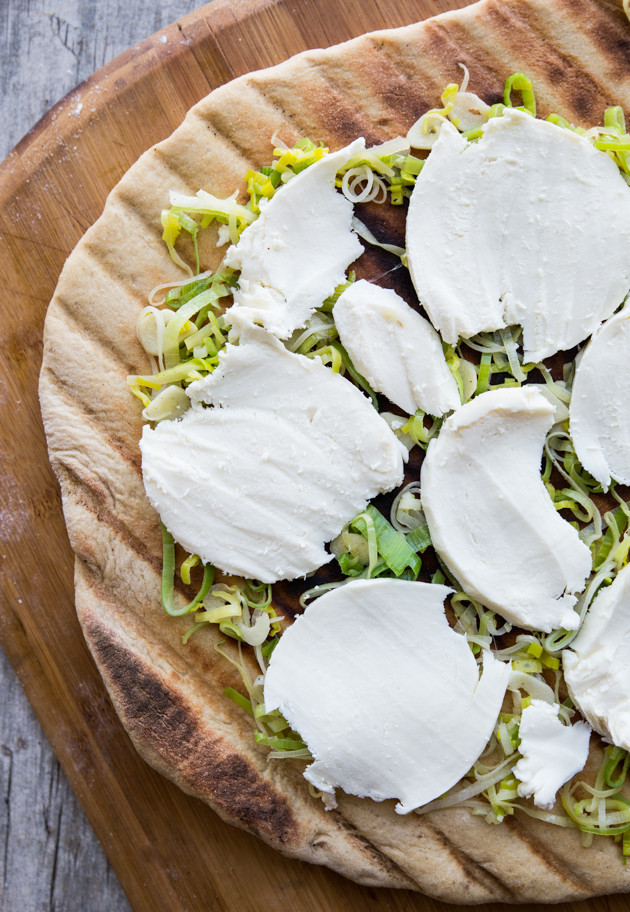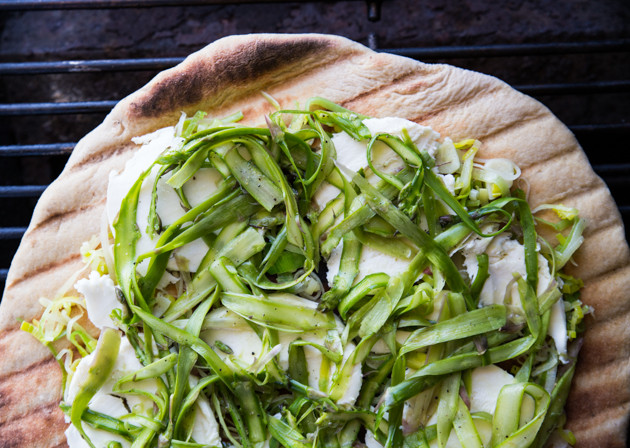 As far as springtime foods go, I'm not sure it gets any better than asparagus. Bright in color and flavor, asparagus takes very little work to make it desirable: olive oil, salt, pepper, and voila – pan fry or roast (or grill on top of pizza) for some quick springtime yums.
In this recipe, I shaved the asparagus spears into ribbons, lightly seasoned them, and piled them on top of fresh mozzarella and garlicky leeks. For several years I had a one-track RED SAUCE PIZZA mind, but these days I'm partial to the simpler white pies. In this case, the mozzarella melts into the buttery-tasting leeks, which work perfectly with the bright, fresh asparagus flavor. For the crust I used the whole wheat flax pizza crust from my book, but this whole wheat beer pizza crust would work as well.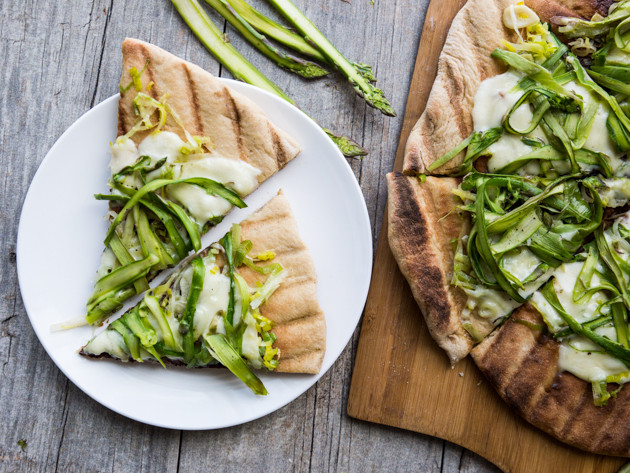 If you haven't grilled pizza before, I highly recommend you hone your skills before summer hits. Ryan and I grill pizza on the patio at least once a week when the weather is warm, and I love grilling pizza when friends come over – it's a fun group activity that results in some seriously delicious pizza.
Also, possibly more importantly, it gives me an excuse to keep hanging out on my patio and practicing my bartending skills.

Simple Asparagus Ribbon and Leek Grilled Pizza
A simple springtime grilled pizza made with garlicky leeks, fresh mozzarella, and lightly-seasoned asparagus ribbons.
Yield: 1 pizza (4 servings)
Prep Time: 15 minutes
Cook Time: 15 minutes
Total Time: 30 minutes
Ingredients:
Pizza
Your favorite pizza dough (I like this one)
1 teaspoon olive oil, divided
4 ounces fresh mozzarella, thinly sliced
Garlicky Leeks
1 teaspoon olive oil
2 cloves garlic, thinly sliced
1 leek, thinly sliced
1/4 teaspoon salt
Asparagus Ribbons
10-12 asparagus spears
½ teaspoon olive oil
¼ teaspoon sea salt
⅛ teaspoon black pepper
Directions:
Set your grill to medium-high heat. On a pizza peel or large cutting board, roll the dough into a 12-inch circle. Brush with 1/2 teaspoon of olive oil. Place the dough oiled-side down onto the grill, close the cover, and let cook for 3-5 minutes. Use a spatula to lift up one side of the dough and check the done-ness. On my grill set to medium-high, this takes about 5 minutes. Once it is grilled to your liking, transfer the dough back to the pizza peel and lower the grill heat to low. While the grill heat is lowering, prepare the toppings.
Wash and dry the asparagus, and then use a vegetable peeler to peel each spear into ribbons, getting as many ribbons out of each spear as you can (eventually you won't be able to peel any more, because there won't be enough stalk left - see pictures in post). Don't worry if they're not all the same size. You should end up with about 1 cup of asparagus ribbons, loosely packed. Add to a bowl and toss with 1/2 teaspoon olive oil, 1/4 teaspoon salt, and 1/8 teaspoon black pepper.
Heat 1 teaspoon olive oil in a small skillet. Add the garlic and cook for 30 seconds, then add the leeks and 1/4 teaspoon salt and cook, stirring frequently, for 3-5 minutes, until softened. Set aside.
Brush the un-grilled side of the dough with another 1/2 teaspoon of olive oil, and then flip so the grilled side is facing up. Top the pizza with the leeks, then the mozzarella, and then the asparagus ribbons.
Transfer the pizza back to the grill (remember the heat should be lower!), close the lid, and let cook for about 10 minutes, until the bottom of the pizza is golden, and the cheese is melted. Cut into 8 slices and serve.
Since you're peeling the asparagus into ribbons, heartier/thicker spears work better for this recipe than the thin and delicate ones.
Want to know more about grilling pizza? Check out my step-by-step tutorial here.
Nutrition Information: Serving size: 2 slices (1/4 pizza), Calories: 304, Total Fat: 10.1g, Saturated Fat: 3.7g, Cholesterol: 15mg, Sodium: 678mg, Potassium: 358mg, Total Carbs: 41.0g, Dietary Fiber: 6.5g, Sugars: 5.7g, Protein: 16.1g
5 Responses to "Simple Asparagus Ribbon and Leek Grilled Pizza"
Pingback: I'M SO FANCY asparagarse | HaveVin?