Buffalo Chickpea Sweet Potato Burgers with Whipped Feta Garlic Sauce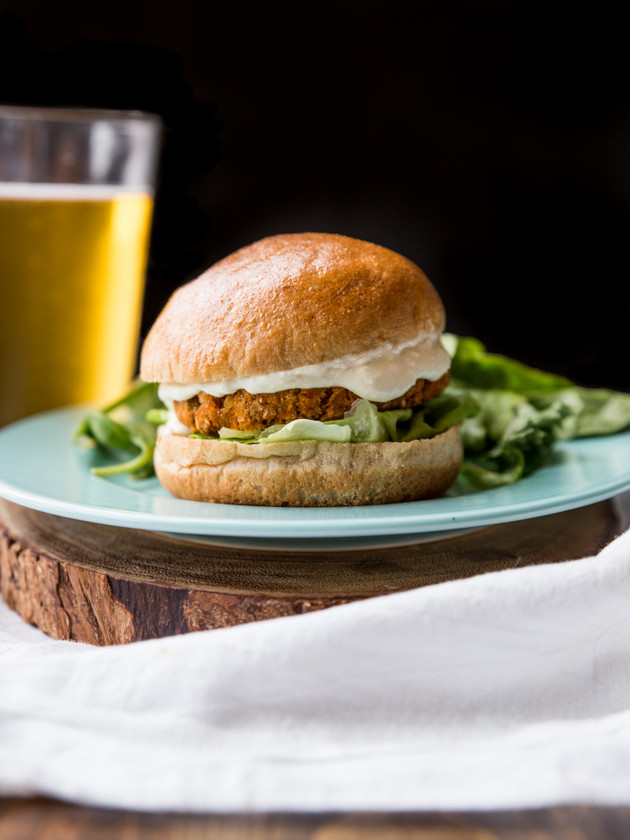 You know when people are grilling out in the summer, and you're a vegetarian so you're like, "Sure, I guess I'll have the hockey-puck frozen veggie burger so I can partake in the grilling too," which makes you feel all whomp whomp? Or when you have a delicious homemade veggie burger ready to go, but you need to turn on the oven in your hotter-than-hell apartment because your patties won't hold up on the grill?
Not any more, friends!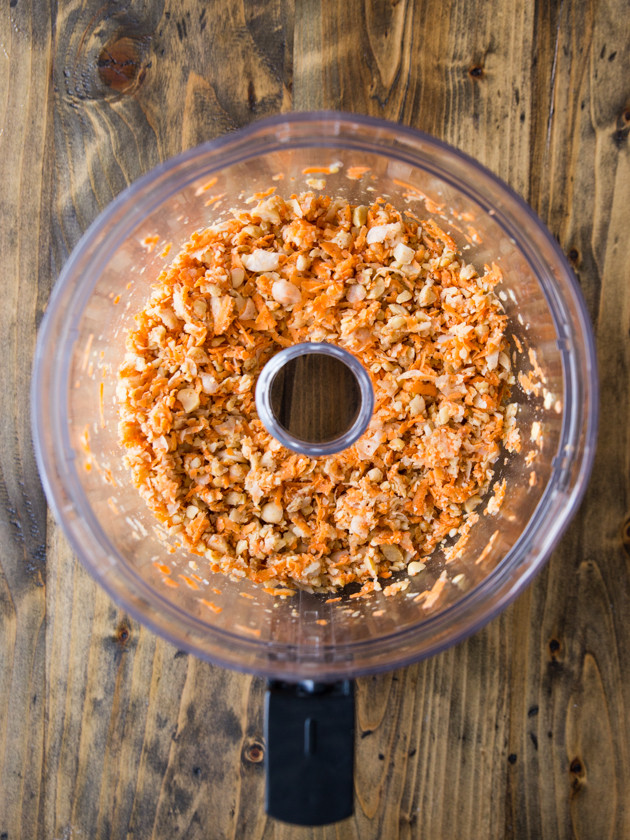 Last week, after our first-ever tennis match together (despite talking about playing for the past five years), Ryan suggested we take advantage of the gorgeous evening and grill out. He made this impressive chicken breast stuffed with herbed goat cheese and wild asparagus. I, on the other hand, grilled marinated tofu, which turned out great, but felt a little mundane compared to its neighboring masterpiece.
Since vegetarians can have grilling fun too (beyond grilled tofu and vegetables, obvi), I made it my goal for the weekend to create a burger full of exciting flavors, that would be strong enough to hold up on the grill.
The levels of flavor in this burger are insane. Chickpeas and shredded sweet potato make up the base of the patty, and buffalo sauce and chili powder add some smoky heat. The binder, which is key when you're grilling, is ground up chia seeds mixed with warm water. A chicken egg *may* work as well, but I've found that when it comes to burgers and fritters, chia seeds are where it's at. To soak up some of the moisture and help firm up the patties, I added 3/4 cup of flour. I opted for garbanzo bean flour in order to keep these guys gluten free, but any flour should work. You then form the patties, and freeze them for 30 minutes to help them firm up.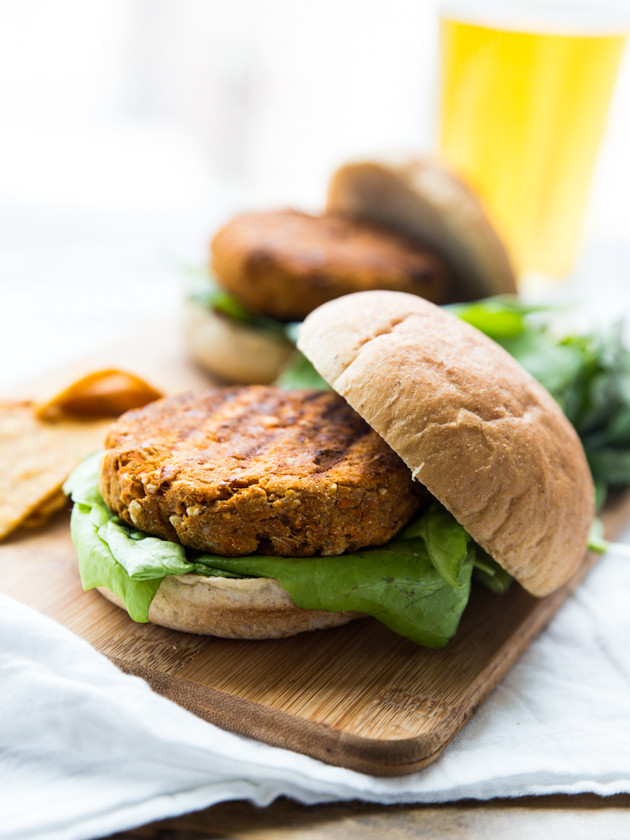 When the patties are freezing, microwave some crumbled feta for 20 seconds to prep it for whipping. Transfer the feta to your food processor, and let the machine work its magic until the finest of crumbles remain. Add in a little garlic and some Greek yogurt, and run the processor until the mixture is properly whipped into a smooth sauce. If using it right away you'll have a creamy, melty sauce. If you refrigerate it before using you will have more of a spread – either way works wonderfully with these burgers.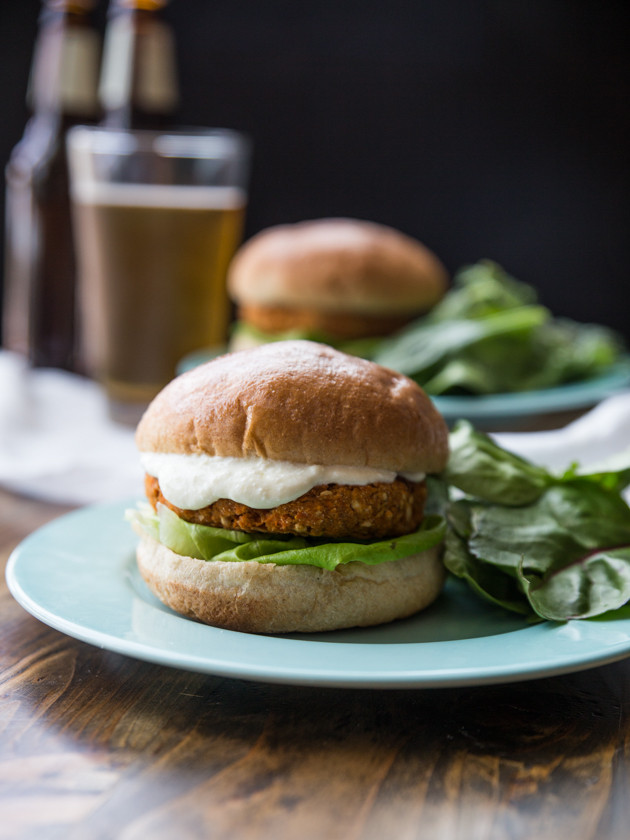 I've been eating these burgers on whole grain buns and salads this week, but they also would work great wrapped up in some big bibb lettuce leaves with the feta sauce and some halved cherry tomatoes and chopped red onion.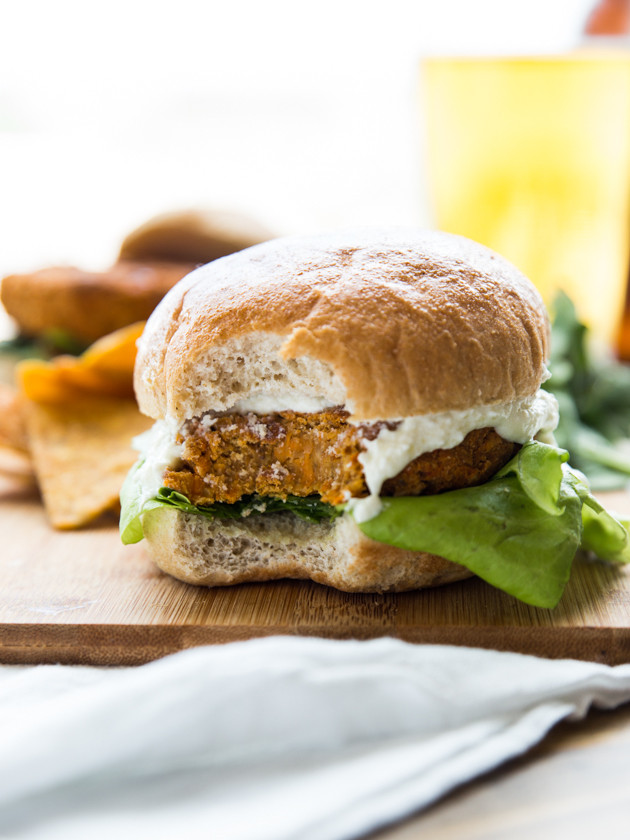 I hope these burgers help make grilling parties a bit more excited for you veggie burger lovers! If you give them a try let me know – snap a picture and tag me on Instagram (@veggiebeastblog) – it truly makes my day. Happy grilling!

Buffalo Chickpea Sweet Potato Burgers with Whipped Feta Garlic Sauce
Spicy, smoky and GRILLABLE veggie burgers made with chickpeas, buffalo sauce, and sweet potatoes, and covered with a creamy whipped feta garlic sauce.
Yield: 4 burgers
Prep Time: 45 minutes
Cook Time: 10 minutes
Total Time: 55 minutes
Ingredients:
Grilled Buffalo Chickpea Sweet Potato Burgers
1 tablespoon chia seeds, ground into powder
3 tablespoons warm water
1 small sweet potato, peeled and grated (1 heaping cup)
1 (15-ounce) can chickpeas, rinsed, drained, and thoroughly patted dry
2 teaspoon chili powder
1/2 teaspoon sea salt (to taste)
1/4 cup buffalo sauce
3/4 cup garbanzo bean flour (or flour of choice)
Whipped Garlic Feta Greek Yogurt Sauce
4 ounces crumbled feta cheese
1 clove garlic, minced
1/4 cup 2% plain Greek yogurt
1 tablespoon olive oil
Directions:
Mix together the chia seeds and water. Set aside for at least 5 minutes.
If you have a potato ricer, put the shredded potato into it and press firmly - you want to get as much liquid out of the potato as possible. If you don't have a potato ricer, use several paper towels, or a clean kitchen towel, to press the shreds and get rid of the liquid.
Place the rinsed and dried chickpeas in your food processor along with the shredded potato, chili powder, and salt. Pulse until the chickpeas are finely chopped (see picture #2 of the post). Transfer to a bowl and mix in the buffalo sauce and chia egg, then add the flour. Taste and adjust salt if you wish (mine was good as is, but it'll depend on your buffalo sauce).
Shape the mixture into 4 patties (about 1/2 cup each), and place on a parchment-lined cutting board. Place in the freezer for 30 minutes.
Microwave the feta for 20 seconds. Transfer to your food processor, and process until really fine crumbs form. Add the garlic and Greek yogurt, and process until completely smooth. Pour in the olive oil with the processor running. Set aside.
Preheat your grill to medium heat.
After the patties have been freezing for 30 minutes, lightly spray the grill with cooking spray (stand back, it'll flare up initially), and place the patties on the grill. Grill on each side for 5-7 minutes, or until golden brown. If you try to flip them and the bottom doesn't feel firm and easy to flip, they aren't ready yet.
Serve the patties on whole grain (or gluten free) buns, along with bibb lettuce, feta sauce, and any other toppings you desire! You can also eat these on top of salads, or wrapped in lettuce.
Interested in making your own buffalo sauce? Check out my red lentil buffalo sauce here.
Vegan? The patties are vegan, so try topping these burgers with some dairy free ranch instead of the feta sauce.
Nutrition Information: Serving Size: 1 burger with 1/4 of the sauce. Calories: 288, Total Fat: 14.4g, Saturated Fat: 5.5g, Cholesterol: 26mg, Sodium: 606mg, Potassium: 413mg, Total Carbohydrates: 27.2g, Dietary Fiber: 8.8g, Sugars: 6.2g, Protein: 13.9g
10 Responses to "Buffalo Chickpea Sweet Potato Burgers with Whipped Feta Garlic Sauce"