Gluten Free Jalapeño Cheddar Skillet Cornbread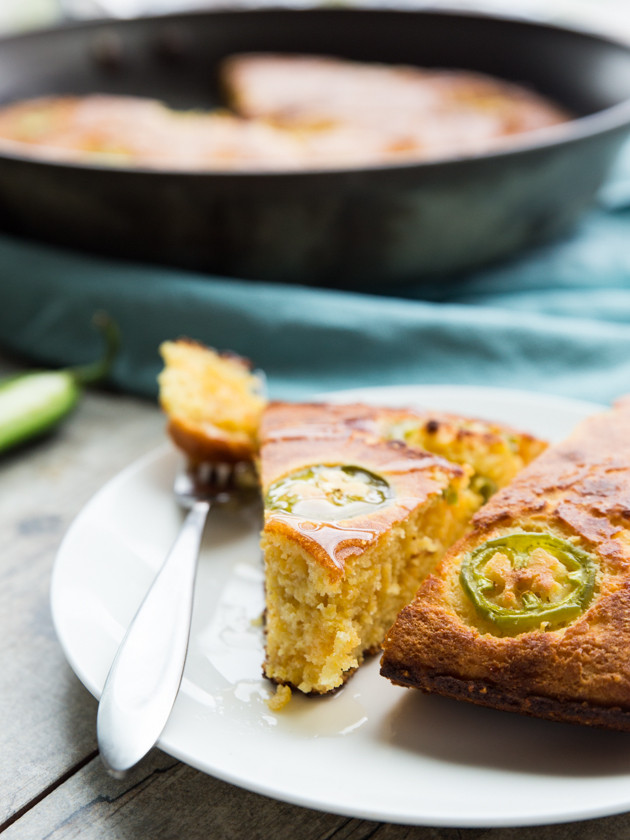 I'm full-swing into my summer spirit – Ryan and I have been sitting out on the patio nearly every night, taking Teia on long sun-soaked walks, and we even went out paddle boarding earlier this week (truth: he paddled – I sat and drank beer).
I've been seriously digging the longer summer days; with a full-time job and a long commute home everyday, the dark winters take a toll on my food blogging frequency. These days I can come home, walk the dog, AND shoot a recipe. The early-evening light also makes for some swoonable food photos…see that light hitting the honey on the cornbread? Day-um. Sexy stuff.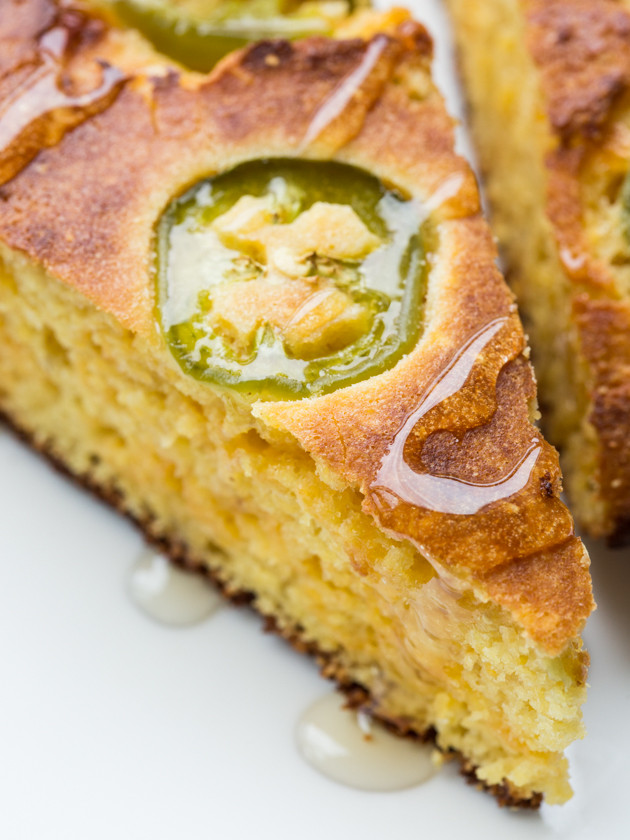 Five years ago this recipe never would have happened. I wouldn't be eating cornbread in the first place. For a long time I thought that cornbread was too wishy washy – be salty or be sweet, don't walk the line. This viewpoint also applied to kettle corn.
My how things have changed.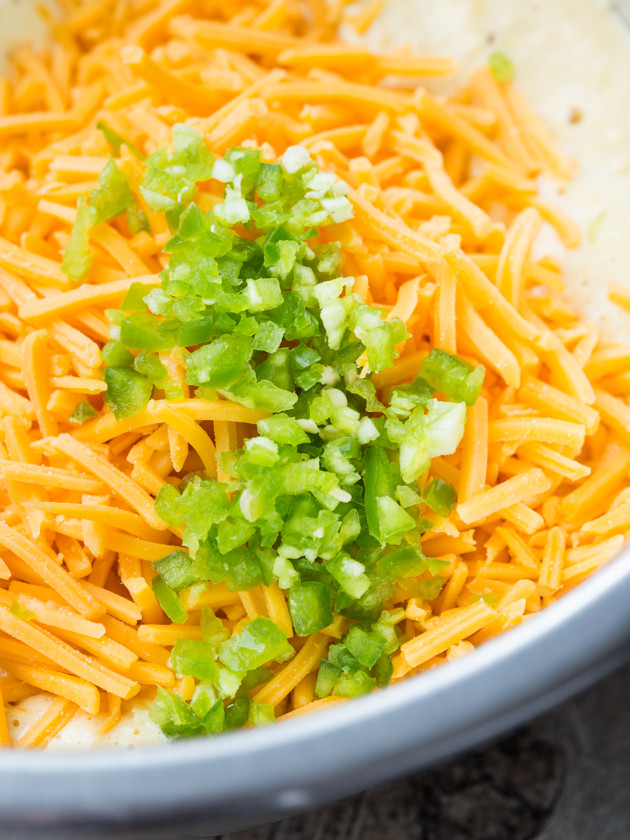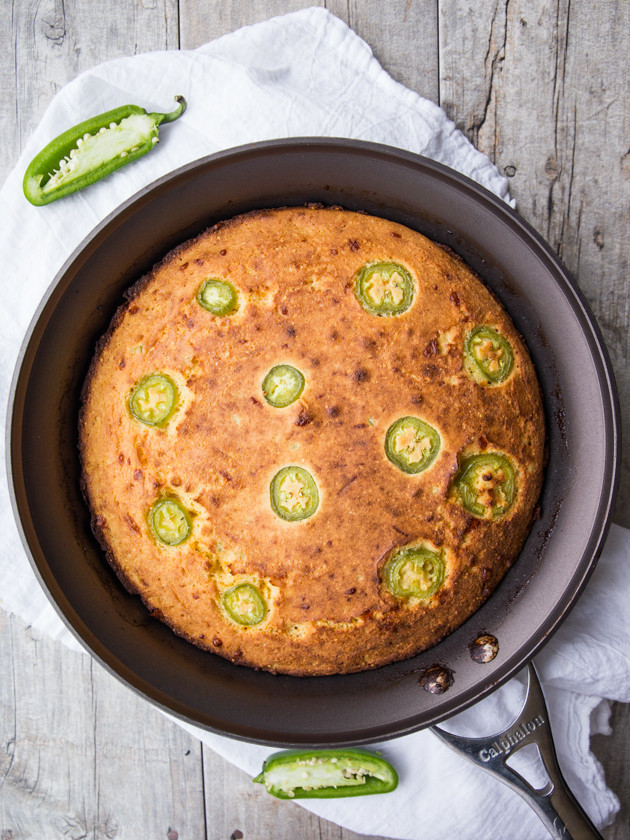 Five years ago I also would have wondered why we're drizzling something that includes jalapeños and cheese with honey. Spice and honey? Cheese and honey? What is happening to this world?
These days I don't bother with such questions. I accept good things when I find them, so I drizzle my jalapeño cheddar cornbread with honey, and enthusiastically dive in. You should too!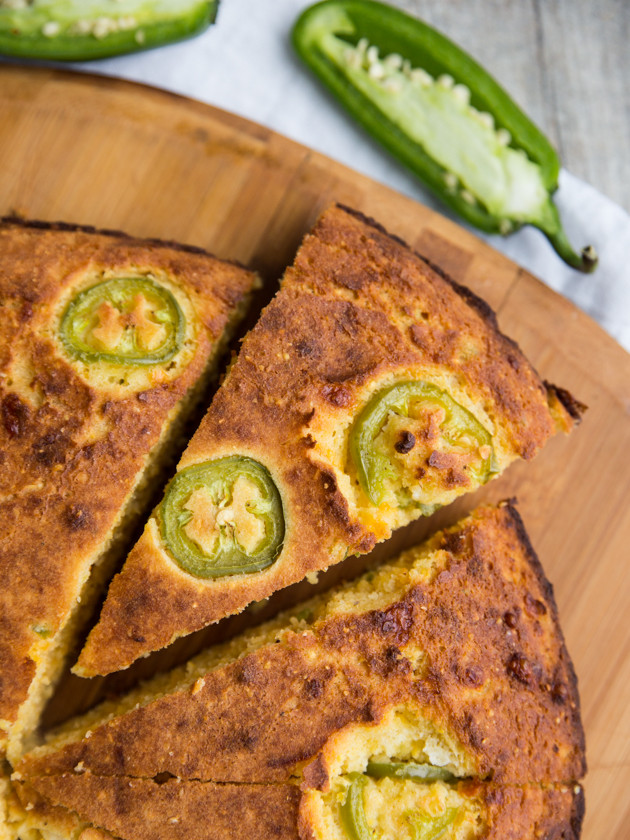 The flavors, guys, are bursting out of that skillet: lightly sweet from the cornmeal and honey, a kick from the jalapeños, and sharp saltiness from the cheddar. The texture is light and airy with a touch of grain from the cornmeal, and when warm and drizzled with honey? Game over.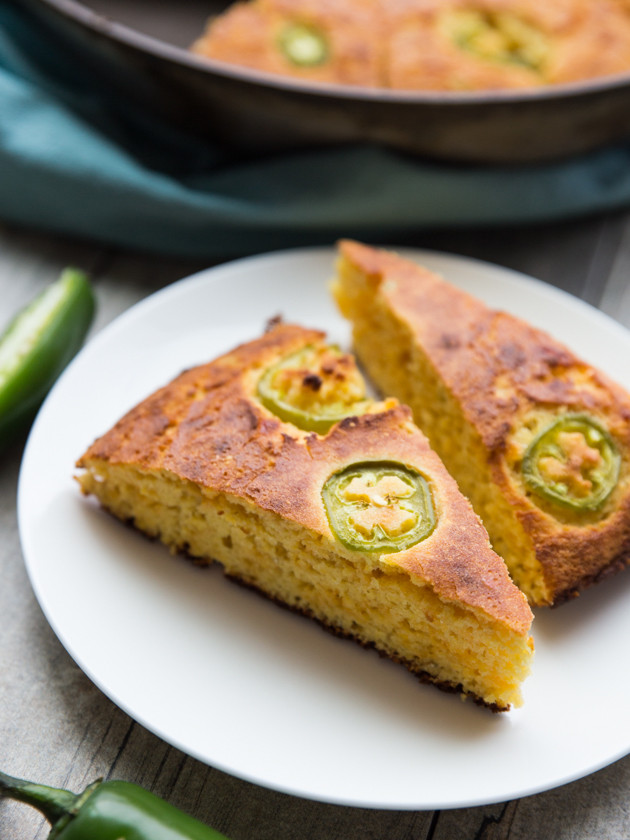 This recipe is based off of the jalapeño cheddar cornbread muffins that are in my cookbook, but I tweaked the recipe and technique (thanks, Pioneer Woman) to make it work in a skillet. I also opted for garbanzo bean flour, which results in an undetectably gluten-free cornbread. Despite the flour being made of garbanzo beans, I didn't notice any hint of a bean taste while devouring my slice(s).
Isn't it the best when healthy swaps pay off in the taste department?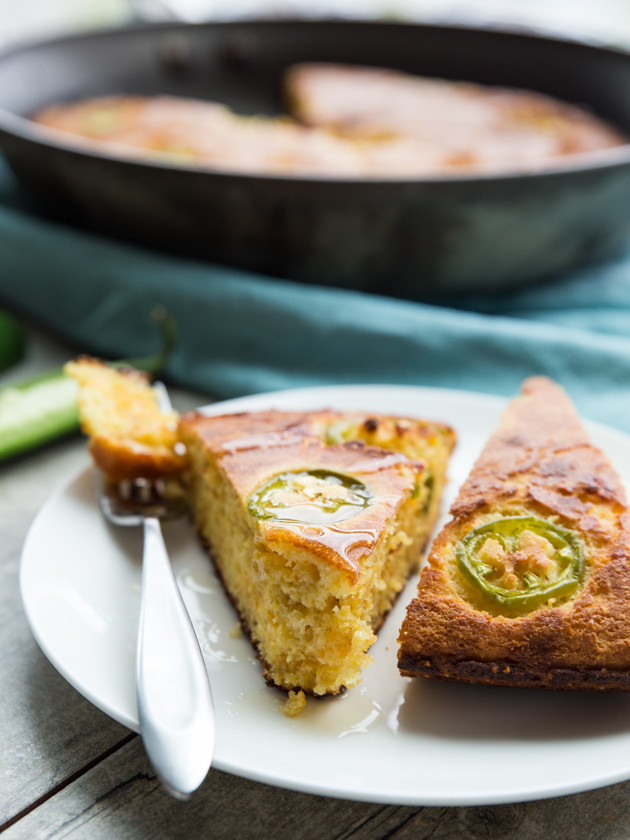 If you're a cornbread fan, and dabble (or would like to dabble) in gluten free foods, this is for YOU. Let me know if you make it!


Gluten Free Jalapeño Cheddar Skillet Cornbread
Light, buttery cornbread studded with spicy jalapeño and sharp cheddar. Easy, fast, and gluten free!
Yield: 12 servings
Prep Time: 15 minutes
Cook Time: 20 minutes
Total Time: 35 minutes
Ingredients:
1 ½ cup garbanzo bean flour
¾ cup yellow cornmeal
½ tablespoon baking powder
1 teaspoon sea salt
1 cup milk (I used 2%)
1 tablespoon apple cider vinegar
½ cup Greek yogurt (I used 2%)
2 tablespoons honey
2 large eggs
1 jalapeño, half sliced, half diced
4 ounces sharp cheddar, shredded
6 tablespoons unsalted butter, divided
Directions:
Preheat oven to 425 degrees.
In a large bowl, whisk together the cornmeal, flour, salt, and baking powder.
In another bowl, or large liquid measuring cup, pour in 1 cup milk and 1 tablespoon apple cider vinegar, then let sit for 5 minutes. After 5 minutes, add the yogurt, honey, and eggs, and stir well.
Pour the wet ingredients into the dry, and stir with a fork until well combined. Fold in the diced jalapeño and cheddar.
In a small bowl melt 4 tablespoons butter. Drizzle the melted butter into the batter, stirring until just combined.
In an oven-safe 12-inch skillet, melt the remaining 2 tablespoons butter over medium heat. Pour the batter into the hot skillet, using the back of a spoon or spatula the spread the batter out evenly.
Let cook for 1 minute without disturbing, and top with remaining sliced jalapeno. Bake for 20-25 minutes or until golden brown on top.
Let cool for a few minutes, then slice and drizzle with honey.
Best fresh, but can be stored in an airtight container on the counter for 3 days. When ready to eat, reheat for 15-20 seconds in the microwave, and drizzle with honey.
Nutrition Information: Serving Size: 1 slice, Calories: 173, Total Fat: 10.9g, Saturated Fat: 6.4g, Cholesterol: 58mg, Sodium: 285mg, Potassium: 141mg, Total Carbohydrates: 13.0g, Dietary Fiber: 1.2g, Sugars: 4.9g, Protein: 6.7g
6 Responses to "Gluten Free Jalapeño Cheddar Skillet Cornbread"