Zucchini and Heirloom Tomato Galette with Garlic Yogurt Sauce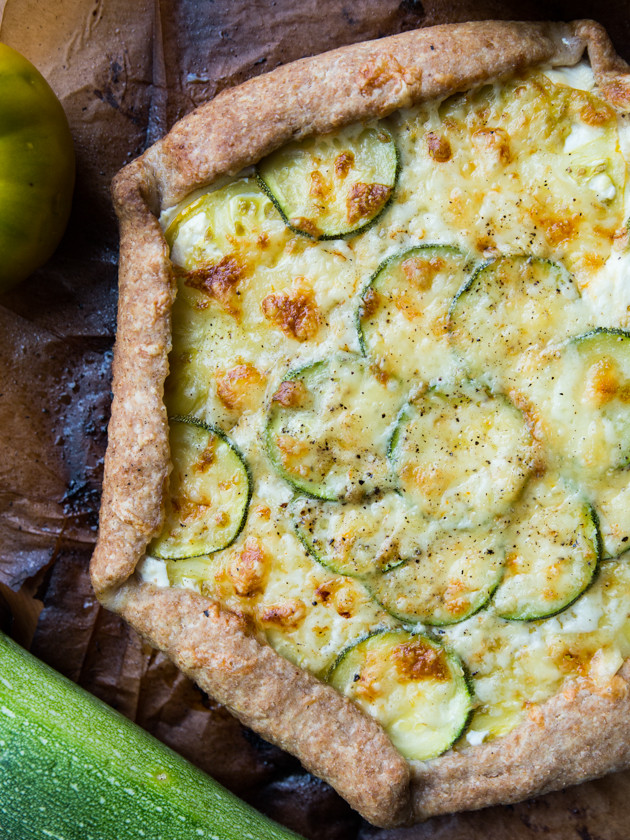 This is the time of year when you go to pick up your CSA and you realize signing up was the BEST DECISION EVER.
Tomatoes! Zucchini! Peppers! Oh my!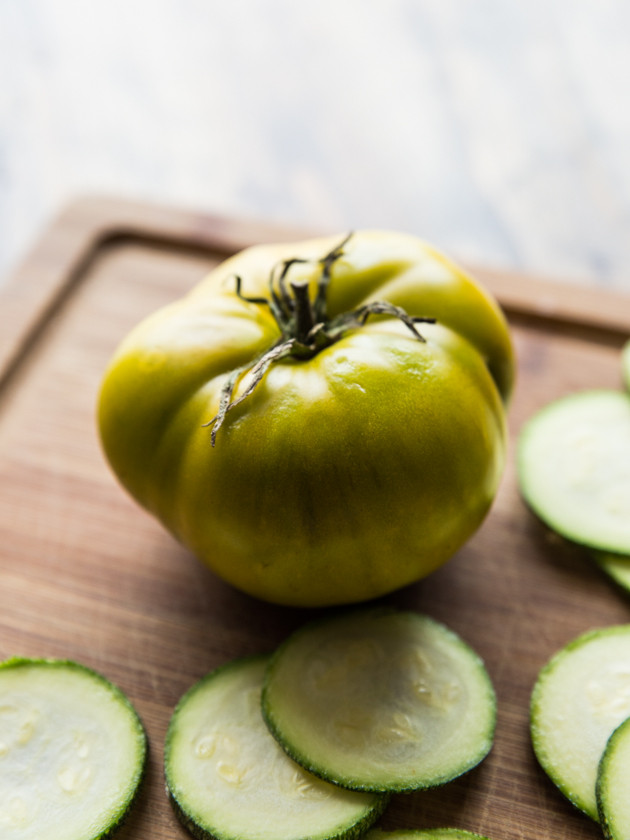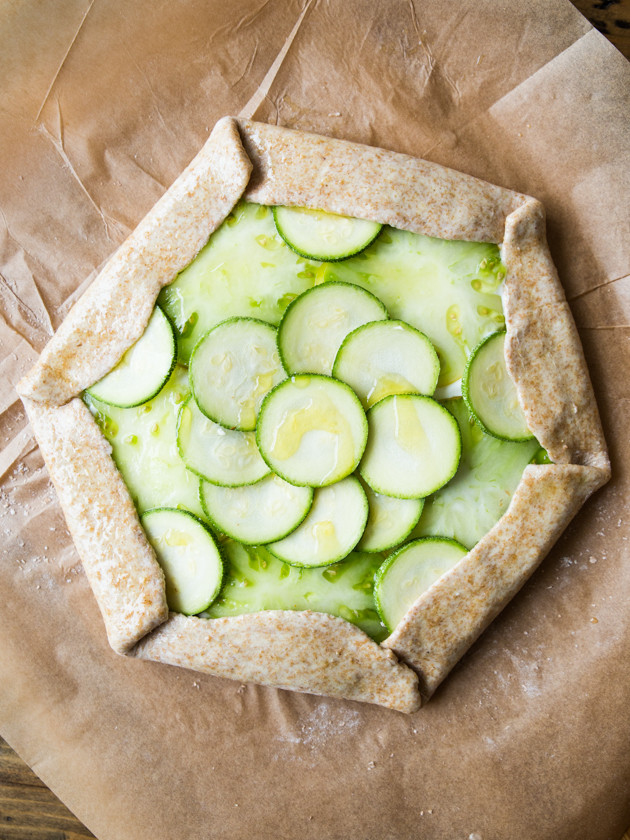 I love this time of year and I don't want it to end. I adore pumpkin, but can we just hold off for a bit? I tried to make pumpkin granola bars for the blog this weekend, and they were fine, but I just wasn't ready yet. Into the trash they went.
Last week I used some of our tomatoes to make these individual lemon mascarpone galettes. When I made them last summer Ryan wasn't home, so he had no idea what he was getting into. After his first bite he RAVED. He even ate two of them. Proud lady over here.
When I got our CSA haul last Thursday and saw green heirloom tomatoes and beautiful zucchinis staring me in the face, I knew buttery dough was in their future.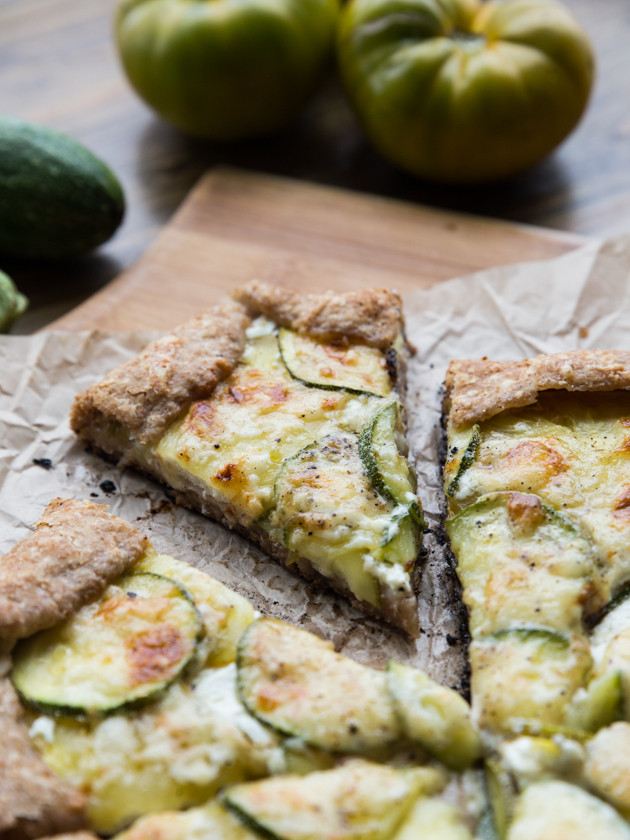 For this lovely savory pastry we start with my standard whole wheat galette dough (used for the aforementioned lemon mascarpone galettes, and also this oldie but goodie), cover it with a creamy garlic Greek yogurt sauce, thinly-sliced zucchini and tomatoes, a little olive oil, a sprinkling of fontina, and black pepper. Bake it at 400 on a pizza stone for 35-45 minutes and BAM, buttery, flaky, creamy, summertime magic.
To be 100% transparent, which is really the only way I know how to be, I first made this on the grill. I couldn't get my grill to the magical 375-400 degrees that worked with the smaller galettes, so I cranked the heat up to HIGH. It got to the right temp, then lowered the heat to medium again, but apparently the pizza stone overheated in the process, and the crust got SO BLACK by the time the galette was done. I promptly remade the galette and cooked it in the oven, which is much more reliable.
The moral of the story here is that if you trust your grill and can maintain a good temp, you can cook these on the grill. If you don't trust your grill (or grilling skills, ahem), go with the oven to avoid heartache.
And yes, these pictures are of the burnt-bottom one, because there was too little light when the golden brown-bottomed one came out of the oven. And now I'm just oversharing. Hi!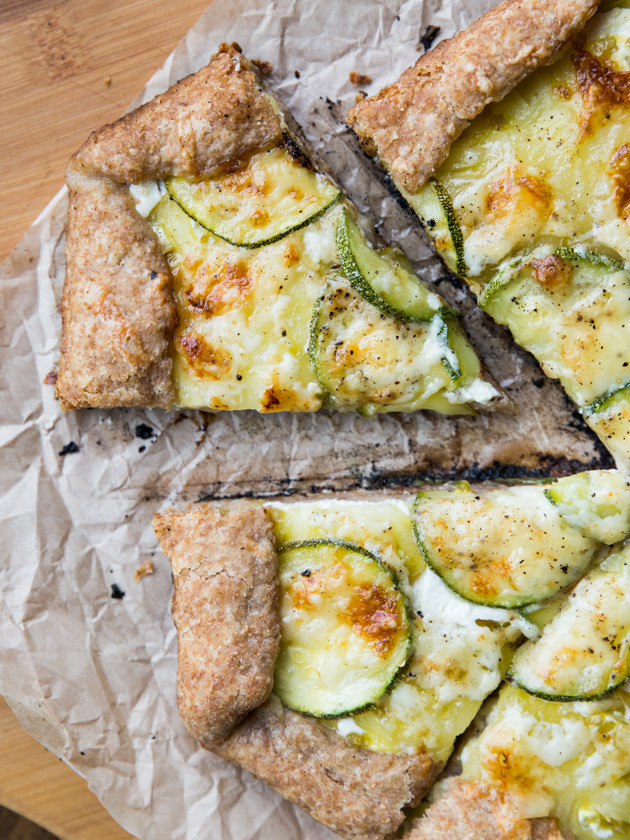 I actually documented the ups and downs of my galette creation on Snapchat, which I'm ever-so-slowly learning to use. If you're into food photos and puppy videos, follow me! Username is veggiebeastblog.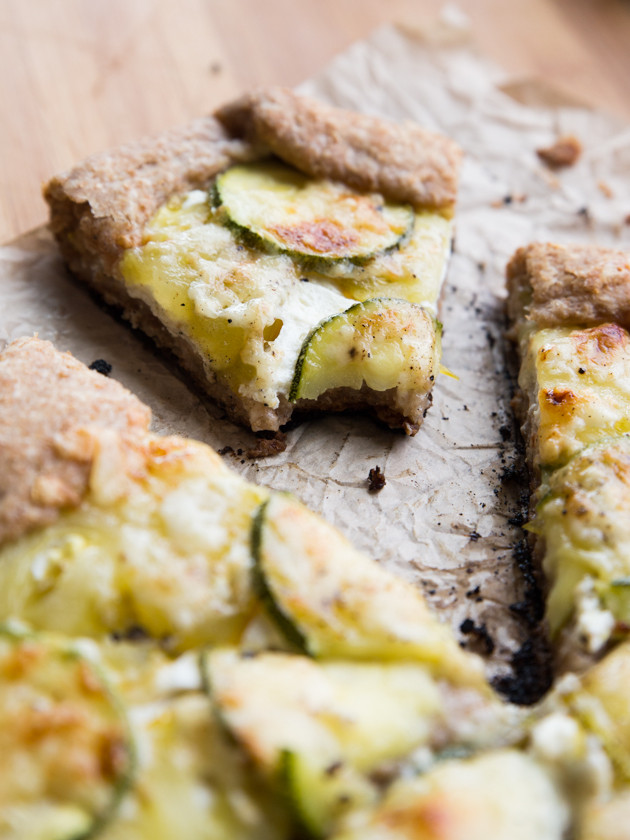 That's it from me for a week or so! Ryan and I are going on a fishing trip with his fam for the next 5 days. I'm looking forward to unwinding with books, boats, and lots of lake time :)


Zucchini and Heirloom Tomato Galette with Garlic Yogurt Sauce
A buttery, flaky galette made with zucchini, heirloom tomatoes, and a creamy garlic Greek yogurt sauce!
Yield: 1 galette (4 servings)
Prep Time: 45 minutes
Cook Time: 45 minutes
Total Time: 1 hour 30 minutes
Ingredients:
Whole Wheat Galette Dough
1 1/4 cups whole wheat flour
1/4 teaspoon sea salt
8 tablespoons (1 stick) unsalted butter, cold
1/4 cup Greek yogurt
2 teaspoons apple cider vinegar
1/4 cup plus 2 teaspoons cold water
Garlic Yogurt Sauce
1 cup Greek yogurt
2 cloves garlic, minced
1 teaspoon maple syrup
1 teaspoon olive oil
1/2 teaspoon sea salt
Filling
1 heirloom tomato, thinly sliced (about 1/8 inch)
1/2 of one zucchini, thinly sliced (about 1/16 inch)
3 teaspoons olive oil, divided
2 ounces fontina, shredded
Black pepper
Directions:
Pulse together the flour and salt in a food processor. Add the butter and pulse 5-6 times, until there are no pieces of butter bigger than peas.
Add the wet ingredients to the food processor, and pulse until a dough forms. Use floured hands to grab the dough and form it into a ball, then flatten slightly into a disc shape. Wrap in plastic and chill for 30 minutes.
For the yogurt sauce, whisk together the greek yogurt, garlic, maple syrup, salt, and olive oil.
Preheat oven to 400 degrees, and set a pizza stone in the oven as it preheats.
When the dough is done chilling, roll out on a piece of parchment into an 11-inch circle, and brush on 1 teaspoon of olive oil. Spoon on the yogurt sauce, leaving a 2-inch border. Place the tomato slices in a circle on the edge of the yogurt sauce, then place the zucchini slices in a circular pattern within the tomatoes. Fold up the sides of the galette.
Brush 1 teaspoon of oil on the edge of the crust, then drizzle another teaspoon of oil on top of the veggies. Sprinkle the cheese on top, and then top with several turns of cracked black pepper.
Transfer the galette and parchment to the pizza stone in the oven (this is easiest if you roll the galette out on top of a cutting board or pizza peel), and bake for 35-40 minutes, until the crust is firm and the cheese is golden. Let sit for 5 minutes, then cut into 8 slices.
I recommend serving this with a light salad on the side. I've been eating it with arugula, hummus, and balsamic.
One Response to "Zucchini and Heirloom Tomato Galette with Garlic Yogurt Sauce"