Curried Butternut and White Bean Tacos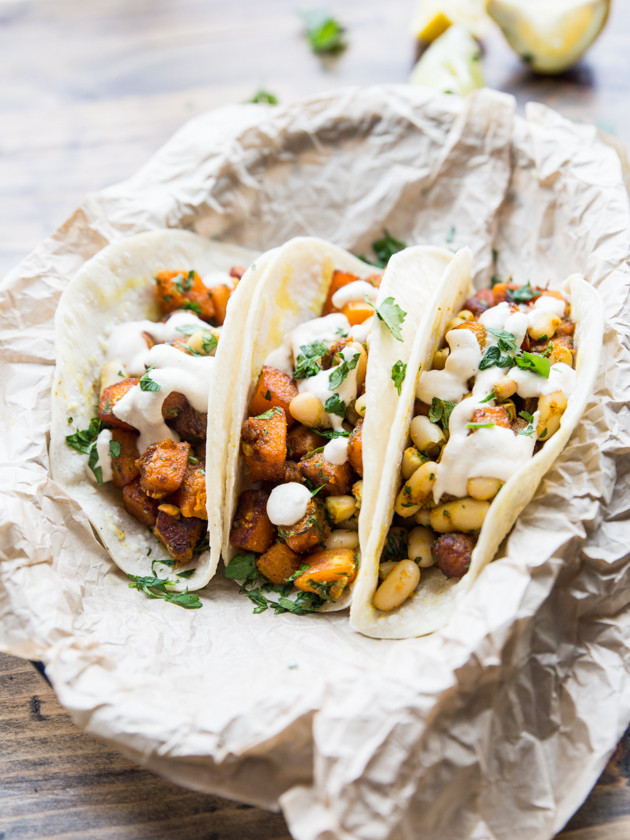 It feels necessary to admit that I have been sitting here playing Adele, Taylor Swift, and One Direction over and over and over on Vevo while editing these photos. The same 3 songs. On repeat. For about 2 hours.
Reminder: I'm turning 30 in January. Just going to throw that out there.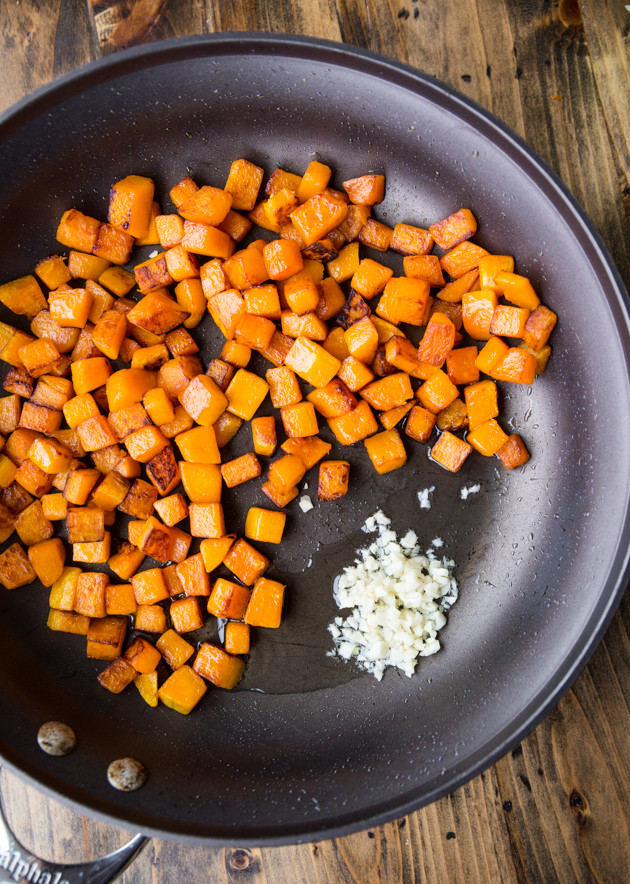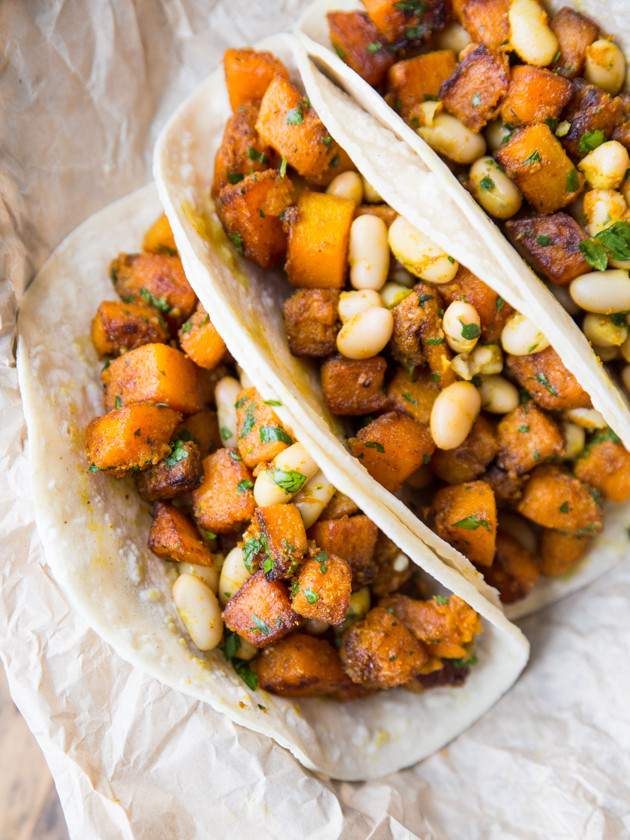 I readily admit that I make a much better grownup than I did a teenager or young adult, but part of me will always be a pre-teen with all the feelings that need to be handled with pop music.
Speaking of pre-teen me, my younger self wouldn't look twice at these tacos. Until 5 years ago I had no interest in curry. At the time I also didn't own knives that could cut butternut squash. Our first Christmas together Ryan bought be a pair of nice knives; He couldn't believe this girl who loved to cook got by with knives from Ikea, but I made it work, with only a few (minor) accidents.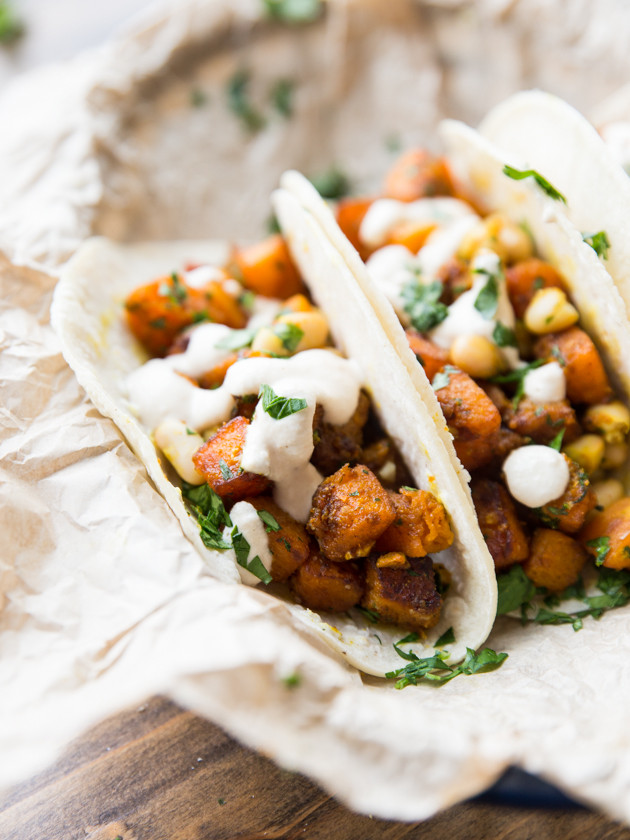 Now that I have nice knives and a taste for curry, these tacos are right up my alley. I usually roast squash, but switched things up this time around by sautéing my butternut cubes, and I might never go back. It takes a little more attention, since you need to frequently stir the squash, but the cooked squash ends up caramelizing on the outside a bit, giving it just the slightest crust with a tender center. Once the squash is softened, I cooked up some garlic in one corner of the pan, then sprinkled on a simple but flavorful blend of curry powder, cumin, and cayenne. Spicy, savory, subtly sweet goodness!
To add some variety, I tossed cannellini beans with fresh parsley, thyme, and lemon. Those beans add some brightness to the curry, along with a healthy protein boost. The cashew cream I posted last week really makes the whole dish, by adding some thick and creamy moisture to the mix.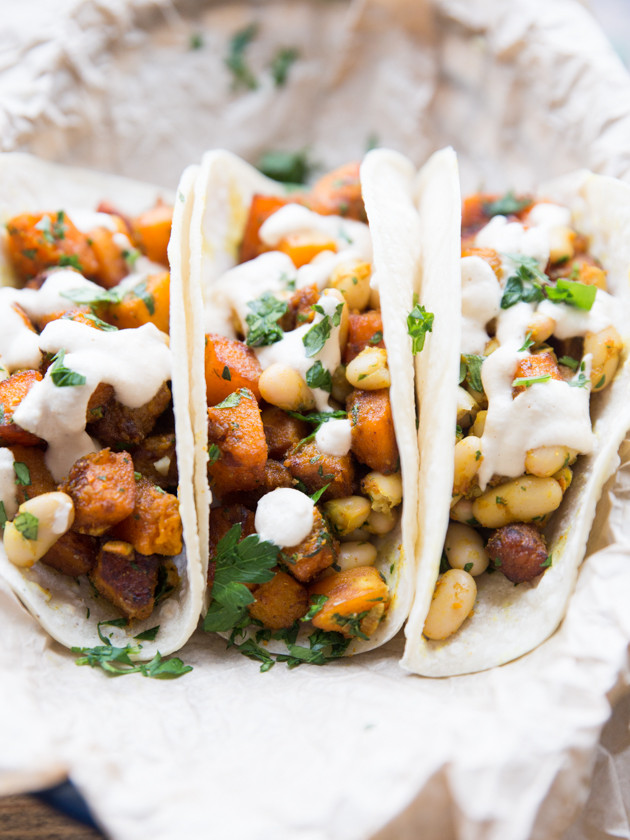 You don't NEED to eat the butternut/beans/cream mixture as tacos. You could eat it on its own, OH OR OVER A SALAD (sorry for the caps, that just sounds good right now), but aren't tacos more fun? I think so. I like handheld food.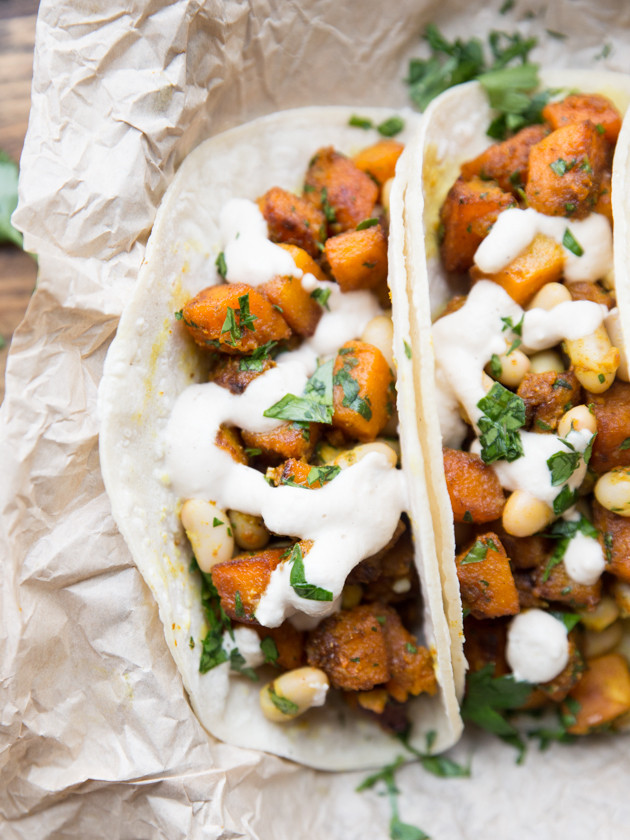 If you're a curry and squash (and spice!) fan, you need to give these tacos a try. Let me know if you do!



Curried Butternut and White Bean Tacos
Easy tacos made with curried sauteed butternut squash, herbed lemon white beans, and a creamy cashew sauce. A simple and flavorful plant-based dinner perfect for fall.
Yield: 8 tacos (Serves 4)
Prep Time: 10 minutes
Cook Time: 20 minutes
Total Time: 30 minutes
Ingredients:
Curried Butternut Squash
1 2-lb butternut squash, peeled, seeded and cut into ½-inch cubes (about 5 cups)
3 tablespoons grapeseed oil, divided
1/2 teaspoon sea salt, plus more to taste
1 large clove garlic, minced
4 teaspoons curry powder
1 teaspoon ground cumin
1/4 teaspoon ground cayenne (optional)
Herbed Lemon White Beans
1 (15-ounce) can cannellini beans, rinsed and drained
Scant 1/4 teaspoon sea salt
1 lemon, juiced
1/2 tablespoon fresh thyme leaves
1/2 cup flat-leaf parsley, chopped
Assembly
8 corn tortillas
Lime cashew cream, for serving
Additional parsley or cilantro, for garnish
Directions:
Heat 2 tablespoons of the oil in a large non-stick pan over medium heat. Add the squash and the salt and cook, stirring occasionally, for 15-20 minutes, until the squash is tender and lightly browned.
Push the squash to one one side of the pan, and add the final tablespoon of oil. Add the garlic and cook for 1-2 minutes, then stir into the squash and sprinkle on the curry powder, cumin, and cayenne. Cook for about 1 minute, until the spices are evenly distributed across the squash. Taste and sprinkle on more salt if desired.
In another bowl, stir together the beans, salt, lemon, thyme, and parsley.
Gently fold the squash into the the beans. Distribute the filling across 8 small corn tortillas, drizzle with lime cashew cream, and garnish with additional parsley or cilantro.
Nutrition Information: Curried Butternut White Bean Tacos
Serving Size: 2 tacos (1/4 of recipe), Calories: 390, Total Fat: 12.4g, Saturated Fat: 1.4g, Cholesterol: 0mg, Sodium: 390mg, Potassium: 734mg, Total Carbs: 59.8g, Dietary Fiber: 16.4g, Sugars: 4.1g, Protein: 13.9g
Nutrition Information: Lime Cashew Cream
Serving Size: 2 tablespoons, Calories: 79, Total Fat: 6.3g, Saturated Fat: 1.2g, Cholesterol: 0mg, Sodium: 96mg, Potassium: 78mg, Total Carbs: 4.5g, Sugars: 0.7g, Protein: 2.1g
11 Responses to "Curried Butternut and White Bean Tacos"
Pingback: tasty tacos. – the sugarapple

Pingback: - Comment Devenir Végétarien