Simple Falafel Fritters with Tahini Dill Dressing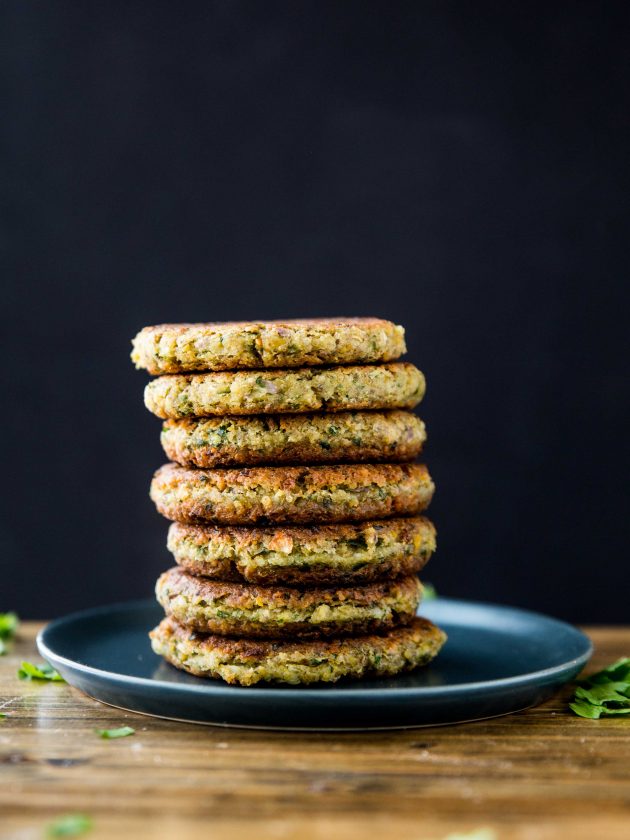 If there's one thing I know I love in the food world, it's falafel. I've done baked versions before, but sometimes I just need that crispy exterior, so today we're frittering it up! Plus "falafel fritter" is fun to say, so it's a win win.
I love falafel so much that my bridesmaids created a falafel bar at my bridal shower. It included a huge pan of falafel (the fried variety), pita, hummus, and tahini sauce. Also corn tortilla chips, which were a little out of place to some, maybe, but I find a way to work corn tortilla chips into most meals.
This was back in January. I took home so many falafels that I couldn't think of eating another one for a few months, but now here I am. I knew I couldn't stay away from falafels for too long.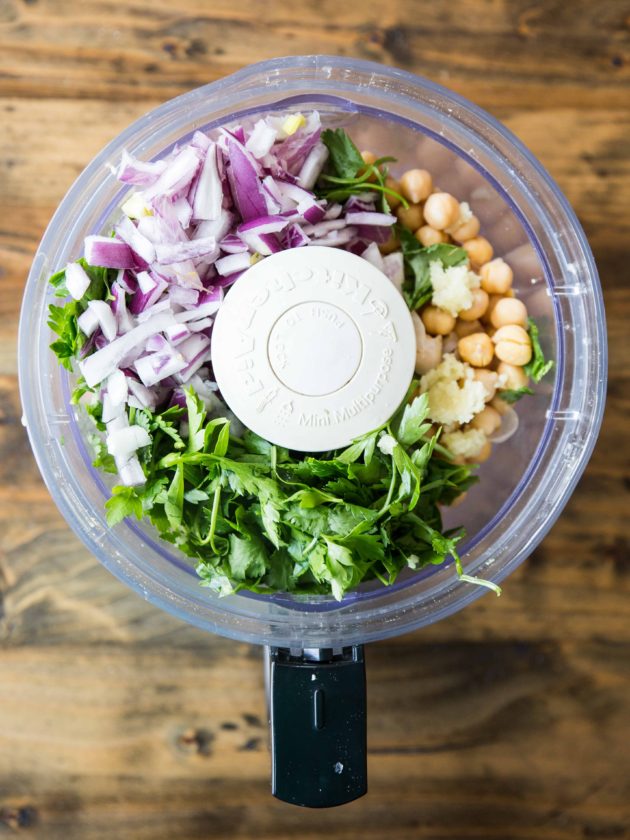 Speaking of bridal things, Ryan and I have figured out some fun wedding stuff over the past couple months. Although our wedding will be out of town, we're trying to get hitched as sustainably as possible. Our food is all being sourced locally (check out our awesome caterer), and we recently purchased compostable cups (wine, beer, and water), napkins, and plates and utensils for appetizer and dessert. We will have recycling and compost containers near the tent, but are going to try to keep actual trash to a minimum.
It's not perfect, of course. We still have lots of tent lights that need power, a dance that needs music, and obviously many people are traveling to get to our wedding. However, we're excited that we've found options that make the event a little less harmful to the environment. Ryan and I were both pleasantly surprised that these options were easy to track down. It was just a matter of doing some research and determining our priorities.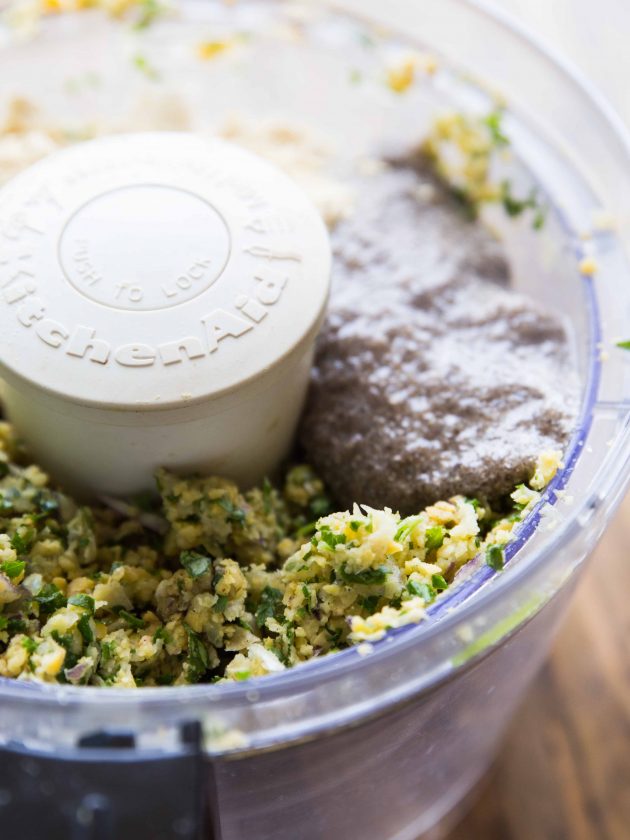 In my day-to-day life, I try to be a little easier on the earth by eating vegetarian (duh), organic, and local (when possible). Those beautiful tomatoes you see in the salad below are locally-grown hydroponic tomatoes, and they are AWESOME.
Back to the title of this recipe: I realize you may think "falafel fritter" is a silly name, because most falafels are fried. To that I would say you have a great point, but I consider these fritters because instead of being in a ball shape, they are flattened so you can fry them using a little less oil than traditional falafel. That's my reasoning and I'm sticking to it.
Note: that cookie sheet below was for transportation purposes only. These guys went straight into the fry pan!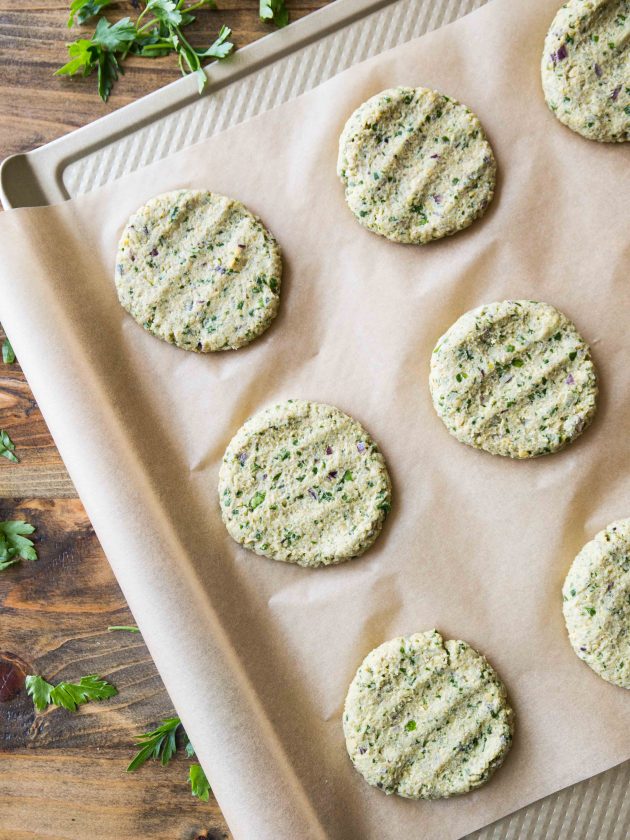 Most falafel recipes are made with dry chickpeas and do not require a binding agent. Many quicker falafel recipes that use canned beans call for an egg, because otherwise they fall apart. Fortunately, chia eggs (made up of ground up chia seeds and water), are a strong, healthy glue that holds my vegan fritters together (see examples A and B).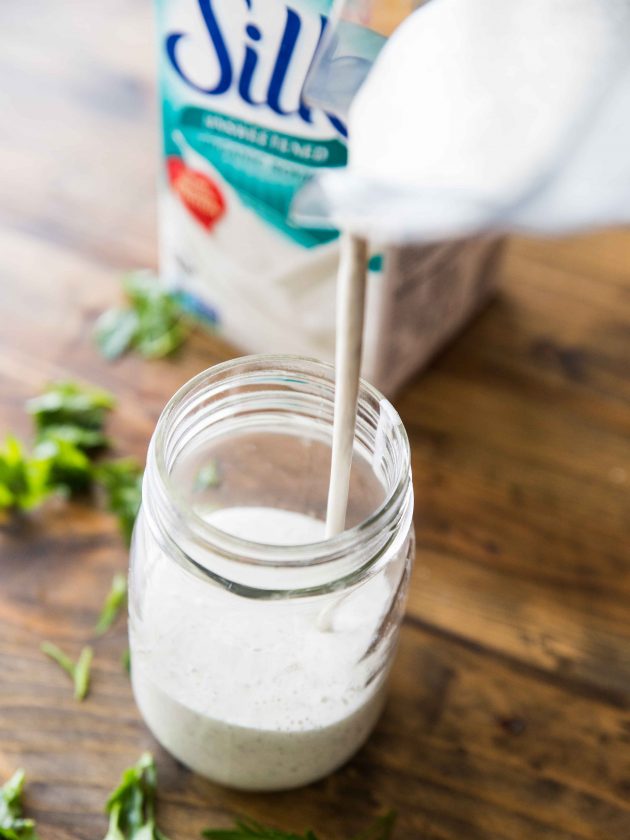 To go with these fritters, I whipped up a simple tahini dill dressing, made creamy with a blend of grapeseed oil and Silk® Organic Unsweetened Soy Milk. Soy milk works great for dressings and sauces, because it is higher in protein and creates a thicker and creamier result than other non-dairy milks. Over the past few weeks I've dunked the fritters in the dressing, and also tossed some romaine in the dressing and ate the fritters on the side of an amazing mediterranean-inspired salad.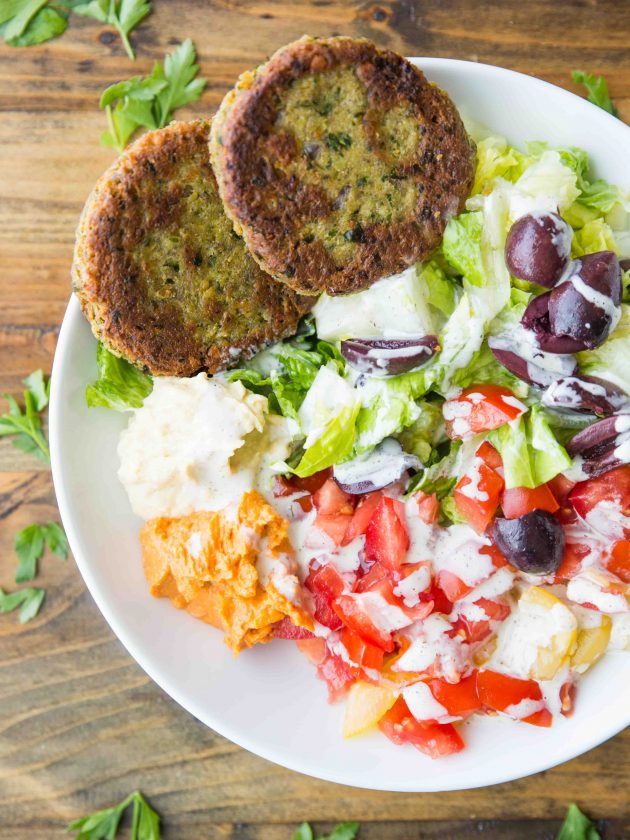 …And I absolutely crushed some tortilla chips on top of this salad. They make everything better.
This is a sponsored conversation written by me on behalf of Silk. The opinions and text are all mine.

Simple Falafel Fritters with Tahini Dill Dressing
Easy vegan and gluten free falafel patties that are lightly pan-friend to golden brown, and drizzled with a quick tahini dill dressing.
Yield: 8 fritters
Prep Time: 40 minutes
Cook Time: 20 minutes
Total Time: 1 hour
Ingredients:
Falafel Fritters
2 tablespoon ground chia seeds
6 tablespoons warm water
1/2 cup chopped red onion
1/2 cup fresh cilantro
1/2 cup fresh parsley
1 teaspoon ground cumin
1/4-1/2 teaspoon ground coriander
1/2 teaspoon sea salt
1 (15-ounce) can chickpeas, rinsed, drained, patted dry
2 cloves garlic, minced
6 tablespoons chickpea flour
6-8 tablespoons grapeseed oil (or other high heat oil), for pan frying
Tahini Dressing
1/4 cup tahini
1/2 cup grapeseed oil
1/2-1 cup Silk® Organic Unsweetened Soy Milk
1 teaspoon dried dill
1/2 teaspoon garlic powder
1/2 teaspoon salt
1 teaspoon apple cider vinegar
Directions:
Mix together the ground chia seeds and water. Set aside for at least 5 minutes, mixing with a fork once or twice.
After your chickpeas are thoroughly patted dry, place in a food processor with all remaining ingredients, except the flour and oil. Pulse until finely chopped. Add the chia mixture and flour, and pulse until well incorporated. Taste and adjust seasoning as necessary. Refrigerate for 30 minutes.
While the dough is chilling, combine all of the tahini dressing ingredients in a blender (starting with 1/2 cup soy milk) and blend until the oil is emulsified. If you want a thicker drizzle or dip for the falafel, the consistency should be great. If you're using as a salad dressing, you may want to thin it out with an additional 1/2 cup of soy milk. Keep in mind that it will thicken when chilled in the fridge. Pour into a storage container and refrigerate until ready to use.
After the dough has chilled for a half hour, shape scant ¼ cups of dough into balls, and then flatten into patties. You will end up with about 8 patties.
Heat a large non-stick skillet (mine is 12-inches) over medium heat. Pour in 2 tablespoons of olive oil. Add 4 of the patties, and cook for 3-5 minutes, until golden. Flip each patty, then pour in 1-2 more tablespoons of olive oil (depending if your skillet is completely dry, or if some of the initial 2 tablespoons is still in there), shake the pan to distribute, and cook for another 3-5 minutes. Repeat with remaining olive oil and fritter patties.
Serve with tahini dressing. I love eating these in a salad with romaine, tomatoes, olives, and a scoop of hummus.
These are best when freshly fried. However, you can reheat them in a skillet with a little more oil or cooking spray. I also reheated them in the oven at 350 for 10 minutes, but they lose that crunch.
11 Responses to "Simple Falafel Fritters with Tahini Dill Dressing"