Curried Carrot Chickpea Chia Burgers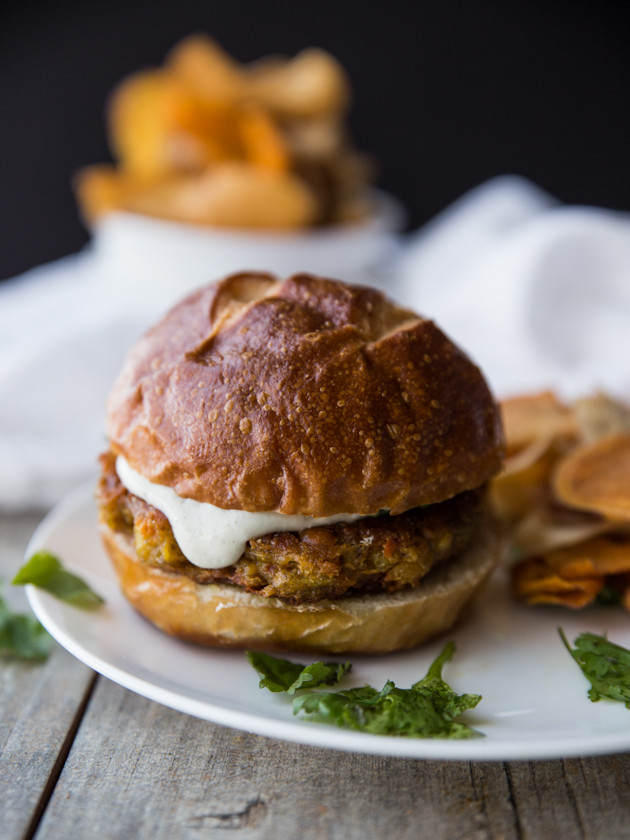 When I was working on the cookbook, and made veggie burgers all the time (some recipes took 7 tries, oy), I like to think I kind of honed the craft of the plant-based burger. At the same time, I became so. sick. of. them. For a good couple months I wanted nothing to do with veggie burgers, and then came my summertime fritter phase. Instead of full burger patties, I made smaller patties and fried them until golden. Those little crispy gems brought back my burger groove.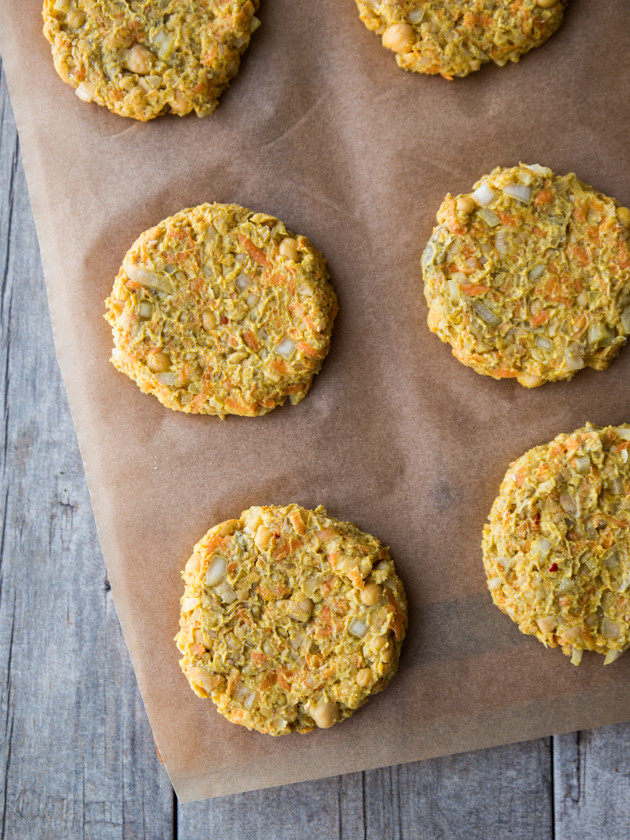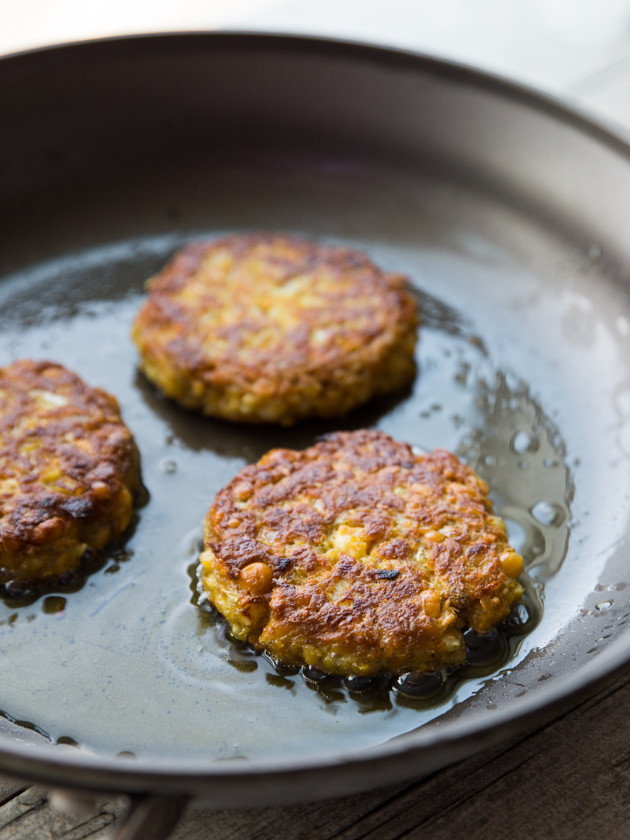 Today's recipe started out as fritters, and I shared that variation on The Chalkboard Magazine in October. Now, during the tail end of winter, I'm less about fritters in lettuce wraps or on top of salads and more about putting things between two pieces of bread. As much bread as possible all the time. It is what it is.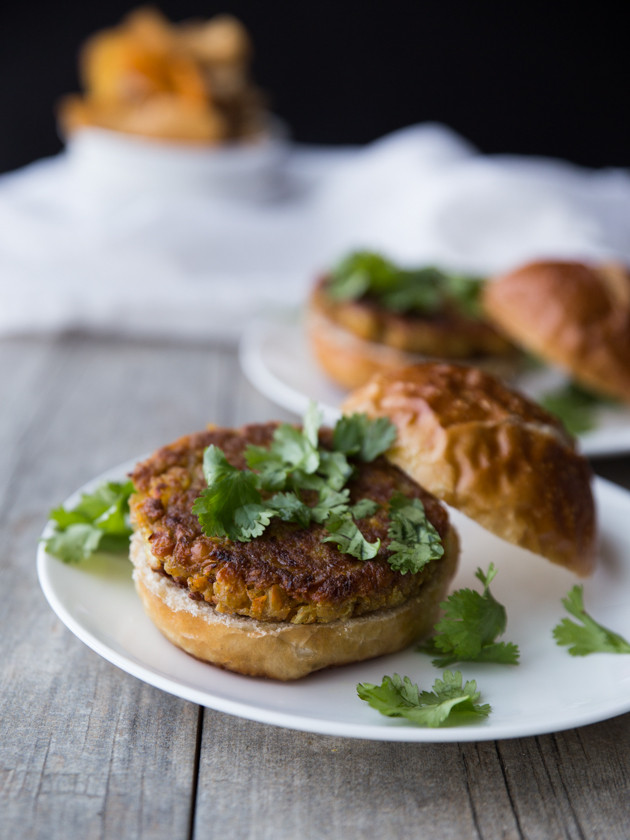 Instead of making small fritters, this time around I made larger patties that warrant the heftier term of "burger." I jam-packed each patty with healthy things like carrots, chickpeas, spices, and chia seeds, and then fried the heck out of them. They're crispy, slightly spicy, perfectly curried, and slathered with a smooth dill lime cashew cream.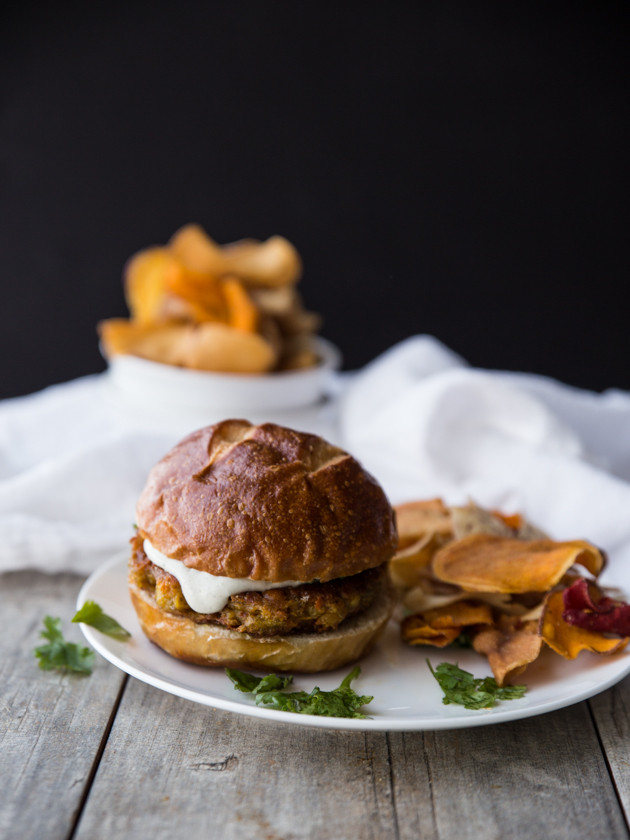 If you're wondering what the chia seeds are doing in there, allow me to explain; most fritters are bound together with chicken eggs, but I prefer using "chia eggs" (ground chia seeds and water) in my patties because I think they bind better, and I'm a bit egg adverse.
I like eating these patties on hamburger buns, because bread owns my heart, but you can definitely eat these in lettuce wraps, on top of salads…or on top of some cilantro lime cauliflower rice? Sure.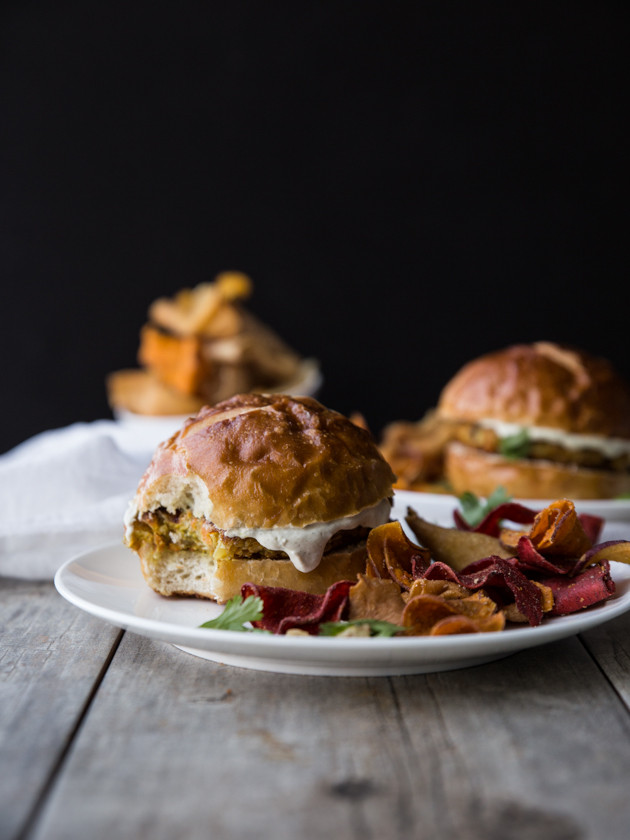 Burger me.


Curried Carrot Chickpea Chia Burgers
Crispy, savory patties made with carrots, chickpeas, curry, and chia seeds, and covered in a smooth and creamy dill lime cashew cream.
Yield: 6 burgers
Prep Time: 45 minutes
Cook Time: 28 minutes
Total Time: 1 hour 13 minutes
Ingredients:
Curried Carrot Chickpea Chia Burgers
2 tablespoons chia seeds, ground into powder
6 tablespoons warm water
1/2 cup finely-chopped yellow onion
2 carrots, peeled and shredded (about 1 1/2 cup)
1 (15-ounce) can chickpeas, rinsed, drained, patted dry, and mashed
2 cloves garlic, minced
1 1/2 teaspoons curry powder
1/2 teaspoon ground cumin
1/4 teaspoon ground ginger
1/8 teaspoon turmeric
1/8 teaspoon red pepper flakes (optional)
3/4 teaspoon sea salt
1/4 cup flour of choice (unbleached all purpose, whole wheat, or gluten free)
4 tablespoons olive oil, for pan frying
Dill Lime Cashew Cream
1/2 cup raw cashews, soaked overnight
1/4 cup filtered water
1 lime, juiced (about 2 tablespoons)
1/2 teaspoon kosher salt
1 clove garlic, minced
1/2 teaspoon dried dill
For Serving
Fresh cilantro
Bibb Lettuce (if you're going the lettuce wrap route)
Your favorite hamburger buns (pretzel, whole wheat, gluten free, etc.)
Directions:
Stir together the chia seeds and warm water. Set aside.
Place the grated carrots in a potato ricer to squeeze out any excess liquid. If you do not have a potato ricer, just press between paper towels.
Combine the carrots, onions, beans, and all spices in a bowl. Mix in the flour, and then stir in the chia seed mixture. Refrigerate the mixture for 30 minutes.
Shape 1/3 cup of the dough into a ball, and then pat into a 1/2" patty. Repeat with remaining dough. You will end up with 6 burgers.
Heat 1 tablespoon oil in a large non-stick skillet over medium heat. Place 3 of the burgers in the oil, and fry for 5-7 minutes. Flip and add another tablespoon of oil, and cook for another 5-7 minutes on the other side, until golden brown. Repeat the process with the remaining patties.
Drain the soaking water from the cashews, and place in a blender with remaining ingredients. Blend until completely smooth. Taste and adjust salt level to your liking.
Eat burgers with dill lime cashew cream in your favorite hamburger bun, on top of a salad, or on the side of some vegetable fried quinoa.
To reheat, coat a nonstick pan in cooking spray, and cook over medium heat for 3-5 minutes on each side.
Nutrition Information: Serving Size: 1 patty and 1/6 cashew cream, Calories: 295, Total Fat: 17.1g, Saturated Fat: 2.4g, Cholesterol: 0g, Sodium: 585mg, Total Carbohydrates: 29.6g, Dietary Fiber: 7.5g, Sugars: 5.3g, Protein: 8.7g
24 Responses to "Curried Carrot Chickpea Chia Burgers"
Pingback: 10 recetas de hamburguesas vegetales que te encantarán - El tarro de ideasEl tarro de ideas

Pingback: Spicy Vegan Burgers | myveganrecipebook