Brussels Sprout, Mushroom and Creme Fraiche Pizzas

Brussels sprout season is full swing in my house. Sure, the little cabbages are actually coming into their season, but I'm talking about the season where I get to eat them ALL THE TIME: Deer hunting season, when Ryan is gone for almost a full two weeks.
I love Ryan and miss him, but…
Dear sprouts:
Come to mama.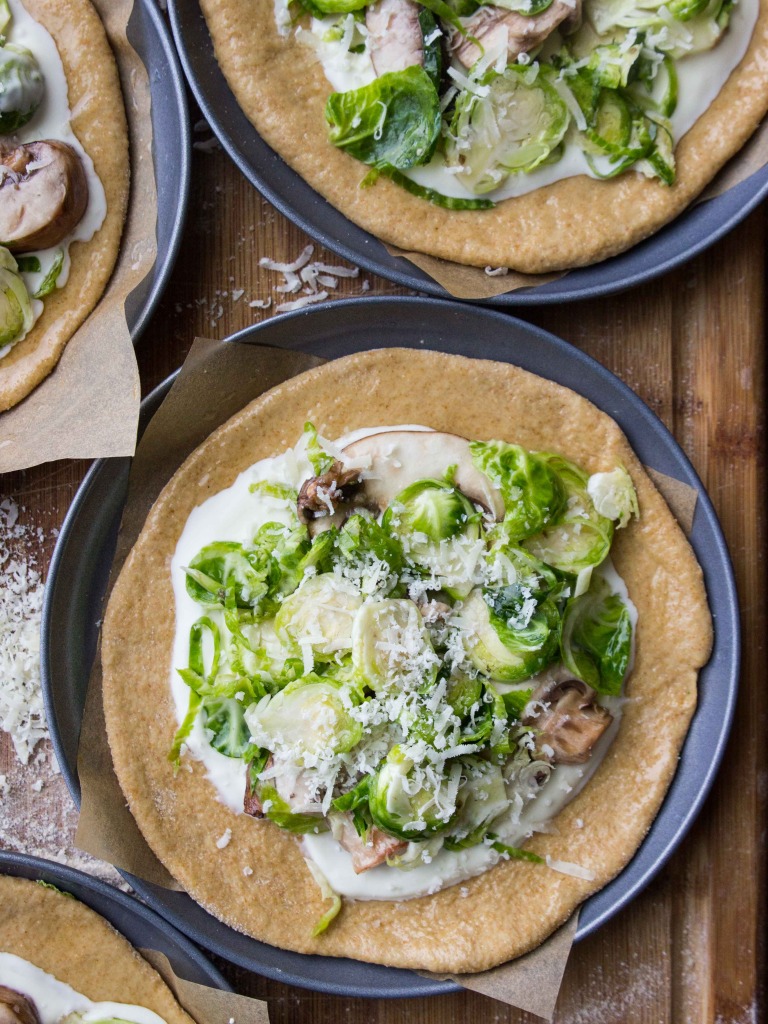 In deer bow-hunting world, the end of October/beginning of November is a big deal. Such a big deal that Ryan and I moved our anniversary from the day we ACTUALLY became official (November 4th), to our first date (October 1st).
He hunts a few times earlier in the fall, but for these coming two weeks he's pretty much a Wisconsin resident. And, ergo, for these two weeks brussels sprouts are pretty much a resident in my house.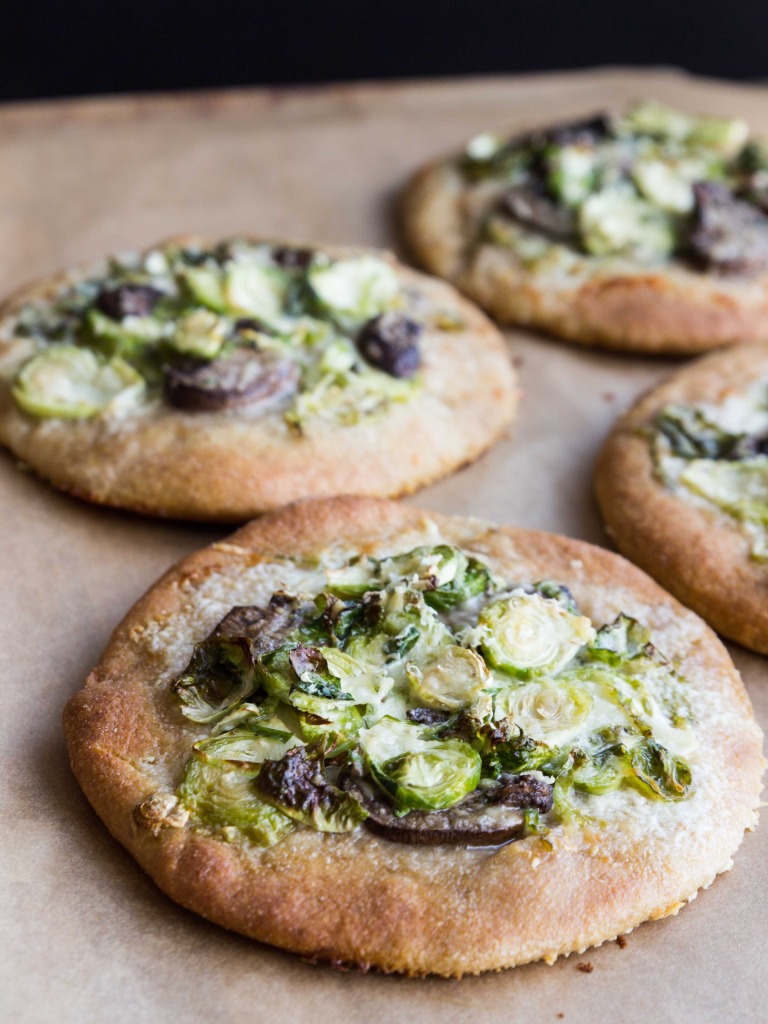 These two weeks will be filled with plenty of roasted sprouts, brussels sprout grilled cheese, and now, this pizza. The ingredients list is short, but the flavor is SO BIG, so it's the best of both worlds.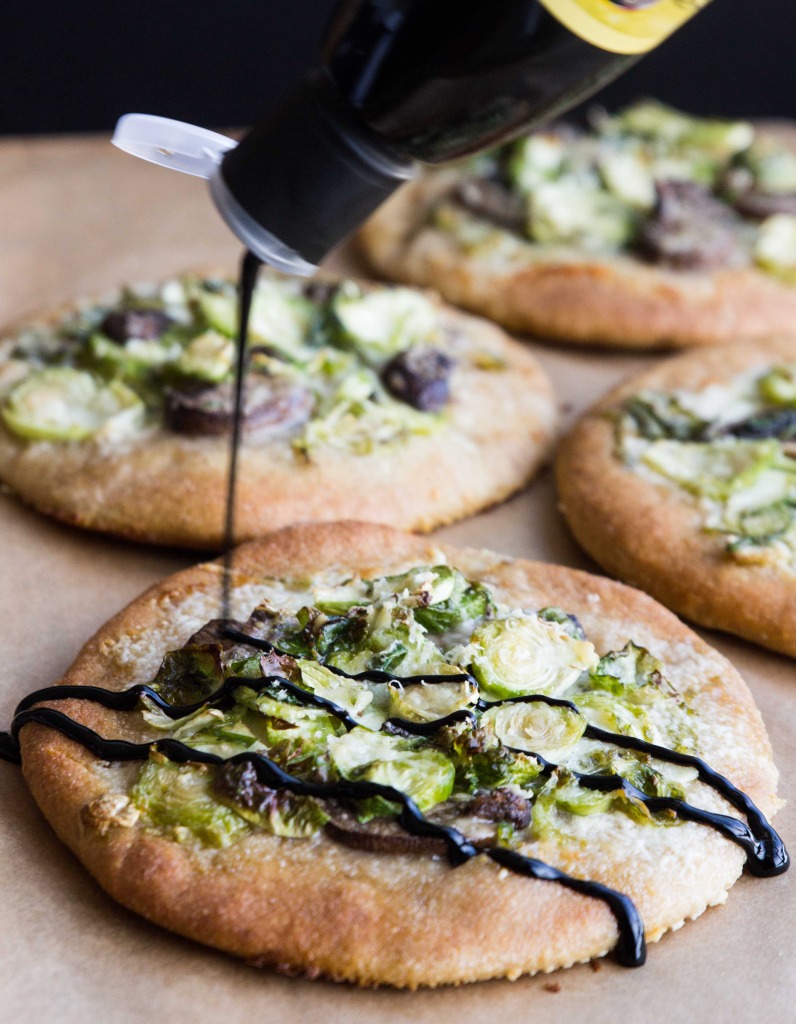 It starts with my whole wheat beer pizza crust – the crust I made for Ryan because he likes chewy crust vs. crispy crust. If you have a favorite dough that uses a similar amount of flour (1 1/2 cups), you can use that instead. If you like store bought dough (Trader Joe's Whole Wheat is my favorite), go for it. I made these into individual 7-inch pizzas, but if you want to just make one big pizza – do it, girl!
You see my point? This pizza is your oyster. Your vegetarian, brussels-sprout covered oyster.
Chewy crust, creme fraiche, rich mushrooms, nutty brussels sprouts, a touch of parm, and sweet, acidic balsamic drizzle.
While baking, the creme fraiche kind of siiiiinks into the center. Just a little, not enough to make it soggy, but instead if just makes the dough extra rich and irresistible. GAH. It's just too good.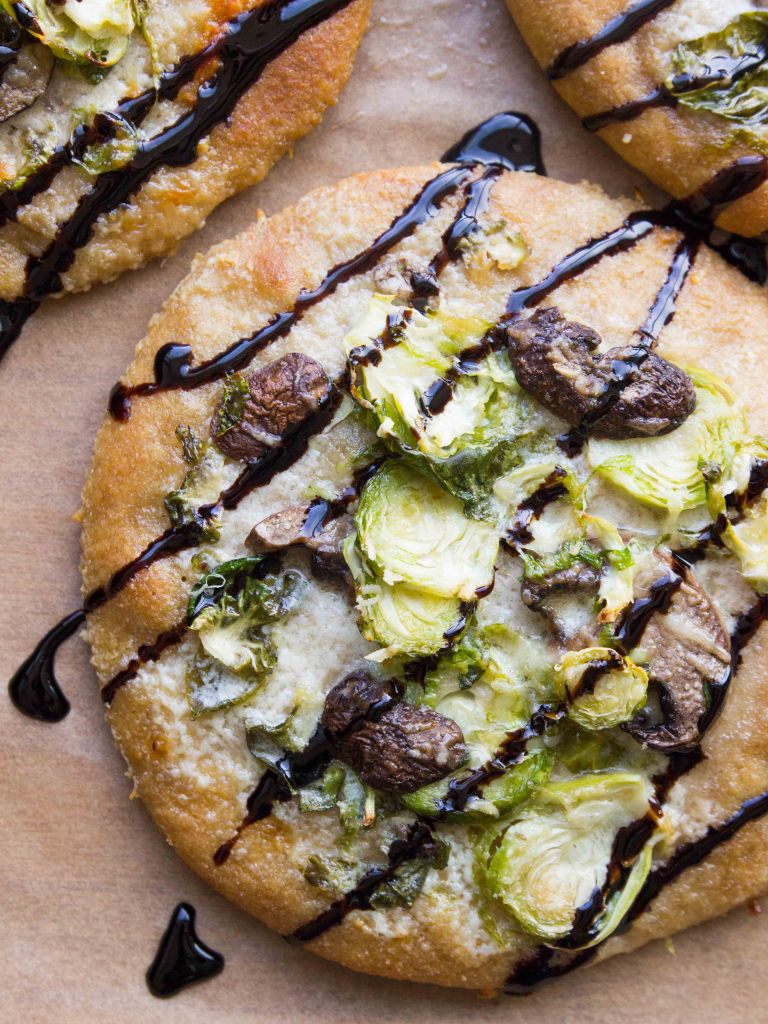 Happy sprout season to YOU.

Brussels Sprout, Mushroom and Creme Fraiche Pizzas
A chewy whole wheat crust topped with creme fraiche, brussels sprouts, mushrooms, and balsamic glaze! So simple and flavorful.
Yield: 4 pizzas
Prep Time: 20 minutes
Cook Time: 20 minutes
Total Time: 40 minutes
Ingredients:
1 recipe whole wheat beer pizza dough
8 brussels sprouts, thinly sliced (1/8")
1 cup sliced baby bella mushrooms
2 tablespoons olive oil, divided
1/2 teaspoon sea salt
8 tablespoons creme fraiche
2 tablespoons finely-shredded parmesan
Balsamic glaze
Directions:
Separate the dough into 4 equal-sized balls. If you haven't done the second rise yet (Step 4 in the Whole Wheat Pizza Dough instructions) cover each ball with plastic wrap or a damp paper towel, and let rise for 20 minutes.
Preheat oven to 375 degrees. If using a pizza stone, place it in the oven to preheat as well.
Roll each piece of dough into a 7-inch circle. Place them on individiual pizza pans (if you have them), or parchment paper, so you can bake them on a regular cookie sheet or your pizza stone.
Toss the sprouts and mushrooms with 1 tablespoon olive oil and the salt.
Brush the remaining olive oil on each pizza. Spread 2 tablespoons of creme fraiche on each pizza, leaving about an inch border for the crust. Top with the brussels sprouts and mushrooms, and finally the parmesan (1/2 tablespoon sprinkled on each pizza).
Bake for 20-25 minutes.
Drizzle with balsamic glaze, and serve.
Instead of making individual pizzas, feel free to make one big pizza. Cooking time and temp will be the same.
Nutrition info (below) is a rough estimate for 1 pizza. It does not include the balsamic drizzle, since the amount you use is up to you!
Nutrition Information: Serving Size: 1 pizza, Calories: 325, Sugar: 3.2g, Sodium: 796mg, Fat: 18g, Saturated Fat: 5.7g, Carbs: 31.4g, Fiber: 5.8g, Protein: 11.1g, Cholesterol: 16mg
11 Responses to "Brussels Sprout, Mushroom and Creme Fraiche Pizzas"