Curried Red Lentil Hummus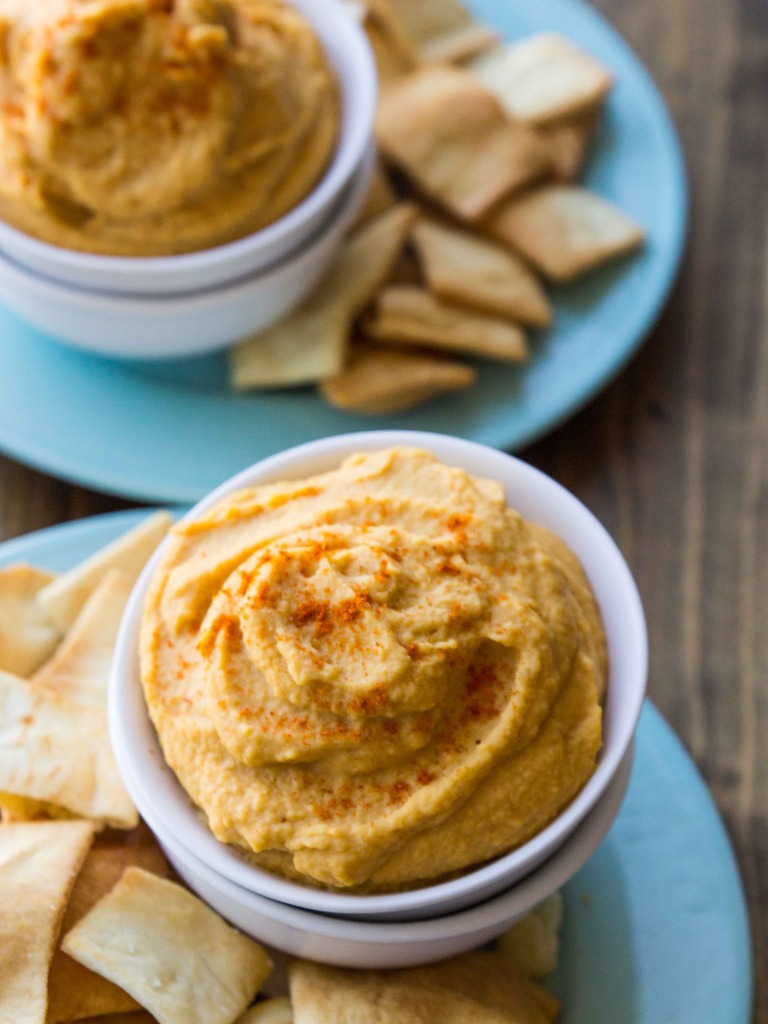 Here I am putting lentils where they shouldn't be yet again. First buffalo sauce and now hummus. Pretty soon I'll perfect those red lentil peanut butter cups I've been thinking about.
Ha! Just kidding. Except not really, because I've tried it before…and also I just made a bean dessert last night, which may just show up here soon. Eep. Before we get too off track, let's hurry up with the curry!…hummus.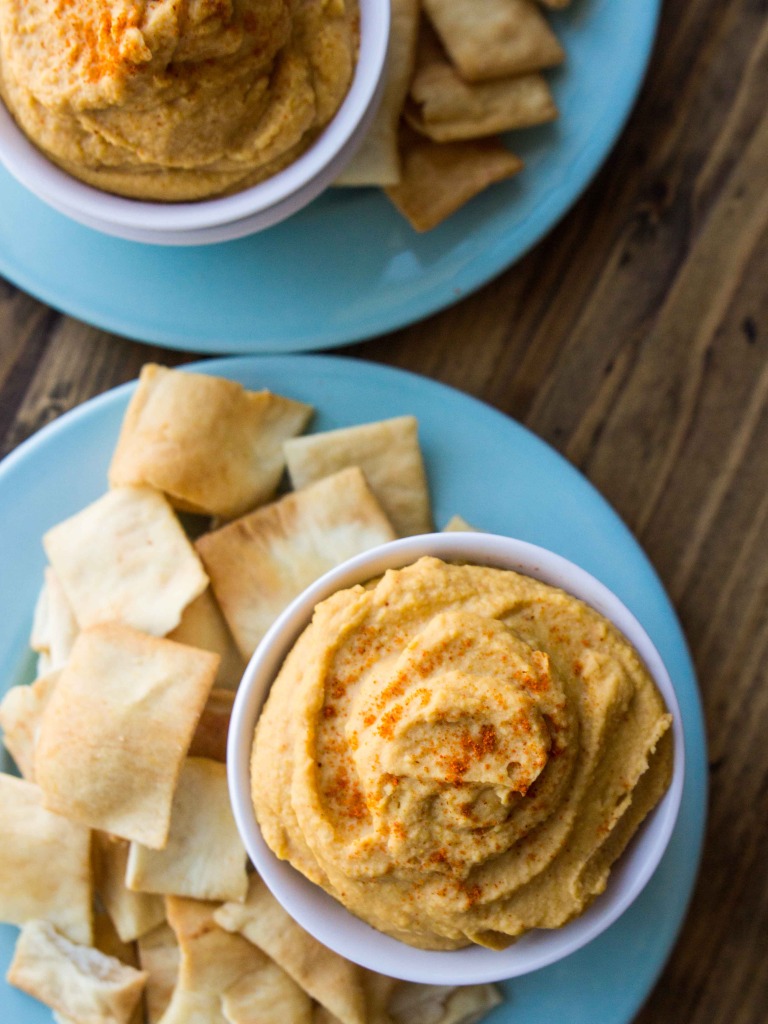 Today we're whirling up two of my favorite flavors into a creamy, versatile dip. It's a double legume occasion, with creamy chickpeas, the usual suspect in hummus, and red lentils, which blend up super smooth and lend just a mild flavor that works well with the curry spices.
Why not let hummus just be its awesome self, you ask? Although I love hummus, and go through phases where I can devour an entire batch in a matter of a few days, I tend to get burnt out of the traditional flavor. This, friends, is why I can't leave a good thing alone, and make things like falafel hummus, red pepper white bean dip, and, of course, today's creation.
This dip has a little heat from cayenne, and a lot of curry creaminess from blending up the chickpeas and lentils with red curry paste AND curry powder. After adding some salt and olive oil, we have ourselves a simple, boredom-free snacking situation.
Vegetable dipping just got more fun.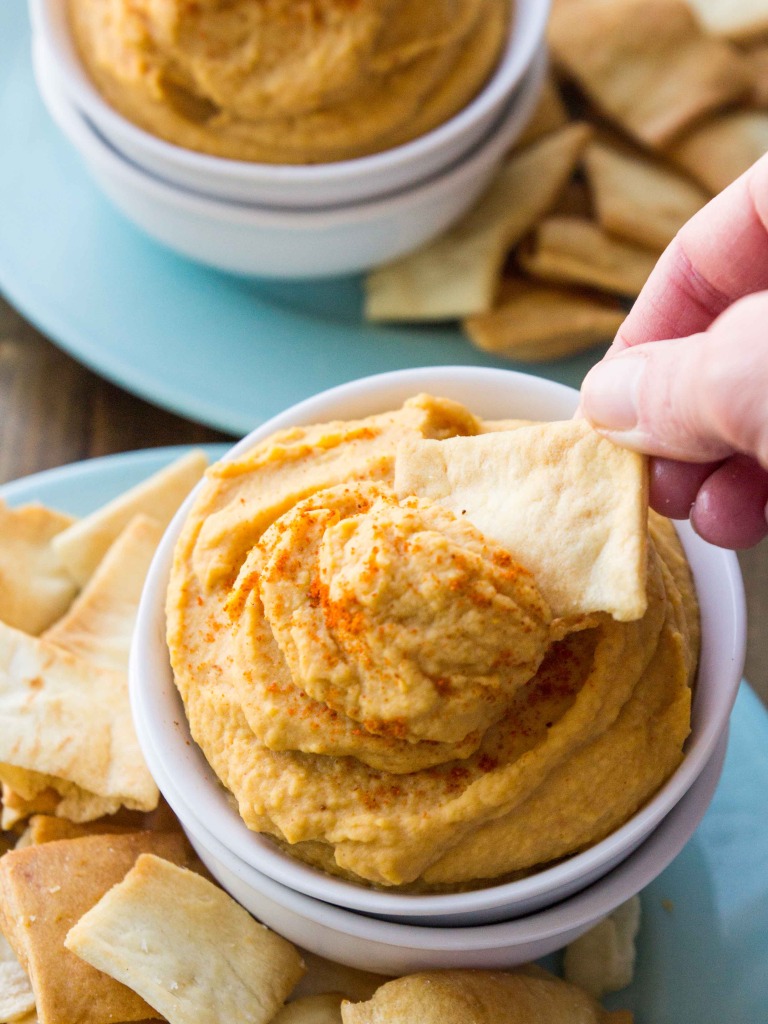 (and by "vegetable" I mean pita chips)
Curried Red Lentil Hummus
Thick and creamy red lentil and chickpea hummus that packs a punch with curry spices and cayenne.
Yield: 3 1/4 cup
Prep Time: 15 minutes
Cook Time: 10 minutes
Total Time: 25 minutes
Ingredients:
1 cup split red lentils, picked through and rinsed
3 cups water (for cooking the lentils)
1 (15-ounce) can chickpeas, rinsed and drained
1 tablespoon red curry paste
1/4-1/2 teaspoon ground cayenne
1/2 teaspoon curry powder
1/2 teaspoon salt
2 tablespoons olive oil
2-3 tablespoons water
Directions:
Mix the lentils and water in a saucepan and bring to a boil. Reduce heat to low, cover, and simmer for 10 minutes. Drain thoroughly - this is important because the lentils hold a lot of water. I let them sit in the strainer for 10 minutes.
Combine the lentils, chickpeas, curry paste, curry powder, cayenne and salt in a food processor. Process until mostly smooth. Drizzle in olive oil with the processor on, then thin out with water until it reaches desired consistency. I used 3 tablespoons.
Nutrition Information: Serving Size: 2 tablespoons, Calories: 83, Sodium: 181mg, Fat: 2.2g, Carbs: 11.9g, Fiber: 4.3g, Protein: 3.9g
2 Responses to "Curried Red Lentil Hummus"