Cauliflower Rice Lettuce Cups with Sriracha Peanut Sauce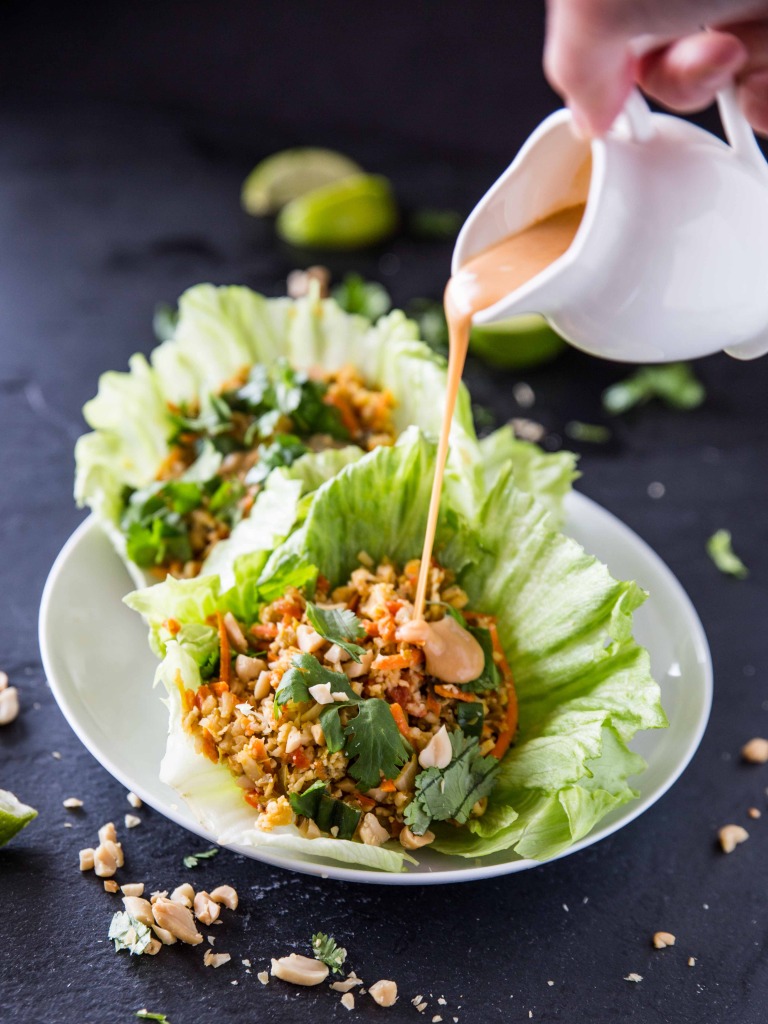 I'm in a real-deal peanut butter phase lately. I suppose I'm always in a peanut butter phase, but right now it's a little intense. For instance, this is an example of my day in food:
7:30pm – steel cut oats with peanut butter and maple syrup
12:00pm – curried peanut soup
3:00pm – healthy salted peanut butter buckeye SNACK TIME
7:30pm – these lettuce wraps
ALL THE PEANUT BUTTER ALL THE TIME. Send help.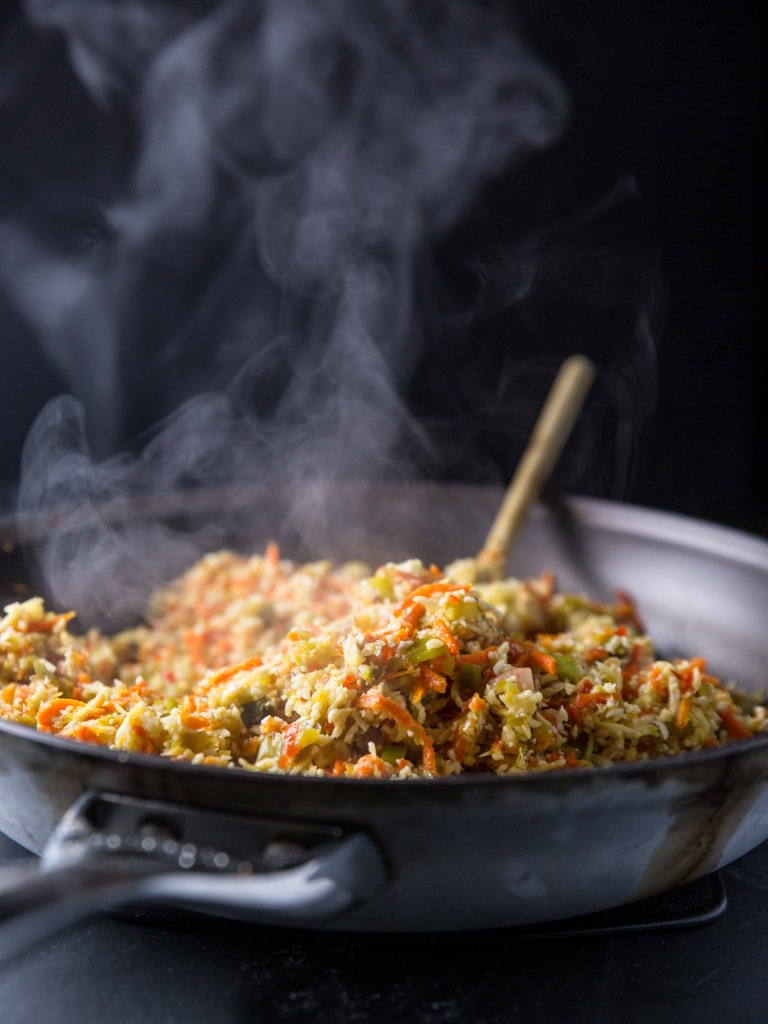 I mean, I have no real qualms about my peanut butter consumption, because YUM and PROTEIN, but I may need to work on my variety.
At least with all that peanut butter I'm getting some veggies. The lettuce wraps I'm sharing with you today are chock-full of vegetable goodness: cauliflower, red and green bell peppers, mushrooms, carrots, and lettuce, oh my!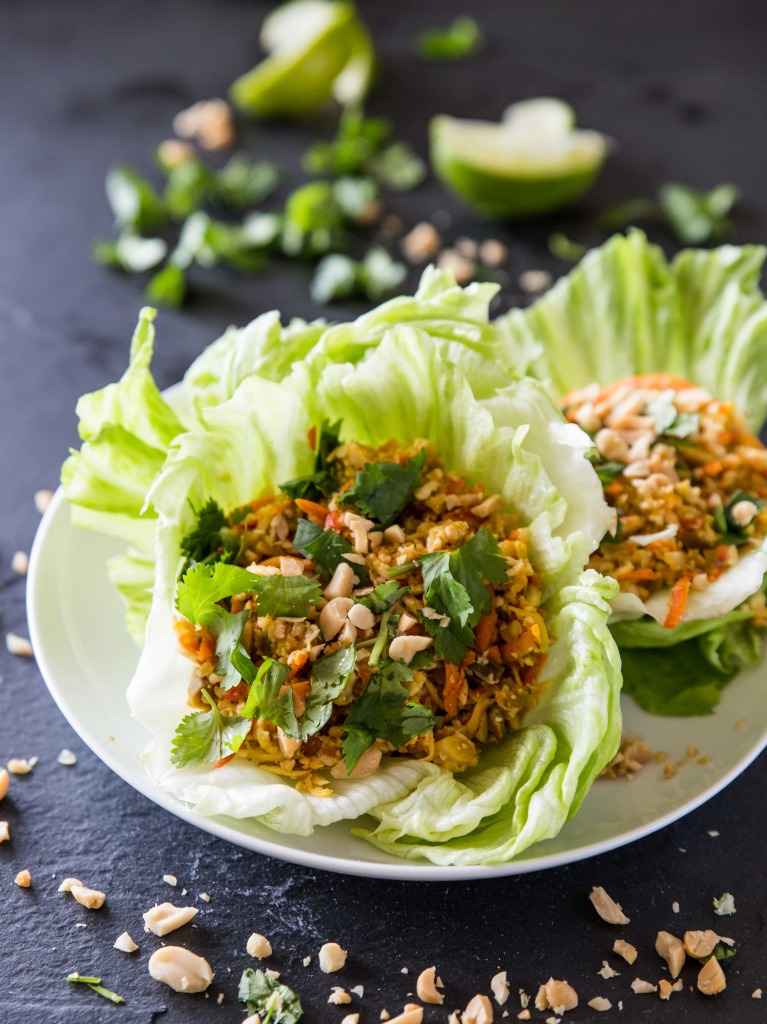 Cauliflower rice! Who knew? Probably a lot of you, but cauliflower rice is new to me, and I'm kind of in love with it. It adds volume, texture, and nutrients to meals, while keeping the calories low, which means we have more room for sriracha peanut sauce…which is a very good thing.
Once you get the cauliflower shredded (which is super easy if you have a shredding food processor), all you do is sautee your veggies in coconut oil with some lime and soy sauce (or tamari), and then add the cauliflower and cook for a few minutes to soften it up and make it more rice-like. Boil the sauce ingredients for a few minutes to thicken, then throw it all in a crisp lettuce cup.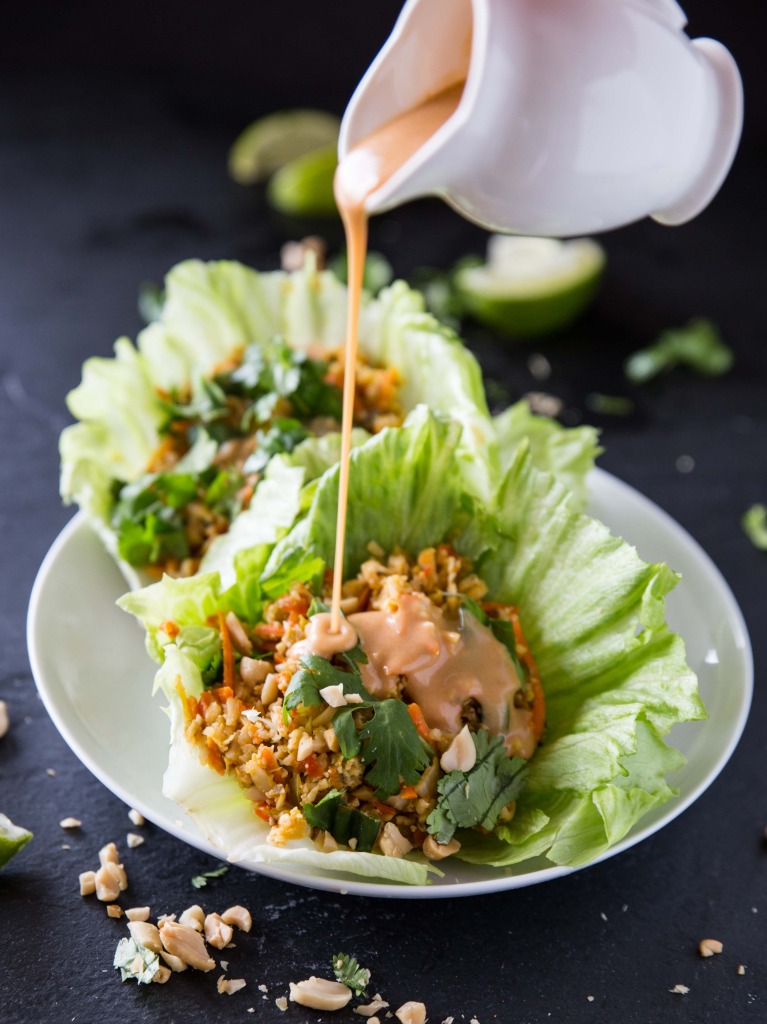 These lettuce wraps are refreshing and light, with a rich and spicy peanut butter finish. It's peanut butter love in dinner form.

Cauliflower Rice Lettuce Cups with Sriracha Peanut Sauce
Veggie-packed lettuce wrapped made with cauliflower rice, seasoned with soy sauce and lime juice, and drizzled with a thick and spicy peanut sauce.
Yield: 4-6 servings
Prep Time: 10 minutes
Cook Time: 15 minutes
Total Time: 25 minutes
Ingredients:
Cauliflower Rice Lettuce Cups
1 tablespoon coconut oil
2 cloves garlic, mined
5 green onions, sliced
2 small red bell peppers, finely diced
2 small green bell peppers, finely diced
5 ounces shiitake mushrooms, chopped
2 large carrots, shredded (about 2 cups)
1 lime, juiced
2 tablespoons reduced sodium soy sauce or tamari
1/2-3/4 teaspoon salt
1 head cauliflower, shredded
Iceberg of Bibb Lettuce, for serving
Cilantro and chopped peanuts, for topping
Sriracha Peanut Sauce
1/2 cup natural salted peanut butter
1 cup light coconut milk
1-3 tablespoons agave nectar or honey (to taste)
1/2 teaspoon sea salt
1 tablespoon brown rice vinegar
1 tablespoon sriracha (more to taste)
Directions:
Melt the coconut oil in a large nonstick skillet. Add the garlic and cook for 30 seconds, then add the onions and cook for 3-4 minutes. Stir in the peppers, mushrooms, and carrots, and squeeze on the lime, soy sauce, and half the salt. Cook, stirring frequently, for 7 minutes.
Pour in the shredded cauliflower and remaining salt (to taste), and cook for another 5 minutes, stirring frequently.
For the sauce: Combine all sauce ingredients in a saucepan over medium heat. Bring to a boil, and boil for 3-5 minutes, until thickened.
Serve the cauliflower mixture in iceberg or bibb lettuce cups, and drizzle on peanut sauce.
I shredded my cauliflower in a food processor, which made it super quick and easy, but you can use a cheese grater if you don't have a food processor that shreds.
Nutrition information is a rough estimate for 1/6th of the recipe with sauce. Lettuce is not included in the nutrition information, since the number of leaves will vary. Also, it's just lettuce.
Nutrition Information: Serving Size: 1/6th of recipe, Calories: 340 Fat:22.8g Saturated Fat: 12.5g Sugar: 15.9g Sodium: 748mg Carbs: 28.0g Fiber: 6.6g Protein: 10.6g Cholesterol: 0mg
73 Responses to "Cauliflower Rice Lettuce Cups with Sriracha Peanut Sauce"
Pingback: Link Lovin' | The English Room

Pingback: THE BANGKOK GLOBE | 23 Insanely Clever Ways To Cook With Cauliflower Instead Of Carbs - THE BANGKOK GLOBE

Pingback: Lettuce Cup Recipes – Low Carb Recipes – ALL YOU | Deals, coupons, savings, sweepstakes and more…

Pingback: What I Ate This Week: April 26-May 2 |

Pingback: 14 Cauliflower Recipes That Will Satisfy Your Latest Craving For The Vegetable - Viral Socially

Pingback: 14 Cauliflower Recipes That Will Satisfy Your Latest Craving For The Vegetable « Apprecify

Pingback: Who Knew Cauliflower Could Be So Tasty? These 14 Recipes Are Definitely Worth A Try — Fire Zorg

Pingback: Who Knew Cauliflower Could Be So Tasty? These 14 Recipes Are Definitely Worth A Try - Viral Posts Ninja!

Pingback: Who Knew Cauliflower Could Be So Tasty? These 14 Recipes Are Definitely Worth A Try — Buzz Ryan

Pingback: Replace Your carbs with Cauliflower

Pingback: Power Lunch Bowls with Roasted Broccoli and Sriracha Peanut Drizzle - Veggie and the Beast

Pingback: Eat #6 |