Vegan Dirt Cake Pie
Sunday, 7:55am, 3 days before my 29th birthday: I'm bundled to the max yet still shivering, standing outside Target waiting for the doors to open. An employee opens the doors and says, "We aren't quite ready to open, but you can come in and warm up if you want." I smile partially at this man's kindness, but mostly out of embarrassment, and I think to myself, "How did I get here?" When I worked at a Starbucks inside Target in high school, I used to laugh at those door-busting people. What could be so important that you got out of bed to be the first to break through those bullseye doors?
For me, this past Sunday, it was 2 packs of oreos that brought me there so early in the morning. I'm apparently that person. After 29 years on this planet, my Sundays have turned into early mornings and packaged cookies.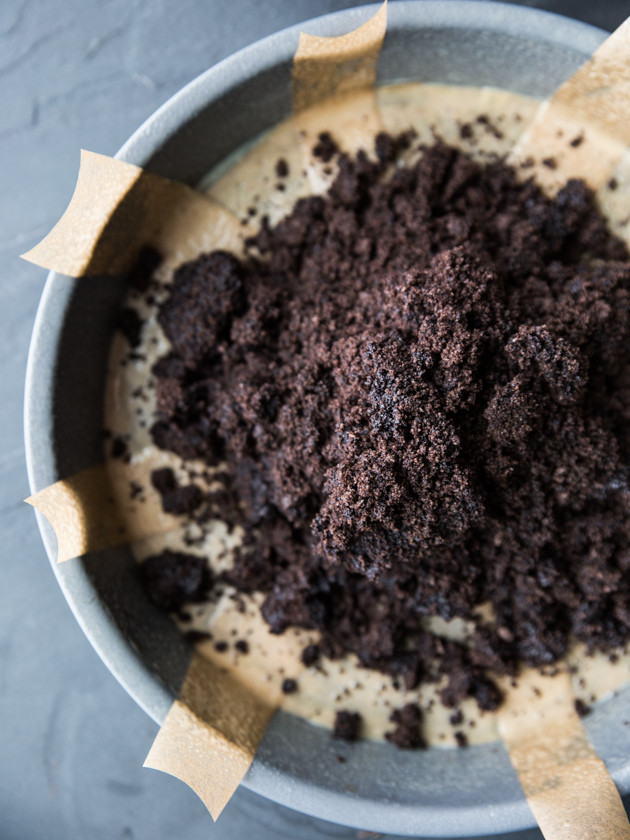 Of course, my lame Sunday started with great intention. For the past couple years I've made a tradition of sharing a favorite treat on my birthday, and this year I had a vision of vegan dirt cake pie. As I've mentioned before, my birthday dessert of choice is dirt cake served out of a bucket with a mini shovel. It's a family tradition, and one that isn't going anywhere anytime soon. However, it does kind of kill me to have a dessert with all of those processed ingredients, so I set out to make a decadent vegan version, without all the junk (except the oreos, because what is dirt cake without oreos? sometimes you just gotta).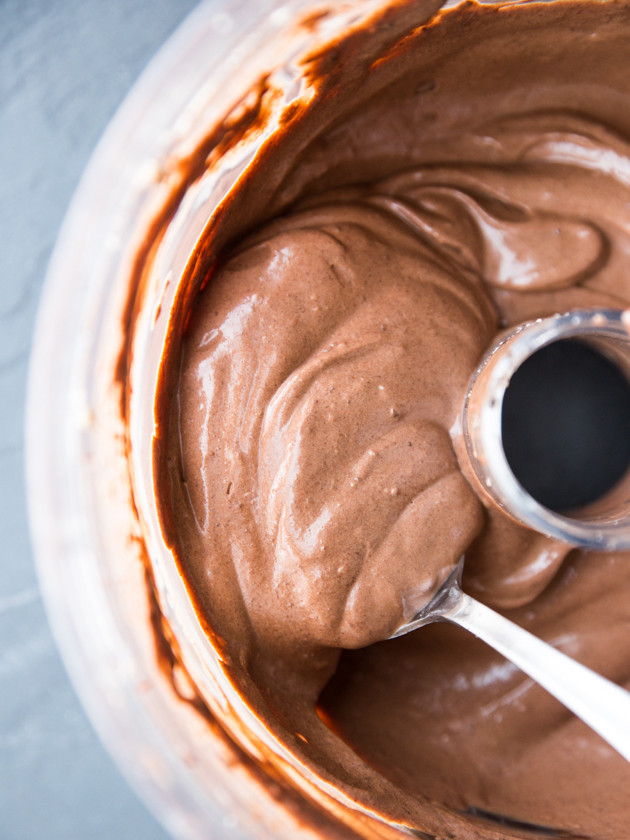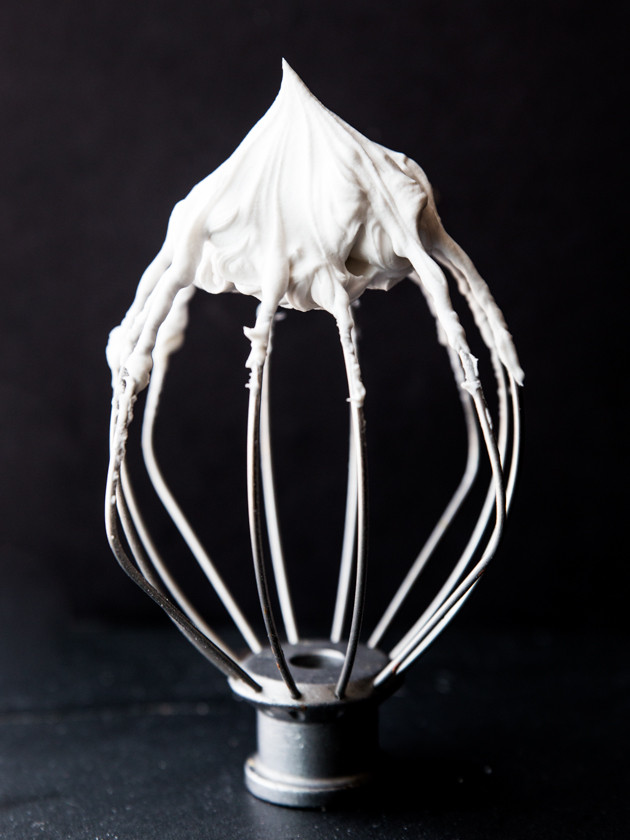 I made it the first time on New Year's Eve and it was PERFECT, but it stuck to the pan. I made it again on Saturday, this time with tons of coconut oil rubbed all over the pie pan, and it stuck again. I made them into bars with parchment, and they weren't as good because the crust:filling ratio was just all WRONG SO WRONG, so then on Sunday morning, after my early Target run, I decided to try freezing the crust instead of baking it, and it stuck AGAIN.
There was profanity. There was a red face and a hot fiery rage. There was fear (sorry Ry).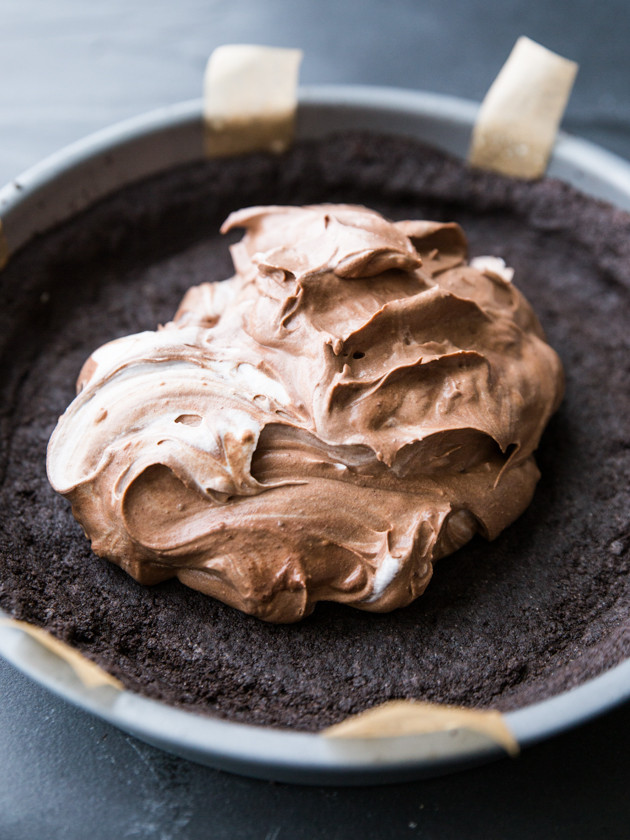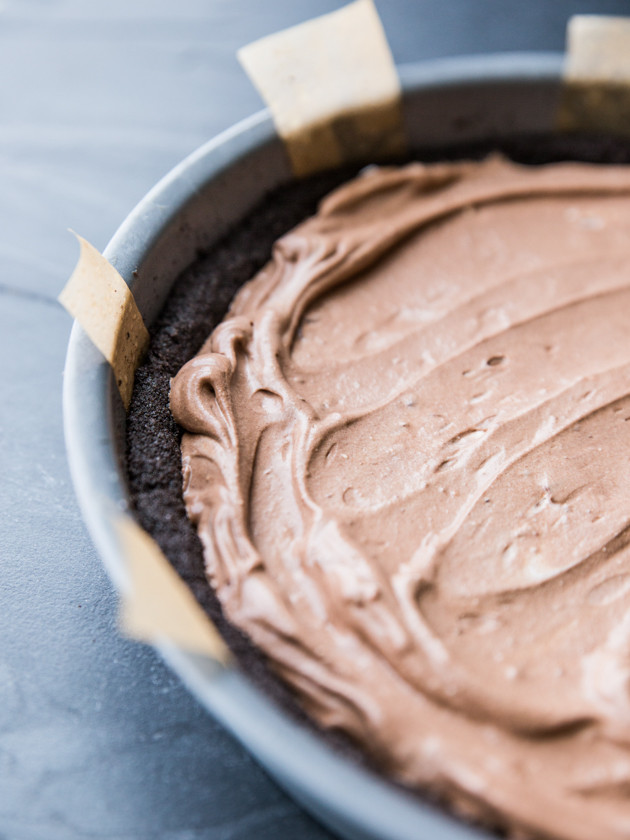 So, one more time with feeling, I greased and parchmented (a word? no?) the HECK out of a cake pan, and the crust slid right out. I rejoiced in silence so as to not jinx the magic. The world felt right again. It was a birthday miracle.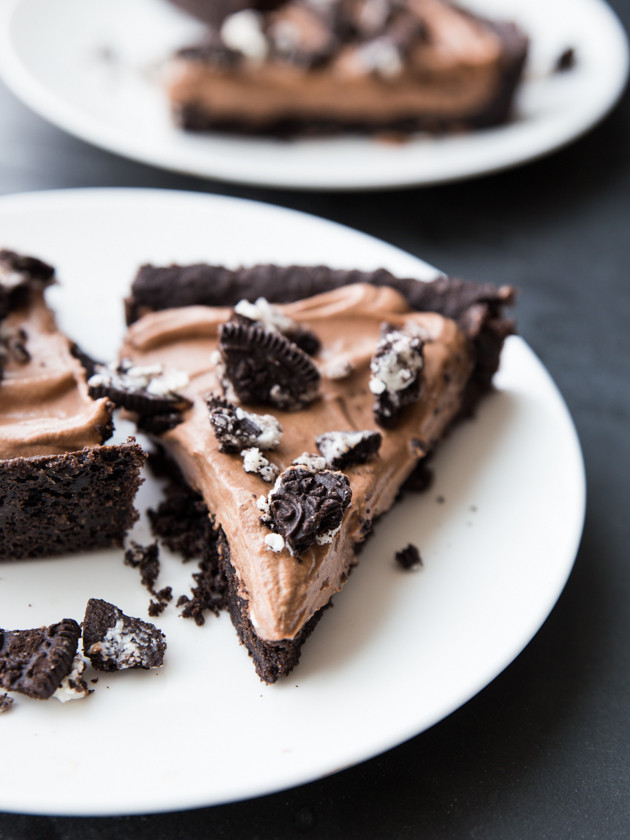 Now you know that the fortress of parchment you see in picture #2 is absolutely necessary. Don't experience the pain I did. You don't deserve that.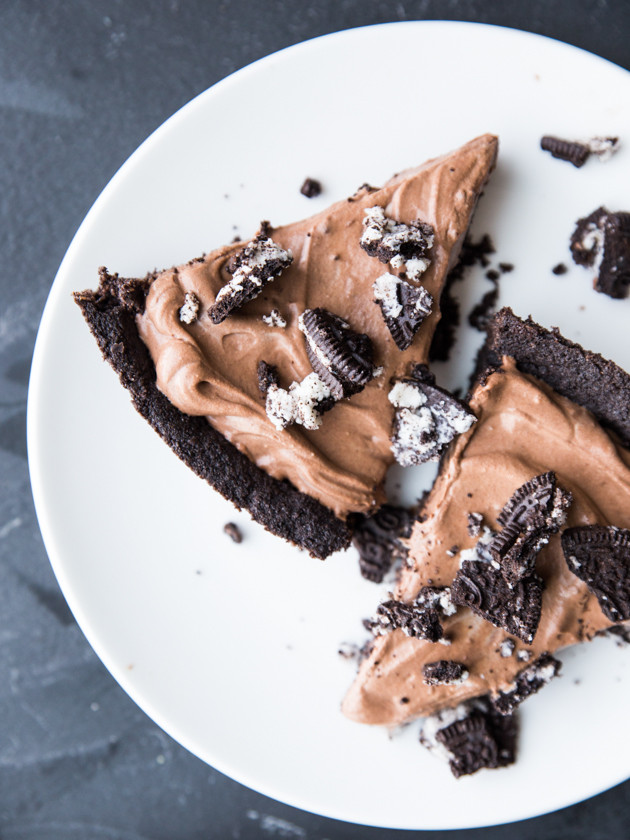 If you're not familiar with dirt cake, it has a few crucial components: chocolate pudding, cool whip, and, of course oreos. The chocolate pudding element is usually made of instant pudding mix, milk, butter, and cream cheese. In my version, the chocolate pudding consists of silken tofu, cocoa powder, powdered sugar, and melted chocolate chips. It's sweet, smooth, and the perfect consistency for folding into the whipped coconut cream, which takes the place of highly-processed cool whip. The two together make a creamy mousse-like texture, which sits on top of a crisp oreo crust. The filling firms up slightly in the fridge to simplify slicing and serving, and then you top it all off with more crushed oreos, because it just feels so right.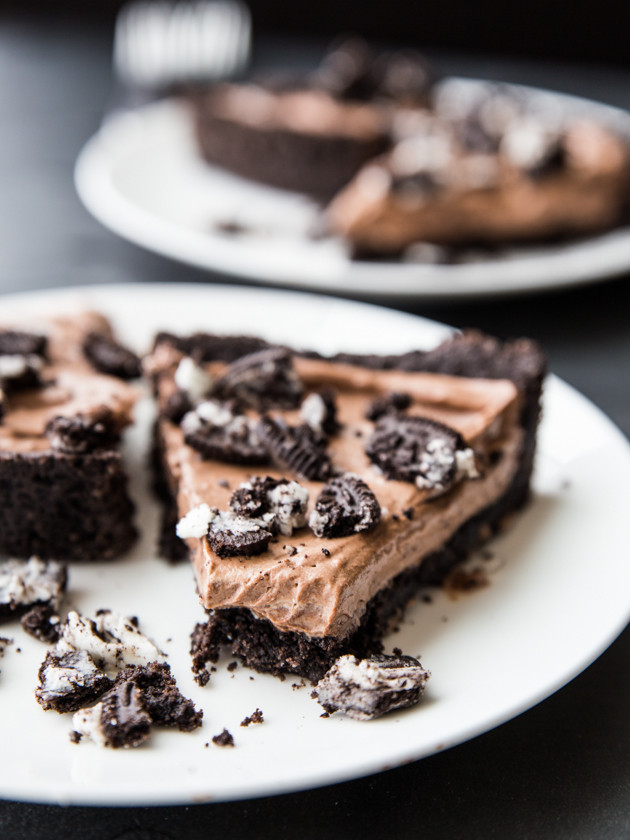 Previous years' birthday treats include:
1 year ago: Vegan Chai Spice Cake with Vanilla Bean Buttercream
2 years ago: Brown Butter Quinoa Monster Cookies
Off to eat vegan dirt cake pie for breakfast, and dirt cake from a bucket for dessert. #29 #adulthood


Vegan Dirt Cake Pie
A favorite childhood treat, veganized! Rich, creamy, and just like the original, but without the dairy or heavily processed ingredients (except the oreos, but sometimes you just gotta).
Yield: 1 pie (12 servings)
Prep Time: 40 minutes
Cook Time: 7 minutes
Total Time: 47 minutes
Ingredients:
Chocolate Cookie Crust
24 chocolate sandwich cookies
4 tablespoons vegan butter, melted
Chocolate Pudding
8 ounces silken tofu
1/4 cup cocoa powder
1/8 teaspoon sea salt
1/4 cup powdered cane sugar, divided
1/2 cup semisweet chocolate chips
Coconut Whipped Cream
3/4 cup coconut cream, chilled
1/4 cup powdered cane sugar
Topping
6 chocolate sandwich cookies, crumbled
Directions:
Preheat oven to 350. Place the bowl and mixer you'll use to whip the cream in the freezer to chill.
Line the bottom of a 9-inch round cake pan with parchment paper, and cut out 4 strips to lay across the pan - this will simplify removing the pie from the pan, which is important. Liberally grease the exposed sides of the pan and all parchment.
Place 24 oreos in a food processor and process until fine crumbs form. Pour in the melted vegan butter.
Press the cookie crumbs into the prepared pan, pushing it into the bottom and up the sides.
Bake for 7 minutes. Allow to cool completely (I placed mine in the freezer while I prepared the remaining ingredients).
Rinse out your food processor, and then fill with the tofu, cocoa powder, powdered sugar, and sea salt. Process until smooth.
Meanwhile, bring a small pan of water to a simmer. Place a glass bowl on top with the chocolate chips, and allow to melt, using a rubber spatula to stir occasionally.
Pour the melted chocolate into the tofu mixture, and pulse until smooth. Place the mixture in the refrigerator while you make the coconut whipped cream.
Remove the chilled mixing bowl and mixer from the refrigerator, and add the coconut cream. Whip on high until soft peaks begin to form, and then add the remaining 1/4 cup powdered sugar. Whip again until incorporated and you see soft peaks.
Fold together the coconut whipped cream and the chocolate mixture, careful not to overmix. Spoon the mixture into the cooled pie crust, and use the back of a spoon to spread evenly. Freeze for 20 minutes to simplify cutting/serving, or place in the refrigerator until ready to eat.
Cut the pie into 12 slices, using the strips of parchment paper to gently lift the pieces out of the pan, and a spatula to transfer to a plate. They will be a little fragile, so work carefully.
Crumble the remaining oreos on top after slicing (it's more difficult to slice the pie with the oreos on top). Store covered in the fridge.
You can buy coconut cream at Trader Joe's, or you can take a can of full fat coconut milk, flip it upside down, and put it in your fridge overnight. When ready to use, open the bottom of the can, pour out the water on top, and scoop out the cream to whip. 3/4 cup is about the amount you will get from 1 can of full fat coconut milk.
I made this recipe with natural chocolate sandwich cookies, and also with oreos. Both work great. Oreos do not include any animal products, but if you don't feel comfortable using oreos, feel free to sub another brand.
Nutrition Information: Serving Size: 1 slice (1/12th of recipe), Calories: 351, Fat: 18.9g, Saturated Fat: 9.0g, Cholesterol: 0mg, Sodium: 248mg, Potassium: 199mg, Carbs: 43.8g, Fiber: 2.9g, Sugars: 27.5g, Protein: 3.4g
26 Responses to "Vegan Dirt Cake Pie"