High Protein Chocolate Cupcakes with Peanut Butter Vanilla Bean Frosting
WELCOME to the new Veggie and the Beast! Let's celebrate with cupcakes.
I'm thrilled to have a new logo, customized site, and an easy-to-use recipe index. If you head over to the Recipe Index page, you'll see that you can search by recipe category or ingredient, OR you can just type into the search bar and voila – recipes.
I also have a fun new recipe layout, which you'll see below. I'm still in the process of converting all of my recipes, so try not to let the inconsistency bug you (it's bugging me for SURE, so I will have the rest converted asap).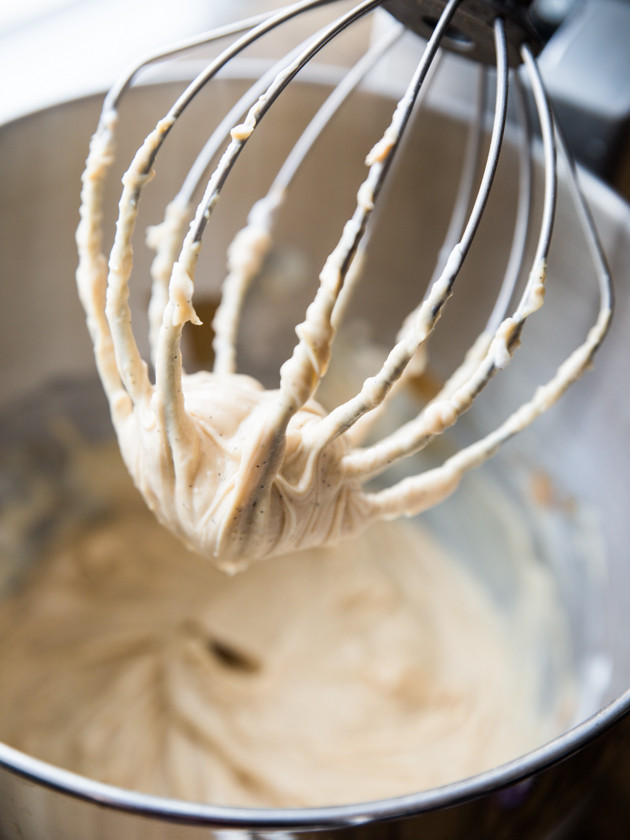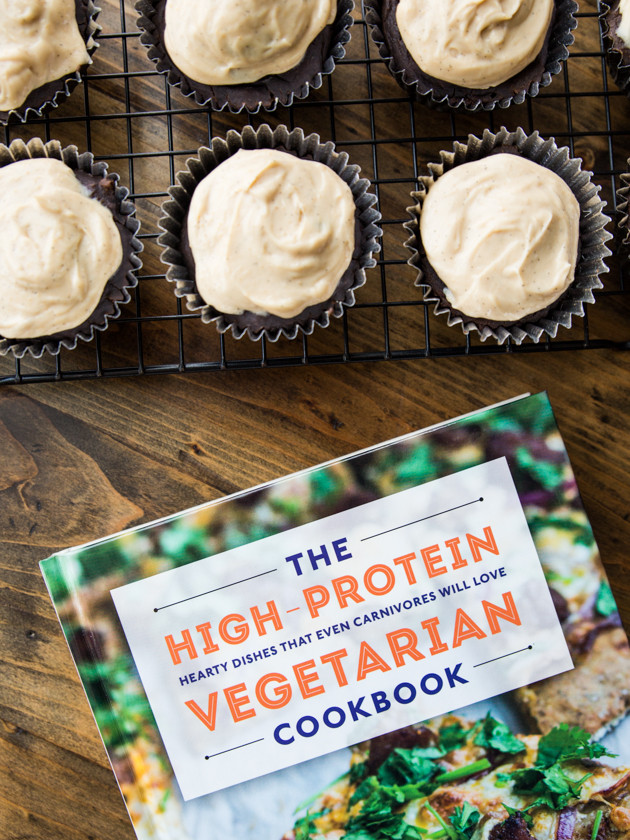 To celebrate the new site, but mostly because I love chocolate, I'm sharing one of my favorite dessert recipes from The High Protein Vegetarian Cookbook. These cupcakes are secretly better-for-you than most, yet are richly chocolatey, fluffy, and moist, with a sweet and smooth peanut butter vanilla bean frosting.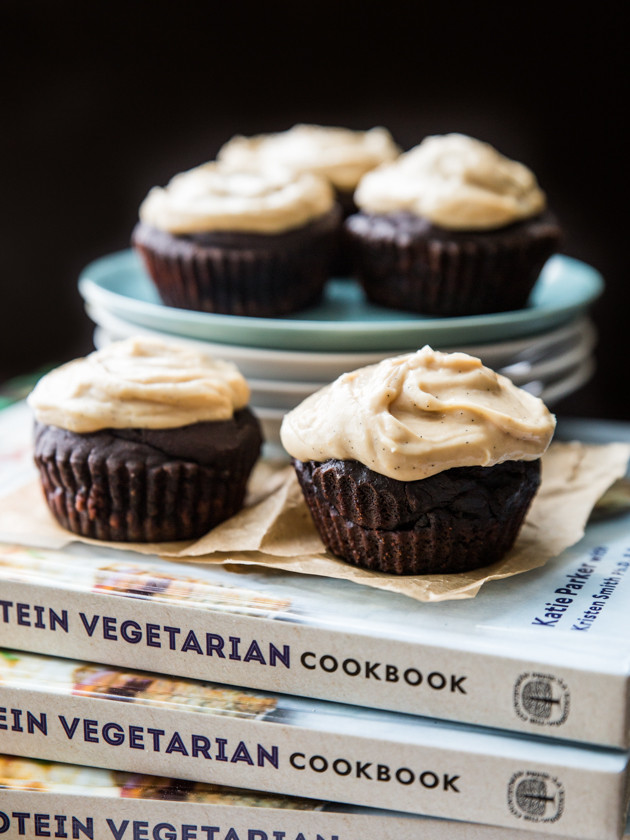 The protein (6.8g per cupcake) primarily comes from silken tofu in the cake, and peanut butter and Greek yogurt in the frosting. When I brought these to work after making them last year, I had several coworkers ask for the recipe. I felt so sneaky telling them about the tofu and yogurt, but it turns out no one cares when they taste as good as these!
I've also made this frosting with Nutella instead of peanut butter, and DANG – if you're a chocoholic, you must try that version!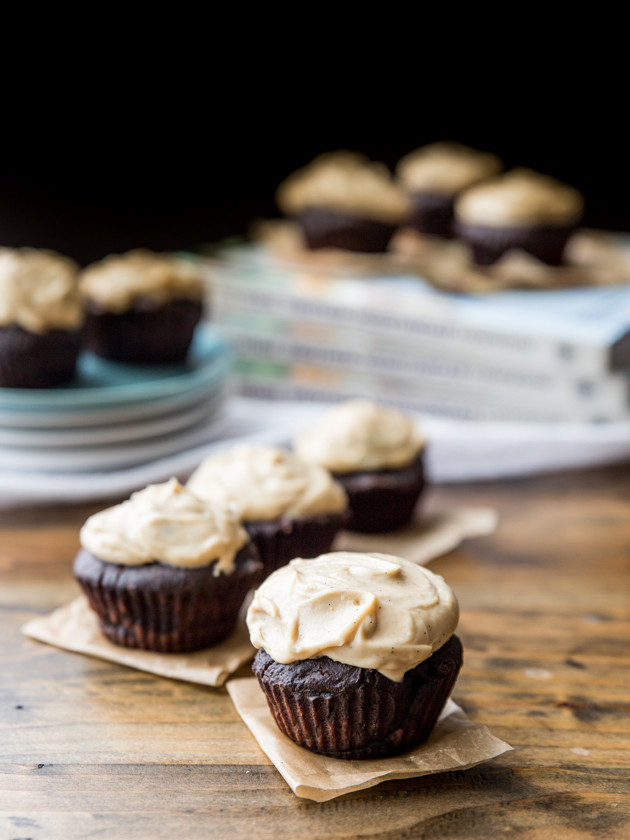 If you're vegan, you can definitely make the cake vegan by using non-dairy milk. The frosting has a couple different dairy components, so just top the cupcakes with your favorite vegan-friendly frosting. I have a couple options here and here.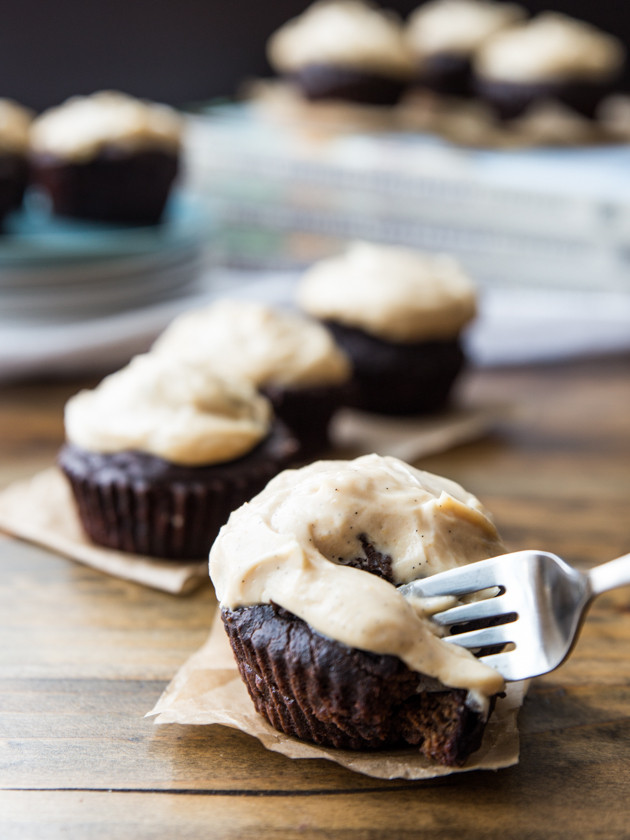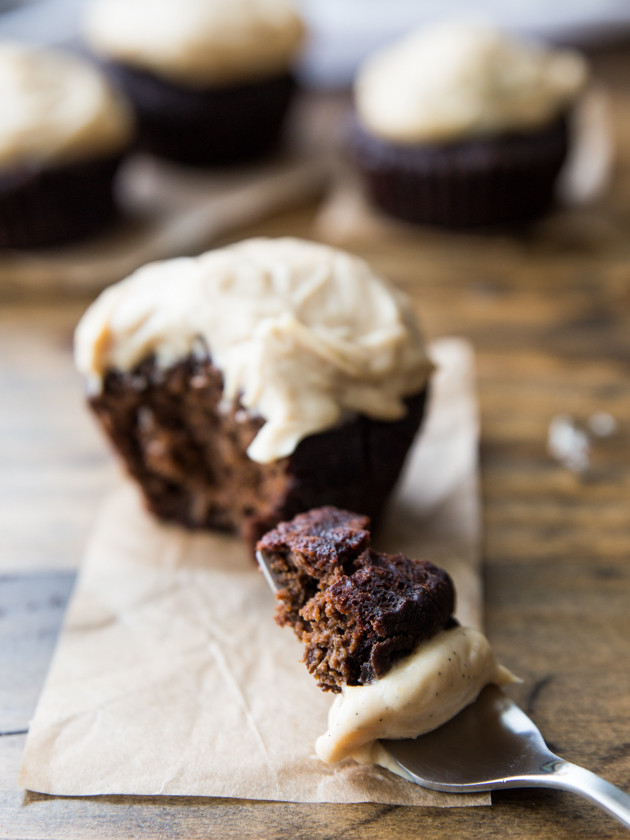 If you're looking for a healthier option to cure your sweet tooth, these are it! Let me know if you try them, and I hope you love the new blog design as much as I do!

High Protein Chocolate Cupcakes with Peanut Butter Vanilla Bean Frosting
Rich, moist and fluffy chocolate cupcakes made without butter or eggs, and topped with a creamy (and secretly high protein) Greek yogurt peanut butter vanilla bean frosting.
Yield: 18 cupcakes
Prep Time: 15 minutes
Cook Time: 20 minutes
Total Time: 35 minutes
Ingredients:
Chocolate Cupcakes
½ cup 1% lowfat milk
½ tablespoon apple cider vinegar
1 16-ounce container silken tofu
3 tablespoons coconut oil, melted
¾ cup dark brown sugar, packed
½ tablespoon vanilla extract
1 ¼ cups unbleached all-purpose flour
½ cup whole wheat pastry flour
¾ cup cocoa powder
½ tablespoon baking soda
¼ teaspoon salt
½ cup strong coffee
Peanut Butter Greek Yogurt Frosting
1 ¼ cups 2% plain Greek yogurt
½ cup peanut butter
2 tablespoons mascarpone cheese
¾ cup powdered sugar
1 vanilla bean, split down the middle
Directions:
Preheat oven to 350.
Combine the milk and apple cider vinegar, and set aside for 5 minutes.
Puree the tofu in a food processor until completely smooth. Transfer to a large mixing bowl, then beat in the coconut oil and brown sugar. Beat in the vanilla and milk/vinegar mixture until smooth.
In a separate bowl, sift together the flours, cocoa powder, baking soda, and salt.
Gradually add the dry ingredients to the wet ingredients.
Pour in the hot coffee and stir until it is distributed throughout the batter.
Place muffin liners in a muffin pan, and liberally grease with non-stick spray. Scoop the batter using ¼ cup into the muffin liners. You should end up with 18 cupcakes. Bake for 15-20 minutes, or until a knife inserted in the center comes out clean.
Place on a cooling rack to cool completely.
For the frosting, whip together the Greek yogurt, peanut butter, and mascarpone. Beat in the sugar and vanilla bean.
Use a spoon to dollop frosting on top of each cooled cupcake.
Cupcakes may be made vegan by using non-dairy milk, and topping with your favorite vegan frosting.
If you want to add some variety, swap the peanut butter in the frosting with Nutella for an extra chocolatey treat.
If you can't find a 16-ounce container of silken tofu, you may sub a 14-ounce container of soft tofu, and add an additional 1/4 cup milk.
Nutrition Information: Serving Size: 1 cupcake with frosting, Calories: 205, Calories From Fat: 74, Fat: 8.3g, Saturated Fat: 3.5g, Protein: 6.8g, Carbs: 28.4g, Fiber: 2.3g, Cholesterol: 4mg, Sodium: 184mg
8 Responses to "High Protein Chocolate Cupcakes with Peanut Butter Vanilla Bean Frosting"
Pingback: Good good links #71 | Let's get living