Barbecue Baked Tofu Sandwiches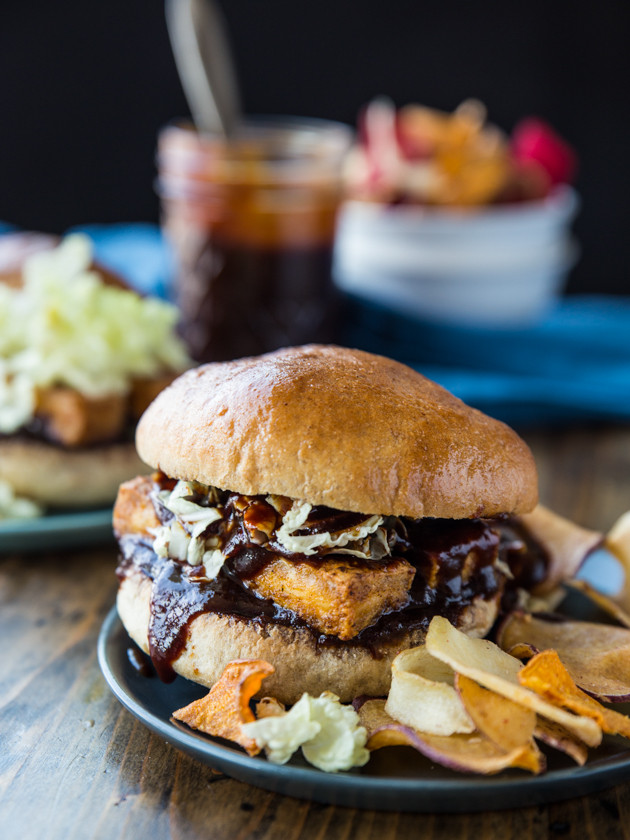 I'm in a bit of a tofu phase lately, which probably sounds weird to most of you. As I've admitted before, tofu, when not prepared correctly, is downright gross. Yes, gross. This vegetarian isn't denying it.
However, if you learn how to infuse it with flavor and amp up the texture, it opens up all kinds of meat-free food doors, like tacos, sandwiches, salad toppings etc.
Whenever I find a restaurant that prepares tofu well, I have an internal celebration. I particularly like when I find menus with crispy fried tofu. Well seasoned and crispy tofu may be one of my favorite foods. Such a vegetarian, I know.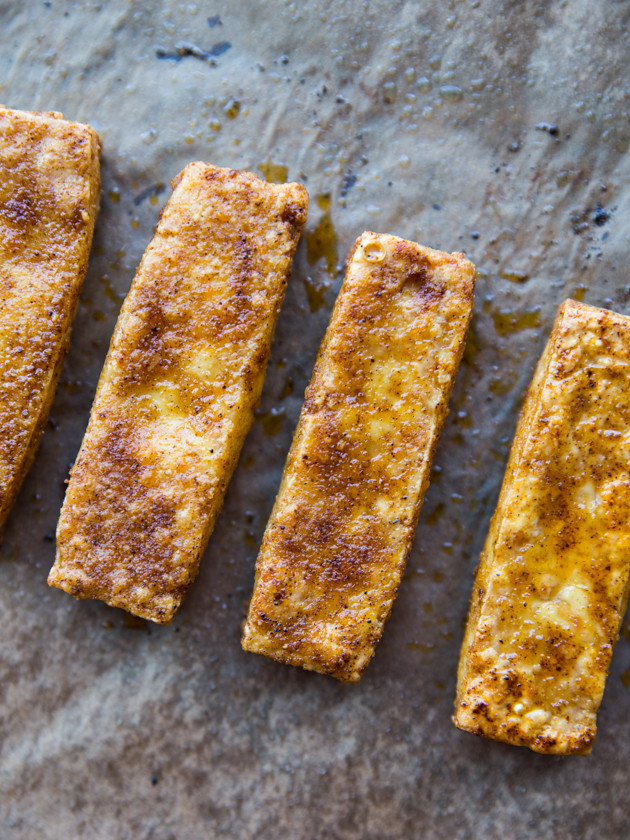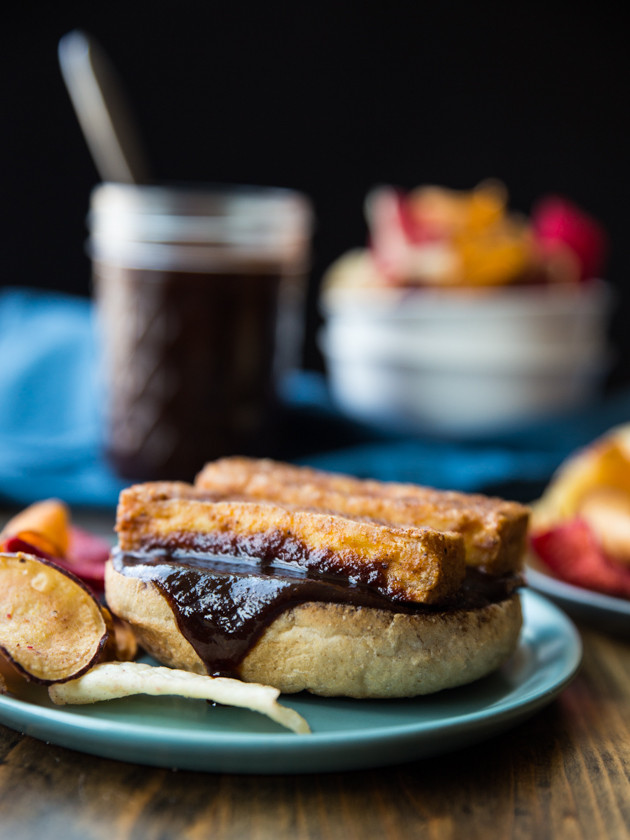 The sandwich I'm sharing today is a take on one of my favorite tofu-centric restaurant meals, which I'll actually be enjoying tonight on a dinner date with my longtime best friend. The sandwich is simple enough: seasoned and fried tofu, housemade bbq sauce, fluffy whole grain bun, and shredded cabbage. Texture, spice, and sauce for days.
In my opinion, the more sauce the better. Always.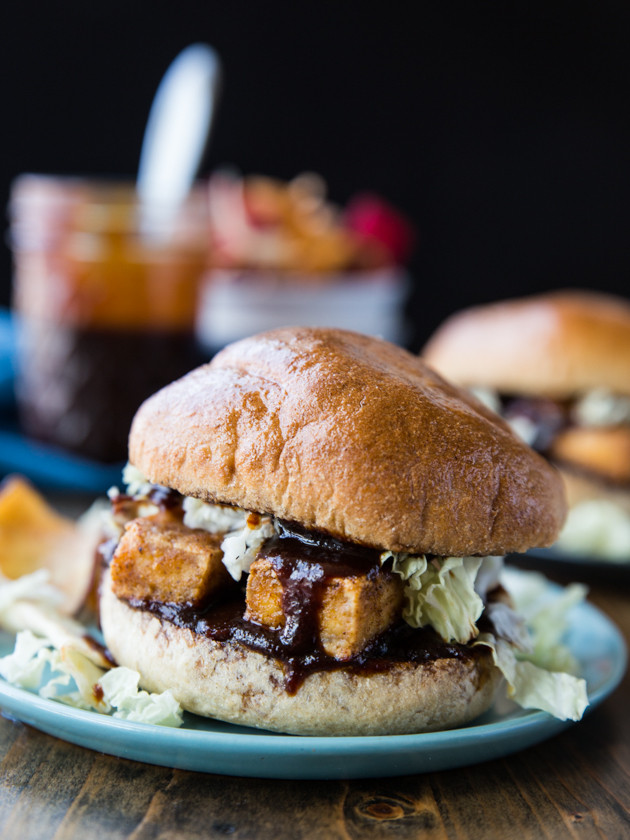 For the version I'm sharing today, we season tofu strips with a combo of garlic, chili powder, and salt, and use arrowroot starch to help crisp it up while it bakes (no frying in my version!) in the oven. While the tofu bakes, we combined all of the sauce ingredients in a pan, and let simmer until slightly thickened and deepened with flavors.
When all is said and done, we pile that tofu on a toasted, buttered bun, slather on the sauce, and top it all off with some crispy napa cabbage.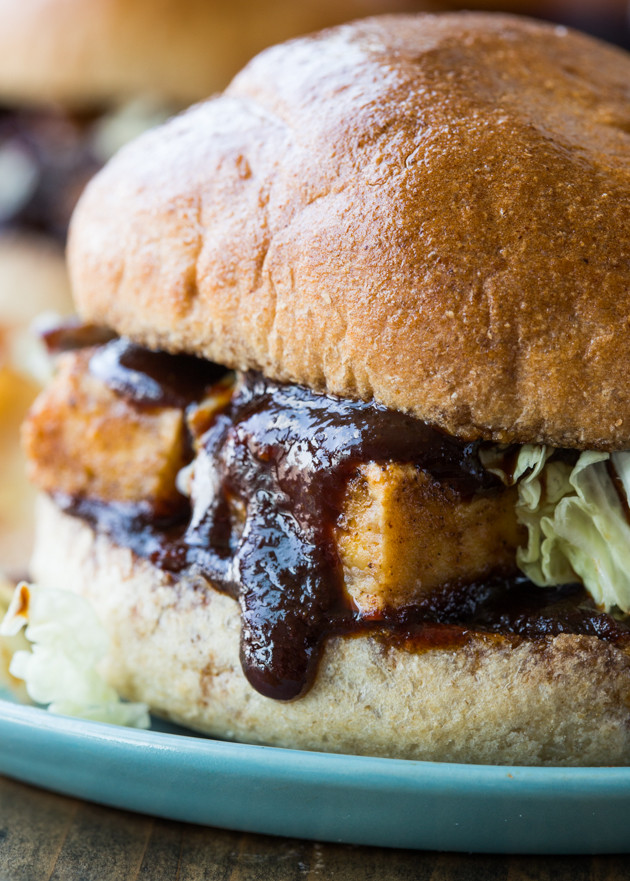 If you're a tofu like me, or are even tofu curious, I think you'll love this sandwich. It's crispy, smoky, sweet, and messy in the very best way.
Have yourself a saucy Thursday!

Barbecue Baked Tofu Sandwiches
Crispy baked tofu strips piled on whole wheat buns and covered with homemade barbecue sauce.
Yield: 4 sandwiches
Prep Time: 20 minutes
Cook Time: 40 minutes
Total Time: 1 hour
Ingredients:
Seasoned Baked Tofu Strips
1 package extra firm tofu, preferably organic
1 1/2 tablespoon olive oil
1 tablespoon arrowroot powder
1/4 teaspoon fine salt
1/2 teaspoon chili powder
1/2 teaspoon garlic powder
Smoky Barbecue Sauce
1 teaspoon garlic powder
1/2 teaspoon onion powder
1 cup ketchup
1/3 cup molasses
1/3 cup maple syrup
3 teaspoons liquid smoke
6 tablespoons apple cider vinegar
2 tablespoon vegan Worcestershire sauce
1/2 teaspoon sea salt
Assembly
1 cup chopped napa cabbage
4 whole grain hamburger buns
Directions:
Preheat oven to 400 degrees. Place a rack in the top 1/3 of the oven.
Cut the tofu in half, then in half again so you have 4 strips. Cut each strip in half again. Wrap in a clean kitchen towel, place a cutting board on top of the wrapped tofu, and top with something heavy (I like using my dutch oven). Let sit for 15 minutes.
After the 15 minutes are up, transfer the tofu to a bowl and drizzle with olive oil. Stir gently with a spoon, or with clean hands, to ensure each piece is coated. In a small bowl, combine the starch, salt and spices, then sprinkle over the tofu, gently stirring again to coat.
Transfer the tofu to a parchment-lined baking sheet. Bake for 20 minutes on each side.
Combine all barbecue sauce ingredients in a saucepan, bring to a light boil, reduce heat to medium low, and simmer for 20 minutes, until thickened.
Toast the buns to your liking, then spoon bbq sauce on the bottom. Top with 3 strips of tofu, napa cabbage, and more bbq sauce.
You will likely have extra sauce. The nutrition information assumes that each sandwich will include about 1/4 cup of the sauce.
Barbecue sauce adapted from Gimme Some Oven.
Tofu method adapted from Cookie and Kate.
Nutrition Information: Serving Size: 1 sandwich (1 bun, 2 tofu strips, 1/4 cup barbecue sauce, 1/4 cup cabbage), Calories: 358, Total Fat: 11.8g, Saturated Fat: 1.7g, Cholesterol: 0mg, Sodium: 810mg, Potassium: 507mg, Total Carbohydrates: 50.2, Dietary Fiber: 3.0g, Sugars: 26.6g, Protein: 13.4g
6 Responses to "Barbecue Baked Tofu Sandwiches"
Pingback: May 2015 Round Up | sportsyogablog.co.uk